Reliance Jio has crossed 200 million subscriber mark in close to 22 months of launch in September 2016. The announcement was made by Reliance Industries Limited chairman Mukesh Ambani at the Reliance Industries' Limited (RIL) Annual General Meeting (AGM). The 41st edition of the RIL AGM was held at the Birla Matrushri Sabhaghar in Mumbai and RIL Chairman and managing Director Ambani addressed the gathering starting 11 AM.
Reliance JioPhone will get support for Facebook, WhatsApp and YouTube apps, which will be commercially available starting August 15. The company also announced its JioGigaFiber service along with GigaRouter for braodband. The company is currently beta testing the service and uers can register interest in JioGigaFiber from August 15.
In addition, JioPhone 2, which is a high-end variant of JioPhone was also unveiled.  Reliance JioPhone 2 will be available at an introductory price of Rs 2,999 from August 15. The phone comes with QWERT keypad and supports horizontal screen viewing. RIL AGM was streamed live across multiple platforms, including YouTube, Facebook, and JioTV.
Also read: JioPhone will soon get Google Search, Maps, and YouTube on KaiOS
Live Blog
Follow our blog for Reliance Industries AGM 2018 LIVE Updates:
JioPhone Monsoon Hungama offer: Full details
Reliance JioGigaFiber with 100mbps speeds: Here's everything to know
JioFiber will be available in over 1,100 Indian cities from August 15. The company will offer 100mbps speeds for services such as video conferencing, smart home solutions, online gaming, 4K video services, and more. The costs of JioGigaFiber are expected to remain competitive like its various other services. In fact, don't be surprised if these services from existing players might become as cheap as Jio.
Also Read: Reliance JioFiber could trigger price cuts across services, make customer king again
JioPhone 2: Price in India, features, and specifications
Reliance JioPhone 2 gets a 2.4-inch QVGA display with 320x240 pixels. The screen can be aligned horizontally as well. Unlike JioPhone, the new phone comes with a QWERTY-keypad. It features 512MB RAM and 4GB internal storage (expandable up to 128GB via a microSD card slot). The dual-SIM handset supports VoLTE and VoWiFi. The battery is 2,000mAh one.
Reliance JioPhone 2 will be available from August 15 at an introductory price of Rs 2,999.
Read: JioPhone 2 with QWERTY keypad, 2000mAh battery and more: Everything you need to know
Reliance JioGigaFiber: Here is everything you need to know
Reliance JioGigaFiber fiber-to-the-home (FTTH) broadband service is claimed to be the most advanced fiber-based broadband connectivity solutions. The service is currently being beta tested. Users can register their interest in JioGigaFiber from August 15. The company will prioritise the roll out based on the number of interests that it gets from various localities. The JioGigaFiber will come with its own router, to be called as the JioGigaRouter, and along with that users will be able to get the bundled Jio GigaTV, which is essentially the 4K-enabled media streaming box.
READ: Reliance AGM 2018: Mukesh Ambani introduces fixed-line broadband service JioGigaFiber
Reliance Jio crosses 200 million subscribers base in 22 months
Monsoon Hungama offer launched, JioGigaFiber, JioPhone 2 to be available from August 15
The Monsoon Hungama offer will start on July 21. Users can exchange their existing feature phones for a new JioPhone for just Rs 501. Also starting August 15, the QWERTY-keypad enabled JioPhone 2 will be available at introductory price of Rs 2,999.
Starting August 15, users can register their interest for JioGigaFiber. The company is currently running beta trials. Jio will prioritise delivery of broadband services based on where they receive maximum interest from.
JioFiber details
Reliance Jio Smart Home accessories, here are the details
Jio smart home solutions also unveiled, such as TV camera, plugs, door bells, etc. The accessories can be used to control the entire home via MyJio application. Jio says that JioGigaFiber as well as Smart Home will be set up by the company's engineers in one hour.
Reliance Jio Gigarouter announced: Features, and more
With Jio Gigarouter, users will be able to watch 600 plus channels, millions of songs, and more in ultra HD in 4K resolution. There is voice command feature on TV as well. With Jio GigaTV calling, users will be able to video call every other TV connected to JioGigaFibre. Users can also call smartphones, tablets on any network.
JioPhone 2, a high-end model of JioPhone announced
JioPhone 2, a high-end model of JioPhone announced. It will have a horizontal screen viewing experience and a full keypad, along with other features.
YouTube, Facebook, and WhatsAPp coming to JioPhone
Reliance JioGigaFiber announced. JioPhone generates more than 20 crore voice commands every month, says the company. Voice commands are the future. Jio has announced YouTube, Facebook, and WhatsApp are coming to JioPhone. The apps will work with voice commands as well. For instance, users can use their voice to open YouTube, play videos, etc. Facebook, YouTube, WhatsApp apps will be commercially available to all JioPhone users from August 15 this year.
JioFiber announced
Here is everything you need to know on JioFiber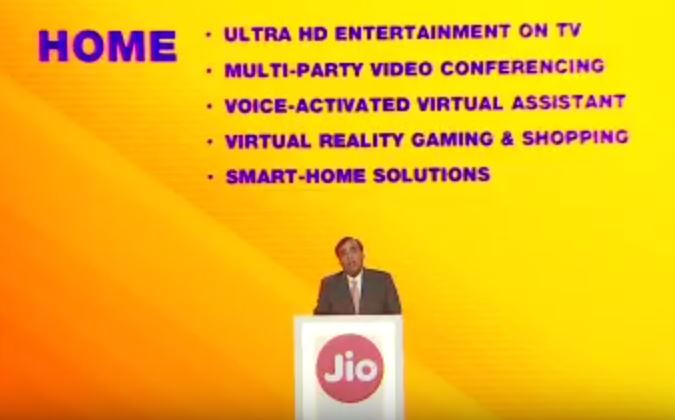 Reliance JioPhone has over 25 million users in India
Reliance JioPhone now has more than 25 million users in India. "We are now taking JioPhone to the next level," says Ambani. More on this will be announced in the later.
Reliance Jio doubles network capacity in past 12 months
Reliance Jio customers use the company's network for more than 290 minutes per day on an average. Reliance Jio, over the past 12 months, doubled the network capacity. The capacity utilisation is less than 20 per cent, says Ambani.
Reliance Jio now has 215 million customers
Reliance Industries chairman Mukesh Ambani addresses shareowners at the company's AGM. Reliance Jio has 215 million customers now within 22 months of start. Data usage has grown from 125 crore GB to more than 240crore GB per month.
Reliance Industries' Limited AGM 2017: JioPhone, and more announced
At its 40th AGM last year, Reliance Industries chairman Mukesh Ambani unveiled JioPhone, an affordable feature phone that comes with features like 4G VoLTE, voice command interface, as well as pre-loaded Jio apps. Reliance Jio's 125 million customers was also announced at the same event.
Reliance Industries' Limited AGM to begin soon
Reliance Jio Annual General Meeting about to begin in another ten minutes or so. The event will be live streamed as well on the company's official YouTube channels as well as Jio channel. The event can also be viewed via Reliance Jio's official social media handles like Facebook and Twitter along with Jio TV.
Jio set to enter broadband space, JioFiber launch also expected
At the AGM 2018, RIL chairman Ambani is also expected to launch the JioFiber service. This will signal Jio's entry into the broadband space, with the nationwide rollout expected towards the end of the year. JioFiber service will initially come to the top cities of India such as Mumbai and Delhi, followed by other Tier-1 and Tier-II cities. As part of JioFiber preview offer, users will get 100GB of monthly data for 90 days at 100Mbps speed, along with access to Jio's suite of apps.
Jio's 200+ million subscriber announcement expected today
The big announcement expected from Chairman Mukesh Ambani's speech, is that of Jio entering the 200 million subscriber club. As per a TRAI (Telecom Regulatory Authority of India) report, Jio is among the top five service providers when it comes to broadband services. The telecom giant stood at 196.19 million subscribers at the end of April. Only Airtel, Vodafone and Idea have more subscribers.
Jio plans to open voice-over-WiFi service soon
According to a report in the Economic Times, Reliance Jio also appears to plan voice over WiFi and could soon roll out this technology. The report claims Jio has already informed the government that it will launch the service soon. However, we will have to wait and see if the service is showcased or mentioned in today's AGM or not.