Reliance Industries Limited (RIL) is hosting its 42nd Annual General Meeting (AGM), which is being broadcast live on the company's YouTube channel along with updates on other social media channels like Facebook and YouTube. Reliance's AGM is taking place Birla Matushri Sabhagar in Mumbai. The Reliance AGM has started. The live feed of the RIL AGM is available on the company's Flame Of Truth Channel, Jio Channel on YouTube.
RIL chairman Mukesh Ambani has announced the new Jio Fiber service, which will go live from September 5. The service will start at Rs 700 per month to  Rs 10,000 per month, though the company is clubbing a free LED TV for those who are opting for the annual plan. A Jio Postpaid Plus plan has also been announced.
Live Blog
Reliance Industries Limited (RIL) 42nd AGM 2019 live updates: JioGigafiber, Jio Phone 3
Reliance Jio Fiber: Here's what we know
Jio Fiber service will go live commercially from September 5. While each individual plan was not announced at the AGM, what we do know is that the plans will start at Rs 700 going up to Rs 10,000 per month. The company is promising minimum speeds of 100 Mbps for its Jio Fiber broadband service. The maximum speeds that Jio Fiber claims to offer will be 1GBps. Jio Fiber is combining landline and set-top boxes as well for television consumption
Jio Fiber also has a Welcome offer, where customers who sign up for the annual plan will get an LED TV of either HD or 4K resolution for free. Jio Fiber will also give a 4K Set Top box for free with this offer.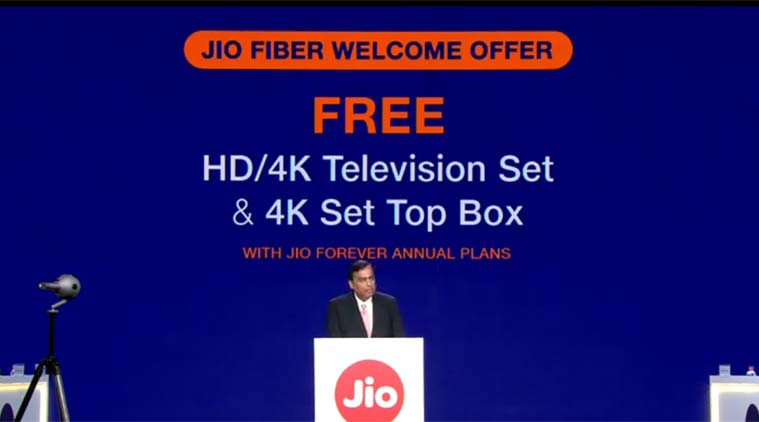 Jio and startups
Mukesh Ambani announces that Jio will offer connectivity and cloud computing free to startups. Startups will have to register for this on Jio.com. The service will be made available from Jan 2020. Jio will also look at investing in more startups. For small and medium businesses, Jio will offer connectivity at Rs 1500 per month along with access to Microsoft's cloud computing and other tools.
Microsoft CEO Satya Nadella's message
Microsoft CEO Satya Nadella's video message being played on stage. ''Our ambition is to help millions of organizations across India to grow. With this partnership, Jio and Microsoft will partner to announce more data centres across India. We will bring more of Azure's cognitive services Jio's partners," says Nadella.
Jio and Microsoft alliance
Jio and Microsoft announce partnership for cloud computing. While Jio will set up data centres across India, Microsoft will bring its Azure cloud platform into its data centres.
Jio Fiber Welcome offer
Jio Fiber customers who opt for the service for the entire year will get an LED TV free. This can be an HD or 4K TV set along with the 4K set-top box completely free.
Jio Postpaid plans
Jio also launching new PostPaid Plus service which will come with one data plan and family sharing, international roaming at low cost, phone upgrades at preferential rates, all home solutions available 24/7. Complete details of tariffs will be revealed on September 5 on Jio. com.
JioFiber: Entertainment
Jio Fiber plans will come bundled will subscription to leading OTT plans and services. Jio Fiber subscribers will be able to watch movies First-Day First Show as they release in theatres. This service will launch in 2020.
JioFiber services: Voice calls
JioFiber will offer voice calls for free from home. This applies to calls for all telecom operators. On fixed line, international calling, Jio will offer lowest fixed line rates for international calling. One-tenth or one fifth of industry tariffs. Jio announces international unlimited calling pack at Rs 500 per month for calls to US and Canada.
Reliance JioFiber: Availability and price
JioFiber will be available from September 5 on a commercial basis across India. The basic JioFiber will start at 100 Mbps going up to 1Gbps. Rs 700 per month to Rs 10,000 per month will be the pricing.
Jio Mixed Reality headset
The Jio Mixed Reality Holo headset will be available for sale soon. The price has not been announced.
Jio: Mixed Reality and entertainment
The on-stage demonstration is now showing what movies and other entertainment will look like when being watched in the Mixed Reality headset. The headset allows users to watch a movie as though they are sitting in a theatre.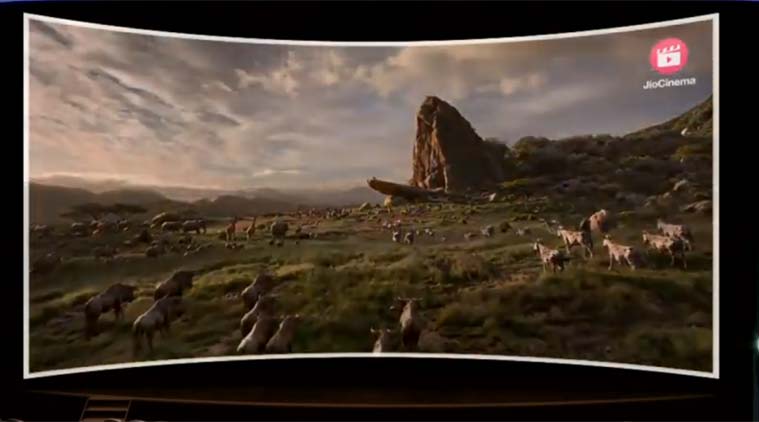 Jio Mixed Reality
Jio will rely on Mixed Reality to transform shopping, gaming and entertainment. Mixed Reality Headsets being shown off during the demonstration. Jio relying on holograms with these mixed reality headsets for these experiences. Mixed Reality's use case in education is also being shown.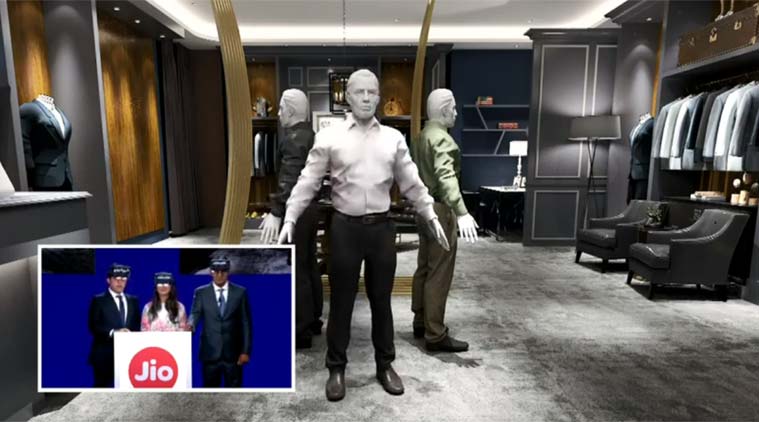 Jio set-top box being shown
Reliance is now showing Jio Set top-box. Jio is launching its multi-player gaming network as well. The set-top box will support all gaming control. The gaming graphics details are not given, but it will support 4K gaming. The demonstration will show how someone can play Fifa with their friends while relying on the set-top box. Jio is promising zero latency while playing on the Gigafiber network.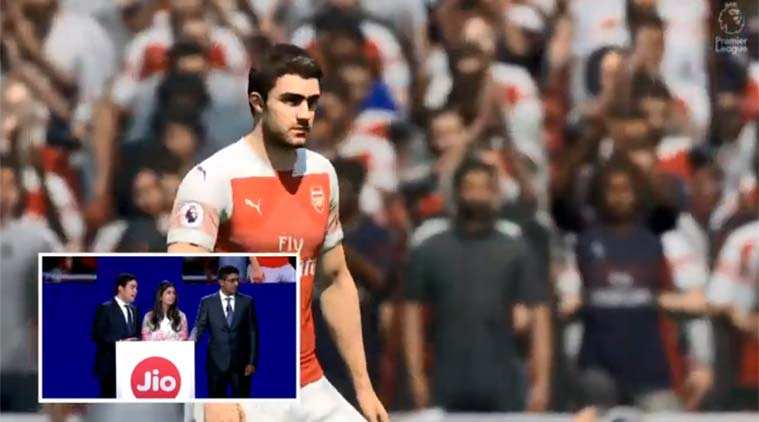 Jio Gigafiber: Video calls
Jio is introducing Video conferencing solutions for home. The calls can be conducted from the television set itself. The Jio Gigafiber service will comes with a set-top box and has a video calls solution. The video call solution is device agnostic, according to the company.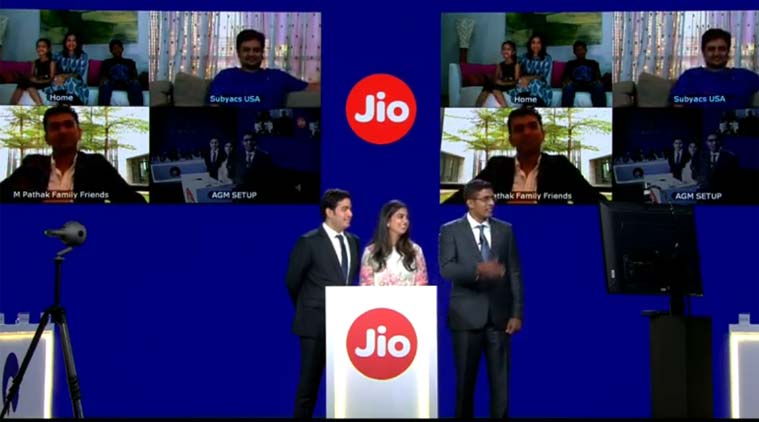 Demonstrations of Jio Gigafiber on stage
Akash Ambani, Isha Ambani and Kiran Thomas from RIL are on stage to demonstrate Jio Gigafiber's service. Jio Gigafiber to offer 1GBps data speeds. Demonstration shows Jio Gigafiber and set top-box being shown. 1GBps speeds being shown in the demonstration.
Jio Gigafiber and TV
'Local cable operators (LCO) have suffered thanks to DTH companies. We have designed a JioTV set box to accept the signal from our LCO partners. So now every Jio Gigafiber home will have access to content from the LCO, thus ensuring that local cable operators continue to function," said Mukesh Ambani.
"For small and medium businesses, Jio Gigafiber empowers them to succeed in the marketplace," said Mukesh Ambani. Jio Gigafiber will be offered to large enterprises as well along with Jio's cloud solutions as well.
Jio Gigafiber: Announcement
The response for Jio Gigafiber trials was overwhelming. 15 million registrations received in 1600 towns. "We have drawn up a plan to reach businesses, homes in these towns. We are confident of completing network rollout in the next 12 months. We have installed Jio Gigafiber in half a million homes in the last year. We have found that these trial homes on an avg consuming more than 100 GB per month. This usage is increasing with each passing day. We offer 1GBps speeds and landline connection and digital set top-box, HD entertainment, voice-enabled assistance, and many other smart home solutions with Jio Gigafiber," said Mukesh Ambani.
Jio and Internet of Things
Jio will use Narrow-band Internet of Things (IoT) to connect 1 billion devices across in India. Mukesh Ambani gives examples of electricity meters, which can be connected digitially. 'Within two years, there will be 2 billion connected IoT devices in our country. Jio wants to connect one billion of this. Sees this as a 20,000 crore revenue opportunity. " Jio IoT platform will come from Jan 1, 2020.
Jio Broadband is coming
'Investment cycle of Jio is now complete. Only marginal investment is now required to meet the growing demand,' says Mukesh Ambani. 'While most of our investments are complete, we have so far fired up only one engine for revenue growth of Jio, which is mobile broadbad. We are now ready to kickstart for more modes of revenue for Jio. These are are IoT, home broadband, broadband for enterprise and broadband for small enterprises.'
See Pics | Mukesh Ambani with family before Reliance AGM
Mukesh Ambani with family before Reliance's 42nd Annual General Meeting (AGM) at Birla Matushri on Monday. (Express photos by Nirmal Harindran)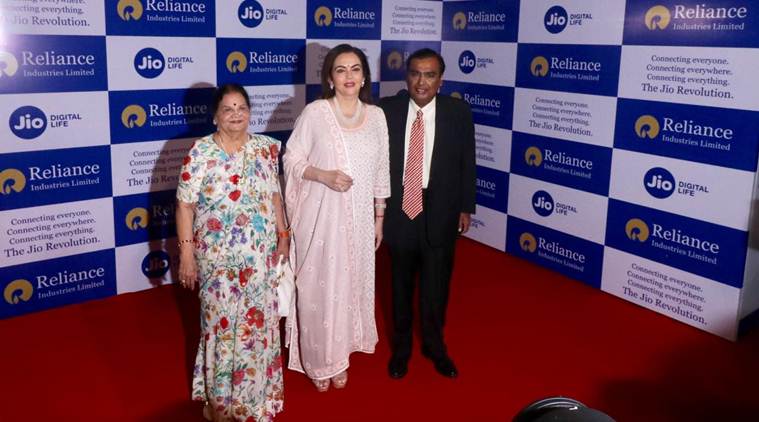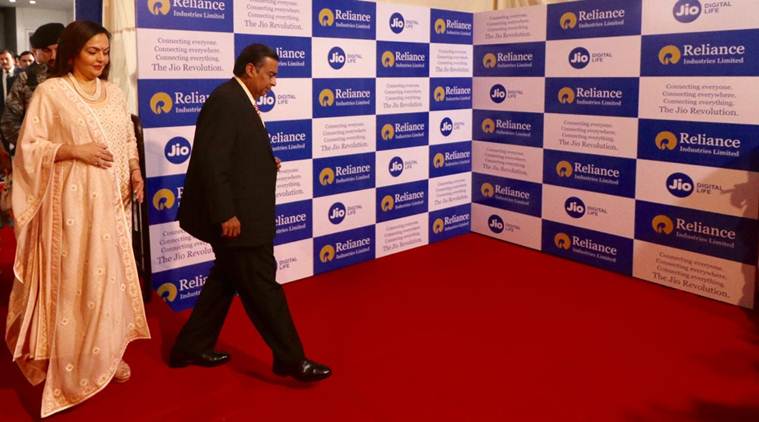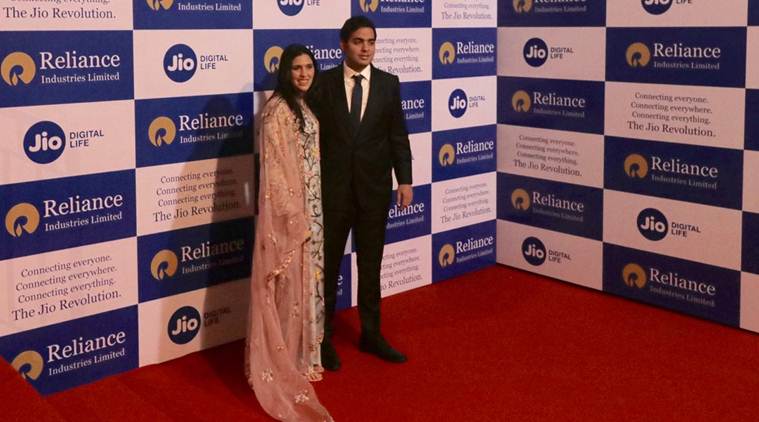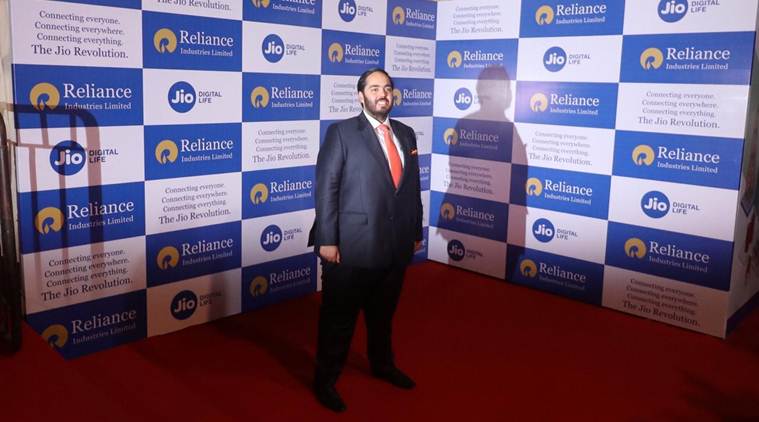 Jio largest operator in India, 5G ready
Jio is the largest operator in India and second largest operator in the world in a single country, says Mukesh Ambani. RIL has invested 3.5 lakh crore in Jio. About 1.25 lakh crore into hard infrastructure. 'The core of our network is already 5G ready,' said Ambani. 'We can upgrade to 5G at minimal investment cost.' We can offer faster broadbands to homes and businesses today.
Reliance Jio announcements
"Jio aims to provide digital connectivity to everyone in everyplace and with everything. The second was to build digital platforms to suit the unique requirements of India from e-commerce to entertainment to everything else," says Mukesh Ambani. On 5th September, Jio will turn three years old. 'Before Jio India was data dark. Now Jio has made India data shining bright,' said Ambani. 'Today Jio customer base has crossed 340 million and we are still signing up 10 million new customers every month,' he adds.


Biggest foreign investment in the history of Reliance
Saudi ARAMCO will invest for a 20 per cent stake in Reliance's Oil to Chemical business for over $75 billion. The investment will be subject to due diligence, regulatory approval.
Reliance Jio: More partnerships coming in 2019
Reliance chairman says the coming year will see more partnerships from the company. "Our PM has set the goal of making India a trillior dollar economy by 2024. I see India becoming a 10 trillion dollar economy by 2030. I says this because digital driven GDP growth is inclusive. The slow down of some sectors in the economy is temporary," he says.
Reliance Jio and Retail
Mukesh Ambani says Reliance Jio and Reliance Retail have proved skeptics wrong that the company cannot do well in consumer product business. Jio has crossed the 340 million subscriber mark.
RIL AGM begins
RIL's AGM begins. RIL chairman Mukesh Ambani is on stage. 'In the golden decade of Reliance, yet another year of robust and record performance. Reliance became India's most profitable and largest company in the private and public sector,' says Mukesh Ambani.
Jio Gigafiber: Expected plans
Reliance Jio's GigaFiber is the Fiber-to-the-home (FTTH) service, which is expected to have a commercial rollout from today. The company's service is still in testing, and once the official rollout starts, it will go live in 1100 cities. Currently GigaFiber users are not being charged . They only have to pay a refundable security deposit. It was pegged at Rs 4500, which included the router. However, some reports have said the security deposit price was reduced to Rs 2500. Reports have also talked of Rs 600 per month Triple Play Plan, which will bundle broadband, Internet Protocol TV services (IPTV), and landline all-in-one for the customer. The Jio Home Triple Play Plan will include access to premium Jio apps as well.
Reliance Jio bundling landline with GigaFiber
According to a Gadgets 360 report, Reliance Jio is rolling out landline services to Jio GigaFiber subscribers. A message for activating the company's fixed landline JioFixedVoice service appeared in the MyJio app for select users. The company is expected to announce a Triple Play Plan today which will bundle JioGigafiber's broadband service with landline and TV services.
Reliance JioGigafiber announcements: RIL AGM livestream link
The RIL AGM's livestream will start at 11.00 am. The company is expected to make some major announcements for Reliance Jio and its Gigafiber commercial broadband service. Jio is expected to bundle broadband, landline and television services together into one plan which will be called the Triple Play Play, and might cost Rs 600 per month. The Jio Gigafiber broadband service could start Rs 2,500 per month, according to some reports.
Below is the YouTube link for the RIL AGM. It will also be visible onf the Flame Of Truth YouTube channel of the company and there will be updates on Facebook and Twitter as well.