Hyundai Kona Electric Car India Launch Live Updates, Hyundai Kona Price in India: South Korean automaker Hyundai has launched its first electric SUV Kona in India. The car has been priced at Rs 25,30,000 onwards.
The hype around the Hyundai Kona is at its peak – after all, the electric car is pitched as "India's first electric SUV." The Hyundai Kona electric is already available in many international markets and the company has now brought this electric car to India.
Also read | Hyundai Kona Electric: Five reasons this electric SUV is different
The Hyundai Kona has an ARAI certified range of 452 km in a single charge. The Kona can be charged up to 80 per cent in 52 minutes with the help of fast charging facility. The electric vehicle will source power from a 39.2 KW battery.
Live Blog
Hyundai Kona Electric Car India Launch Highlights
Hyundai Kona comes with a familiar interior look
Hyundai Kona comes with a digital instrument cluster quite similar to petrol/diesel powered cars, giving it a much more familiar look from the inside.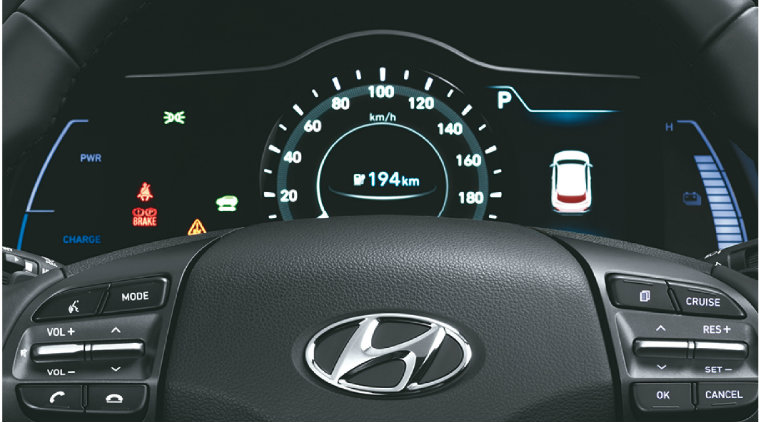 Hyundai Kona Electric SUV: A cleaner look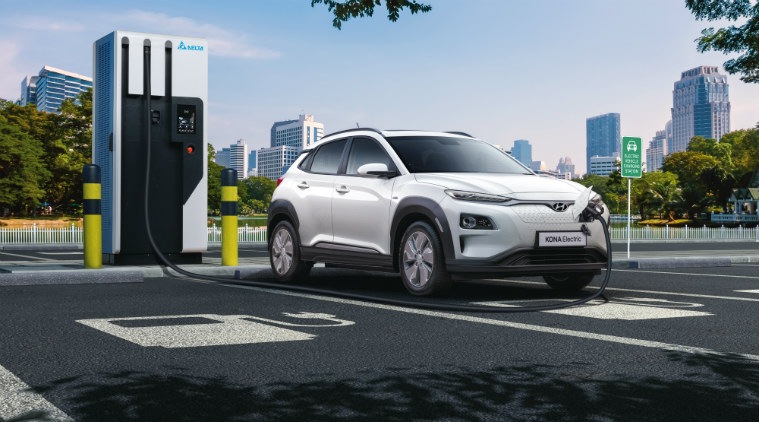 Hyundai Kona electric car: First look
5 reasons why Hyundai Kona is different
Hyundai Kona Price in India
The price of the Hyundai Kona electric SUV has been revealed. It is priced at Rs 25,30,000 onwards.
Two chargers to come along with Hyundai Kona
The Customers will be provided with two Chargers along with the car – A portable charger and an AC Wall Box Charger. The Portable charger can be plugged into any normal 3 Pin 15 Amp socket and charge the vehicle. This charger can top up daily running of 50Kms in less than 3 Hours. Whereas AC Wall Box charger (7.2 kW) can top-up charge the vehicle within 1 hour for running 50Kms.
80 per cent charge in 57 minutes
An 80 per cent charge can be achieved in 57 minutes with DC quick charger (zero to 80 % charge @ 50 kW), using the CCS Type II charging port, while a 7.2 kW Level-II charger takes 6 hours and 10 minutes. For charging convenience, the charging port is located in the front grille area for head-in parking ease whenever charging is needed.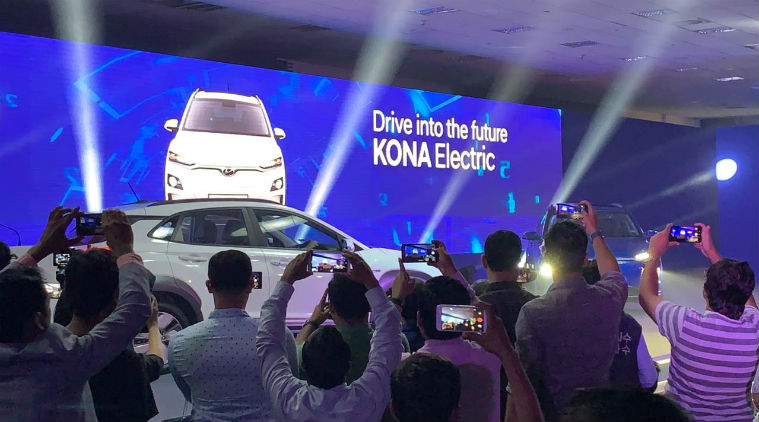 Electric vehicle is the new normal
"The KONA Electric is the 'The New Normal' as it is the First Long Range Green SUV with 452 Kms/Charge (ARAI Certified) enhancing the customer confidence towards Electric mobility. KONA Electric has received worldwide recognition and will be the most conducive e-vehicle for the Indian market. The Electric SUV showcases strengths of its SUV model combined with the advanced innovative technology of an electric powertrain." SS Kim, MD and CEO, Hyundai said.
Why the name Kona?
'KONA' Electric is named after the idyllic west-coast region of the Big Island of Hawaii. The KONA region is famous among endurance triathletes and thrill-seeking travellers
DC chargers at fuel stations
Hyundai has collaborated with IOCL to set up DC chargers at select fuelling stations. Four charging units coming to the metros.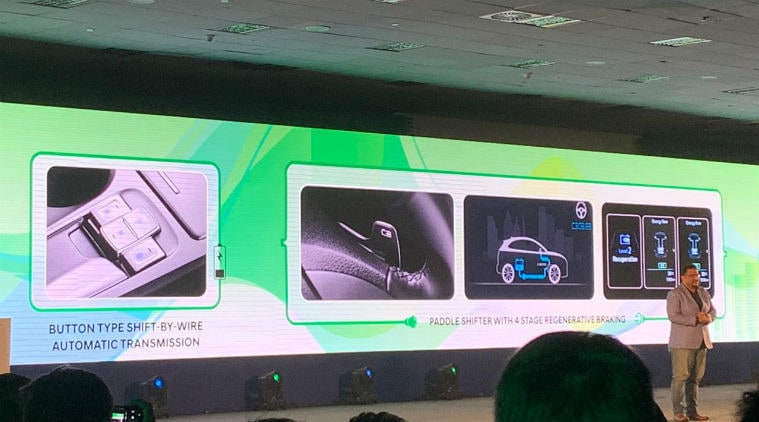 Hyundai Kona: 8 years warranty on battery
The car offers 8 years and 160000 km battery warranty. The running cost of the Hyundai Kona is about 1/5th of an equivalent petrol vehicle.
The car also has driver-only AC mode
The car offers a driver only AC mode to save power. Then there is a virtual engine sound to alert pedestrians that a car is approaching. The Kona must be really silent.
0 to 100 in 9.7 seconds
The Hyundai Kona can go from 0 to 100 kmph in just 9.7 seconds.
Hyundai Kona is a mix of SUV style and eco-mobility
The car is a mix of SUV styling and eco-mobility, two growing trends globally. The company seems to be aiming for early adopters with the car, given that the segment is still not mainstream in India.
Global Green Car sales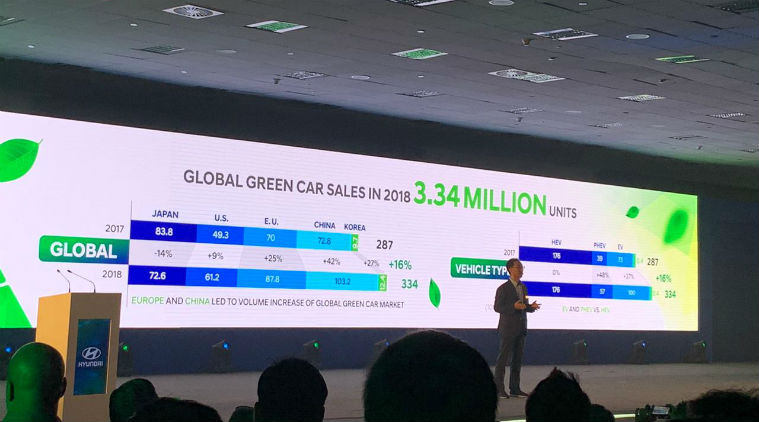 Hyundai plans to make 500km range electric cars
Hyundai plans to cross 500 km range with its electric cars as early as next year.
Hyundai Kona is an electric SUV: Can go 452km on full charge
Kona Electric is a long-range electric SUV aimed at Indian users. This will be the first fully electric vehicle in India to offer a 452km range on a full charge.
23 new electrical vehicles to be launched by 2025
Hyundai India MD S S Kim said Hyundai has taken the approach to transform into a smart mobility company with 23 new electrical vehicles to be launched by 2025. The govt of India's move towards clean mobility is commendable, he added.
Hyundai Kona is being launched
The Hyundai Kona is being launched at the Buddh International Circuit in Greater Noida
Hyundai Kona Electric SUV to cost Rs 25 lakh?
The launch of Hyundai Kona Electric SUV comes at a time when the government is trying to boost sales of EV in India. India's first electric vehicle, Hyundai Kona, will be locally manufactured. The car is expected to cost in the vicinity of Rs 25 lakh.