With Samsung, Motorola, Apple and Sony having announced their flagship smartphones, the attention turns to Google whose vanilla-Android smartphones are due today. While we are not sure of Sundar Pichai's presence but if he does come on stage, the most significant announcement won't be the products or new operating system but how the newly appointed CEO Sundar Pichai demonstrates his vision for Google.
Google's invite reads 'some tasty new treats and much s'more' which hints at Android 6.0 Marshmallow and not one but two new Nexus smartphones. First Nexus smartphone from a Chinese manufacturer to availability of next Android build, everything will unfold today at the Google event.
The event starts at 9AM in San Francisco which translates to 9.30PM IST.
LIVE UPDATES BELOW
10.48 pm: Thanks for reading. More updates at indianexpress.com/technology
10.46 pm: That's the wrap here. Two new Nexus smartphones, Android Marshmallow, two new chromecast, redesigned Chromecast app and Pixel C convertible tablet announced today.
10.43 pm: Pixel C's display is 500 nits and 308 ppi density, powered by Nvidia X1 processor, Maxwell GPU, 3GB RAM, USB Type-C and starts at $499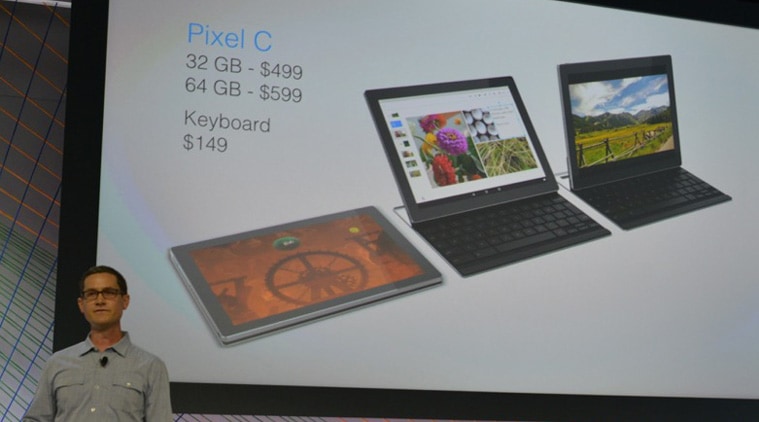 10.42 pm: The Pixel C has an 18.8mm pitch keyboard and keyboard attaches via Bluetooth
10.40 pm: Pixel C convertible tablet announced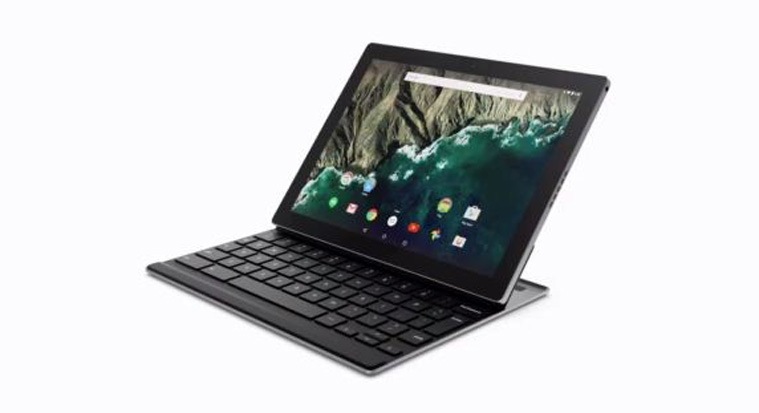 10.37 pm: Chromecast Audio starts at $35, available in 17 countries
10.35 pm: Spotify supports Chromecast and Chromecast Audio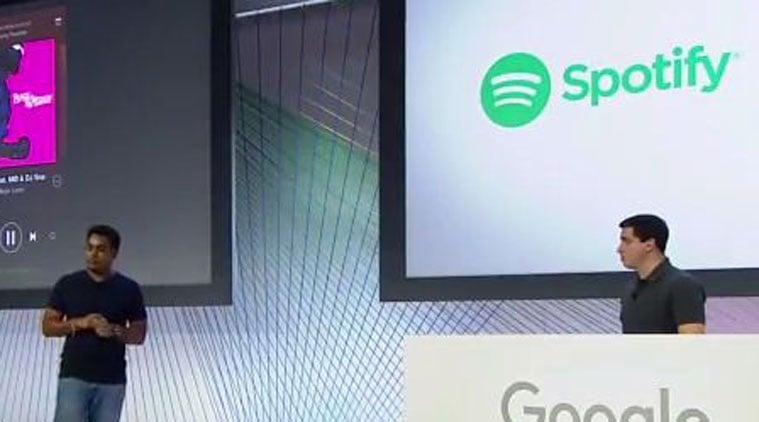 10.33 pm: Chromecast Audio connects to speaker and streams high quality audio
10.32 pm: Facebook pictures can now be used as Chromecast wallpaper. Starts at $35 and available in Black, Yellow and Red colour variants
10.30 pm: Now control the game with your phone and cast the game to the screen. Angry Birds Go supported with Remote Display
10.28 pm:  Fast play allows content developers to prefetch content with content caching algorithm
10.26 pm: Redesigned Chromecast app with better content discovery, better search and faster access to cast enabled apps
10.24 pm: Demo time
10.23 pm: Chromecast audio plugs into home speakers to stream audio. Supports 3.5mm audio jack and RCA port.
10.20 pm: New Chromecast comes with circular design and integrated HDMI cable, nupports dualband Wi-Fi support
10.19 pm: Over 20 million total Chromecasts sold around the globe.
10.17 pm: Showtime app coming to Chromecast. Sling TV coming in the next few weeks
10.14 pm: Google Photos gets Chromecast support
10.13 pm: Ability to privately label people coming to Android this week; web later
10.11 pm: Google Photos update makes it easy to get photos from contributors. Join allows users to subscribe to the shared album
10.02 pm: Eunice to announce new entertainment service for families. Google Play Music family plan announced at $14.99 per month for 6 people.
10.00 pm: Both the phones unlocked and both are available on Google's Fi network, warranty program Nexus Protect announced
9.59 pm: 5X starts at $379 and 6P starts at $499
Introducing #Nexus5X https://t.co/NTiIvwXgJ0 pic.twitter.com/KLlB4OB5JK

— Nexus (@googlenexus) September 29, 2015
Introducing #Nexus6P https://t.co/8ZUH386SNI pic.twitter.com/ISl5agtH40

— Nexus (@googlenexus) September 29, 2015
9.59 pm: Nexus 5X and Nexus 6P will be available for pre-order in US, UK, Ireland, and Japan from Google Store
9.57 pm: Doze feature recognises motion of the device, average battery life lasts 30 percent longer when the screen if off. Nexus 6.0 Marshmallow rolling out to Nexus device next week
9.54 pm: Google Now on Top improves with time, uses machine learning
9.53 pm: Video Demo of Google Now on Tap
9.52 pm: Cleaner user interface and less bloatware
9.51 pm: Improved heads-up notification and alphabetic quick access to apps
9.50 pm: Lockscreen gives quick access to voice actions and shows speed charging indicator
9.49 pm: Time for Android 6.0 Marshmallow
9.48 pm: Nexus Imprint sensor can recognise single fingerprint in less than 600 milliseconds
9.47 pm: Nexus 5X and Nexus 6P come with Sensor Hub integrated to support ambient display and calculate steps and run
9.45 pm: Nexus 5X captures 120 fps and Nexus 6P supports 240fps and both phones supports native 4K video recording
9.44 pm:  Dave Burke now compares the camera of Nexus 6P with iPhone 6
9.43 pm:  Nexus 6P comes with 1.55 micron pixel image sensor, laser detect autofocus
9.42 pm: Nexus 5X made by LG, comes with 5.2-inch screen and revives popular Nexus 5 smartphone
9.41 pm:  Rear-mounted fingerprint sensor, supports Android Pay. Runs Android Marshmallow
9.39 pm:  Nexus 6P features all metal unibody design, USB Type-C port and stereo front facing speakers
9.38 pm: Nexus 5X and Nexus 6P smartphones. Nexus 6P made by Huawei
9.38 pm: Dave Burke on stage to talk about Nexus program
9.37 pm: Google CEO Sundar Pichai is talking about end user experience. Google Play now over 130 day active ecosystem
9.34 pm: World Bank and US Army using Google's Chromebook. Now talking about next generation of computing with Nexus hardware
9.33 pm: 1.4 billion 30-day active Android devices. Android doubled in Indonesia and Vietnam. Talking about Android One program
9.32 pm: Google CEO Sundar Pichai on stage. Talks about welcoming Indian PM Narendra Modi
Meanwhile, here is what you can expect at the Google Nexus Event.