Apple WWDC Keynote ended kicking off the four-day annual World Wide Developer Conference (WWDC), also popular as Dub Dub DC, at the San Jose Convention Centre. Apple CEO Tim Cook and other underlined the company's focus on Augmented Reality as well as the in offering the best of iOS apps on Mac.
Apple has revealed iOS 12 with new focus on AR with the ARKit 2.0. Siri is also smarter on iOS 12 with Shortcuts feature for third-party apps. Apple iOS 12 will also bring a redesigned Stocks app, Voice Memo, Apple News and the iBooks app which will now be called Apple Books. Apple is adding new features to the Apple Watch as well with watchOS 5. Apple iOS 12 also brings new Animojis, stickers in the Messages cameras. Apple has added Group video calling to FaceTime as well.
watchOS 5 includes a walkie-talkie feature along with Shortcuts on Siri to the watch as well. Apple has also added the ability for third-party apps to play background audio as well. watchOS 5 will also come with improvements to the fitness features. It will also include the option to student ID card to the Apple wallet via the Apple Watch and the iPhone.
Apple macOS Mojave has also been revealed. It will come with new features like improved screenshots, a dark mode, Apple Home, News, Stocks, Voice Memo app. Apple is also adding new Continuity features for macOS Mojave.
Live Blog
Apple WWDC 2018 keynote LIVE UPDATES: All the big announcements from iOS 12 to macOS Mojave
There were some clear signals at WWDC
So what does the Apple WWDC 2018 event signify? There is a clear switch to software, but is there more? We combined all that we thought was big into one story. Check it out here
Apple WWDC 2018 keynote is now over
The Apple WWDC keynote is over. Apple showcased iOS 12, watchOS 5, tvOS and macOS Mojave during the keynote. Apple WWDC will continue till June 8.
Apple iOS 12, macOS, watchOS, tvOS: Developer beta
Developer beta will go live today for all the operating systems. No word on the public beta just yet.
Apple merging iOS and macOS ?
No, says Craig Federighi. Yes, it looks like Universal apps are coming, but not this year. This year in macOS, Apple is bringing its own apps of to macOS, like Stocks, Voice Memo. Apple says it managed to do this with very few code changes. The feature will come for developers next year.
Apple macOS: Create ML
This will let developers create their own machine learning models, and the training is all GPU accelerated. Developers can train their models on computer vision, audio, natural language processing, etc.
Apple macOS: Changes to Metal
To bring the highest GPU performance, Apple had added support for external GPUs, which are powered by Metal. New levels of performance, 3D rendering for games, which will look realistic.
Apple macOS: A look at some new features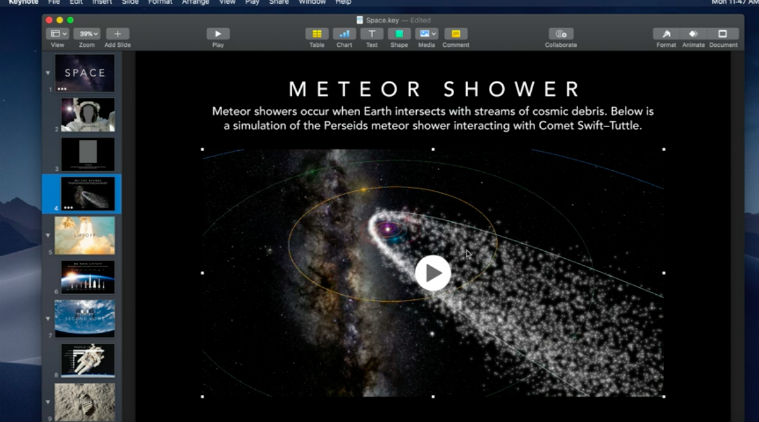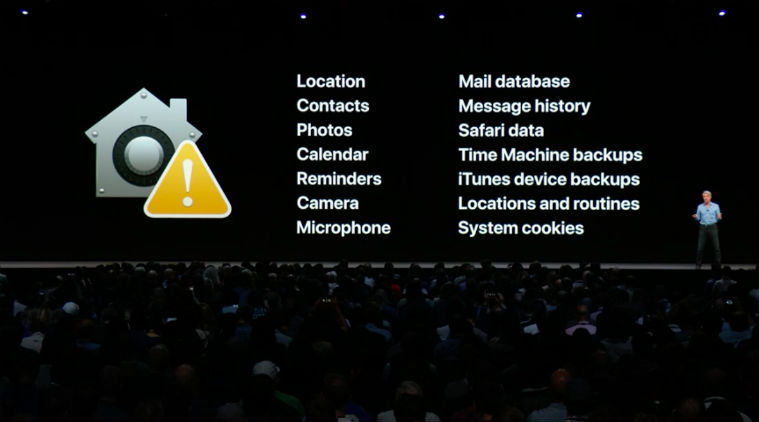 Apple macOS Mojave: Mac App Store is being revamped
Mac App Store has been redesigned from the group up. It has a new UI, video previews. There's also a new Discover app where Apple will show editorial about the best Mac Apps.
Apple macOS Mojave will also make privacy improvements to Safari
Apple will let users protect their data on Safari by turning off tracking.
Apple macOS Mojave and focus on security
Apple will automatically protect access to webcam, microphone, etc on your MacBook from apps.
Apple News app is coming to Macs
Apple is adding the Apple News app for MacBooks along with the new Stocks app.
Apple macOS Mojave: Continuity feature
Continuity will allow users to take photos of documents from their phones and it will be shared instantly to their documents on the macOS.
Apple macOS screenshots
Users will be able edit screenshots, use Mark-up straight after taking one. There is also the option of capturing the entire screen, and the option for screen capture for video.
Apple macOS Mojave: Quick Look integrates Mark-up
Users can invoke mark-up in PDF documents in the Quick Look options. It will work for all kinds of files, including PDFs, videos, etc.
Apple macOS: Stack, Changes to Finder
Stacks wil ensure you desktop is cleaner and not one giant mess of all different kinds of files. It will stack them according to kind, tags, etc. Sidebar in Mojave supports all metadata for photos. There are also quick actions in the photos app. Sidebar is also available in other views in the Finder app as well.
Apple macOS Mojave: This is what Dark Mode looks like in the new macOS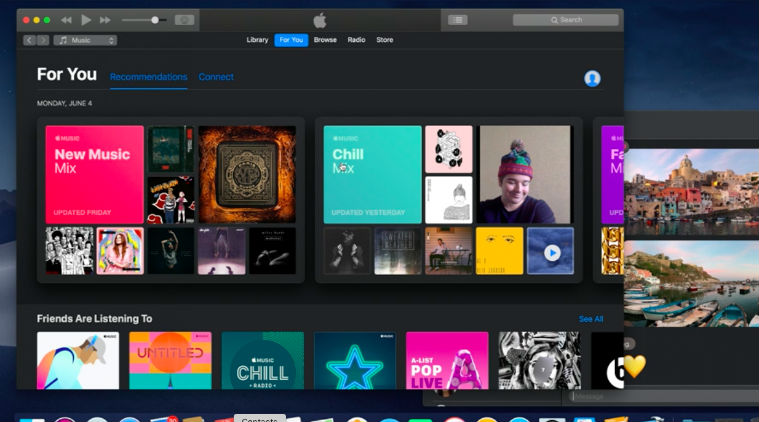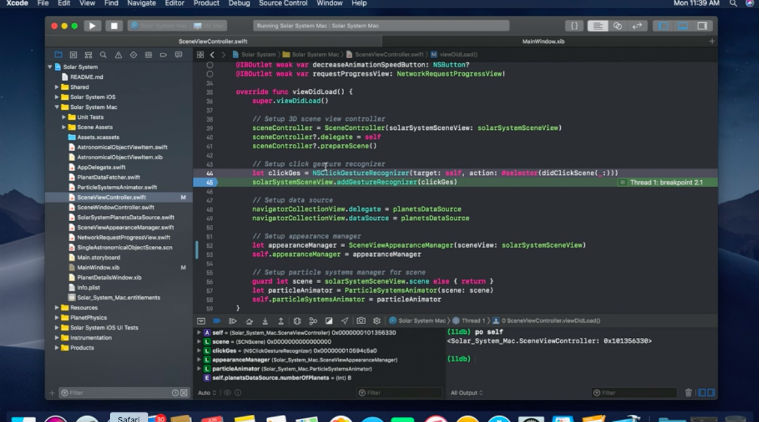 Apple macOS Mojave gets a dark mode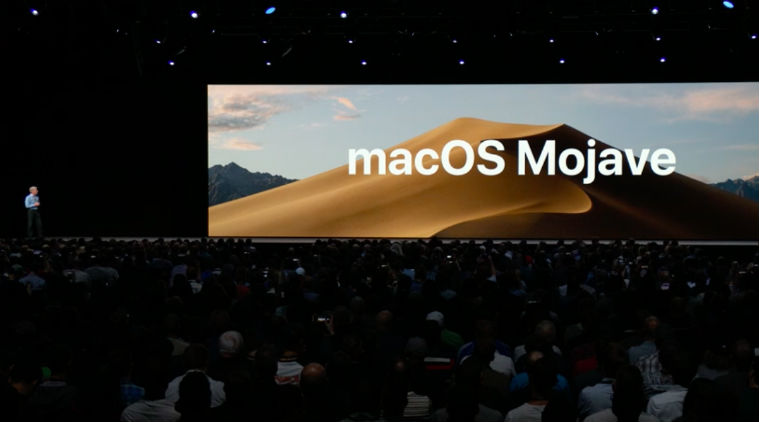 Apple macOS is finally up
Now, moving to macOS 10.14. It is called macOS Mojave.
Apple tvOS: Zero sign-on
If a user is on their TV provider's broadband, then tvOS will unlock all the apps supported with it securely without any sign-on needed for Apple tvOS users.
Apple tvOS is now up
Apple tvOS is now being showcased. Apple says iTunes has the largest 4K HDR library. Apple TV 4K will now add support for Dolby Atmos for 'room-filling sound.'
Apple is adding a new watchface for Pride month
Apple will also launch new bands for Pride month.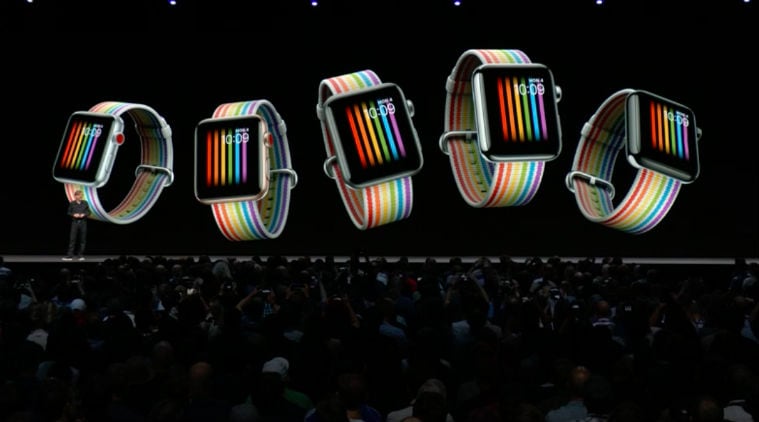 Apple watchOS 5: Users will no longer have to say Hey Siri to the Apple watch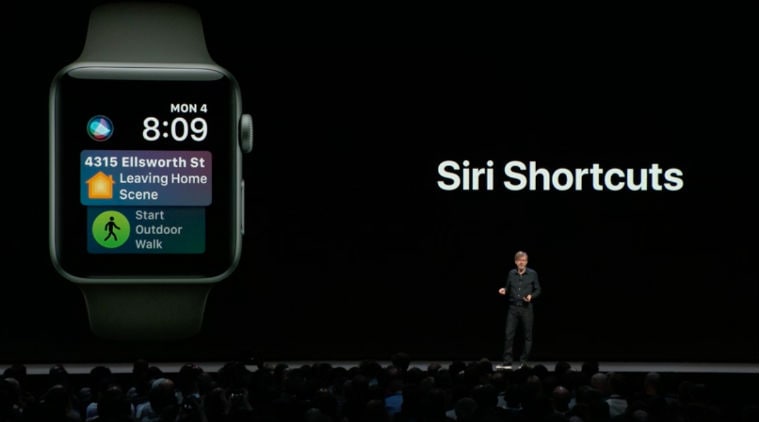 Apple is also bringing WebKit to watchOS 5 and it will support web content on the Apple Watch itself. Apple Podcasts app will also come to the Apple Watch.
Apple watchOS 5 will also get Siri Shortcuts
A user will see the predicted Shortcuts on the Apple Watchface as well. Just tap and complete the action. Users will now be able to use third-party apps on the Siri Watchface.
Apple watchOS 5: Stay connected
Apple is introducing a Walkie-Talkie app on watchOS 5. It will allow users to enable walkie-talkie with a friend and allows for short-distance communication. The friend has to accept the walkie-talkie request for this feature to work. Of course, they will need an Apple Watch as well.
Apple watchOS 5: Now challenge your friends
Users can have a challenge with their friends via the Apple Watch. Apple is also adding tracking for yoga, hiking in watchOS 5. Apple will also let users track their rolling mile pace: which is how fast they ran their previous mile. Runners will now get Cadence, which will let them track their steps. Apple is also adding automatic workout detection. Users will get retroactive credit, even if they press start after they started working out. Apple Watch will also detect when you ended your workout for those who forget to close their sessions,
Apple watchOS 5 is now up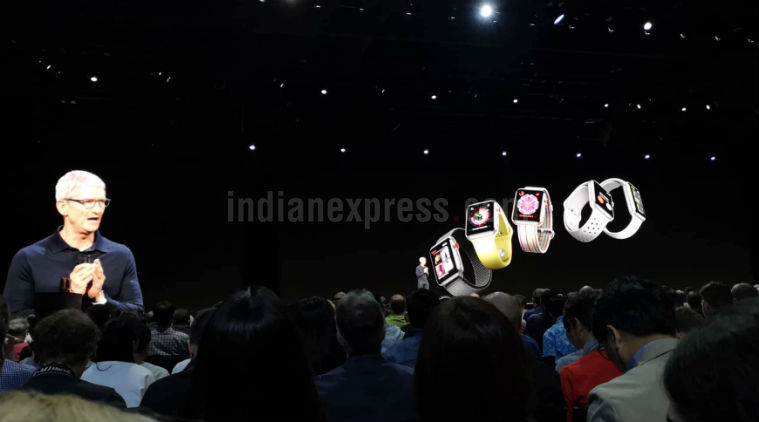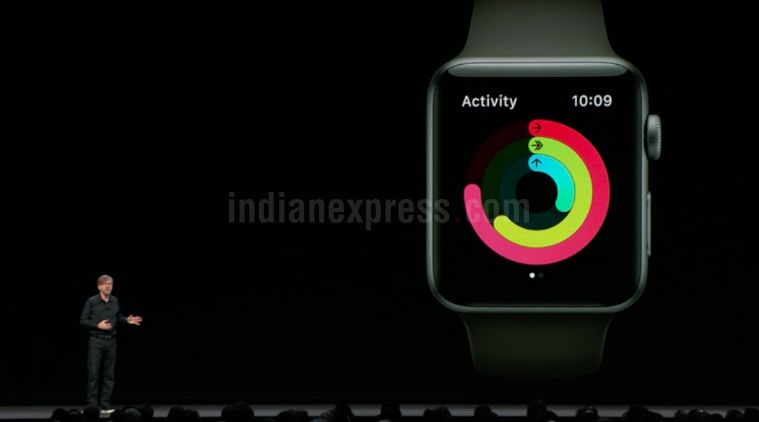 Apple FaceTime will also get Animoji and Sticker packs
Apple is adding fun stickers to FaceTime as well.
Apple FaceTime: This is what Group calls will look like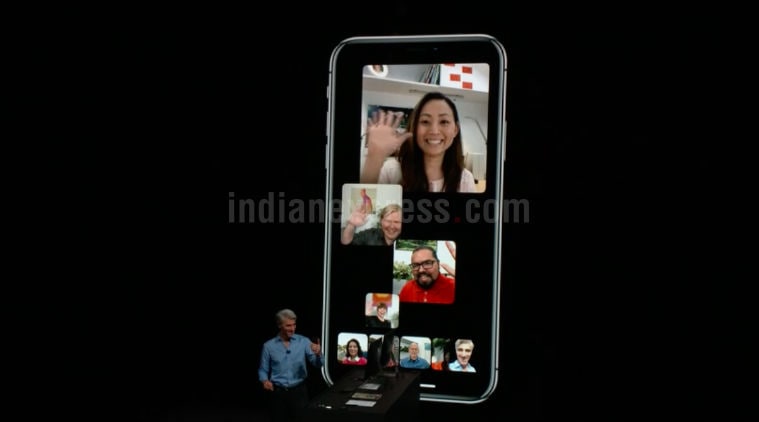 Apple iOS 12: FaceTime is also getting an upgrade
Apple adds Group FaceTime. Yes, Apple's FaceTime will support 32 people in a Group call.
Apple iOS 12: Messages camera gets new fun filters
Users will be able to add effects, stickers, filters to photos taken from the camera app in Messages. Users can apply their favourite Animoji live as well. They can also apply a Memoji to the photo.
Apple iOS 12 Animojis
Yes there are new Animojis. Also something called Memoji, which will look like you, the user. The new Animojis on the list are Tiger, Koala, T-Rex, and a Ghost, which will remind you of the Snapchat Ghost. Yes, Memoji will let you choose your hair, skin colour, etc.
Apple iOS 12: Screen time
Screentime will help people to take better control of their app lives and that of their children by setting limits.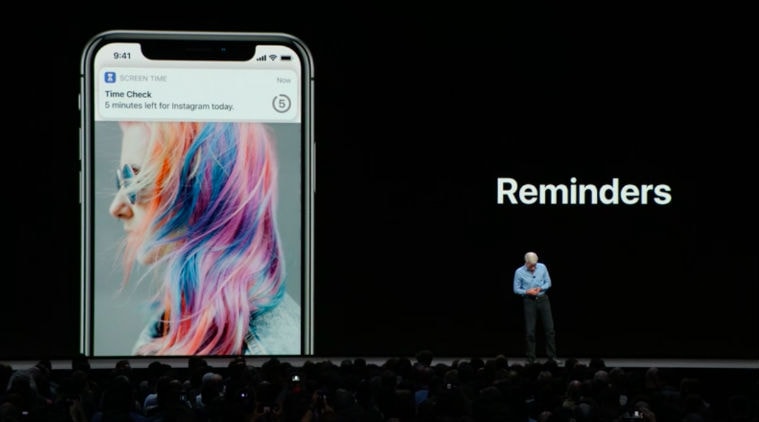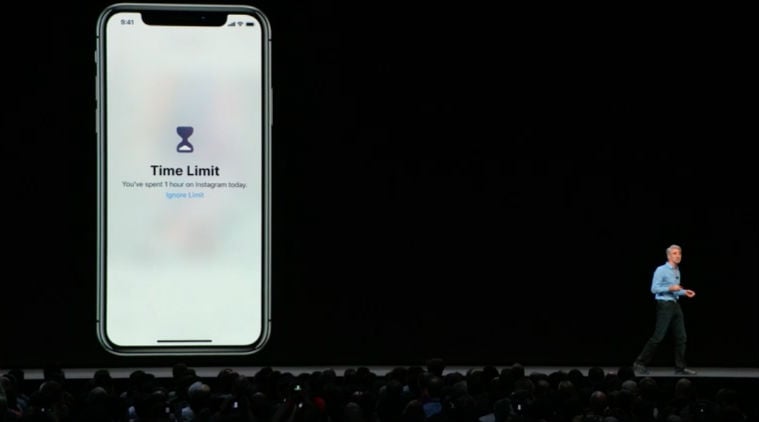 Apple iOS 12: Screen time
Yes, screen time will show the full details on how long you spend on the iPhone, iPad. How much on your app, what apps are sending you most notifications, etc. Apple says it will help users how to manage their time better. Apple will also allow users to set app limits. Users will get a reminder saying time is up for the app. If you exceed the limit, Apple will flash a message on the iPhone saying, 'Time is up.' Apple thinks this will help with kids and families achieve better balance.
Apple iOS 12: Siri will suggest on how to manage notifications
Apple iOS 12 will have Siri suggesting which notifications to turn off, depending on the ones you are not using. Apple is also introducing grouped notifications. Users will be able to get rid of all notifications in a thread in one go.
Apple iOS 12: DND mode
DND during bedtime will make sure you see notifications at night on your iPhone. Users can ease into dealing with these notifications the next day. Users will also be able to set DND end time during an event, for a location, time, etc.
Apple CarPlay update
Apple CarPlay will now support third-party navigation apps.
Apple Books and the new Stocks App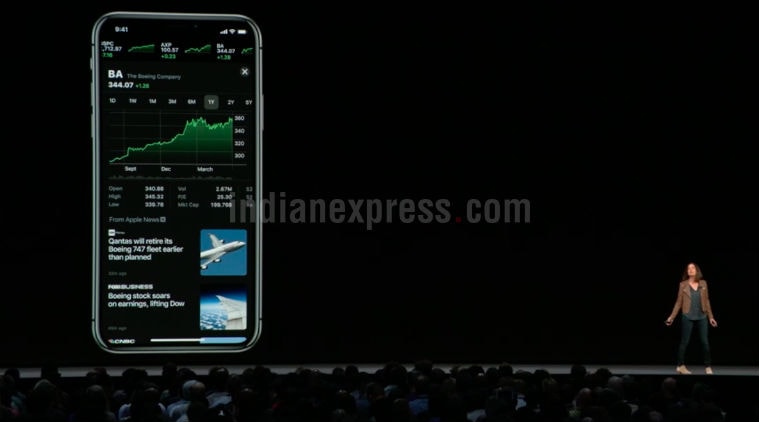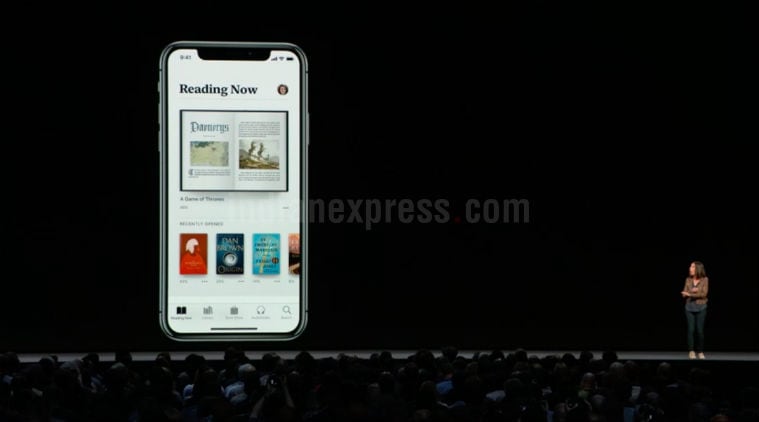 Apple iOS 12: Looks like iBooks, Stocks, Apple News, Voice Memo are getting upgraded
Apple is adding a new browse tab to Apple News. It will also make it easier for Apple News users to jump to their favourites. Apple is also adding a new sidebar to the iPad version of Apple News. Apple Stock app has been redesigned completely, and it will show stock performance through out the day. Apple News is also coming to Stocks. It will have business news from the day. Apple Stocks app will also come to iPad on iOS 12. Voice memos will also come to iPad for the first time. Apple is also adding iCloud support for voice memos. iBooks has also been redesigned completely. It will now be called Apple Books.
Apple iOS 12: Siri and Shortcuts
Apple iOS 12 Shortcuts
Essentially a user can create a fixed phrase with a particular app and Siri will tell you all the details. For instance with your traveling app, you can have the phrase 'Travel Plans' and then Siri will pull the data from the particular app. All of this is relying on the Shortcut app.