Written by
Hansa Verma
|
Updated: December 20, 2015 9:44:56 am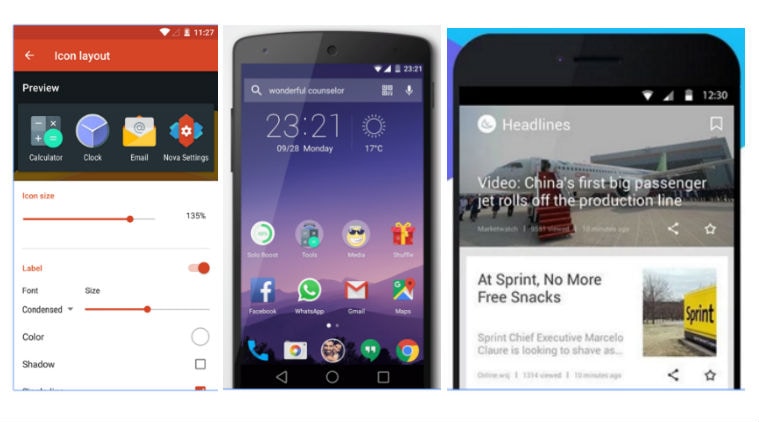 Don't you agree that every once in a while, just like us, phones too need makeovers? If you've felt bored looking at the same themes and icons over and over again, then mobile launchers might just be what you need. Android launchers do not only change the entire look and feel of the phone, but also provide functionality features such as backup and import.
There are a lot of Android launchers available at the Google Play store and all of these come with refreshingly new themes. We've tried the top five Android launchers for you. Take a look:
Nova Launcher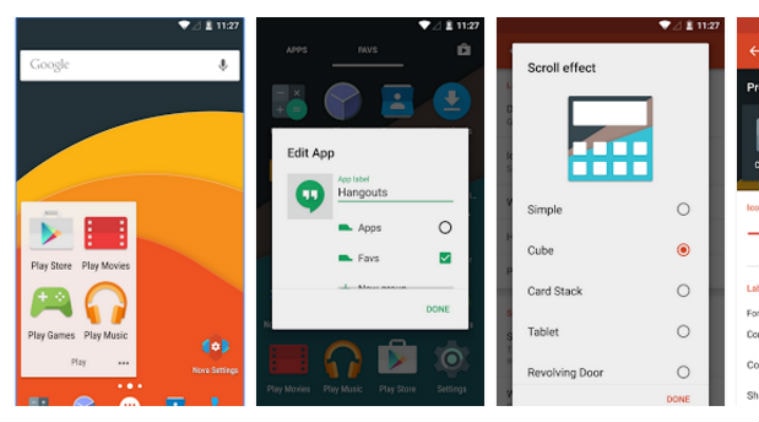 Nova Launcher is probably one of the best Android launchers right now. It changes the look and feel of the phone without affecting the device's performance in any way. Nova offers an extensive list of functions to choose from that work seamlessly.
Nova Launcher comes with a number of themes and one can also choose the size of icons, how they appear and their theme. An arc, rectangular, rounded or platform dock background can be chosen, which will stand out at the bottom of your screen. You can choose an image or simply leave it coloured and adjust the transparency for the same. One can also set the screen orientation to auto-rotate, force portrait, force landscape or let it remain default.
You can choose the number of apps that will appear in each row or column from the 'Desktop Grid' option or choose to see frequently used apps in the top row. You can easily set the colour and transparency for background select the widgets in the widget drawer to appear as horizontal, vertical or grouped. One can enable or disable the infinite scrolling options. Nova also offers an import feature that allows you to import homescreen settings from other launchers in case you decide to change the device.
Nova Prime, a paid version of the app, takes personalisation to a new level with additional scroll effects; gestures, which directly take you to your favourite apps by double-tapping or pinching on the home screen. It also offers the ability to create new folders in the app drawer. Nova is quick and allows smooth scrolling and transition of apps. The app helps in enhancing both looks and performance of the phone, that too in a more customised way.
Hola Launcher 
Set Hola Launcher as the default launcher and you will suddenly find that the look of your device has changed completely (for good). You will see that several icons have been changed and all of your apps have been re-organised in categories such as Media, Education, Shopping etc. However, the most significant changes are the addition of the new Hola Club, Personalise, Hola Shine, Hola Picks, Hola Boost+ icons and alphabetical ordering in the app drawer.
The Personalize option appears right on your homescreen and you can choose from a number of themes and wallpapers online ranging from latest to categories such as Cartoon & Animation, Sci-fi & Tech, Landscapes and 3D. Landscape theme includes Winter beach, Jolly Christmas, Shooting Stars and more. Similarly Cartoon & Animation comes with Kitten Pink, Cartoony, Christmas Vogue etc; and 3D with Jellyfish, Spaceship and Flame. These can be installed from Google Play store.
Must read: Tinder to TrulyMadly, here's all about dating apps
One of the best features that the app offers is Hola Shine, which shows you the recent and most frequent apps in a semi-circle pop-up on the right corner of the screen. Additionally, a tap on the Hola Boost icon clears RAM. If you are in the mood for fun, then try Shuffle, which randomly changes the wallpaper. You can set this option or continue shuffling to get more options. Hola also comes with a utility feature called Hola Picks that shows you sponsored ads, and a list of games and apps that you can install.
Hola sets itself apart with the Holazine feature that shows news content from websites around the world. You can also personalise your news feed to see only Tech & Science or Sports, Business and Entertainment. For example, when I chose Tech & Science and the app showed me stories from international sites such as Wired and Mashable.
APUS 
APUS is similar to Hola in a lot of ways. To start with, APUS also sets your app drawer in an alphabetical order and revamps your phone to give it brand new icons and wallpaper. APUS will also organise your apps by placing them in categories such as Photography, Social, Game, Entertainment etc. The app has an online store called APUS Discovery that features apps and games. Additionally, you can install themes like Valentine, Travel, RealLife, Taste of Life etc from the APUS Discovery store, which appear under the Beautify category. It also shows the apps that are trending and takes you to Google Play store in case you wish to download them.
Also see: Snapseed to Retrica: Top photo-editing apps for that perfect picture
The app comes with APUS Boost that clears RAM, which is important for seamless functioning of apps. APUS does have an edge over Hola in terms of the News Feed as the APUS headlines section is more extensive and based on your location. It has a section for top stories, politics, business, sports, entertainment and lifestyle. One can also instantly share a news article with friends on social networking sites such as Facebook, Google+, WhatsApp, Twitter and more.
Then there's APUS Know, a tag that hangs on your homepage. You can pull it down to open a trending news section and keep pulling to go from one story to another. APUS makes scrolling through your smartphone or news feed really easy.
APUS offers a number of themes like India Gate, Glassy Sky, Lover, Sailing Trip, The Tiger etc; which can be installed for free. It also comes with utility features such as Power + that can manage your phone's battery life and Free Swipe that takes you to a list of recently used apps. You can choose from scrolling effects like Cube, Crossfade, Classic and Tumbling from the APUS Tools folder.
Solo Launcher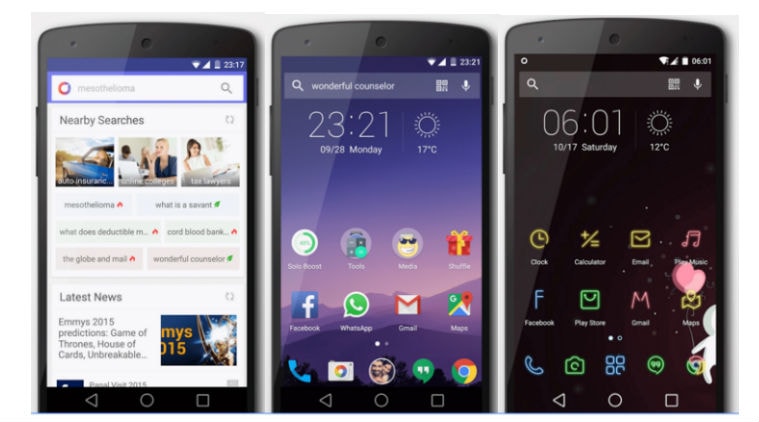 Solo Launcher is more personlaised and automatically sets the frequently used apps on the home screen. Plus it offers DIY features such as setting any picture from the phone's gallery as icons that too in various shapes like circle, star etc. Solo also comes bundled with a number of utility functions like Solo Boost to clears cache and Solo Torch. You can also download other utility apps such as Battery Saver, Solo AppLock, Deep Jungle theme and WiFikey master that allows you to connect to shared hotspots.
Solo launcher neatly sets your apps in the app drawer in the alphabetical order, but does not create smart folders based on categories like APUS or Hola. On the home screen, you will find a Shuffle icon that allows you choose wallpapers randomly. A new wallpaper is set each time you press Shuffle, which you can set or shuffle again. Solo launcher is a very light app and also, will not change the look and feel of your phone drastically. It is designed for those looking at basic basic but more personalised changes in phones.
Read: Planning a vacation? MakeMyTrip to Oyo, the must-have travel apps
Solo Gestures is what I liked the most. The feature lets you set shortcuts for apps with simple gestures like Pinch In, Pinch Out, Double Tap, Swipe Down, Swipe Up (Two Fingers etc). The app also has its own search tool called Solo Search which shows news, ads and videos on the home page.
With Beautify feature, you can install the wallpapers and themes of your choice. In fact, you can even decide how text on your phone appears from options like Fashion font, Comic font, Dyslexic font, Handwrite font etc. You will, however, need to install HiFont additionally to use these fonts on your phone. Also, there is DIY Solo Locker that allows you to set photos from gallery in the background while unlocking your phone, an app that you have install separately again.
Go Launcher 
GO Launcher, in my opinion is the simplest of all Android launchers and provides you with basic, minimum options. By default, it sets your apps in an alphabetical order, but is not accompanied by each letter as we scroll down in the app drawer. GO launcher provides right to left scrolling as we normally find in our Android devices. The app comes with an option to boost the phone's memory by clearing unwanted cache.
The app offers simple gestures, such as swipe down to open the search tool or long press on the home screen to edit it or add apps and change wallpapers and schemes. GO Launcher provides a number of wallpapers to choose from, including those which are new and popular. Currently, it has an option of 'Merry Christmas' themed wallpapers. As you select a particular wallpaper, you will notice that the app will pop up a photo filter box and you can choose from filters like Film, Sunset, Dream, Milk etc to make the wallpapers more appealing. It has a lot more transition effects such as Wave, Stack, Flip, Random, Crystal 3D and Ball 3D. One can change the app drawer background to a photo from the gallery or select the font and color of app labels.
One of the most useful features of the GO Launcher is the App Lock option, which allows you to lock selected apps through a pattern. It is an in-built feature and you do not need to download additional apps to use this. GO Launcher is a perfect app for those who want their devices to look stylish, work smartly with not so dramatic changes. Also, the app offers great personalisation tools. On the face of it, you may feel that nothing much has changed but you will see a major improvement in the way the phone manages stuff.

Bonus read: BlaBla to Shuttl: These apps will let you travel better and for low cost
📣 The Indian Express is now on Telegram. Click here to join our channel (@indianexpress) and stay updated with the latest headlines
For all the latest Technology News, download Indian Express App.
The Indian Express website has been rated GREEN for its credibility and trustworthiness by Newsguard, a global service that rates news sources for their journalistic standards.