Appearing before the US Congress in the light of the data privacy scandal, Facebook CEO Mark Zuckerberg took responsibility for the leaks which affected 87 million users. Zuckerberg in his statement said, "We didn't do enough to keep fake news, foreign interference in elections, and hate speech away. We didn't take a broad view of our responsibility & that was a big mistake. It was my mistake, and I am sorry. I started Facebook, I run it & I'm responsible for what happens."
Zuckerberg accepting that it was a mistake that they believed Cambridge Analytica, he said that the firm illegally accessed the data. Responding to Zuckerberg's comments, Cambridge Analytica tweeted, We did not hack Facebook or break any laws – SCL Elections licensed data from a research company called GSR which obtained the data via a tool provided by Facebook, a common practice at the time." Facebook CEO Mark Zuckerberg will have to face some tough questions regarding user privacy, how Facebook handles user data and possibly whether the company failed to protect customers in light of the recent scandal.
READ MORE: Facebook CEO Mark Zuckerberg's testimony to US Congress: The key points he made
READ MORE: Facebook CEO Mark Zuckerberg testimony to US Congress day 2 LIVE UPDATES
Live Blog
Below are LIVE UPDATES from Facebook CEO Mark Zuckerberg's testimony to US Congress
Facebook CEO Mark Zuckerberg testimony key points: We do not sell data
The Facebook CEO during his testimony said, they do not sell data at all at advertisers. He also said that the idea of paid, ad-free Facebook was not yet possible. Facebook never sells individual data to advertisers, is what Mark Zuckerberg said. ""We think offering an ad-supported service is the most aligned with our mission of trying to help connect everyone in the world, because we want to offer a free service that everyone can afford," he said. Read more on this here.
The Congressional hearing concludes, Zuckerberg leaves
Zuckerberg says Facebook does not mine phone audio for data to target ads. He calls the idea a "conspiracy theory." The Congressional hearing comes to an end. The second hearing will take place on Thursday.
Facebook supports legislation
Our position is not that regulation is bad, Mark Zuckerberg supports Congressional push for legislation and regulation of tech companies like Facebook.
On Trump's immigration orders
Zuckerberg says Facebook would not 'proactively' cooperate with Trump administration's extreme vetting of immigrants. The company cooperates with the government only if a threat of harm is imminent or if legally required to do so.
Chinese internet companies strategic threat to US
Zuckerberg says Chinese internet companies are a strategic and competitive threat to the US. and tougher regulation could make it harder for smaller companies to get started.
Legislation to cover consent of users
Mark Zuckerberg support opt-in legislation that permission is acquired before sharing information, as a standard for the United States and says it's the right principle.
Zuckerberg's fortunes increase by $2.7 billion
Facebook to indulge in security review
20,000 people within facebook to work on security review through AI tools by the end of the year, says Mark Zuckerberg on the creation of fake profiles, active bots and Russian influence.
Facebook, WatsApp do not communicate
Mark Zuckerberg assure senators that the company does not look into the messages of WhatsApp, it's encrypted and same goes for Instagram and Facebook Messenger.
Not sure about foreign players in political ads
Zuckerberg says Facebook would not know if foreign nationals run political ads through US shell corporations.
Cambridge Analytica acquired FB data through GSR
While Zuckerberg said that they had no relation with Cambridge Analytica in 2015, the firm says that they acquired Facebook data in 2014 through a third party.



In 2014 we received Facebook data and derivatives of Facebook data from another company -- GSR -- that we engaged in good faith to legally supply data for research.


— Cambridge Analytica (@CamAnalytica) April 10, 2018
Edward Snowden on testimony
`Facebook shares fly over testimony
Facebook steps up process to safeguard data
Facebook a platform for ideas
Facebook is a platform for ideas, we do not allow hate speech, nudity or terrorism on our platform among others, said Zuckerberg on Senator Ted Cruz's question whether the company is neutral or not.
Facebook changes motto
Zuck: Our current motto is "move fast but stabilize infrastructure, which is a much less sexy mantra" than its predecessor, move fast and break things. Laughs ensue.

— Dustin Volz (@dnvolz) April 10, 2018
Mark Zuckerberg warned by senators of 'privacy nightmare'
Zuckerberg said the world's largest social-media company set out to do good but didn't do enough to prevent its tools from being used for harm. READ HERE
Cambridge analytica data being stored in Russia?
Mark Zuckerberg says he has no specific knowledge that Cambridge Analytica data is being stored in Russia. Zuckerberg earlier had said that the firm illegally accessed the private data of users through a third party app.
On Facebook's privacy policy
Zuckerberg says of Facebook terms of service: 'I don't think that the average person likely reads that whole document'
Mark Zuckerberg on hate speeches
Senator Leahy confronted Zuckerberg about calls for the death of a Muslim journalist in Myanmar not immediately being removed from Facebook. 'How can you dedicate and will you dedicate resources to make sure such hate speech is taken down in 24 hours?' Leahy asked. Zuckerberg said Facebook is doing three things to work on this:
1. Hiring more Burmese language content filters2. Working with civil society in Myanmar to identity hate figures to remove accounts.3. Setting up a team to make product changes in Myanmar and other countries to prevent this from happening.
Facebook collecting data of minors?
Mark Zuckerberg says he does not know if Facebook collects phone logs of people aged 13 to 17.
Congressional grilling continues on Capitol Hill
Zuckerberg had apologized many times already, to users and the public, but this was the first time in his career that he had gone before Congress. He also is to testify Wednesday before the House Energy and Commerce Committee. In the hearings, Zuckerberg is not only trying to restore public trust in his company but also to stave off federal regulations that some lawmakers have floated. In his opening statement to senators, he also apologized for fake news, hate speech, a lack of data privacy and Russian social media interference in the 2016 elections.
Zuckerberg emerges winner on share market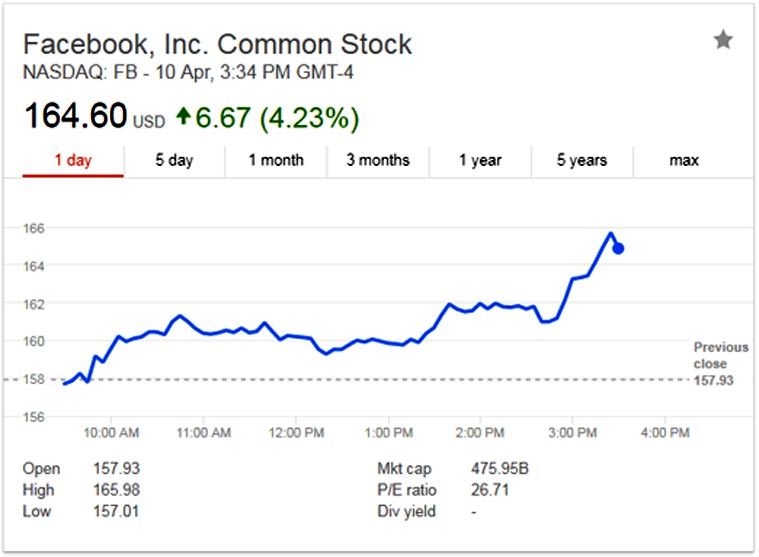 Keep track of the Facebook share price while CEO Mark Zuckerberg is on Capitol Hill testifying to lawmakers.
Facebook working with Robert Mueller
People from Facebook has been interviewed by Special Counsel Robert Mueller, however, Mark Zuckerberg clears he has not been interviewed. Mueller is leading a team on the investigation of alleged collusion between Trump campaign and Russia.
Zuckerberg emerges winner on stocks
Facebook shares take a jump over Zuckerberg's testimony on Capitol Hill. Track development in FACEBOOK SHARES HERE
Facebook shares prove Zuckerber as winner
Facebook sees a major jump in shares over Zuckerberg's testimony, and experts declare him a winner. Track Facebook Shares HERE
No knowledge about Palantir Technologies
Zuckerberg says in response to question that he is not aware of Palantir Technologies scraping data from Facebook.
Cambridge Analytica on involvement with Brexit
Cambridge Analytica did no work on the Brexit referendum in Britain. We pitched our services to leave and remain groups but did no work for them.

— Cambridge Analytica (@CamAnalytica) April 10, 2018
Facebook shares jump over Zuckerberg's hearing
Facebook and Indian election
Mark Zuckerberg talking about Indian elections, says that company wants to protect the integrity of the process and they have deleted thousands of such accounts which could exploit internet systems and affect elections.
There was nothing to ban in 2015
"Was not working with Cambridge Analytica in 2015. So there was nothing to ban," Zuckerberg says when asked why Facebook did not act on the firm earlier.
On interference in elections by Fake accounts and research agencies
One of my greatest regrets in running Facebook is that we were slow in identifying new information operations. We identified it at the time of 2016 Presidential elections," says Zuckerberg. Talking about elections in 2018, Zuckerberg added that 2018 is important and we want to prevent the integrity of the elections.
Here comes the Russia question
Zuckerberg says it is one of his biggest regrets, were slow in identifying Russian operations. Says 2014 was an important year for elections, especially in India. Have deployed new tools since and have become better.
14,000 new people to clean content
Will have 14,000 people working on content policies soon, says Mark Zuckerberg. Finding hate speech is tougher because of linguistic issues, he says, adding how most of IS content is filtered by AI tools before humans.
14 years of apologies
How is today's apology different, the chairman asks
"We have made a lot of mistakes... a lot of these are because of the nature of the service."
This is what the chairman was mentioning
As you sit with popcorn and wait for Zuck to testify, here's an 11K word look by me and @fvogelstein at how they got to here... https://t.co/urlSDlmD4J

— Nicholas Thompson (@nxthompson) April 10, 2018
On irrelavant ads on Facebook
Mark Zuckerberg says 'overwhelming feedback' of Facebook users is that they prefer ads relevant to them over irrelevant ones.
"It was a mistake believing Cambridge Analytica in 2015 when they claimed the data has been deleted. We considered it was a closed case. It was a mistake." DID NOT inform the FTC for the same reason.
No paid model right now
Zuckerberg says they don't have a paid model in mind right now. He tells the panel that such a model will limit access to all the people who use it now.
This post from Sheryl Sandberg is worth a read
'Will be more proactive'
Going forward, Zuckerberg says, Facebook will be more proactive in taking on apps that show rogue behaviour. Suggests he doesn't know how many of such apps are there on the platform at the moment.
Why doesn't Facebook disclose all the ways in which user information might be used?
"It's important. That's why there are controls on who you are sharing something with..." Zuckerberg says long privacy policies are confusing and will reduce the number of people reading it. That is why we have inline tools, he says.