Lunar eclipse 2018: Super Blue Blood Moon was seen in the skies of several Indian cities including Delhi, Jaipur, Bhopal, Varanasi and Kolkata. (Express photo/Praveen Khanna)
Total lunar eclipse is taking place now, but this is a special event or what NASA calls a 'Super Blue Blood moon'. India and several parts of the world is witnessing this super moon and total lunar eclipse as well. This lunar trifecta is occuring after many years. The event was visible best in the western half of the US and Canada before the moon sets early, and across the Pacific into Asia as the moon rises tonight.
A blue moon means it is the second full moon to occur in a month; a supermoon means a full moon which is closest to the Earth. It is the third in a series of "supermoons," when the Moon is closer to Earth in its orbit — known as perigee — and appears about 14 per cent brighter than usual.  This is also a total lunar eclipse where Earth casts a shadow on the moon's surface and blocks the sunlight which the moon would have reflected. However, the satellite takes on a reddish tint, because of how Earth's atmosphere will allow red wavelengths to pass. Thus it is also called a blood moon.
Watch streaming of the Lunar eclipse below: 
Also Read |  Total lunar eclipse, Super blue blood Moon 2018
Follow total lunar eclipse, super blue blood Moon highlights below: 
7:56 pm: According to NASA, the Earth is currently moving out from between the Sun and Moon.
7:53 pm: The Lunar eclipse was seen clearly in Kolkata.
The Lunar eclipse was seen clearly in Kolkata.

Lunar eclipse 2018. (Source: Express photo by Partha Paul)
7:36 pm: People of Varanasi took holy dip in Ganga during Lunar eclipse. The devotees also throng Ganga ghat in Haridwar.
Lunar eclipse 2018: People take holy dip in Ganga in Varanasi. (Source: ANI photo)

Lunar eclipse 2018: Devotees throng Ganga ghat in Haridwar to take holy dip during Lunar eclipse. (Source: ANI photo)
7:27 pm: Super Blue Blood Moon was seen in the skies of several Indian cities including Delhi, Jaipur, Bhopal, Varanasi, Tamil Nadu's Chennai.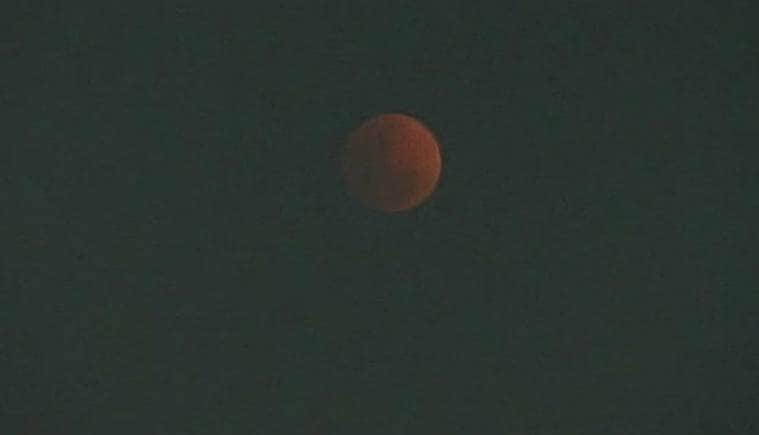 Lunar eclipse 2018: Lunar eclipse 2018 was seen in severals Indian cities. (Source: ANI photo)
7:20 pm: Are you following our live updates on lunar eclipse? Earth will continue to block the Sun's light, casting a reddish hue onto the Moon until around 9:07am ET/6:07am PT.
7:17 pm: In Los Angeles, a crowd ranging from 1,000 to 2,000 people was expected to make a pilgrimage in the dark to the Griffith Observatory on Mount Hollywood, where extra telescopes will be set up for them to see the celestial show, Griffith Observatory officials said.
7:16 pm: The reddish appearance of the lunar surface – the moon's image does not vanish entirely during the eclipse – is due to rays of sunlight passing through Earth's atmosphere as the moon falls into our planet's shadow. The last time all three conditions occurred for a single lunar eclipse visible from North America was in 1866, according to the meteorological forecaster AccuWeather.
7:12 pm: About 400 super-keen skywatchers dressed in thick coats queued patiently outside the Beijing Planetarium to peer into eight telescopes mounted on tripods.Skywatchers across western North America set their alarms to wake before dawn on Wednesday, with hundreds expected to view the phenomenon from a Los Angeles mountaintop..
7:11 pm: Millions of people across the Chinese capital were treated to a "super blood blue moon" eclipse on a cold but clear night on Wednesday, a phenomenon not seen since the late Qing dynasty more than 150 years ago.
6:57pm: You can see some more photos of the Lunar eclipse below:
Lunar eclipse 2018: A lunar eclipse offering 'super blue blood moon' is photographed from Naypyitaw, Myanmar. (Source: AP photo)

Lunar eclipse 2018: A lunar eclipse is seen near Tokyo Skytree in Tokyo. (Source: AP photo)

Lunar eclipse 2018: A full moon rises beside the Grand Palace in Bangkok, Thailand , Wednesday. The moon is putting on a rare cosmic show. (Source: AP photo)

Lunar eclipse 2018: The full moon shines over a monument dedicated to Red Army heroes in Vladivostok, Russia, Wednesday. (Source: AP photo)

Lunar eclipse 2018: The Statue of Liberty is backdropped by a supermoon, Wednesday, seen from the Brooklyn borough of New York. (Source: AP photo)

Lunar eclipse 2018: An airplane passes the full moon on its final approach before landing in Seoul, South Korea. (Source: AP photo)
6:40 pm: The Earth is directly between the Sun and Moon now, making the lunar surface appear red. Keep reading our Live blog.
6:35 pm: The total lunar eclipse is fully visible in Mumbai for a duration of 3 hours and 11 minutes. Here, it bagan at 18:27 and will end around 18:59. The maximum effect will be seen at 18:59 with 1.32 magnitude.
6:20 pm: Are you watching the Live streaming? Did you notice the red tint? It is a Blood Moon caused by Earth casting its shadow on the Moon during the lunar eclipse that's happening now. For the US, this eclipse is best viewed on the West Coast.
6:17 pm: The Moon has started to enter Earth's shadow. At about 7:51 am ET/4:51 am PT, the Earth will completely block the Sun's light, casting a reddish shadow on the Moon during what's called "totality".
6:15 pm: During an eclipse, 2 shadows are cast: umbra & penumbra. The umbra is where the Sun is completely hidden behind Earth. The real action begins when the Moon starts to disappear as it enters the umbra at about 3:48am PT.
6.08 pm: To recap, the Total Lunar eclipse will end at 19.37 pm in India time. The best time to watch the total lunar eclipse in New Delhi would be around 18.59 pm in the evening.
6:00 pm: Petro said, "While a supermoon is considered less serious and scientific than an eclipse, it represents a chance to encourage people to start looking at the moon." "I'm a lunar scientist. I love the moon. I want to advocate for the moon," he said.
"The moon is one of the most amazing objects in our solar system. It really is the key to understanding the solar system, through interpreting the geology and surface of the moon," Petro said.
5:44 pm: For the trivia crowd, the moon will be 223,820 miles (360,200 kilometers) away at the peak of the eclipse, close enough for supermoon status.
5:35 pm:  Here are some of the photos of Lunar eclipse from different parts of the world:
Lunar eclipse 2018: The full Moon is seen from Salgotarjan, 109 kms northeast of Budapest, Hungary, Wednesday. In the foreground Fort Salgo is silhouetted. (Source: AP photo)

Lunar eclipse 2018: The moon sets in the Mediterranean sea behind a street lamp in Hadera, Israel, early Wednesday. (Source: AP Photo)

Lunar eclipse 2018: An almost full moon was seen through the clouds over Frankfurt, Germany, Tuesday. (Source: AP Photo)

Lunar eclipse 2018: The moon rises in a rare phenomena that combines a supermoon, a Blue Moon and a total lunar eclipse as seen in Legazpi city, Albay province around 200 miles (340 kilometers) southeast of Manila, Philippines Wednesday. (Source: AP Photo)
5:31 pm: It's the first time in 35 years a blue moon has synced up with a supermoon and a total lunar eclipse. There hasn't been a triple lineup like this since 1982 and the next won't occur until 2037.
5:29 pm: Scientists are keen to study the sharp, sudden drop in temperature at the lunar surface, as Earth's shadow blankets the moon. During the more than one hour of totality, the temperature will plunge 100 degrees Fahrenheit (38 Celsius), said lunar scientist Noah Petro of Goddard Space Flight Center in Greenbelt, Maryland. He's deputy project scientist for NASA's Lunar Reconnaissance Orbiter, circling the moon since 2009. His team is taking special precautions to keep the spacecraft warm during the eclipse.
5:22 pm: When a full moon occurs twice in a month, the second full moon is called a blue moon. This also led to the term 'Once in a blue moon', as it is relatively rare to witness.
5:15 pm: An eclipse is when three celestial bodies which are Sun, Moon and Earth are aligned in one path.This year January 1, 2018 also saw a Supermoon rise.
5:00 pm: For stargazers in India, the phenomenon will be visible. The country's first viewers will be from the north-East, who will be able to witness this event between 4:21 PM and 5:18 PM IST. Rest of India will get a chance to see this Super blue blood moon between 5:18 PM IST and 6:21 PM IST. The west coast and parts of Rajasthan will see the celestial event from 6:21 PM IST to 7:37 PM IST today itself. Click here to read more
4:56 pm: The super blue blood moon will be visible on January 31. Today, the natural satellite will rise at 5:51 AM EST, which is 4:21 PM IST and set at 11:08 AM EST or 9:38 PM IST.  Those residing in Siberia, Australia, New Zealand and northwestern US and Canada will be lucky to observe the entire event. Major sections of Africa, South America and Europe will not be able to enjoy the event.
4:50 pm: These type of phenomenon has always fascinated people, and while Indian Vedic texts and other similar scriptures do have mentions of it, there are several myths and superstitions associated with it as well. Click here to read more 
4:46 pm: Here is the Global map showing areas of the world that will experience (weather permitting) the January 31, 2018 "super blue blood moon."
4:35 pm: Of the five eclipses this year, three will be partial solar eclipses — February 15, July 13 and August 11 — that will not be visible from India. Of the two total lunar eclipses, the one on Wednesday will be partially visible from India; the next one, on July 28, will be entirely visible. On Wednesday, the total eclipse will start at 6.21 pm, and totality will end at 7.38 pm.
Stages of the January 31, 2018 'super blue blood moon' (weather permitting) are depicted in Pacific Time with 'moonset' times for major cities across the US, which affect how much of the event viewers will see. (Photo Credits: NASA)
4:29 pm: 'Supermoon' was coined by an astrologer in the 1970s, not by a scientist. The term has come to mean a full moon that is at perigee, or when the moon is at its closest position to Earth along its orbit. As a result, the moon appears somewhat bigger — even though the enlargement is clear only in comparison with the full moon at apogee, or its farthest position from Earth. The supermoon appears 14 per cent larger than the apogee full moon and 30 per cent brighter.
4:27 pm: To be clear, "blue moon" is just a name — the moon will not turn blue today (or at any other time). Rather, during the peak total phase of the lunar eclipse, it will have a reddish or coppery tinge. This is because even though the moon is in the shadow of the Earth, some light does reach it. Fine particles in the atmosphere scatter the blue component of the solar spectrum, and what reaches us is the longer wavelength red light.
(With inputs from ENS and agencies)
For all the latest Technology News, download Indian Express App