The Indian Space Research Organisation on Wednesday successfully launched its latest communication satellite GSAT-29, which was put in its orbit by India's heavy-lift rocket Geosynchronous Satellite Launch Vehicle (GSLV-Mk III). The GSLV Mk III is the designated rocket for India's first human spaceflight proposed for 2022. Today's launch was a key test to the GSLV Mk III as it carried the GSAT-29 weighing 3,423 kg and placed it into Geo Transfer Orbit (GTO) just over 16 minutes into its flight.
The GSLV Mk III took flight as scheduled for 5.08 pm from the Satish Dhawan Space Centre at Sriharikota in Andhra Pradesh. This was the third flight undertaken by ISRO's most powerful rocket.
The GSLV Mk III has so far undergone one experimental and one developmental flight and Wednesday's flight was the second developmental flight for the rocket.
Live Blog
ISRO successfully launches communication satellite GSAT-29. Follow LIVE Updates
ISRO's GSAT-29 launch a giant leap towards manned space mission in 2021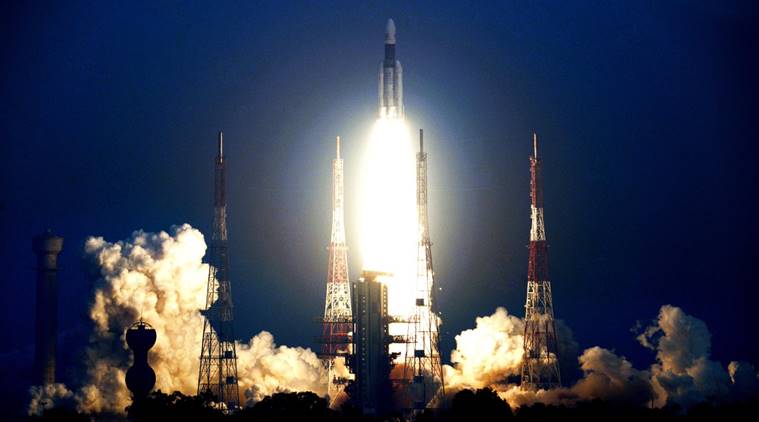 The Indian Space Research Organisation (ISRO) Wednesday successfully placed its latest communication satellite GSAT-29 into orbit, taking it another step closer to achieving India's dream of a manned space mission in 2021.
ISRO scientists celebrated the successful launch of the satellite, with Chairman Dr K Sivan calling it a significant milestone. "I am extremely happy to declare that our heaviest launcher in its second mission has lifted the heaviest satellite, GSAT 29 from Indian soil, and after a majestic travel of 16 minutes, it precisely injected it into the intended Geo Transfer Orbit," Sivan said.
The ISRO also has set a 'target' of achieving the country's ambitious manned mission to space by 2021, with the first unmanned programme of 'Gaganyaan' planned for December 2020, Sivan said.
"The mission team is on track and already the work is going on," Sivan said after the successful launch of communication satellite GSAT 29 onboard GSLV-MkIII-D2 here.
Visuals from the site of launch
Kerala CM Pinarayi Vijayan congratulates team ISRO
Today's successful mission at a glance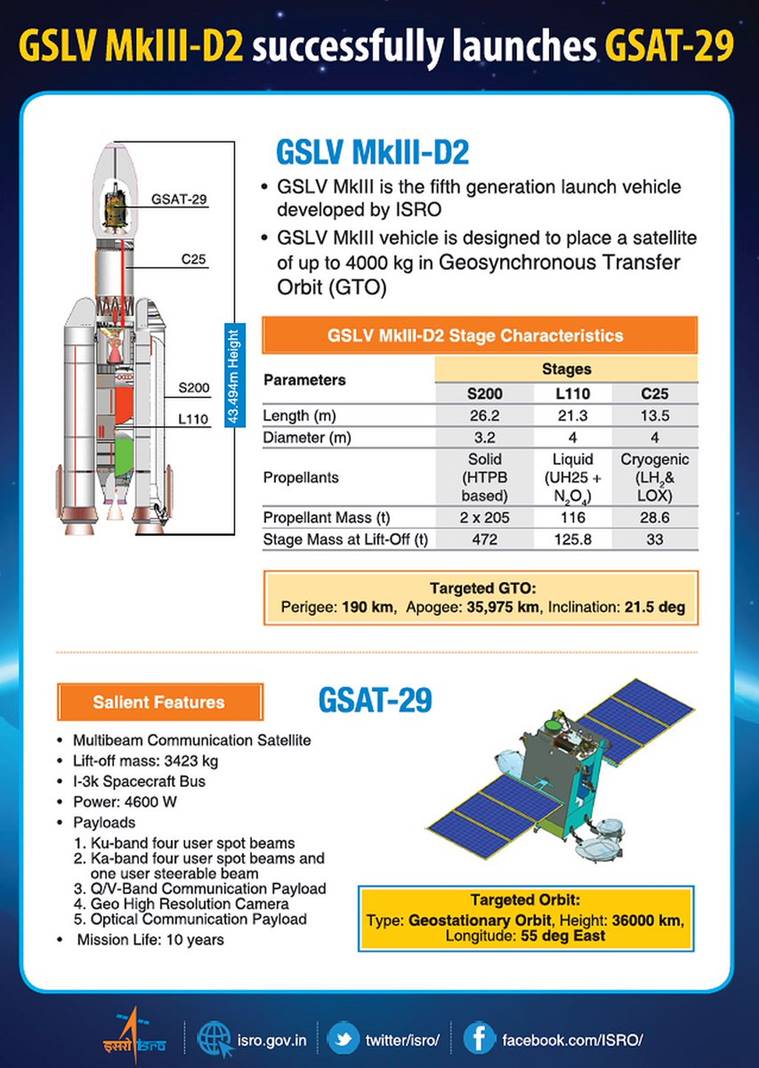 Work on for unmanned mission of Gaganyaan: Dr K Sivan
On 15 Aug'17, our PM declared a great gift for all of us that is #Gaganyaan mission. Already team is identified&work is going on. For first unmanned mission of #Gaganyaan activity, we are planning for 2020 Dec. Team ISRO has the capability to do the work: K Sivan, Chairman ISRO pic.twitter.com/pTvnjuxbE9

— ANI (@ANI) November 14, 2018
Another step towards country's first manned mission
ISRO scientists had termed the launch crucial for the space agency as the rocket would be used for the ambitious Chandrayaan-2 and the country's manned space missions. Sivan said while the launch vehicle's first operational mission was going to be "none other than Chandrayaan" in January 2019, "this fantastic vehicle is going to carry humans to space in three years from now."
The satellite would be placed in its final Geostationary Orbit using the on-board propulsion system and it may take a few days after separation from launcher to reach the orbital slot, ISRO said.
PM Modi congratulates ISRO team
My heartiest congratulations to our scientists on the successful launch of GSLV MK III-D2 carrying GSAT-29 satellite. The double success sets a new record of putting the heaviest satellite in orbit by an Indian launch vehicle. @isro

— Narendra Modi (@narendramodi) November 14, 2018
Satellite will provide communication services to Northeast, J&K
The satellite will provide communication services to the Northeast region and Jammu and Kashmir to facilitate execution of Digital India initiatives, ISRO Chairman Dr K Sivan said.
Credit goes to entire ISROteam: Dr K Sivan, Chairman
GSAT-29 successfully put in its orbit
WATCH LIVE: Launch of GSLV Mk III from SHAR
The GSLV Mk III lifts off
Visuals from the site of launch (Source: Twitter/@isro)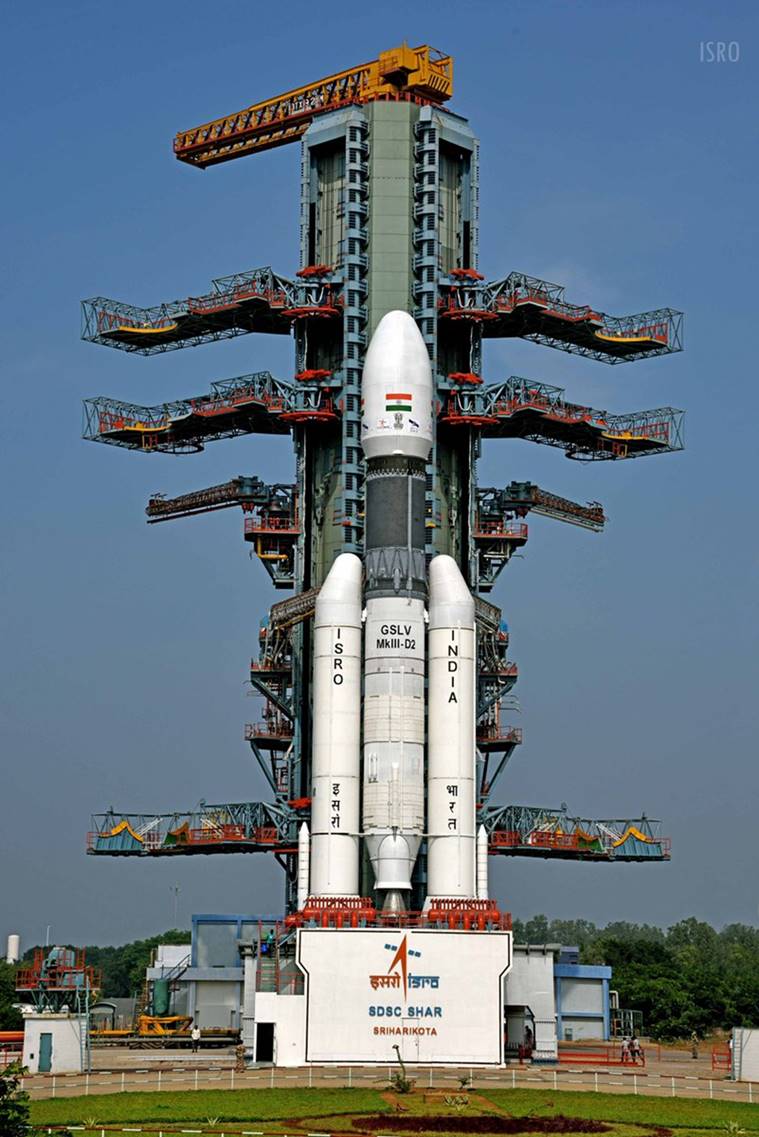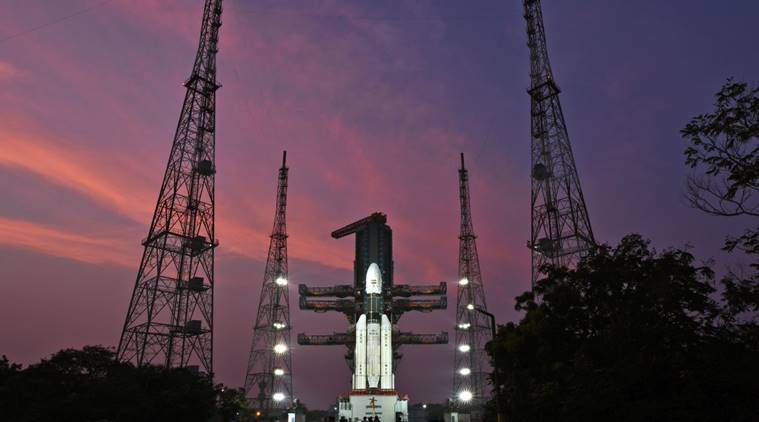 The GSLV Mk III's flight is scheduled for 5.08 pm