Written by
Nandini Rathi
| New Delhi |
Updated: January 16, 2017 6:49:01 pm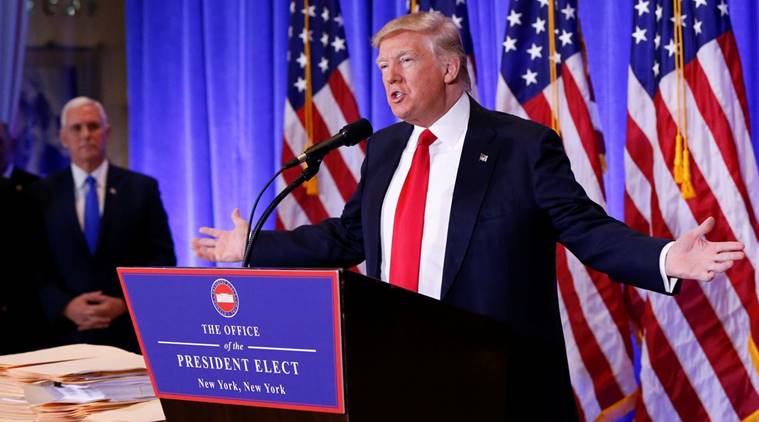 Donald Trump has thrived on breaking protocol and making a mockery of his critics: the news media being one of the most reviled of them, with Trump and his administration continually demonstrating unusual willingness to 'show it its place'. Recently, the White House Press corps was stunned by reports that Trump administration was considering a proposal to eject reporters from their traditional spot in the West Wing of the White House. If the plan were to go through – the press would be removed from its amenable confines within the building and relocated outside somewhere.
A room of their own to work from within the White house has not only provided reporters with convenience for decades – with the prime sources within the administration steps away — but also symbolically enshrined the role of press as the representatives of the American people at the centerstage of American leadership. The news of potential relocation could strengthen the sense of dislocation that the American news media has been experiencing since President-elect Trump's victorious campaign in which he disparaged the media and floated the idea of rolling back libel laws in a verbal attack on press freedom.
Reince Priebus, Trump's incoming chief of staff, recently tried to take the edge off the issue by saying on ABC's show This Week that only the location of the press briefing room was being discussed and that the administration was merely considering a larger area to accommodate the hundreds of journalists seeking to cover the incoming president. But the potential move has once again shaken the Washington journalist community that has been frequently targeted by Trump and is still jittery from last week's commotion.
However, during Trump's volcanic press conference on January 11, besides attacking Buzzfeed as "garbage", he slammed CNN for running a story that he did not like and in a rude outburst refused to give a question to Jim Acosta, its senior White House correspondent.
On January 10, CNN reported that US intelligence officials had briefed Trump about unverified claims about his relationship with Russia and provided him with a two-page summary of the dossier of information compiled by political opponents. They did not, however, publish any details of the document itself. Buzzfeed followed by publishing the full 35-page document containing the uncorroborated allegations in its entirety. The former pointed out on various forums that it could not be held responsible for the latter's actions as the two decisions were drastically different.
"Your organization is terrible," Trump bellowed at Acosta in the conference. "Quiet. She's asking a question, don't be rude," he added, pointing to another reporter in the audience. "I'm not going to give you a question. You are fake news," said Trump. It was no coincidence that the next reporter he called out to, as ABC journalist Sara Haines pointed out on The View, was from Breitbart.com. Trump administration has since successfully dodged any question asking them to point out specifically where the CNN reporting in itself was wrong or "fake". 
Master media manipulator Trump and his staff worked hard to conflate CNN reporting with Buzzfeed's release of the uncorroborated document to paint all news media in single stroke as suspect promoters of anti-Trump "fake news" who cannot digest the fact that he won. To Trump admirers and those who elected him to power, this potholed narrative holds. Who cares what Buzzfeed "fake news" publishes?
Emily Bell points out in the Columbia Journalism Review, that in many ways, "Trump sees himself not just in opposition to the existing press but in competition with them, too." His communications team has been inviting in non-traditional journalists, including conservative bloggers and talk show hosts. He has also assembled expert help over time: Bell reminds that Trump's chief of strategy Steve Bannon was most recently editor in chief at Breitbart, Jared Kushner, the son-in-law with Trump's ear, owned the New York Observer. Peter Thiel, the Silicon Valley billionaire who put Gawker out of business, is also in the trusted inner circle of Trump supporters. Trump is also known to have frequent phone conversations with Rupert Murdoch, the owner of Fox, writes Washington Post media columnist Margaret Sullivan.
Over the last few months, the trendline has provoked journalists to do some soul searching about how they would continue to do their jobs under Trump presidency – an onerous task as there is hardly a single united entity called the "media".
Referring to the Buzzfeed's controversial release of unverified allegations against Trump, Jim Rutenberg writes in the New York Times that news media remains "an unwitting accomplice in its own diminishment" as it fails to create a strategy to cover this "wholly unprecedented" president. Referring to the collateral damage to CNN in Buzzfeed's decision to publish information online without fact check and corroboration, he writes – "Every journalistic misstep gives more fodder to people who want to stop the efforts against "fake news" by turning the tables and labeling those efforts — or any other solid journalism they don't like — as "fake news" as well, corrupting the term for their own purposes (a classic case of "no, you are!")".
The American news media will have to stand together in order to prevent the erosion of their own necessary roles. Jim Acosta's run in with Trump last week portends dark times ahead in press freedom in the US. "I think what journalists need to do when that happens again," said ABC journalist Sunny Hostin as a panelist on The View, "and Jim Acosta doesn't get his question, that very next reporter must ask Jim's question. And that way, Donald Trump knows that we are united as journalists. And journalists, we are now — and I think we all know this — on the front lines and we must be jealous guardians of our democracy. We must do that". Sullivan echoes this sentiment, calling on to journalists to gear up for job like it were the fight of their lives, to unite, to toughen up for persecution and punitive litigations and figure out new ways to uncover and express the truth.
The Indian Express website has been rated GREEN for its credibility and trustworthiness by Newsguard, a global service that rates news sources for their journalistic standards.