Do you really have to go to the doctor every time you want to check vital parameters such as blood pressure or heart rate? Not if you have a portable health tracker, like a wristband that tracks fitness. While wearable devices have been the talk of the town for some time, innovation hasn't stopped there. Enter Azoi Inc, a US-based startup that has a research centre in Ahmedabad, with a wearable health monitor for your smartphone — Wello.
Yes, it's a smartphone case. One that lets you track six vital parameters — blood pressure, heart rate, temperature, ECG, blood oxygen and lung function — in 30 seconds. To measure five of these, all you need to do is place four fingers on Wello's sensors just like holding the phone while taking a picture. Measurement of the sixth parameter, lung function, requires you to breathe in and out using an accessory that comes with Wello.
"There's no consumer-facing device like Wello in the market. It can monitor health and let people check normal health levels without going through 200 lab tests. We are working on apps for iPhone and Android, which will let you track your medical history," Ami Karnik, co-founder and head of strategy for Azoi Inc said at an event in Delhi on Thursday.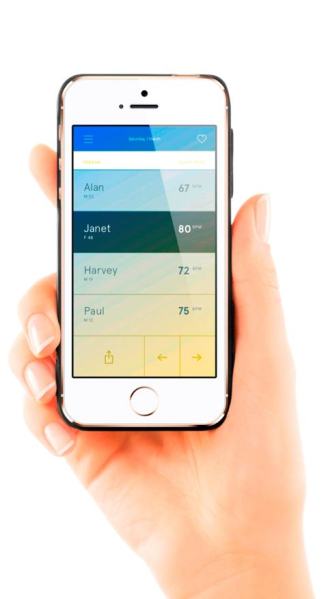 However, Karnik was quick to point out that Wello is not a clinical device and that Azoi Inc won't ask doctors to use it. This device is for people who suffer from health problems such as hypertension, heart disease, low or high blood pressure. For these people, Wello can be a quick way to know whether they need to visit a doctor or whether a particular task is proving too taxing.
Azoi had a prototype case for demonstration during the event in Delhi. It was easy to use and showed data on all five parameters. Although this reporter's vital parameters appeared to be normal, the data couldn't be verified against lab equipment. Since the demo units were prototypes, Azoi refused a request for a review unit.
One thing that was clear from the prototype is that being available as a smartphone case is an advantage over wearable devices for Wello. Most people almost always carry their smartphones with them, so they are less likely to forget it. But it cannot passively monitor your health — you will have to keep reminding yourself to spare 30 seconds once every few days.
"Habitual use is a problem with standalone health monitors. That is why we chose to make Wello a smartphone case. It has a 'brain', which can be removed and put into any Wello case. There's no need to worry if you change your phone. As of now, we have cases for iPhone 4S, 5 and 5S, and there will be cases for Android phones too," Karnik said.
Wello is available for pre-order on azoi.com and costs Rs 12,350. Pre-orders are open till May 4 and should you order one, you can expect delivery by August.
The Indian Express website has been rated GREEN for its credibility and trustworthiness by Newsguard, a global service that rates news sources for their journalistic standards.