By:
Tech Desk
|
Updated: May 16, 2016 3:24:03 pm
Motorola has slashed the price of Moto G Turbo edition, ahead of the Moto G4 launch in India. The Moto G4 is expected to launch in two variants tomorrow, and what the Moto G4 series offers in terms of specs and pricing will be crucial to its success in the country.
The Moto G Turbo, which is originally priced at Rs 12,499, is now available at Rs 11,499 on Flipkart. Users can get a discount of up to Rs 10,000 under the exchange scheme.
The company is also offering a discount on Moto 360 2nd Gen smartwatch. The smartwatch can be bought at Rs 18,499 now, against its original price of Rs 19,999. Users will be eligible for an extra Rs 1,000 discount, if they buy the smartwatch along with a Motorola phone.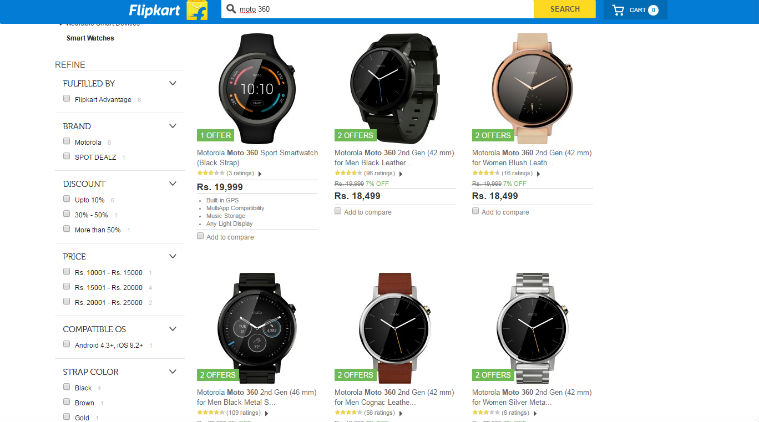 The Moto G3 is also available at a discounted price of Rs 9,999 on Flipkart. Motorola had slashed its price back in January, offering a discount of Rs 1,000.
Read: Motorola Moto G Turbo edition review: Motorola just killed the Moto G3 with this
In our review of Moto G Turbo, we said if you are bent on buying a mid-range Motorola phone, this one makes much more sense than the Moto G3. Moto G Turbo, features a bigger 5-inch 720p HD display and runs Qualcomm Snapdragon 615 Octa-core processor, with 2GB RAM and 16GB storage.
Moto G3 is still the budget benchmark and caters well to the needs of most smartphone users looking to get a decent deal. The USP of Moto G (3rd Gen) is that the smartphone is water-resistant and is immersible up to 3 feet of water for 30 minutes.
Motorola Moto 360 (2015 edition) smartwatch was launched at a starting price of Rs 19,999. Moto 360 has 5 variants, which are priced between Rs 19,999 and Rs 23,999. Motorola Moto 360 smartwatch comes in two sizes: two for at men and one at women.
Also Read: Motorola Moto 360 (2015) #ExpressReview: Best Android Wear smartwatch, if at all you need it 
Read: Motorola Moto G (3rd gen) Express Review: Still the budget benchmark
📣 The Indian Express is now on Telegram. Click here to join our channel (@indianexpress) and stay updated with the latest headlines
For all the latest Technology News, download Indian Express App.