LeEco has launched Le 2 and Le Max 2 smartphones in India. LeEco Le 2 is the successor to Le 1s, which the company says is the most popular smartphone in the Rs 10,000 – 15,000 price category in India.
LeEco has priced Le 2 at Rs 11,999 which is quite attractive, but it will have tough competition in the form of Yu Yunicorn, Xiaomi Redmi Note 3 and Motorola's budget benchmark Moto G4 Plus.
Here is how the four devices stack up against each other in terms of just specs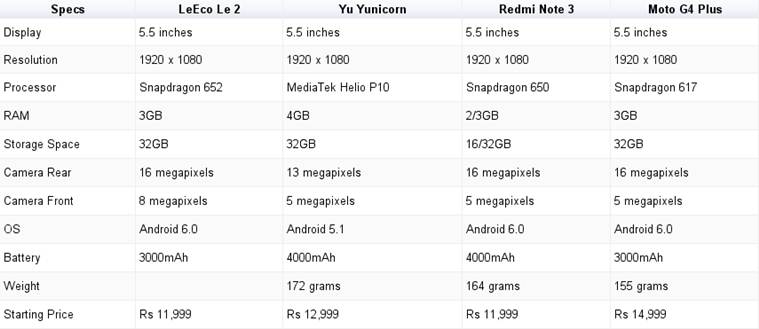 LeEco Le 2: Le 2 is the literal successor to Le 1s with similar design and minor improvement to specifications. Le 2 features a 5.5-inch full HD display and is powered by Qualcomm Snapdragon 652 processor. It has a metal unibody design, and a rear fingerprint sensor with Sense ID support.
Le 2 comes with 3GB RAM and 32GB non-expandable storage. The smartphone comes with 16MP rear camera and and 8MP front camera. The rear camera comes with phase detection auto-focus and has dual LED flash.
LeEco Le 2 runs eUI 5.6 based on Android 6.0 Marshmallow, and is backed by 3000mAh battery. The device comes with USB Type-C port and supports fast charging.
However, Le 2 is not about raw specs, but a device meant for content consumption. LeEco Le 2 comes with 1 year free subscription to Le Supertainment package which gives access to live concerts and other video content.
Yu Yunicorn: Yu Yunicorn is the latest big battery smartphone in the market. Yu Yunicorn features metal unibody design and runs near stock version of Android 5.1 Lollipop with Steroid launcher. Yu has cleaned the OS to a great extent and everything works smoothly without jitters on this one.
Yu Yunicorn comes with 5.5-inch Full HD display and is powered by MediaTek Helio P10 processor. The smartphone comes with 4GB RAM and 32GB storage, and is Flipkart exclusive.
In our review, we noted that Yu Yunicorn is the best designed Yu smartphone till date but fails to redefine the segment. Yunicorn gets the display right, has an excellent battery and an UI that is better than peers.
We further noted in our review that if you are looking for a smartphone with good design and great battery life then Yunicorn is an apt choice.
Watch: Xiaomi Redmi Note 3 video review
Xiaomi Redmi Note 3: For Xiaomi, Redmi Note 3 is the comeback smartphone. It came in at a time when the company was in tremendous pressure from other OEMs. Xiaomi Redmi Note 3's USP is its big 4000mAh battery, and its also one of the most powerful smartphone of the pack thanks to Qualcomm Snapdragon 650 processor.
Xiaomi Redmi Note 3 comes in two variants – 2/16GB and 3/32GB – and offers very good performance thanks to MIUI, which offers tons of customisation option. In our review, we said, "Redmi Note 3 might not have the best camera in its price-range, but it ticks all the right boxes."
We further added, "This would be the top recommendation to anyone looking for a phone in this price-band."
Moto G4 Plus: Like Plus in the name, Moto G4 Plus offers an unmatched performance and is also priced way higher than other three smartphones. Moto G4 Plus offers near stock Android experience with features like Google Now on Tap (works like a charm), and there is better battery optimisation.
When it comes to the camera, Moto G4 Plus leaves the competition far behind. As we noted in the review the camera's, "low-light performance has definitely improved, and the HDR mode is capable of delivering some stunning results."
With Moto G4 Plus, Lenovo has fixed the camera and improved the overall performance. Its a great mid-budget smartphone, but Moto G3 users might not feel the need to upgrade. Read our full review here.