There is now a pocket-sized smart device to help users optimise breathing and improve health and wellness. The product, called 'b', helps initiate breathing exercises for users while mapping key parameters like intake and outtake, lung capacity, etc. Developed by Chicago-based company 'Breathe with b', this smart device is not yet available commercially, but can be pre-orderer on the tech product funding platform Indiegogo.
As per the Indiegogo listing, 'b' offers fitness enthusiasts an interactive guide via a breathing technology that is pending patent. The device, shaped like a whistle, comes with pressure sensors to monitor every breath, while the data is tracked by a smartphone that is paired via Bluetooth. These metrics will also be available from the 'Breathe with b' mobile app, which will track user records across sessions. When users begin a session, they can choose from various breathing exercises, or choose to simply breathe. Users can also choose various breathing exercises based on their mood, to induce particular moods.
Through the sessions, 'b' will send various cues that indicate when to inhale or exhale. These cues include light, sound and vibrations, which can be turned on or off across breathing sessions. The LED lights on the breathing device are shaped in a 'b', that light up or fade as a user inhales or exhales. Their status can be checked during exercises, as the lights are in sync with pressure sensors that track air and muscle movements. 'b' also contains calming device sounds, that aim at improving wellness over the course of breathing sessions.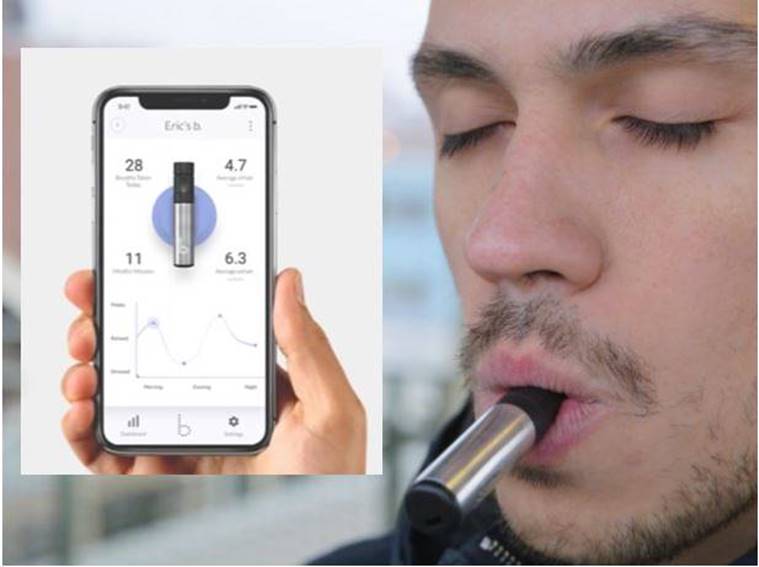 Breathing analytics recorded by 'b' can be tracked through the 'Live Breath' app, that also shows real-time statistics.  In addition, fitness enthusiasts can also set daily reminders through the 'Breathe with b' app, with alerts for time-based breathing sessions. On Indiegogo, the 'b' project has received over $14,000 (Rs 9,39,400 approx.)from its proposed $35,000 (Rs 23,48,500 approx.) requested to back the project. The 'b' sensor has been priced for booking from $119 (Rs 7,985 approx.).