Fitbit continues to remain as the leader in the wearables market, with Apple coming in at number two, shows the latest data from research firm International Data Corporation (IDC).
IDC's numbers revealed that the wearables market grew by 126.9 per cent in Q4, and an overall 171.6 per cent in 2015. IDC says vendors shipped a total of 27.4 million units during the holiday quarter, while a total of 78.1 million units were shipped for 2015.
Watch our video review of Fitbit Charge HR 
"Triple-digit growth highlights growing interest in the wearables market from both end-users and vendors. It shows that wearables are not just for the technophiles and early adopters; wearables can exist and are welcome in the mass market. And since wearables have yet to fully penetrate the mass market, there is still plenty of room for growth in multiple vectors: new vendors, form factors, applications, and use cases. This will help propel the market further," said Ramon Llamas, Research Manager for IDC's Wearables team.
"Fashion and design will play an equally important role in increasing adoption. Simply encrusting your watch with gold and jewels is not going to cut it. Rather forming partnerships with notable fashion icons, a route taken by Fitbit and Apple, is far more likely to succeed," said Jitesh Ubrani, Senior Research Analyst for IDC Mobile Device Trackers. This year's CES saw quite a few sleek, jewel-encrusted versions of Fitness trackers.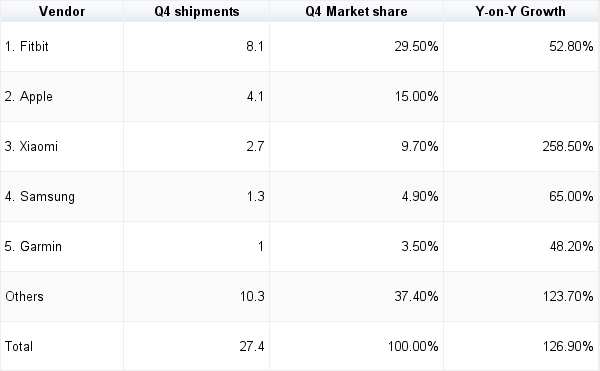 IDC also notes that wearables won't just be restricted to just fitness bands and watches, but will also expand to clothing, footwear, and eyewear.
In terms of vendors, Fitbit remains on top with over 8 million shipments. The company's products for 2016 like Fitness Alta and Blaze indicate "new hardware development," says the research firm.
Read our review: FitBit Charge HR Express Review: Is this the best wearable in this price range?
Apple comes in at number two, despite its highly priced Apple Watch being the only device in its product portfolio. IDC notes that despite the 4 million shipments, volumes for Q4 grew only slightly from the previous quarter, and total revenues have yet to counterbalance the slowing growth and declines from the company's other product categories.
Xiaomi with its low-budget Mi Band is at number three with 2.7 million shipments. IDC says that while Xiaomi has launched an new Mi Band Plus with heart-rate monitoring, it won't be enough to stand out in the market.
Samsung is now at number four thanks to sales of its Gear S2 smartwatch, and had close to 1.3 million shipments in Q4. Garmin comes in at number five in the list with 1 million shipments.
Also see: Smart wearable bands are the rage and here's how to get the most out of them