Wimbledon 2018 Highlights, Day 9: Defending champion Roger Federer was knocked out of Wimbledon after wasting a match point during a 2-6, 6-7 (5), 7-5, 6-4, 13-11 defeat to Kevin Anderson of South Africa.  Having saved Federer's only break point of a 90-minute fifth set at 3-4, Anderson took his first chance at 11-11 and then served out for victory. The 2017 U.S. Open runner-up triumphed in 4 hours and 14 minutes.

Live Blog
Wimbledon 2018 Highlights, Day 9: Men's singles quarter-finals
Men's singles semis
The Wimbledon 2018 men's singles semi-finals are set! Kevin Anderson reached his first Wimbledon semis and he will now face John Isner. In the second semi-final, Rafael Nadal will take on Novak Djokovic!
Nadal vs Djokovic set!
Rafael Nadal reaches the semi-final of Wimbledon 2018! Juan Martin del Potro with a great effort but that was not enough in the end. Nadal wins 7-5 6-7 4-6 6-4 6-4. He will next face... Novak Djokovic
Nadal serving for the match
Rafael Nadal is up 5-4 in the final and deciding set. He needs a hold and he will advance to the semi-final of the Wimbledon
Nadal 5-3 in fifth set
Quite possibly the best game of the Championship. Nadal and Del Potro go back and forth in a game that stretches to ten minutes, Nadal holds with a divine forehand down the line. Plenty of zip and punch on it to get it to swerve and land in. Nadal 5-3 in the fifth set. Del Potro to serve to stay in it
Isner into semis
John Isner is into the semi-finals of Wimbledon 2018 after beating Milos Raonic. The American wins the third fourth set. With a 6-7 7-6 6-4-6-3 win over Raonic, he is into the last four where he will face Federer-slayer Kevin Anderson
Isner wins
John Isner of USA has won the third set against Milos Raonic 6-4. He is up two sets to one and is now one set away from the semi-final
Nadal forces decider
Rafael Nadal forces a decider against Juan Martin del Potro! He wins the fourth set 6-4 and we are going for the fifth set at Centre court
Milos Raonic vs John Isner
Raonic and Isner are tied one-set-all in the quarter-final! Both set went into a tiebreaker. Raonic won the first one and Isner was good to win the second
Del Potro leads
Juan Martin del Potro is giving Rafael Nadal a hard time! He takes the third set 6-4 and now leads two sets to one 5-7 7-6 6-4 in the quarter-final
Nadal vs Del Potro
Rafael Nadal and Juan Martin del Potro are into a second set tiebreak! Del Potro is already a set down in this game and needs to win this
Federer 266-3
Roger Federer is not going to the Wimbledon semi-final despite winning the first two sets. He lost to Kevin Anderson in a five-set thriller. His record after being two sets up is 266-3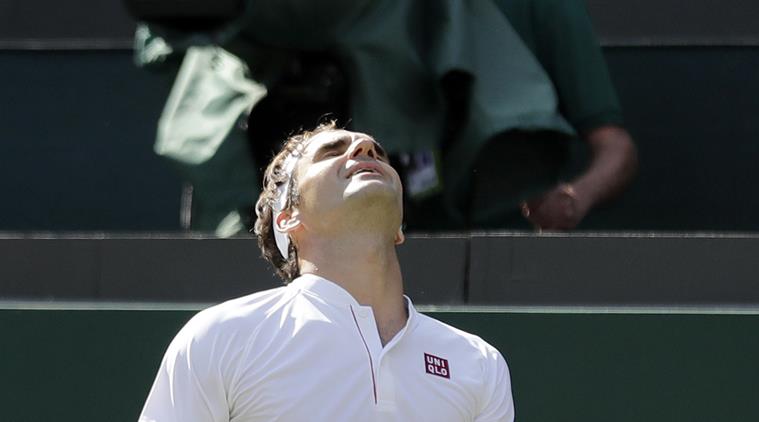 ROGER FEDERER CRASHES OUT
Defendin champion Roger Federer crashes out of Wimbledon 2018 after loss to Kevin Anderson in the quarter-final. He holds his serve and goes up 13-11 as Federer's return is out. What a win for Kevin Anderson
Anderson breaks!
Kevin Anderson breaks Roger Federer for the fourth time in the match! This is the most important break for him as he will now serve for the match. He leads 12-11 in the decider
11-11
Its back to 11-11 as Anderson smashes a brilliant forehand. The South African produces two love holds in a row.
Federer-Sachin love
The Federer-Sachin love-in continues. Both being given a torrid time by Anderson ... #wimbledon— Andrew Miller (@miller_cricket) 11 July 2018
Federer leads
Roger Federer leads 11-10 in final set. Remember Federer had match point in third set.
Anderson ties it back
Anderson comes back with a very easy service game. Once again they are both tied at 10-10 in the fifth.
Federer leads
Five sets and this time Federer holds to love & makes it 10-9.
Anderson is alive
Kevin Anderson manages to keep himself alive. Holds on for 9-9.
Anderson holds
Anderson holds and it is now 8-8 in the fifth. Thrilling match... which way will it go?
Nadal vs Del Potro
Nadal wins the opening set, 7-5. Rafael Nadal gets his first break of the match and with it, he wins the first set.
FINAL SET
Federer holds and now leads 8-7 in the final set. Anderson serving to stay in the match. Federer looked like he was in trouble after missing a volley that made it 15-30, but he bounced back with a couple of really clutch shots.
Anderson holds on
Three times Kevin Anderson has served to remain in the fifth set. Three times he's prevailed.
Game, Anderson
Kevin Anderson is not letting Roger Federer run away with this. He holds and it is 7-7 in the decider
Hold for Federer
Roger Federer holds! Anderson must hold to stay in this match. Federer needs a break to book a spot in the semi-final
Tiebreak in decider
How close can this go?! Kevin Anderson makes it 6-6 in the decider and we are moving into the tiebreaker to decide the winner of this quarter-final
Can Federer break?
Roger Federer is now up 6-5 in the final set and he has a chance to enter the semi-final if he breaks Anderson, who must hold!
Anderson holds!
Kevin Anderson with a stunning service game! He holds to love and it is level 5-5 in the decider against Federer. The Swiss will now serve for the lead
Federer up
Roger Federer holds his service game and moves into a games' distance to enter the semi-final! Anderson will once again be tested here. The crowd is rallying behind Federer
Anderson levels
Roger Federer brought it to deuce in the eighth game but Anderson keeps his calm and wins the game. Decider level at 4-4
Nadal 3-3 Del Potro
Rafael Nadal and Juan Martin del Potro have exchanged holds so far in the first set of their quarter-final match. Del Potro matching Nadal in his play
Wimbledon 2018 Live
Not an inch given in this contest! Kevin Anderson holds and now Federer holds! It's 4-3 Federer in the decider but Anderson has come back many times in this match.
Wimbledon 2018 Live
Roger Federer has taken a 3-2 lead in the final set against Anderson. But he is yet to break Anderson, who will now serve to level the final set
Wimbledon 2018 Live
Rafael Nadal and Juan Martin del Potro are on court for their quarter-final match. The winner of this game will face Novak Djokovic. Nadal serves
Wimbledon 2018 Live
Novak Djokovic advanced to the last four at a Grand Slam for the first time since 2016 with a 6-3, 3-6, 6-2, 6-2 Wimbledon quarterfinal victory over Kei Nishikori. Three-time Wimbledon champion Djokovic maintained the dominance he has shown throughout the tournament on his first serve.
Federer in trouble
Kevin Anderson puts Roger Federer on the brink! Back-to-back set wins for Anderson and he has now forced a decider. He wins the fourth set 6-4. The match is tied 6-2 7-6 5-7 6-4
NOVAK DJOKOVIC INTO SEMIS
Novak Djokovic moves into the semi-finals at Wimbledon! The former champion beats Kei Nishikori 6-3 3-6 6-2 6-2 in the quarter-final and makes his spot in the semi-final.
Djokovic up 4-1
Kei Nishikori has lost the steam here! He is now down 1-4 in the fourth set. Djokovic is two games away from booking a spot in the semi-final at Wimbledon
Anderson wins!
Kevin Anderson is still alive! The South African wins the third set with an ace. He doesn't let Federer, who had three break points, take this set into the tiebreaker. Federer leads 6-2 7-6 5-7
Djokovic breaks back!
Now, Novak Djokovic with a break. This match is turning out to be a classic. He is level 1-1 in the fourth set. Great start to this set