French Open 2019 Semi-Finals, Highlights: Rafael Nadal defeated Roger Federer 6-3 6-4 6-2 to storm into his 12th final at Roland Garros. With this win, he remains unbeaten in a semi-final at the French Open. Nadal will face top seed Novak Djokovic or fourth seed Dominic Thiem in the championship match.
In head to head records, Nadal leads Federer 23-15, but Federer has won their past five matches. On clay, the Spaniard leads their series 13-2 and has won their past four meetings on the surface. However, they haven't played on it since the 2013 Internazionali BNL d'Italia final. Although Federer hasn't beaten Nadal on clay since the 2009 Mutua Madrid Open final, he believes he can reverse the trend.
Live Blog
French Open 2019 Semi-Finals, Roger Federer vs Rafael Nadal: Highlights
Rafael Nadal beats Roger Federer 6-3 6-4 6-2
Third set: Federer 2-5 Nadal
Federer will serve to stay in the match. Nadal has won eight of the last nine games. And he does with a fantastic drop shot. Federer delays the inevitable.
Third set: Federer 1-3 Nadal
Weather conditions
To give you an idea of how gusty it's been, I've got red clay grit on my laptop keyboard and I'm in about the 30th row. Wouldn't want to be in a luxury box down low, but then nobody usually is

— Christopher Clarey (@christophclarey) 7 June 2019
Nadal wins second set 6-4
After breaking through at 4-4, the Spaniard holds serve to love to lead Roger Federer 6-3, 6-4. Nadal takes the second set and now has a lead 2-0 lead.
Second set: Federer 4-5 Nadal
Nadal breaks at the back end of the second set! He will serve for the second set at 5-4. Federer winning the short duels and Nadal quite predictably winning the longer rallies.
Second set: Federer 4-4 Nadal
Second set: Federer 4-3 Nadal
First Federer goes up 3-2 with a fierce forehand. In tough and windy conditions Federer serves better in the second set. He holds to 15 and keeps the pressure on Nadal.
Federer dominates in second set
Federer forces Nadal to the net and despite covering enough ground, the Spaniard gifts an easy volley for the Swiss to lift a winner into the vacant half of the court. Rafa isn't so composed next time around, sending a volley straight into the net.
Second set: Federer 2-1 Nadal
Federer trails 0-30 early. Then Nadal sends a crosscourt backhand winner to earn two break points at 15-40. Nadal earns a third break point, and takes it with a curling forehand pass! A stunning rally and Nadal wins. Too good from the King of Clay!
Second set: Federer 2-0 Nadal
Roger Federer breaks! opens up a 2-0 lead over Nadal in the second set. He may be 37 but what incredible defence from Federer. The Swiss is doing all he can to get the better of Nadal!
Federer holds
Federer bounces back. Goes up 30-0 but Nadal comes back into the game. But Federer goes up and he holds. Gets the much-needed point and heaves a sigh of relief. 3 aces for Federer so far. Federer 1-0 Nadal
Come on Roger!! #RG19 #Federer pic.twitter.com/scngH5gIrB

— Niklas Joelsson (@NiklasJoelsson) 7 June 2019
Nadal wins the first set 6-3
An astonishing backhand from Rafael Nadal, crosscourt winner from a tight angle, to take the first set (6-3) against Roger Federer. Nadal is up and running!
A clay-storm at #RG19. 😮 pic.twitter.com/3PkpRbVHkv

— FOX Sports LIVE! (@FSAsiaLive) 7 June 2019
Thoughts?
Courtside tweetings: I have exceeded My performance in 2008 already! #excited

— Not Roger Federer (@PseudoFed) 7 June 2019
First Set: Federer 2-4 Nadal
Federer throws everything at Nadal but the Spaniard finds the angle to back up the break. 5-2. Three breaks in six games: two of them for Nadal. Neither champion at their championest. Nadal will now serve for the set
First set: Federer 2-4 Nadal
Nadal showing how quick he is on the net. But Federer is unwilling to let go and puts in all the effort. At 40-40. Fedex takes it to 5th break point of the game. Both putting so much into it and its now a 10 min game. Nadal finally breaks the game, he has the 2 game cushion once more. He is relentless.
Nadal mı Federer mi pic.twitter.com/NaWsinM7oG

— Fenerbahçe Tribünü (@FenerbahceTrbnu) 7 June 2019
Federer gets the break back
Federer off the mark
Much better from Federer. He finds his range and uses his forehands and goes up 40-15 quite quickly. A brilliant ace seals the deal. Federer holds. Federer 1-3 Nadal
Quite a windy day
Eight minutes for Nadal to hold in the opening game in which Federer seemed content to stay back and rally, which would of course be a surprise tactic. Blip? Or trend?Wind blowing all over the place in Chatrier. People rightly saying what an amazing 'wind player' Nadal is.
First blood to Nadal
First Set: Nadal leads, 1-0. Nadal served first and the first game lasted for eight minutes. Federer earned his first break point with a backhand crosscourt winner at 30-30. But he netted a backhand return on a Nadal serve out wide. Missed break-point opportunities are a stat to watch for Federer.
Federer vs Nadal:
Federer vs Nadal: Two champions meet for the 39th time in their careers. Who will walk away with the win and grab a spot in the championship match? It all starts now... HERE WE GO!
Vondrousova beats Konta 7-5, 7-6
Ashleigh Barty and Marketa Vondrousova to meet in Roland Garros final.First Australian in the Roland-Garros Final since 2010! Barty is through, 6-7(4) 6-3 6-3 over Anisimova.
What is at stake?
The winner of Friday's match will be No. 2 in the ATP Rankings on Monday. The loser will be No. 3. Meanwhile, Federer is 15-23 against Nadal and 112-13 against all other left-handed players. What will it be tonight?
🇪🇸 @RafaelNadal v @rogerfederer 🇨🇭

In their sixth @FedEx ATP Head2Head meeting at @rolandgarros, who will make it through to the final? ⚖️ #RG19

— ATP Tour (@ATP_Tour) 7 June 2019
STAT ATTACK
Nadal and Federer's 38 prior meetings are the third-most in the Open Era (Nadal/Djokovic 54, Federer/Djokovic 47). Federer has held in 31 straight service games against Nadal since the fifth set of the 2017 Australian Open final
We are minutes away
RogerFederer (310) and Rafael Nadal (196) have combined for 506 weeks at No. 1 in the ATP Rankings -- 14 weeks shy of 10 years! On a surface where inches and milliseconds make the difference, the key to Nadal's strengths is his on-court mobility.
Down the memory lane
On this day in 2008, Nadal thrashed world number one Federer 6-1 6-3 6-0 to win a fourth consecutive men's singles crown at the French Open. Can he do it tonight?
Roger Federer hopes volley serves a win against old foe
Roger Federer waited 11 years for that elusive French Open title, and then one more to make his feelings about the Grand Slam, the surface and its greatest exponent known. [READ MORE]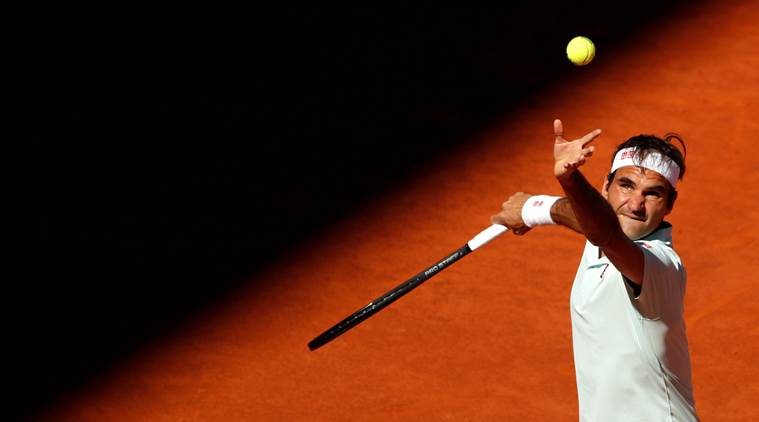 Federer vs Nadal LIVE
Hello and welcome to our live coverage of the French Open men's semifinal between the two greats Roger Federer and Rafael Nadal! It's time for the old rivalry to take centre stage again. Stay tuned for live score and updates right here at IndianExpress.com.