French Open Day 9: Defending champion Rafael Nadal again reached the French Open quarterfinals in his bid for a record-extending 11th title at Roland Garros. Serena Williams called off her Grand Slam comeback, pulling out of the French Open because of a chest injury before she was supposed to play Maria Sharapova. Daria Kasatkina advanced to quarterfinals for the first time by beating Australian Open champion Caroline Wozniacki 7-6 (5), 6-3. Top-seeded Simona Halep advanced to the quarterfinals for the third time by beating Elise Mertens 6-2, 6-1.
Live Blog
French Open 2018 Highlights, Day 9 Updates:
Cilic wins
Cilic edges Fognini in five sets to set up quarterfinal clash against Del Potro. It was a physical battle between the two with Cilic emerging victorious 6-4, 6-1, 3-6, 6-7, 6-3.
Cilic takes 5-3 lead
Fognini serves to stay in the match while Cilic takes 5-3 lead, closing in on a victory. Cilic blows two game points and it goes to deuce.
Match level at 3-3
The thrilling match is level at 3-3. Both Fognini and Cilic have held their serves in the six games so far. Despite the pressure, the two look relaxed.
Winner meets Del Potro in quarters
Whoever wins the fifth set will book their spot in the quarterfinals where they will meet Del Potro. Fognini wins the first game of the deciding set.
Cilic with 6-5 lead
Meanwhile, Cilic holds to take a 6-5 lead in the fourth set but Fognini will make sure that the match is not wrapped up so easily. Fognini will once again serve to stay in the match.
Muguruza books quarterfinals spot
Garbine Muguruza is also through to the quarterfinals after winning just two games in the first set as Lesia Tsurenko is forced to retire with a leg injury
Del Potro into Round of eight
Del Potro seals his place in the last eight after beating John Isner 6-4, 6-4, 6-4. The Argentinian finished the match without having his serve broken against an uninspired Isner.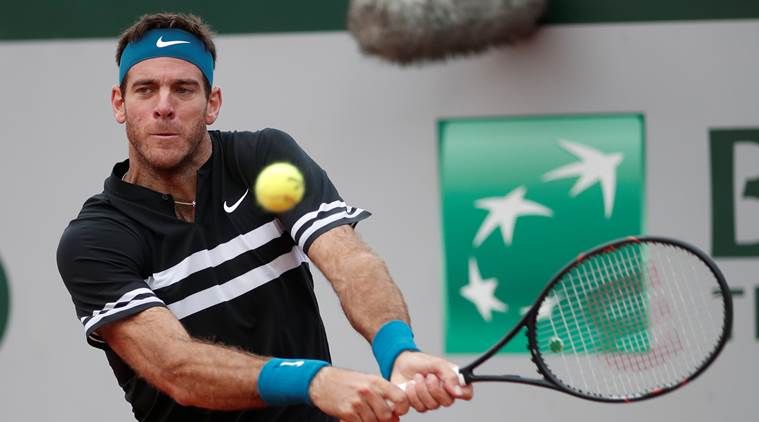 Tsurenko leaves for treatment
What a turn of events as Tsurenko leaves the court to receive further treatment after the fans rushed to another court with their match being shifted.
Muguruza vs Tsurenko
Muguruza has taken the lead by one game against Tsurenko in the women's singles Round of 16 match in Court 1. Three points into the second game, Turenko, like Fogini, calls for medical time-out.
Medical time-out
Some trouble with Fogini's left foot as he takes medical time-out. His physio is on the court to check what is wrong. Meanwhile, Del Potro looks like he will easily wrap up the match in this set with Isner's serve looking weak.
Del Potro leads
Cilic saved two break points to hold the first game of the fourth set. It's also 2-1 in the third set between Del Potro and Isner with the former leading.
Fogini wins third set
Some splendid shots by Fogini helps him win the third set and keep him alive in the competition. The Italian looks more comfortable and has finally found his groove, winning third set 6-3
Cilic on a roll
Cilic dominates in the second set as well against Fogini, winning by 6-1. Fogini continues to look relaxed. Looks like he doesn't think the match will be over in the third set. Del Potro also wins the second set 6-4 against Isner.
Cilic wins first set
Cilic has won the first set of Round of 16 match against Fogini 6-4. Fogini has in the past proven that he has the capability of making comebacks. Can he do it tonight? Meanwhile , Isner went down to Del Potro in the first set 6-4.
Kerber is in quarterfinals
Kerber defends brilliantly to reach quarters of the French Open second time in her career, beating Caroline Garcia 6-2, 6-3.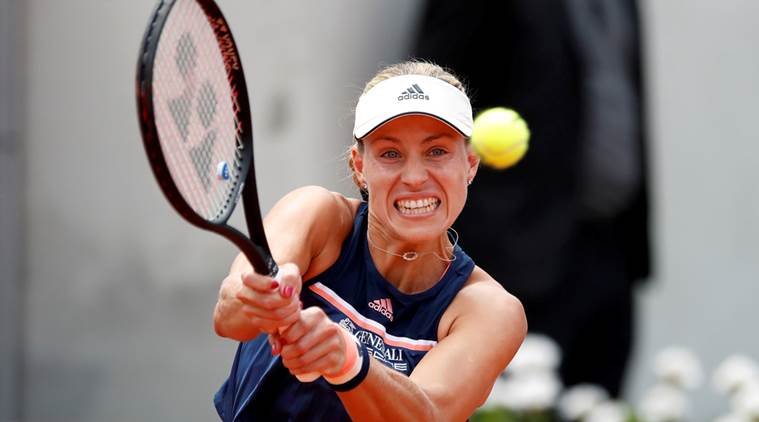 Kerber wrapping up
Brilliant from Kerber, who is a game away from wrapping up the match and booking a quarterfinal spot. However, Garcia ensures a not-so-speedy victory for Kerber as saves four match points to win a marathon game, being 2-5 down in the second set.
Kerber leads
The second set has been no different from the first for Garcia as Kerber is completely in her groove, leading the second set 3-1.
Kerber wins first set
Angelique Kerber takes lead, winning the first set against Caroline Garcia 6-2. All their previous encounters have been won in straight sets.
NADAL WINS
Nadal beat Maximilian Marterer 6-3, 6-2, 7-6(4) to reach the French Open quarterfinals for the 12th time. Despite a strong effort by Marterer in the third set, he could not get past Nadal, who booked his spot in the last eight with a 7-4 success in the tie break.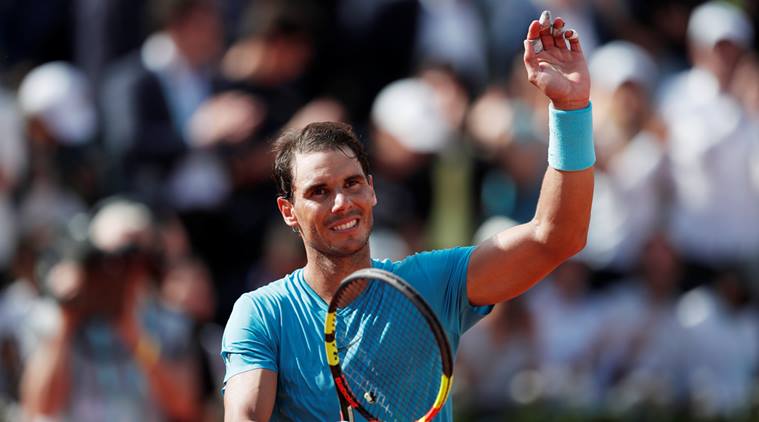 Nadal vs Marterer
Meanwhile, Nadal and Marterer are in the middle of a third-set tie break. Rafa double faults at 40-0 up but forces the tie break on the next point.
Serena Williams out of French Open
Serena Williams has been pulled out of French Open and it is reported that she has back pain. She is on her way to the press conference. "Unfortunately I've been having some issues with my pectoral muscle. ... right now I can't actually serve," says Serena.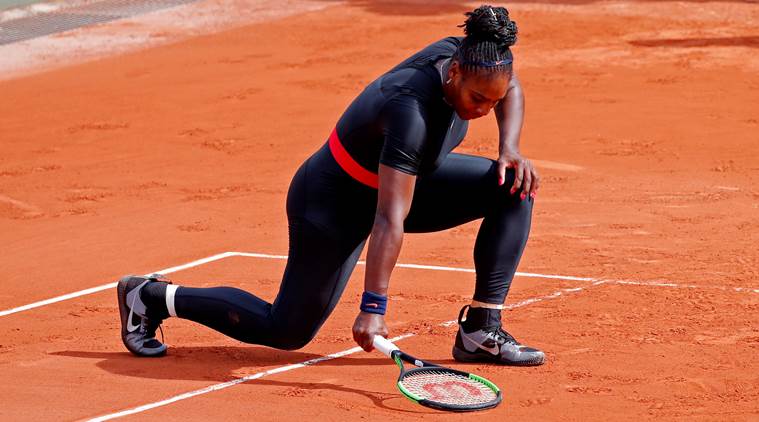 Nadal levels
Nadal looks annoyed with himself as the temperatures rise to 25°C. But he manages to level it with the German Marterer to make it 4-4 in the third set
SCHWARTZMAN WINS IN FIVE
DIEGO SCHWARTZMAN MAKES STUNNING COMEBACK! The Argentine was down two sets. Then began the comeback. He broke Anderson twice to stay in the match. He beats Kevin Anderson 1-6 2-6 7-5 7-6 6-2 to reach his first French Open quarters
SCHWARTZMAN MAGIC!
A fine passing shot from Schwartzman and the Argentine is a game away from reaching the quarters. This after he was two sets down against Anderson. He leads Anderson 1-6 2-6 7-5 7-6 5-2
Marterer breaks Nadal
German youngster Marterer has broken Nadal in the third set. He takes a 3-1 lead in the third set after losing the first two.
Schwartzman into the lead
Kevin Anderson had this under control but he is now under the pump. Diego Schwartzman has rallied back to lead 2-1 in the fifth set. He is 1-6 2-6 7-5 7-6 2-1 now
Nadal leads 6-3 6-2
Rafael Nadal in total control! He wins the second set 6-2 and is now a set away from moving into the quarter-final of French Open 2018. Top class tennis from him
Nadal goes 5-2
Rafael Nadal is taking it very easy against Marterer and winning. He leads Marterer 5-2 in the second set after winning the first and looks good to move into quarters
Schwartzman wows
Schwartzman goes 7-0 in the tiebreak and into the fifth set. Anderson was a game away from winning but Schwartzman rallies back. He makes it 1-6 2-6 5-7 6-7
Schwartzman alive
Kevin Anderson had to serve out the match but he is now facing a five-setter. Diego Schwartzman is now leading 6-5 in the fourth set after being down 3-5. Anderson leads 6-1 6-2 5-7 5-6
Schwartzman show
Diego Schwartzman is putting on a show against Kevin Anderson. He was down 3-5 in the fourth set but then finds a way to hold his serve. He then breaks Anderson and levels it 5-5 to stay alive
Nadal wins 6-3
Marterer broke Nadal to start the set but that was all. Nadal then found his rhythm and won the first set 6-3 and take the lead in the match
Nadal 5-2 Marterer
Marterer may have begin on a good note but Nadal is too good for him. The Spaniard takes a 5-2 lead in the first set. In the other men's singles game, Anderson is up 3-1 in the fourth set
Nadal 3-2 Marterer
Rafael Nadal was troubled by the young Marterer but he keeps his cool and uses all his experience to win the fifth game. He leads Marterer 3-2 in first set.
Nadal 1-2 Marterer
Marterer caused a break and then held his serve to go 2-0 up against Nadal in the first set but now Nadal is on board. He holds his serve and is 1-2 in first set
Schwartzman comeback
Argentine Diego Schwartzman is not bowing out tamely. He has won the third set against Kevin Anderson and will now serve in the fourth. Anderson leads the match 6-1 6-2 5-7
Nadal broken
Maximilian Marterer has broken Rafael Nadal in the first game itself! What a start to the match. This is the first meeting between the two players
Nadal on court
Rafael Nadal is on court for his match against Maximilian Marterer on Philippe-Coutier Court! Nadal is top seeded for this tournament while Marterer is ranked 22nd in the world
Anderson leads
Kevin Anderson is just one game away from reaching the quarter-finals of French Open 2018. He leads Diego Schwartzman 6-1 6-2 5-3 in the fourth round game