Every time a bout was announced that had Sushil Kumar featuring in it, it was a norm that he would step on the mat first while his opponent waited outside the mat. They did it out of "respect" for the two-time Olympic medallist. The Indore crowd had gathered in number to watch the star wrestler and greeted him with cheers. Unfazed by all the attention he was getting, Sushil would flex his muscles before the bout. But, out of his five bouts in the 74kg category at the Senior Nationals, he wrestled only in two. The three others were walkovers in which his opponents decided to conceded after stepping on the mat. No one wanted to wrestle the 34-year-old. The two who did had some sorry tales to tell.
Before his first bout, Sushil sat on the floor just like all other wrestlers. Fans flocked him for selfies but he politely refused them. The Indore crowd waited patiently for bout to begin. Mizoram's Lalbalswan was his first opponent. For the first time in three years, Sushil was back on the mat for a competitive bout. It lasted only 48 seconds.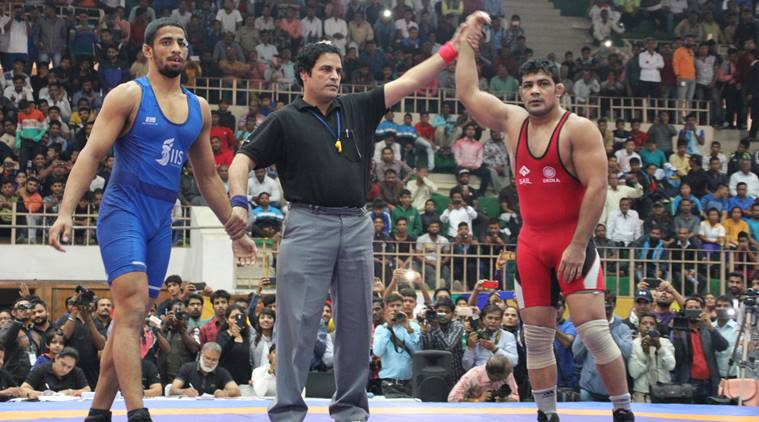 Sushil took his opponent in a headlock and turned him around twice to take the lead. A couple of takedowns more and he was on his way to the next round. Mukul Mishra also decided to wrestle him. That bout lasted for one minute and 39 seconds. All of a sudden, the Abhay Prashal stadium was on its feet, cheering for Sushil but that was the last time they saw him wrestle on Friday.
"I feel proud that I could wrestle such a big wrestler. I have never won a medal at nationals but this feels like a big thing. But he is too strong. After the headlock, I was unconscious for a few seconds because he had choked me," Lalbalswan says.
Praveen, Sachin Rathi and Praveen Rana did not have the same fate as they decided not to wrestle against Sushil. While the word inside the stadium is that the three conceded out of respect for their senior wrestler, Rana, the toughest wrestler Sushil could have faced, says he was injured and could not wrestle in the final.
"I had pulled my thigh muscle during inter-Railways and I wanted to skip nationals but since Railways sends two wrestlers, I had to wrestle as Sushil had beaten others in trials. During the first bout, the same muscle got pulled so I did not want to get injured," he says.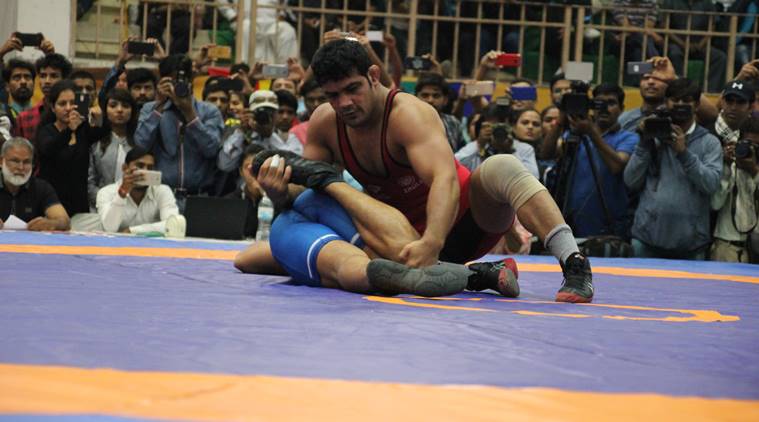 Walkovers in the quarter-final, semi-final and final meant that Sushil was crowned the national champion in 74kg. He last competed for senior nationals in 2008 where he defended his 66kg title with ease. However, Sushil feels that this tournament means a lot to him.
"Whenever I am fit, I try to take part in competition. I was ready last year as well but could not wrestle because of a situation that we all know. I am ready now and I showed it on the mat. I have short-term plans and if I stay fit, I'll continue to wrestle and will be eyeing an India comeback," he says. "These wrestlers showed me respect but I was ready to wrestle. I didn't think that they should give me the bout."
Apart from the fans that followed Sushil even to the dope testing room, there were many dignitaries who wanted to meet the wrestler. Before every bout, few of the local politicians would step on the mat to announce the start of the bout. Even after Sushil had won, many followed him despite around 15 bodyguards and fellow wrestlers making a safe passage for him.
On the mat, whatever little he wrestled, Sushil did look like the unbreakable wrestler he is known to be. He had the quickness to dodge an attack, movement that can still be called swift and killer instinct. Indore saw a lot of Sushil and his stardom on Friday but very little of his wrestling.