Written by
Nitin Sharma
| Chandigarh |
Updated: September 4, 2021 10:54:54 am
Days after becoming the women's 10m air rifle SH-1 champion at the Tokyo Paralympics, 19-year-old Avani Lekhara added to her medal tally with a bronze in the women's 50m 3 position SH-1 event on Friday.
Avani's achievement made her only the second Indian to win multiple medals at the same Paralympics after Joginder Singh Sodhi, who won three medals at the 1984 Games. She also joined Sodhi, Devendra Jhajharia and Mariyappan Thangavelu with two or more Paralympic medals. And with the mixed 50m rifle prone event to come on Sunday, Avani has her eyes set on more.
"I am very happy that I was able to win another medal for the country. Hopefully, I can give my best in my next event too. I still have to digest all the emotions of winning a medal and the celebrations can wait for a while. When I won the gold, I was not satisfied. I wanted to better that last shot and that's what my focus has been," Avani told The Indian Express during a virtual interaction on Friday.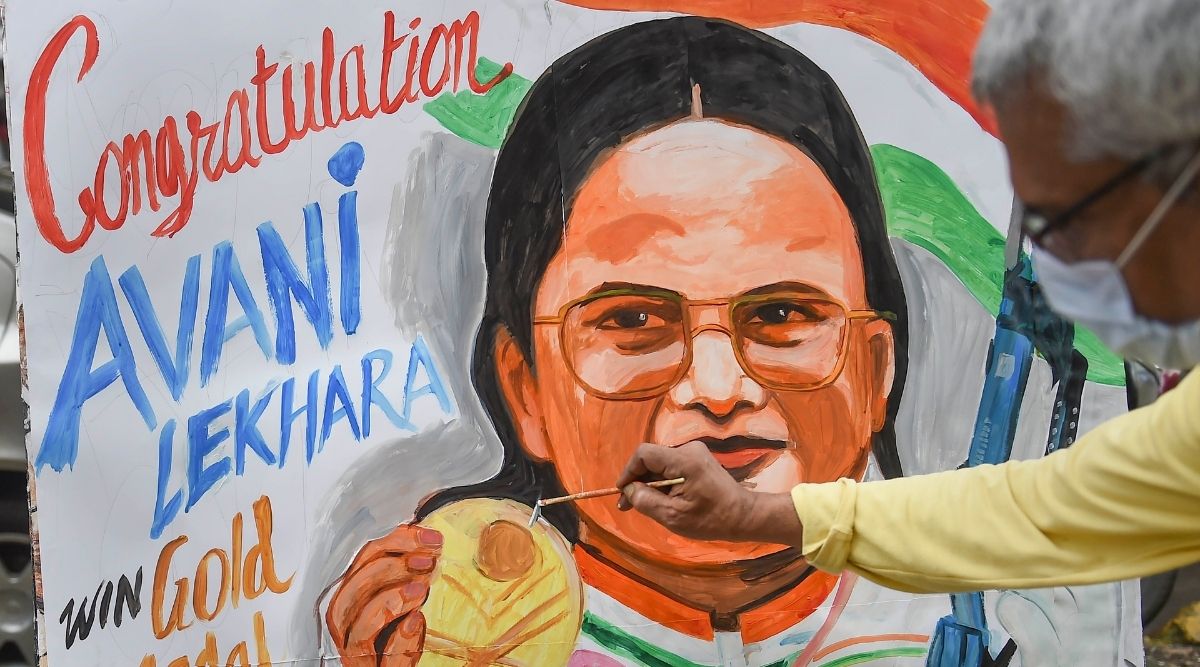 An artist from Gurukul Art School makes a painting congratulating Avani Lekhara for winning Gold medal in Tokyo 2020 Paralympics, in Mumbai, Monday, Aug. 30, 2021. (PTI)[/caption]
In the final, she was placed fourth after the first three kneeling series with a score of 149.5 before she shot a second three prone series of 153.9 to be placed sixth. With two standing series remaining and elimination lurking for the seventh and eighth spots after two series, Avani shot series of 50.5 and 50.7 to be placed fourth before the single shot elimination started. The youngster kept her hopes alive with single shots of 10.3 and 10.2 to be placed fourth behind Ukraine's I Shchetnik, trailing by 0.3. The next elimination shot saw Avani shooting a 10.5 while Schchetnik shot 9.9, ensuring Avani a medal behind China's Zhang Cuiping (gold) and German Natasha Hiltrop.
The youngster, who suffered a spinal cord injury in an accident in 2012 and was paralysed from waist down, had started 10m Air Rifle shooting under coach Chandra Shekhar at the Jagatpura range in Jaipur. It was only after a silver medal in the 10m air rifle event at the Al Ain World Cup in 2017 that Avani decided to compete in the 50m 3p event, which sees shooters competing in three series for two hours and 45 minutes in qualification. While Avani's initial scores in the 50m 3p event would be in the range of 1000-1050, she has made rapid progress over the last couple of years with scores now in the range of 1150-1170.
"When we thought of her competing in the 50M 3p event, a lot of research was needed about the supporting equipment and what would suit Avani. Once we achieved that, we had to find the right mix in training. We saw the training sessions in 10m Air Rifle as standing series of 50m 3P and she would shoot between 90 to 240 shots per session. Once her body could take the load, we started focusing on the kneeling and prone series. Her technique was always good and she adjusted well," remembers Chandra Shekhar.
Breaking new ground
While Avani had competed in 50m 3P events in the last four years at various international tournaments including World Cups, Friday saw her winning an international medal in the event for the first time. The teenager shot a series of 388 in kneeling, where shooters take the help of a table, followed by a series of 393 in prone and 398 while standing for a score of 1171 to finish third in qualification.
"When I started competing in four events, it was not easy. One has to concentrate on the pet event too and there are ups and downs. So, it took a lot of mental as well as physical preparation for me. In the kneeling series, the table acts like your knee and a slight movement can make a huge difference. I knew the standing series is my strength. I was only thinking that I should not shoot badly in the other two series and give my best in the standing series," shared Avani.
"I was a bit nervous in the final. That's what finals do to you and since I had never won a medal in 3P, it made me more nervous. But then as I regained my focus, I took it one shot at a time and it just happened," concluded Avani.
The Indian Express website has been rated GREEN for its credibility and trustworthiness by Newsguard, a global service that rates news sources for their journalistic standards.