Deepak Singh was mobbed by his coach, and several fans, after he fashioned the biggest upset of the National Boxing Championship. The vanquished, Olympian Devendro Singh, was not too far away, busy with his cool-down routine. A disturbing thought was bothering the boxer who goes by the moniker 'Chhota Tyson'. The 24-year-old was wondering how much longer he could stretch his boxing career.
It's wasn't the defeat that made him apprehensive about his future. Originally a 49kg boxer, Devendro was fighting in the 52kg category. He knew with time he would get used to facing heavier opponents. It was his 'diminishing vision' that made him anxious. His days as a top-level boxer were numbered, he feared.
For the last six months, Devendro has been desperately trying to get over his worsening 'near sightedness'. Just before the Nationals, his ophthalmologist informed him that both his eyes would need 'minus 2 D' lenses. The good doctor also told him that the 'constant weight cutting' had a role to play in his deteriorating vision. While not in the ring, Devendro wears glasses. But once he dons the gloves and takes off the glasses, he is at a handicap.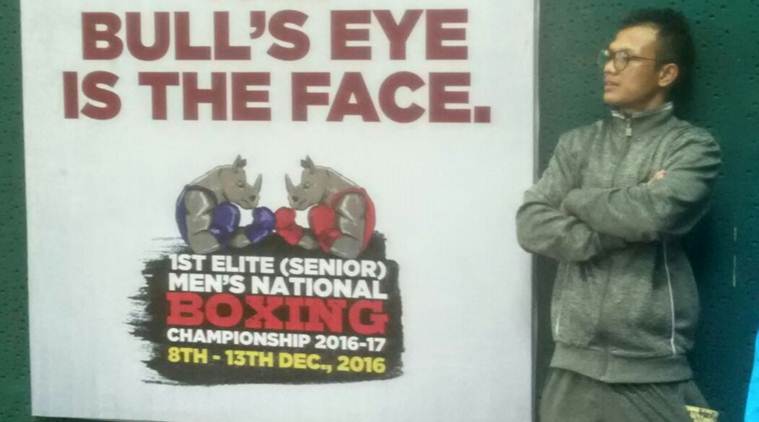 "I can get over the defeat, that's not hard. But my eyesight is a big issue. After my semi-final bout, my coach asked me to watch Deepak's bout in the other semi-final. I wasn't carrying my glasses, so I could just see two boxers in the ring. I could not see their punches clearly," he says.
Devendro, who had competed in the light flyweight category (49kg) for nine years before October this year, has all through his career cut a significant amount of body weight before tournaments. Starving happens to be part of his regular pre-tournament routine.
Devendro's coach KC Kuttappa, too, believes that reducing body weight affects eyesight. "Once you lose weight of around seven to eight kilos, there is a lot of water loss from the body which affects every function of the body including eyesight," he says.
The first time Devendro noticed a problem with his vision was back in 2013 when he was at home. An eye test revealed that his nearsightedness was at -0.5D. He ignored that since it was not making any difference in his daily life or in the ring.
But later that year, Devendro took a blow to his brow during the selection trial for the 2013 World Championships. He failed to make the team but more worryingly, could not have proper vision. That is when he decided to pay a visit to a doctor. "I decided to have an eye test again. It showed that I had to correct my vision as myopia had worsened to -1.5 D. I decided to wear spectacles," he recalls.
But in the ring, he couldn't wear glasses, and thus was at a distinct disadvantage. "It would definitely affect the game. Boxing involves a lot of eye coordination and one has to keep a constant watch on the opponent's move. With such an eye defect, the player would be at a disadvantage as he would not be able to see clearly. The only remedy is to undergo laser vision correction. He can also undergo Implantable Contact Lens (ICL) that works with the natural lens of eyes to improve vision," said Professor (Dr) Rajvardhan Azad, who has 42 years of experience as an ophthalmologist and eye surgeon and works with the Bharti Eye Hospital, Delhi.
During the senior national tournament, Devendro looked a shadow of his former self, winning bouts which could have gone either way. In the final bout, he lost by an unanimous 5:0 decision. He failed to produce the fast and attacking game that he is known for. Instead, he was seen finding a way to dodge Deepak's punches.
Early days in the 52kg category, too, had a role to play in his loss of form.
"Even in the final, I was not 100 per cent fit. The ankle has a slight problem but now in the camp, I will regain full fitness. After the Olympic qualifying tournament, I wanted to take rest but if I had skipped this national, I would not have had a better chance to know the competition in the new category," Devendro says.
Having decided to remain in the new category, Devendro's immediate challenge will be to improve his strength and address the lack of speed that he has suffered due to weight change. Coach Kuttappa also said that it will take time for him to adjust his balance in the ring. "Balance, speed and strength are things he has to focus while training. National-lever boxers are all new and Devendro had no idea about them, but they knew how he fights. So it was a good experience for him. We will work on all aspects and once he gets back to routine training, everything will fall in place," he says.