Ahead of the world championships, Stanimira Petrova had admitted that "competing in India will come with its own pressure" and that she would "like to keep the decision in my own hands, using my power."
So naturally, after losing Monday's pre-quarterfinal to India's Sonia Chahal in a split decision, Petrova laughed wryly, wagged her finger at the Indian corner, and stomped off, claiming "it is corruption by the judges. It is not a fair result." Coach and 1980 Olympic gold medallist Petar Lesov meanwhile left Chahal's outstretched hand hanging, threw a water bottle, taunted the cheering schoolchildren at the Indira Gandhi stadium's indoor hall, and got suspended for his efforts.
There hasn't been a 'Michael Conlan "Yeah, AIBA are cheats. They're f***ing cheats" at the Olympics' moment yet. However, with the high-stakes knockouts beginning on Tuesday, it is well inside the realms of possibility.
As it stands, that's two aggrieved world champions in as many days. On Sunday, Dina Zholaman sat sulking in the stands after losing an "unfair" unanimous verdict to Manisha Moun. The Kazakh, who had to plan an impromptu trip to the Taj Mahal with her family to clear her mind, said that she "knew something like this might happen." "The judges' score wasn't objective. Of course, I understand that the competition is in India, but it is not right to waste somebody's years of training," Zholaman said.
The fact that "she won because she's the home boxer" has become a silent understanding among visitors and an out for defeated competitors is the issue plaguing amateur boxing since adopting the professional rule-set. Currently, bouts are scored on a "ten-point must" system, by which judges score the fight on the number of 'quality' blows they land, a boxer's 'domination' and her 'competitiveness'. But how do you measure quality, domination and competitiveness?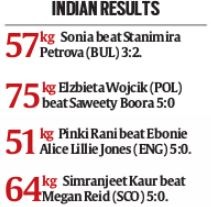 On Monday, all five judges scored the second round for Petrova, and the third for Chahal. The 3-2 split thus rested in the reading of the first round, which began with the boxers refusing to trade.  The Bulgarian, the 54kg world champion in 2014 and undefeated this year, decided to bait the Indian who hasn't medalled yet in her first international year.
Petrova stood flat-footed with arms by her side and chin high in the air, feigning arrogance to goad Chahal and catch her on the counter. Chahal hung back, refusing to initiate an exchange. When they swung, they caught air and the quality blows were largely split between the two. For the rest of the bout, Petrova showed more intent and accuracy, walked down her opponent, ducked her punches and provoked her in equal measure. Chahal threw more, missed many but landed a handful of clean blows. But who 'dominated' and who was more 'competitive'? The 21-year-old Chahal, at least, was the more level-headed on the day. "Sometimes we think we got points, but the judges know it better," she said after the Bulgarians' outburst.
Team India would do well to follow her word. After eight of their boxers have made the quarterfinals, making excuse for the two that couldn't isn't a good look. Coach Shiv Singh questioned the standing eight counts given to Sarita Devi and Saweety Boora, who lost to Poland's Elzbieta Wojcik.
"Sarita slipped after her legs entangled with those of her opponent and it was not from a punch. In Saweety's case, she was pulled down. It was not from a point- scoring punch. The referee was on the blind side (and so did not see it) when she fell down but still gave a standing count," the coach told reporters.
Sarita and Boora were both countered with clean and hard left hooks which sent them down. Maybe instead of looking for non-existent entanglements and pulling, the coaching staff could figure out why the two defeats came against the only two southpaw opponents India has faced.
Increased subjectivity in the science of boxing has resulted in unsure spectators, boxers, coaches and, apparently, judges. In such unsure times, 'home boxers will win unless knocked out' often becomes an unwritten rule. Amidst snide remarks came a suggestion from a Team Germany analyst: "It could never be a hundred per cent foolproof, but the 'robberies' have become increasingly common because there's so much room for interpretation. Why can't we show the judges' scoring in between the rounds, so that the boxer knows what he needs to do and adapt?" That may be too radical for AIBA, but the word on the grapevine is that the body is looking to introduce video referrals to solve such situations.
But with the International Olympic Committee (IOC) cranking up the pressure on amateur boxing and threatening its place at Tokyo 2020, next year could be too late for reforms. After all, the sport's governance is one of the many axes IOC has to grind after the judging scandal at the 2016 Rio Olympics when all 36 officials and referees were suspended with fixing allegations being investigated.