Pro Kabaddi League 2018, Telugu Titans vs Haryana Steelers: Home side Telugu Titans face Haryana Steelers in the second match of the day. The Titans started their home leg with a loss but won the second match against Jaipur. They would be looking to continue their run, they can confirm a playoff spot if they get maximum points from this home leg.
In the first match of the day, Jaipur Pink Panthers stunned Telugu Titans by beating them 37-24. Although the match started on an equal footing, Jaipur pulled away towards the end of the first half and never let go of the match after that.
FT
Match 104 | 09 Dec
Rajiv Gandhi Indoor Stadium, Vizag
Tamil Thalaivas
24
37
Jaipur Pink Panthers
Live Blog
Pro Kabaddi League 2018, Telugu Titans vs Haryana Steelers: Highlights
Full Time
That's it! All over! Telugu Titans have won the match by a margin of 35-31. Quite a thrilling match at the end. That's it from all of us here.
Bonus
Bonus point from Monu Goyat and an important tackle point, thanks to a great dash from Mayur. It's 27-29 now.
All-out !
Four points for the Haryana Steelers as he scrapes past the twin tackle by the Titans' defenders to cut the lead on the scoreboard to four. (29-25)
Half time
Half time in the second match of the day. Scoreline: 20-13.
Super Tackle!!

Vishal Bhardwaj and Rahul Chaudhari combine together to put forward a super tackle. Brilliant work by the duo to bring down Vikas Khandola in the left corner.
Telugu Titans vs Haryana Steelers
Telugu Titans - Vishal Bhardwaj, Abozar Mighani, Anil Kumar, Farhad Milaghardan, Anuj Kumar, Rahul Chaudhari, Nilesh Salunke
Haryana Steelers - Monu Goyat, Vikas Khandola, Mayur Shivtarkar, Parveen, Sudhanshu Tyagi, Kuldeep Singh, Sunil
Next up: Telugu Titans vs Haryana Steelers
Titans lost their first match at home but followed that up with a win in the second. They need to make the most out of this home leg so as to stand a chance at making it to the playoffs.
Jaipur Pink Panthers beat Tamil Thalaivas 37-24
Exactly the kind of result that Jaipur needed. They have had a tough season but occasionally have shown the brilliance that one would expect out of the star-studded side. This is one of those days.
Thalaivas 19-34 Jaipur
Jaipur simply pulling further and further away. This match is done and dusted.
Thalaivas 16-23 Jaipur
Jaipur have not let go of the lead for a change. A very good performance from the former champions thus far. Tamil Thalaivas have eight minutes to make something happen.
Thalaivas 8-16 Jaipur
How about this from Jaipur! Deepak Niwas Hooda takes out all three remaining Thalaivas players and that is the first all out of the match.
Thalaivas 6-6 Jaipur
Quite an even start here but this was also the case yesterday during Jaipur's match agianst Telugu Titans before the latter took off. These are the starters for the day.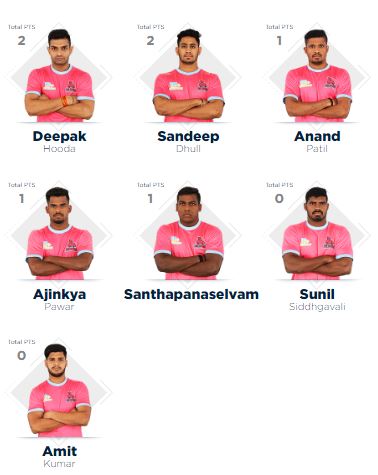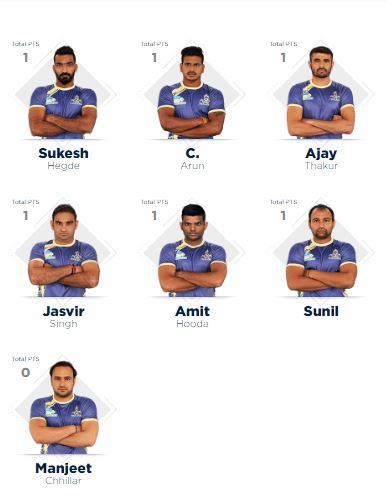 Hello and welcome!
Deepak Niwas Hooda and Ajay Thakur share a warm hug in the middle after the coin toss. They are team mates for the national team but here, they are rivals, as they have been for most of their Pro Kabaddi career.