Pro Kabaddi League 2018 highlights, U Mumba vs Gujarat Fortunegiants, Patna Pirates vs Bengal Warriors: U Mumba were trailing for most of the first half but came back in the second half. They were leading for most of the second until Mahendra Rajput wiped them out with a seven-point raid. That one moment has turned the match on the head and Gujarat managed to maintain their unbeaten run against Mumbai. Earlier, Patna Pirates turned it on to beat Bengal Warriors 50-30.
FT
Match 57 | 10 Nov
DOME@NSCI SVP Stadium, Mumbai
U Mumba
36
38
Gujarat Fortunegiants
Gujarat Fortunegiants
Won The Match
Live Blog
Pro Kabaddi League 2018 highlights, U Mumba vs Gujarat Fortunegiants, Patna Pirates vs Bengal Warriors
Gujarat Fortunegiants beat U Mumba 38-36
Gujarat almost gave it away in the end but they manage to come away with a win. The unbeaten run against U Mumba is intact. This has been an outrageous contest.
Mumbai 30-31 Gujarat
IT IS AN ALLOUT! SEVEN POINT RAID BY MAHENDRA RAJPUT. THE ENTIRE MUMBAI DEFENCE HAS BEEN WIPED OUT.
Mumbai 30-30 Gujarat
Four-point raid by Mahendra Rajput and that has completely changed the face of the game. But Gujarat are appealing for more, they want an all out, that could make it a seven-point raid!
Mumbai 30-26 Gujarat
Well it does look like Mumbai might just pull this off. They were behind for most of the second half but are dominant now.
Mumbai 25-21 Gujarat
Mumbai with a three point tackle and they are ahead now. Their defence comes into play once again.
Mumbai 19-21 Gujarat
Baliyan steps on the lobby which means two points for Gujarat. Mumba trail by three once again.
Mumbai 17-18 Gujarat
Fazel Attrachali comes into play and Mumbai are now just one point behind Gujarat now.
U Mumba 14-18 Gujarat Fortunegiants at half time
Gujarat have taken the match by the scruff of its neck. They have only a two-point lead but the momentum is different. Mumbai are yet to beat Gujarat but this season is of course quite different from the last. That is why this scoreline is a little surprising.
Mumbai 12-15 Gujarat
Gujarat's defence gets them closer to U Mumba and then, Dong Geon Lee manages a Super raid.
Mumbai 12-9 Gujarat
U Mumba pull away again though Rohit Baliyan and Siddharth Desai.
U Mumba 8-7 Gujarat
A Super tackle helped U Mumba increase their lead to four points. Gujarat then comebcak through raids from Sachin and Siddharth Desai.
Mumbai 4-5 Gujarat
Neck to neck start this but Gujarat know that their raiders need to be at the top of their game for the entirety of this match.
U Mumba vs Gujarat Fortunegiants
Right then, Fazel Attrachali has turned things around for Mumbai but he has also left a huge hole in Gujarat. That hole is what Mumbai will be looking to exploit today.
Patna 50-30 Bengal
50 it is and a 30-point victory. Bengal have been shredded to pieces and Patna Pirates have shown why they are the three-time defending champions here. Today, they played the way did in the previous three seasons and Bengal, who have a pretty good defence, were taken for a ride.
Patna 42-18 Bengal
Super 10 for Deepak Narwal, Pardeep had got his own a few minutes back. Now the match is more about whether Patna can reach 50 or not.
Patna 38-17 Bengal
Patna are finding points from every corner of this mat. Bengal have no place to hide. This match is done and dusted. It's better to start looking forward to the next match now
Patna 28-14 Bengal
Nope, no momentum for Bengal, Patna have simply picked up where they left off. They are taking Bengal apart here and it looks like we will have another rout to start off a leg.
HALF TIME! Patna 22-14 Bengal
Bengal rally towards the end of the half so they have the momentum with them somewhat. But this has been a terrible half for them. Pardeep and Deepak have ran the defence ragged while the defenders have backed them up brilliantly.
Patna 20-10 Bengal
This is quite incredible. Bengal have not exactly set the league on fire this season but here, Patna are looking better than them in both departments of the game.
Patna Pirates off to a good start
Patna Pirates are leading 12-7. Bengal Warriors' good defence is not holding well against the Narwals, Pardeep and Deepak.
Teams!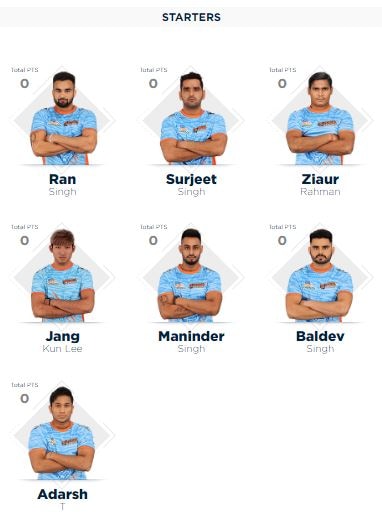 Hello and welcome!
Patna Pirates are looking vulnerable for the first time in over three seasons. They got off to a poor start and are not able to find their swashbuckling form that has helped them win a hat-trick of titles. Bengal Warriors have not been able to match up to the standards they set last season but have still looked much better than Patna because of their consistently strong defence.