Pro Kabaddi League 2018 highlights, U Mumba vs Bengal Warriors, Telugu Titans vs Jaipur Pink Panthers: U Mumba and Telugu Titans recorded comfortable wins on Saturday. U Mumba were looking to retake the Zone A top spot after Gujarat Fortunegiants overtook them on Friday.
The Titans, on the other hand were looking to get their home leg on track after losing the first to U Mumba. While Bengal Warriors were dominated by Mumbai for most of the match, Jaipur had managed to keep up with their opponents for much of the first half before falling behind.
FT
Match 103 | 08 Dec
Rajiv Gandhi Indoor Stadium, Vizag
Telugu Titans
36
26
Jaipur Pink Panthers
Live Blog
Pro Kabaddi League 2018 highlights, U Mumba vs Bengal Warriors, Telugu Titans vs Jaipur Pink Panthers:
THAT'S THAT! Telugu Titans beat Jaipur Pink Panthers 36-26
What started off as a close match soon dissolved into another disappointing performance from Jaipur Pink Panthers. This is exactly the kind of victory the Telugu Titans were looking for. What will be interesting to see is if they can build on it.
Titans 32-21 Jaipur
The gap is now up to 10 points. Jaipur suffered two more all outs. Three minutes left in the match but those would be only a formality it seems.
Titans 23-16 Jaipur
Well, the Titans have got a vice-like grip on the match now and it doesn't look they will let go any time soon.
Titans 17-13 Jaipur
Two all outs in Titans' favour and they pull away. Jaipur's raiders have done well but a leaky defence is costing them dear once again.
Titans 6-5 Jaipur
No dearth of points in these early exchanges. The two sides are going blow for blow which means they still have quite a few players on the mat.
Teams
So these are the players who will start in the second match of the day.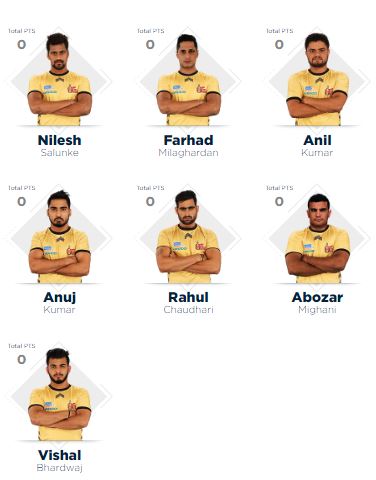 Next up
Jaipur Pink Panthers have been a team in almost unhindered free fall this season while Telugu Titans' ascendancy was halted in their last match against Gujarat Fortunegiants. Needless to say, a win is more important for the home side while Jaipur can do their damaged pride some good if they manage to end up on the right side of the scoreboard.
THAT'S THAT! U Mumba beat Bengal Warriors 31-20
Bengal were never in the game here. Apart from that brief lead during the first two minutes, they were second best in all departments of the game.
Mumbai 27-15 Bengal
Four minutes to go and Mumbai had plateued a bit as Bengal gained two successive points. But then Siddharth Desai got two points in a raid and restored the gulf.
Mumbai 24-13 Bengal
The lead has increased to 11 points. There are 9 minutes to go but this match looks done and dusted, which does not often happen in kabaddi.
Mumbai 15-9 Bengal at half time
That early lead was the only positive moment for Bengal so far in this match. U Mumba have pulled away and Bengal have a proper mountain to climb now.
Mumbai 10-7 Bengal
Rohit Baliyan takes two points each off successive raids and increases Mumbai's lead. Bengal are also finding it increasingly difficult to win raid points.
Mumbai 5-5 Bengal
Bengal raced to a 5-2 lead early on and U Mumba nibble back with a succesfull tackle followed by Siddharth Desai's raid.
The teams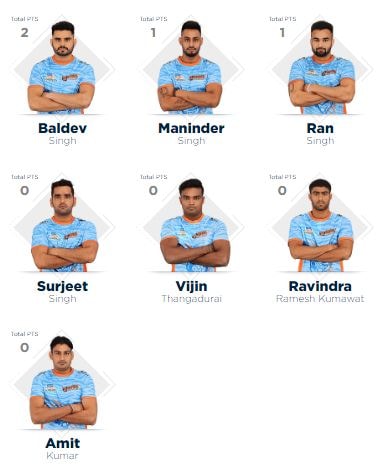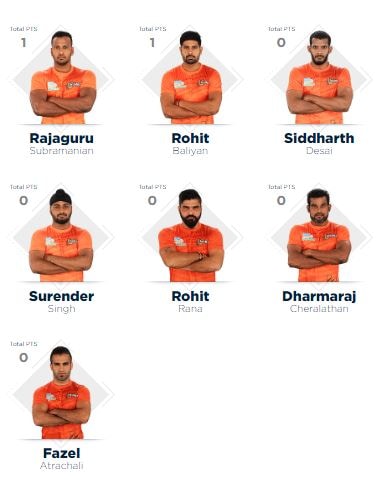 Hello and welcome!
Bengal Warriors are third on the Zone B table but that doesn't mean by any stretch of imagination that they are through. The Zones seem to be two different leagues this season. Gujarat and Mumbai have dominated Zone A, which is why they are in the top two spots whereas no team apart from Bengaluru Bulls have enjoyed consistently good form, not even three-time champions Patna Pirates. Every match from here on will have big effects on the Zone B table.