Pro Kabaddi League 2018 highlights, Patna Pirates vs Haryana Steelers Dabang Delhi vs UP Yoddha: Haryana Steelers are still suffering from losing all their home matches and in addition to that, their performances since then have not been encouraging. Pardeep Narwal seems to have found his touch again and the Patna Pirates are also bucking up after a rather poor start to the season.
Earlier, UP Yoddha survived another late surge by Dabang Delhi. UP dominated the first half and most of the second half but Delhi scaled an 8-point gap within a minute and the rest of the match became a neck-and-neck battle. Catch live score and updates of the Pro Kabaddi match between Haryana Steelers and Patna Pirates here
FT

Match 38 | 28 Oct

Patliputra Sports Complex, Patna

Patna Pirates

32

43

Haryana Steelers
Live Blog
Pro Kabaddi League 2018 highlights, Patna Pirates vs Haryana Steelers Dabang Delhi vs UP Yoddha:
Haryana Steelers beat Patna Pirates 43-32
Wow! The defending champions get no points from this match. They have been blown away by Haryana's solid defence. If only Haryana played like this in every match.....
Patna 29-43 Haryana
Patna will be now looking to reduce the deficit as much as possible as they will need at least one point from this match.
Patna 26-39 Haryana
Just under four minutes left, there really is no way Patna can come back from this. Haryana have been incredible in their defence.
Patna 23-38 Haryana
Another all out for Patna and then a timeout. What a disaster of a match this has been for the defending champions.
Patna 21-31 Haryana
A Super Raid by Naveen and the point gap increases to 10! Haryana are on their way to a famous win here.
Patna 17-22 Haryana
Patna Pirates have just one man left but they manage a succesfull raid. They are on the verge of an all out and have a big margin to close down.
Patna 15-20 Haryana
Pardeep Narwal dismissed, things are simply not going their way at the moment, the Patna Pirates.
Patna 15-17 Haryana
Patna nick back two towards the end and manage to get within two points of Haryana.
Patna 10-16 Haryana
Patna have lost their way here and they would do well to find it soon. Haryana starting to run away with this.
Patna 10-13 Haryana
A good team performance so far from Haryana Steelers. They are capable of doing this, although they havent done it too many times this season. Is this one of those days?
Patna 6-5 Haryana
Narwal got that little milestone out of the way, he is the second player after Rahul Chaudhari to cross 700 raid points in Pro Kabaddi.
Up next: Patna Pirates vs Haryana Steelers
Pardeep Narwal is on 699 raid points when he starts so surely he would want that little monkey off his back.
UP beat Delhi 38-36
They got two more points which effectively put the game to bed in the last minute. UP dominated the first half and they would have been pretty dissapointed if they ended up on the losing side. Another spirited performance this from Dabang Delhi.
Delhi 36-37 UP
A do-or-die raid is on, less than a minute left, you are the experienced defender and your team lead by a point. What do you do? Well if you are Joginder and Ravinder, you throw the game away.
Delhi 36-35 UP
Naveen Kumar raids succesfully and Delhi back in the lead with 2 mins left.
Delhi 35-35 UP
Just under three minutes left and this is still anyone's match.
Delhi 33-34 UP
A few empty raids and then a bonus point for UP and they lead by one
Delhi 32-32 UP
Well this is astonishing from Dabang Delhi. They managed to take the lead for a brief moment before UP came back to level terms. Within seconds, Delhi have scaled an 8-point deficit.
Delhi 30-31 UP
Well would you believe it! Delhi were all out and then they tighten up their defence. They are now almost level.
Delhi 22-30 UP
Another Super Tackle, the 8-point lead remains.
Delhi 20-28 UP
Delhi were slowly asserting themselves and then comes a super tackle from UP. Delhi all at sea once again.
Delhi 20-25 UP
Joginder Narwal gets a green card for decision argument. Whatever that means.
HALF TIME! Delhi 17-25 UP
UP Yoddha have twice the number of tackle points that Dabang Delhi have got. That should say everything you need to know about this match. Delhi have raided well but defended senselessly.
Delhi 16-25 UP
Another all out and this time, Dabang Delhi are all at sea. They are paying the price of leaking some utterly ridiculous points.
Delhi 14-21 UP
Shrikant Jadhav gets a super raid and suddenly, UP have a big lead. Delhi on the verge of an all out and this time they don't have a small deficit to cover.
Delhi 14-17 UP
Delhi's raiders are doing a good job of keeping them in the hunt but the same can't be said about the defence. Fortunately for them, the same can be said about UP.
Delhi 12-16 UP
Delhi do get all out and then they get two points out of a raid thanks to some poor defending on the left cover by UP.
Delhi 11-10 UP
Dabang Delhi down to 2 men but they are within just one point which means that even if an all out is inflicted they won't be too far off from the opposition.
Delhi 7-8 UP
UP's fragile defence is not helping them at all. They gift the do-or-die raid and then lose one more point to poor defence. They then climb back up because of some good raids.
Delhi 6-6 UP
UP started in the trail but they slowly claw their way back to get level with Delhi. It is a do or die raid now for the latter.
UP Yoddha previous match
UP Yoddha were in a rut before their previous match. But, in what turned out to be a low scoring thriller, UP finally broke the shackles. They beat Puneri Paltan 29-23.
Dabang Delhi previous match
Dabang Delhi were dominant in their previous match against Bengal Warriors. Naveen Kumar was their top raider with 11 points while Ravinder Pahal got four tackle points.
TEAMS
Here are the starters for both sides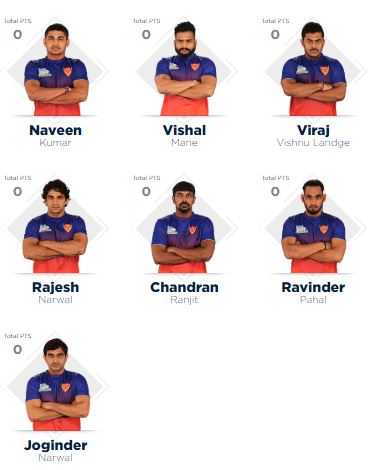 Hello and welcome!
Dabang Delhi and UP Yoddha have won two matches each. But while the former have played four matches, UP have played six, which makes their situation a little worse than their opponents for the day. Both sides have their home legs looming in front of them and so they will be desperate to cover as much ground as possible before that hectic period.