Pro Kabaddi 2018 Highlights, Gujarat Fortunegiants vs Haryana Steelers: Gujarat Fortunegiants have won and lost matches alternatively like clockwork thus far in Ahmedabad this season. If that trend is to continue, Haryana Steelers stand a very good chance of nicking a win on Thursday. Logically, though, Gujarat should pull through as Haryana have not had too much good fortune. They have won just one of their last six matches and chances of making it to the playoffs is looking bleaker with each passing game. Catch live score and updates of the Pro Kabaddi match between Gujarat Fortunegiants and Haryana Steelers here.
FT
Match 76 | 22 Nov
The Arena by Transstadia, Ahmedabad
Gujarat Fortunegiants
40
31
Haryana Steelers
Gujarat Fortunegiants
Won The Match
Live Blog
Pro Kabaddi 2018 Highlights, Gujarat Fortunegiants vs Haryana Steelers:
Gujarat beat Haryana 40-31
Haryana never stood a chance today. Gujarat led right from the first minute and never let go of the advantage. In fact the gap between the two sides only kept increasing as the game progressed.
Gujarat 39-29 Haryana
Sachin has got another Super-10. Monu Goyat has also got into double figures but his efforts have been in vain today.
Gujarat 37-28 Haryana
Just over a minute left and Gujarat still have their 10-point lead. This has been a top, top performance from the hosts.
Gujarat 34 - 23 Haryana
Sachin moves to 8 points with another succesfull raid. Haryana have managed to hold on because of the fact that raiders Vikas Khandola and Monu Goyat have been consistently taking points.
Gujarat 30-21 Haryana
This match is done and dusted now, Haryana get all out once and just keep leaking points after that. Eight minutes left in the match but Haryana don't seem capable to stage a comeback now.
Gujarat 24-19 Haryana
Gujarat appeal against an empty raid by Sachin and are succesfull. Haryana are now trailing by five points. It may be a small margin in Kabaddi terms but on the mat, the gulf seems to be bigger than that.
Gujarat 21-15 Haryana
It has been a team effort thus far from Gujarat, they have been better than Haryana in both departments in the mat. Mahendra Rajput and Sachin are taking points almost every time they go for a raid.
Guajrat 18-14 Haryana
No respite for Haryana. Their defence is leaking points which means that no matter what their raiders do, Gujarat are able to maintain their lead.
Gujarat 5-2 Haryana
Gujarat raced to a five-point lead before Haryana managed to nick two back. Common sense is the winner in these early exchanges.
Starters
These are the teams that will be starting today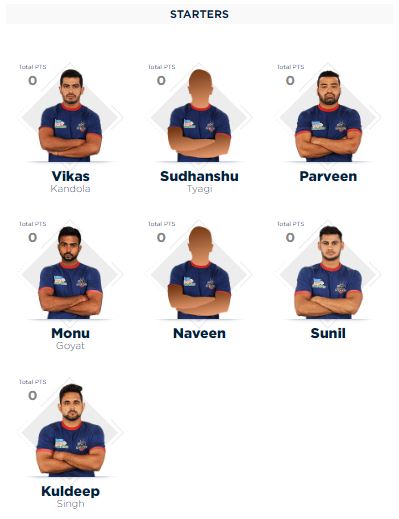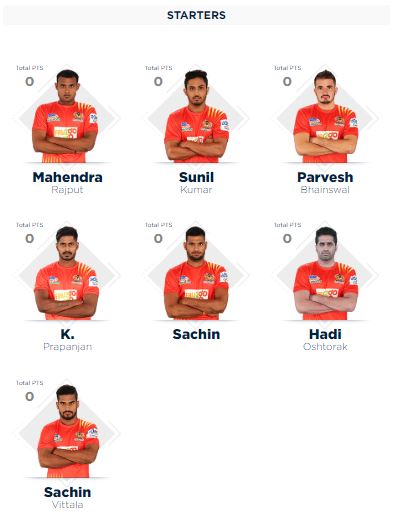 Hello and welcome!
If common sense prevails, Gujarat should win this match while if the law of trends and probability is to be applied then they should loss. This is because, the Fortunegiants have lost and won matches alternatively like clockwork thus far in Ahmedabad. But Haryana have also not won too many, just one in their last six actually. So today is a game between common sense and mathematics.