Pro Kabaddi 2018 Highlights, Bengaluru Bulls vs Patna Pirates, Dabang Delhi vs Haryana Steelers: Bengaluru Bulls were seemingly wiped out in the first half and it looked like Patna Pirates had succesfully muzzled them in the second but such is the nature of the game, a few good raids and Bengaluru had come within three points. However, that is as close as they could get to winning. Earlier, Dabang Delhi were flattened by Haryana Steelers. Unlike Bengaluru Bulls, they could not threaten any last minute comebacks.
FT
Match 82 | 25 Nov
Shree Shiv Chhatrapati Sports Complex, Pune
Bengaluru Bulls
32
35
Patna Pirates
Live Blog
Pro Kabaddi 2018 Highlights, Bengaluru Bulls vs Patna Pirates, Dabang Delhi vs Haryana Steelers:
THAT'S THAT! Bengaluru 32- 35 Patna
No big comebacks. Manjeet kills off the game in the end and that calls for the end of it. Patna Pirates would have had their hearts in their mouths towards the end but they prevail, and that is the important thing to note.
Bengaluru 32-35 Patna
THERE IS THE ALL OUT AND THE GAP IS DOWN TO 3 POINTS! This is extraordinary stuff from Bengaluru Bulls. 22 seconds left. Here. We. Go.
Bengaluru 27-35 Patna
Patna are down to three men with just over a minute left. Nine point gap now. Are Bengaluru Bulls really going to do it?
Bengaluru 21-30 Patna
Patna maintain their lead. Bengaluru are simply not being able to close the gap, The lead that Patna took in the early part of that first half is tuyrning out to be quite costly for the Bulls.
Bengaluru 11-21 Patna
Bengaluru reduce the gap to 10 points which means they have something to work on but they need to get some quick points in the early part of the second half to get anywhere. The defence need to find a way to reign in Patna Pirates and co.
Bengaluru 8-20 Patna
Well this match is over already. Patna are firing on all cylinders. Their raiders seem to be taking points every time they go in, their defenders are rarely allowing a point to be taken from them.
Bengaluru 3-9 Patna
Well it seems Patna do have their mojo in place. Pardeep Narwal has taken four raid points, which is the chief reason why they are ahead.
Bengaluru Bulls take on Patna Pirates
Two very good teams who are dependent on their raiders. This should be a high scoring match. That is if Patna Pirates find their mojos. If they don't which has happened quite often this season, this will be a cakewalk for Bengaluru.
There it is! Haryana beat Delhi 34-27
Delhi squeeze a point out of that match but they will be dissapointed. These are the kind of matches they need to win if they need to get something out of this season.
Delhi 21-31 Haryana
Delhi slow down Haryana a bit and make some headway but the gap is so big that even a two-point raid is enough for Haryana get back into a safe place.
Delhi 17-27 Haryana
Haryana are pulling away now but Delhi yet to look completely out of it. Vikas Khandola is running riot and is nearing a Super 10.
HALF TIME! Delhi 10-13 Haryana
This has been an impressive performance from the Haryana raiders. They are not caving in in the manner they normally have this season. They have rarely got it together this time, and when they have they have looked unbeatable. It looks like one of those days at the moment.
Delhi 9-12 Haryana
Monu Goyat and Vikas Khandola working their magic at the moment. The Haryana raiders are causing all sorts of issues for Delhi.
Delhi 5-5 Haryana
So far, the two teams are going toe-to-toe. Haryana had taken an early 2-0 lead but Dabang Delhi fought their way back.
Starters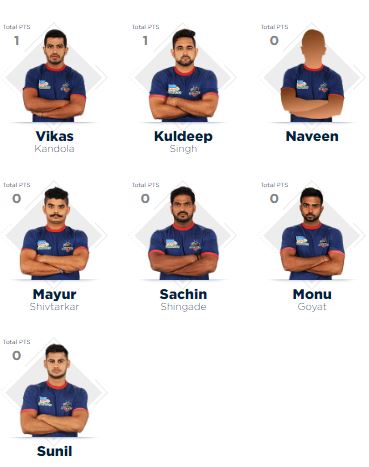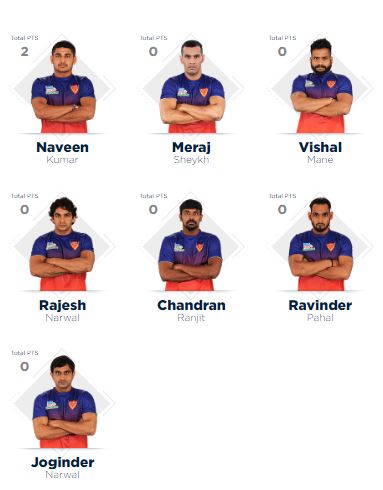 Hello and welcome!
Dabang Delhi have had some very disappointing losses and ties in this season so far. Even then, a playoff spot is very much a possibity. For getting there, though, they have to win matches like these.