Pro Kabaddi League 2018 Highlights, Patna Pirates vs Bengaluru Bulls, Puneri Paltan vs Dabang Delhi: Comeback kings Dabang Delhi take on Zone A table-toppers Puneri Paltan on Wednesday. Delhi have shown a knack of making astonishing comebacks this season, only to fall short at the final hurdle. It is because of this that they currently find themselves second to the bottom. Puneri Paltan, on the other hand, sit pretty at the top because of the success they enjoyed in their home leg.
In the second match of the day, home side Patna Pirates face Bengaluru Bulls. Patna have won just one the matches that have been played in their home stadium thus far.
FT
Match 42 | 31 Oct
Patliputra Sports Complex, Patna
Patna Pirates
41
43
Bengaluru Bulls
Live Blog
Pro Kabaddi League 2018 Highlights, Patna Pirates vs Bengaluru Bulls, Puneri Paltan vs Dabang Delhi:
Bengaluru Bulls 43-41 Patna Pirates
A lot of confusion in the end but it seems Pawan Shehrawat managed to get a point and won the game for the Bulls. The see-saw finally leans their way and settles.
Patna 41-41 Bengaluru
Well that yellow card has changed everything. Pawan Shehrawat is unsuccesfull in his raid and after that Kashiling too. Patna back on level terms.
Patna 36-41 Bengaluru
Pawan Shehrawat pulls Bengaluru back in front. Rohit Kumar, though, has got a yellow card which means that he has to sit out the rest of the match.
Patna 36-36 Bengaluru
Well this is quite astonishing. Deepak Narwal and Manjeet have shown that Patna Pirates are more than Pardeep Narwal. They have both got Super 10 and masterminded Patna's comeback.
Patna 26-32 Bengaluru
A Super Raid by Rohit Kumar has changed the complexion of this match. Suddenly, Bengaluru are in control.
Patna 20-17 Bengaluru
Deepak Narwal and Manjeet have dragged Patna to a lead. This is turning into an interesting match up.
Patna 13-15 Bengaluru
Once again, Pardeep Narwal unable to get going, Patna suffer. Bengaluru Bulls have got Kashiling Adake and Rohit Kumar all firing on all cylinders.
Puneri Paltan 31-27 Dabang Delhi
Dabang Delhi manage to get a point out of the match but this has been a clinical performance from Puneri Paltan. A Super Tackle and Super Raid in the first half gave them a foundation and they built on it.
Delhi 21-27 Pune
No way out for Delhi at the moment, Pune are somehow maintaining the six-point gap. Five minutes left in the match.
Delhi 18-24 Pune
Pune maintain their lead but Delhi have more numbers on the mat now.
Delhi 15-22 Pune
It has been a topsy-turvy first half but a Super Raid by GB More followed by a Super Tackle has swung the scales Pune's way. This makes for an intriguing second half.
Delhi 5-5 Pune
Puneri Paltan started out in front but Delhi have fought back to make it level, so much so that Pune are on the verge of an all out now.
The teams are out!
They are going through their warm-up routines, we are seconds away from the start of the match.
TEAMS!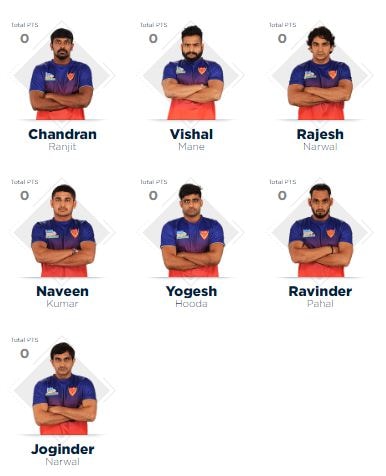 Hello and welcome!
A match involving Dabang Delhi has been exciting affairs this season. They tank in the first half, then make an inspirational comeback in the second half, and then fall short towards the end of it. This has been the case for most of the season and they would be hoping that this time, facing one of the strongest teams in the league, they can reverse this trend and keep the comeback devoid of a last minute stumble.