Pro Kabaddi 2018 Highlights, Jaipur Pink Panthers vs Puneri Paltan, Bengal Warriors vs Bengaluru Bulls: Deepak Niwas Hooda was up against his old team in his old stomping ground and he seemed to regain his old touch. He got a Super 10 but his side won't be happy with this tie. Jaipur were leading by a good margin at half time and seemed set to win even 10 minutes before the end of the match. Bengal Warriors shored up their defence to beat the formidable Bengaluru Bulls. 
FT
Match 78 | 23 Nov
Shree Shiv Chhatrapati Sports Complex, Pune
Jaipur Pink Panthers
30
30
Puneri Paltan
Live Blog
Pro Kabaddi 2018 Highlights, Jaipur Pink Panthers vs Puneri Paltan, Bengal Warriors vs Bengaluru Bulls:
Jaipur 30-30 Pune
There it is, a tie. Two absolute nail biters today. Jaipur have played the way they should have played throughout this season considering the kind of names they have. They also slipped up the way they have throughout this season. In the end, a draw seems to be a fair conclusion, although Jaipur won't be happy.
Jaipur 27-27 Pune
Hooda has reached his Super 10 but this match is far from over. Pune come back again and this time they properly close the gap.
Jaipur 24-19 Pune
Another close match in the offing. Just as it looked like Pune might be inching closer, Jaipur pull away with an all out on Pune.
Jaipur 18-15 Pune
Pune clawing their way back into the game and suddenly Jaipur find themselves in trouble, they are down to four men on the mat.
Jaipur 17-11 Pune
Sandeep Narwal nicks one back for Pune after an empty raid by Anup Kumar.
Jaipur 17-10 Pune at half time
A low scoring first half but a good one for Jaipur Pink Panthers. Deepak Niwas Hooda ends the half with 6 points.
Jaipur 8-5 Pune
Jaipur have got off to the best start they could have imagined here. Deepak Niwas Hooda has been on top of his game in the raids.
Pune vs Jaipur
Jaipur Pink Panthers have simply not been able to get their season going, Pune have slowed down after a very good start to the season. They are on two ends of the spectrum. We had a thriller in the first match let's see how this one goes.
Bengaluru 30-33 Bengal
Last half a minute, do remember to balance yourself while sitting on the edge of that seat.
Bengaluru 28-30 Bengal
Another Super 10 for Sehrawat but Bengaluru have their task cut out for them. Two tackles has put Bengal two points ahead in the minute.
Bengaluru 26-26 Bengal
And there is the all out that Bengaluru Bulls have been searching for. The two sides are back at level pegging with just over 5 minutes left.
Bengaluru 21-25 Bengal
Bengal have maintained their lead but they are also losing players. They are now down to three as Maninder comes in to raid. Bengaluru have a full house.
Bengaluru 14-18 Bengal
A last minute all out helped Bengal take a four-point lead into half time but this is anyone's match. The two teams are perfectly matched.
Bengaluru 12-13 Bengal
Scorecard may be level but Bengaluru Bulls have just three people on the mat while Bengal have a full house.
Bengal 8-8 Bengaluru
Bengal's defence is winning them points but this is truly anyone's match at the moment.
Bengaluru Bulls 2-2 Bengal Warriors
Rohit Kumar with a successful raid first up to start things off. Thus far the raiders of both sides have enjoyed considerable success.
Teams
These are the starters for the first game of the day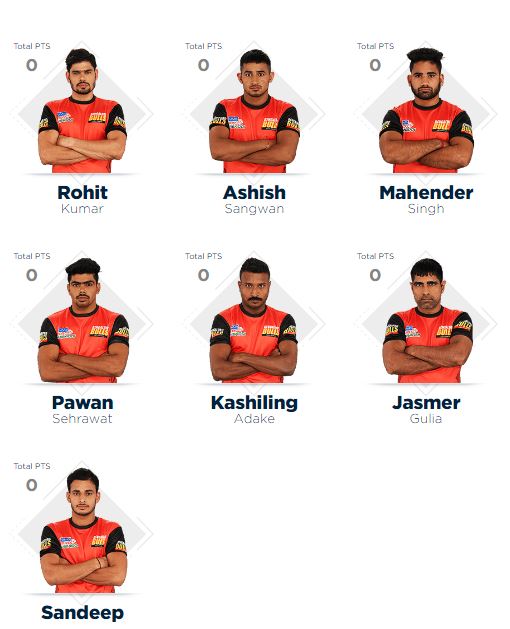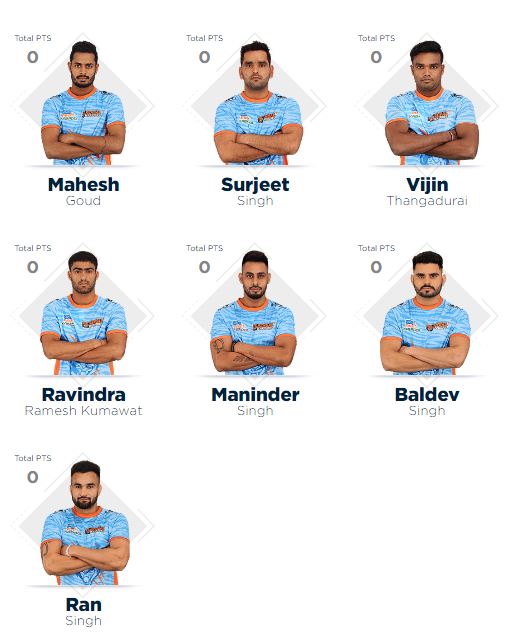 Hello and welcome!
Bengaluru Bulls are looking an entirely different side from the one that bumbled their way through last season. Pawan Sehrawat's star turn is a major reason behind their resurgence. They have emerged as one of the favourites to win this season but they are facing a team that is on a bit of a roll.