Pro Kabaddi 2018 Highlights, Haryana Steelers vs Dabang Delhi, Puneri Paltan vs Gujarat Fortunegiants: Haryana Steelers sealed what could be an important victory in the long run against Dabang Delhi. This meant that they have managed to pick two victories from their home leg and that significantly increases their chances of making it to the playoffs at the end of the league stage. Puneri Paltan, on the other hand, could not start their home leg with a win. They were pipped in what for most part a close match.
Live Blog
Pro Kabaddi 2018 Highlights, Haryana Steelers vs Dabang Delhi, Puneri Paltan vs Gujarat Fortunegiants:
Pune 28-34 Gujarat
There it is! First game at home and second loss of the season for Puneri Paltan. The two teams were neck and neck for most of the match but Gujarat pulled away in the end.
Pune 26-33 Gujarat
No way out for Pune. Nitin Tomar has been muzzled by the Gujarat defence and he has only managed to extend his points tally to 13 points.
Pune 23-30 Gujarat
Gujarat pulling away now with just 4 mins left on the clock. This is an incredible performance from them.
Pune 20-21 Gujarat
Gujarat back in the lead, Pune looking a little flattened now.
Pune 18-17 Gujarat
Super 10s for Nitin Tomar and Sachin. This has thus far been a raider's match through and through. Pune are benefitting from the frightening consistency with which Nitin gets points every time he goes for a raid.
Pune 15-15 Gujarat
A Super Tackle gave Gujarat the lead for the first time in the match. They managed to keep their distance for some time but now Pune have clawed back and we are all square at half time.
Pune 10-9 Gujarat
Nitin Tomar has got 9 points already and he is driving Pune's charge. Sachin, on the other hand, has been Gujarat's main raider with five points in hand.
Up next: Puneri Paltan vs Gujarat Fortunegiants from Pune
Gujarat have had a very different season from what they experienced last season. They have lost and tied a match and will be hoping to get themselves going. Puneri Paltan will be looking to not fall into the mire of the home team jinx that engulfs Pro Kabaddi.
Haryana 34-31 Delhi
And they have done it! A victory to end their home leg. Haryana Steelers have put in the perfect performance here today. They go around to thank the crowd who have got behind them through the two victories and four losses over the past week. An engrossing match to end an engrossing leg.
Haryana 33-29 Delhi
Its all about time wasting now for Haryana. Kandola is on raid points but he makes almost no attempts to take a point out of his raid. Meraj Sheykh rushes in after he withdraws and he is tackled.
Haryana 30-25 Delhi
Haryana are looking unlike anything we have seen from them over the past one week. The defenders and the raiders are working in tandem and Delhi have no way out at the moment.
Haryana 28-22 Delhi
Two-point raid by Kandola and they now have a significant lead in this see-saw match.
Haryana 23-20 Delhi
An all out on Delhi and Haryana finally regain the lead. Delhi were always teethering on the edge and were surviving on Super Tackles. Kandola is the one who finally managed to get the killshot.
Haryana 17-19 Delhi
A Super Tackle takes Haryana within two points of Delhi. This match remains neck and neck.
Haryana 14-16 Delhi at half time
Second Super Tackle by Joginder and Pahal. They are proving to be quite a pair for Dabang Delhi and Chandran Ranjit then raids succesfully to ensure Delhi have a two-point lead at the break.
Haryana 13-13 Delhi
Just Joginder Narwal and Ravinder Pahal left in the Delhi half and they manage to tackle Kandola. In comes Meraj Sheykh.
Haryana 12-9 Delhi
Still not too much to separate these two sides and it looks like Monu Goyat's two-point raids are the reason why Haryana have a fairly significant lead.
Haryana 9-7 Delhi
Third consecutive successful raid for Monu Goyat and that takes his tally to four points and Delhi's to nine. Dabang Delhi then pull one back through Vikas Kandola.
Haryana 5-3 Delhi
Haryana Steelers maintain that two point lead. So far so good for the home side.
Haryana 3-1 Delhi
Monu Goyat got two points in his first raid and that helped Haryana pull away from a 1-1 scoreline.
TEAMS
So these are the starters for the two sides today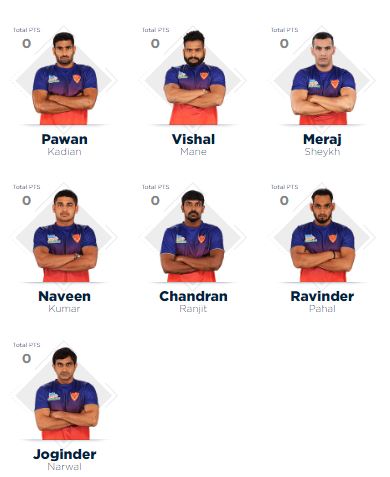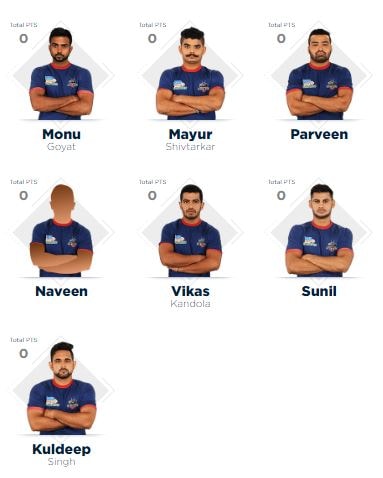 Hello and welcome!
The home run finally comes to an end for Haryana Steelers. Unlike leagues of other sports, in which a home match is seen as a position of strength, Pro Kabaddi teams rarely ever have a good time at home. For reasons that are as commonly known as the exact composition of what swirls in the Sun's core, teams generally go through extraordinary runs of defeats during their home legs. Before Haryana, Tamil Thalaivas had won just one of the five matches they played in Chennai. If the Steelers lose this one, they would also possess the same stat.