Pro Kabaddi 2018 Highlights U Mumba vs Dabang Delhi, Telugu Titans vs UP Yoddha:  In the second match of the day, Telugu Titans take on U.P. Yoddha at the Rajiv Gandhi Indoor Stadium in Vizag on Tuesday. The home side will hope for a third successive victory at home as they are in touching distance of second-placed Patna Pirates in Zone B.
The teams last met in Greater Noida and played out a thrilling 26-26 tie. Right-Corners Abozar Mohajermighani and Nitesh Kumar both returned 4 tackle points each. Rahul Chaudhari has been Telugu Titans' leading point scorer this season, managing to score 123 raid points in 16 outings so far while Nitesh Kumar has had a stellar campaign for U.P. Yoddha in Season 6.
FT
Match 107 | 11 Dec
Rajiv Gandhi Indoor Stadium, Vizag
Telugu Titans
20
27
U.P. Yoddha
Live Blog
Pro Kabaddi 2018 Highlights U Mumba vs Dabang Delhi, Telugu Titans vs UP Yoddha
UP Yoddha beat Telugu Titans 27-20
There it is. The gap that opened up in the second half remains the difference and Telugu Titans fall to their second defeat of the season at home.
Titans 16-21 UP
And finally the shackles are broken. Sachin Kumar effects an all out and that means the UP Yoddha take an outright lead.
Titans 11-10 UP
A half as close as any you would find in the sport. Rahul Chaudhari is leading for the home side with points, Prashant Kumar Rai has got five for UP.
Titans 7-8 UP
The margin of one remains between the two sides, only the lead has gone the other way.
Telugu Titans 5-4 UP Yoddha
Points have been hard to come by so far and the defenders are doing a good job of keeping a check on the raiders. At the moment, the home side but only marginally.
U Mumba beat Dabang Delhi 44-19
Delhi never stood a chance. U Mumba extend their lead at the top of the Zone A standings. Up Next, Telugu Titans take on UP Yoddha.
Delhi 18-39 Mumbai
Arjun Deshwal scores three raid points and a bonus to take Mumbai to 39 points. Stating the score for this match is now a waste of time. Mumbai have won it. 2 mins remain.
Delhi 15-30 Mumbai
Mumbai have now got exactly twice the number of points that Delhi have. There just cannot be a way back for Delhi now.
Delhi 14-23 Mumbai
Fazel has got 4 tackle points, Siddharth Desai with 5 points and Rohit Baliyan with 6. Mumbai as dominant as usual.
Delhi 9-16 Mumbai
And Mumbai pull away. Fazel and Cheralathan have clamped down at the back while Siddharth Desai is on 5 raid points. U Mumba have got 2 all out points already.
Delhi 4-5 Mumbai
Mumbai got off to a quick start but Delhi are playing catchup.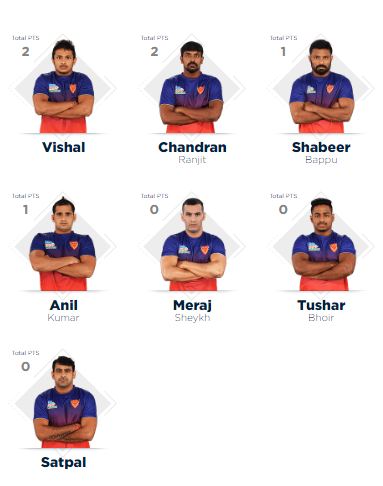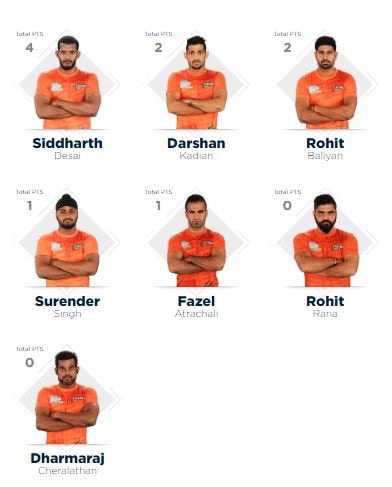 Pro Kabaddi LIVE
Hello and welcome to our live coverage of Pro Kabaddi matches on Tuesday. First, Dabang Delhi take on U Mumba in hope of breaking their losing streak against the Zone A rivals. Later, Telugu Titans clash with UP Yoddha at the Rajiv Gandhi Indoor Stadium in Vizag,