IPL 2019, SRH vs KKR: Sunrisers Hyderabad had no trouble in putting Kolkata Knight Riders to the sword and ensuring they lose their fifth match in a row. Jonny Bairstow (80*) and David Warner (67) were once again in pulsating form to chase down the below-par 160 run total with ease. Even as KKR picked one wicket, that of Warner, the job was completed by Bairstow with consecutive sixes – winning with 30 balls to spare. (Full scorecard)
The win – second on the bounce – has taken Sunrisers into the top-half of the IPL standings and in contention for the playoffs. Despite the low total to defend, KKR never got close to SRH and had no answer to a fourth 100 run stand between Warner and Bairstow.
Earlier, Andre Russell's request to be promoted in the order wasn't paid heed to and he came on to bat at No. 7 where he scored 15 runs from 9 balls including two sixes. His impact was diminished with Chris Lynn and Rinku Singh stitching a 50-run partnership. Lynn scored a half century to steady things after KKR lost control.
Indian Premier League, 2019
Rajiv Gandhi International Stadium, Hyderabad 17 September 2019
Sunrisers Hyderabad 161/1 (15.0)
vs
Kolkata Knight Riders
159/8 (20.0)
Match Ended ( Day - Match 38 ) Sunrisers Hyderabad beat Kolkata Knight Riders by 9 wickets
Live Blog
IPL 2019 Score and Updates, SRH vs KKR from Hyderabad: In Tamil
Man of the Match: Khaleel Ahmed
Khaleel Ahmed picked three wickets to put KKR under pressure. "Quite feeling good. The wicket was a little bit slow. After a while, I understood how the wicket was behaving. They played exceptionally well. My mom used to tell me win a man of the match award and I dedicate this award to her. I have been working on my fitness and trying to get stronger."
Post-match talk: Kane Williamson
Now for SRH skipper Kane Williamson to come up: "I don't think it changed a huge amount. It slowed down a bit. We kept them down to a low total, It was a complete performance. It is tough tournament. You need to adapt. Let's hope they continue. Everyone is trying to play their roles. To take nothing away from the first half, the bowlers did really well. It has been a pleasure to watch them bat. We know that we would come in as a middle order when needed. They (Bairstow and Warner) are gonna be big losses. They are world class players and they will be missed at the back end."
Star performer Jonny Bairstow
Bairstow scored 80 runs tonight. Here's what he had to say: "The way they got off to that start, the bowlers did well to peg them back. Huge credit to our guys, it could've got away from us. Could've got to 200. When we came out to bat, the pitch slowed up. Expected it to be slightly quicker than that tonight. Don't want to start any rumours. It's good fun. He's a great bloke to bat with. We run well between the wickets. When he gets off to start like that, it's just a case of giving him the strike. There's been a lot of chat about the middle order, probably unfairly so. We've got some quality players in that middle order who haven't been able to spend some time in the middle which is a good thing because it means we've been doing our job. It's been brilliant. My first IPL and I've been living every bit of it. Hopefully I'll be back."
Post match talk: Dinesh Karthik
KKR skipper Dinesh Karthik first: "I think 160 was a par score on this wicket if we'd bowled well. I think they (Warner and Bairstow) batted really well but our fielding cost us. And after that dropped catch he (Bairstow) came at us all guns blazing. A wicket of Bairstow would have felt better, feel for the guy (Yarra Prithviraj). We have been outplayed in this game. Having said that our bowling has been off colour in the tournament. Our fielding needs a lot of improvement too. A form issue with (Kuldeep) - as he couldn't stand up for us in the last game. We had to give him a break and get him back fresh."
Bairstow already collecting records
Most runs in debut IPL season (excluding the inaugural IPL)
445 Jonny Bairstwo (SRH, 2019) *
439 Shreyas Iyer (DD, 2015)
398 Faf du Plessis (CSK, 2012)
394 L Simmons (MI, 2014)
391 R Tripathi (RPS, 2017)
382 E Lweis (MI, 2018)
SRH win!
Almost a replica of the earlier six. Into the same region, almost the same ball and Bairstow with the same treatment. Sunrisers Hyderabad win by 9 wickets with 30 balls to spare. Jonny Bairstow remaining unbeaten on 80 from 43 balls with seven boundaries and four sixes
SIX!
Going one better this time around. This one is spanked towards deep mid-wicket for a six.
FOUR!
Piyush Chawla into the attack and Jonny Bairstow is not looking to wait around for too long. Plays it late and finds the gap to send the ball crusiing for a boundary
GONE!
Yarra Prithviraj gets his maiden wicket off his own effort now. A slower one and Warner was into the slog early. Misses the ball completely and the ball dismantles the leg stump. Warner dismissed for 67 from 38 balls. SRH are 131/1
DROPPED!
Another chance goes begging. Prithviraj denied another wicket. Jonny Bairstow the lucky man once again. Piyush Chawla the guilty player this time around. Didn't get close to the ball, didn't even get fingers to it.
FOUR! SIX!
To add salt to wounds, Warner gets on the strike and smacks Narine for a six and a four. The boundary is slapped down the ground and the six is sent towards the long on region.
DROPPED!
Just not KKR's day. Sunil Narine gets a top edge off Jonny Bairstow and it goes comfortably towards fine leg region where Gurney never gets close to it. Terrible judgement. Second lifeline for Bairstow
Under 50 needed now
11 overs gone and SRH are 114/0 with Warner on 55 and Bairstow on 54. Less than 50 runs required now for SRH
Warner for SRH
Warner in each season for SRH
2014: 528
2015: 562
2016: 848
2017: 641
2018: DNP
2019: 501*
FIFTY!
Now Jonny Bairstow brings up his fifty - also from 28 balls. Six boundaries and two sixes in the inning.
FIFTY!
David Warner brings up his fifty from 28 balls. Two fours and four sixes. How bloody good has he been this IPL season. Orange Cap is all his!
100-run stand
8.4 overs gone and Warner, Bairstow make it 100/0. Just 60 needed from 68 balls
FOUR!
First one was all power. This one is all skill. Nice delivery by Cariappa, looks to beat the outside edge but Bairstow connects late to steer it for a boundary towards third man.
SIX!
KC Cariappa had gone for 20 runs in his first over. He's started off by being hit for a six in the second. Nice length for Bairstow to get underneath it and go down on one knee to sweep it into the stands.
One way traffic
KKR could do with a wicket or two right about now. Warner and Bairstow are going about without any fuss. They have the most runs at the top of the order in the IPL. And the tally continues to rise....
SRH in powerplay overs
Most runs in powerplay overs for SRH in IPL:
79 v KKR Hyderabad 2017
76 v CSK Hyderabad 2015
72 v KKR Hyderabad 2019 *
69 v RR Hyderabad 2019
SIX! FOUR! SIX!
Warner is going after KC Cariappa. A six to start with behind square. A boundary on the next one between short fine and backward square. A six thereafter. 20 runs from the over. After powerplay overs, SRH are 72/0
SIX!
David Warner with his second six tonight. Short ball by Sunil Narine and it is thrashed into the crowd. Can't bowl that length to Warner...
SIX!
Bairstow seemed to have an issue with his bat. Calls for a new bat. And he's given a super weapon it seems. Picks out the googly by Piyush Chawla, gets down on one knee and smokes it into the second tier over the long-on fence.
Star audience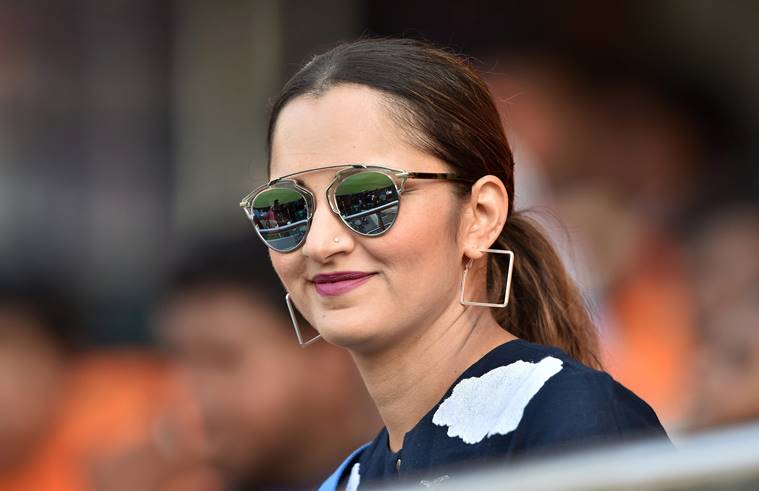 Hyderabad has seen quite a few famous names from the non-cricket arena making a presence. Today - Tennis player Sania Mirza.
FOUR!
Another boundary to end the over. Bairstow once again and this tiime there is no lifeline needed. Short ball on the stumps and Bairstow dispatches it with ease for a four
DROPPED!
Prithviraj could have had a wicket in his first IPL over. Simple chance for KC Cariappa but he lets it go and Jonny Bairstow survives. Short and wide, Bairstow slashes at it and it should have been a simple take for Cariappa. It gets out of his grasp and trickles over for a boundary
SIX!
Debutant Yarra Prithviraj into the attack now for KKR. Second ball, SIX! Not a bad ball that. Length delivery, on off stump and Warner launches into it for a six.
First over
Harry Gurney with the opening over and he goes for six runs.
Chase underway
David Warner and Jonny Bairstow come out to open for SRH. Target: 160. GO!
KKR finish on 159/8
KC Cariappa into bat for the first time this IPL season. Gets a double on the first ball and then a confident thumping six towards long on on the next ball. Half tracker from Rashid and it got the treatment it deserved. A single to end the innings. KKR finish on 159/8
GONE!
A boundary later, Piyush Chawla falls to Rashid Khan. Chawla tries to reverse swat over short third but only musters a fine tickle on the glove
GONE!
This time it finds Rashid Khan! Not enough time for Dre Russ to unleash himself. Bhuvi looks to go for another yorker but feeds a low full toss on the pads instead, Russell batters it once again but it gets the cue end of the bat. Straight down the throat of Rashid at deep square. Russell departs afater 15 from 9 balls. KKR are 146/7
Six!
Bhuvneshwar Kumar goes for a bouncer this time - on the fourth delivery - and it is slapped away for a six. Sania Mirza, also in attendance, can't help but notice the sheer power in that shot.
SIX!
First ball perhaps gets a touch down the leg. Second one, however, is a low full toss or converted into one and that is good enough connection to sail into the crowd. Into the pads, played away and into the square leg fence
Two overs to go
Bhuvneshwar Kumar is into the attack to bowl the penultimate over. KKR are 134/6. Bhuvi to Russell ... let's see how it goes!
GONE!
Another off cutter from Khaleel, Chris Lynn miscues it and the ball doesn't get the distance or aerial route. It drops rather quickly but Kane Williamson is a safe pair of hands to dive and collect it neatly. Lynn falls for 51 from 47. KKR are 133/6
FIFTY!
Chris Lynn brings up his fifty from 45 balls. Delivery outside off by Khaleel Ahmed, a slower one, and Lynn reads it well to upper cut it for a boundary towards third man. Ninth IPL fifty for Lynn. Not his usual run-bursting self but has been a steady head today
GONE!
Rinku Singh departs after a handy knock of 30 from 25 balls. Short ball around middle and leg and Rinku pulled it straight to Rashid at deep mid-wicket. KKR are 124/5
SIX!
A mighty hit and that takes the partnership between Rinku Singh and Chris Lynn past the 50-run mark. Sandeep with a low full toss and the southpaw makes sure to thump it over the long-on fence for a powerful six. And the ball is lost!