IPL 2018 KKR vs RCB: Dinesh Karthik led Kolkata Knight Riders to their first win from first game of IPL 2018 with a steady innings as a captain. Kolkata were chasing 177 runs at Eden Gardens and they did it with four wickets in hand. Sunil Narine scored a 17-ball 51 to set the chase. Karthik and Nitesh Rana then continued the good work. Rana was the one who turned the game around for KKR but with ball. Virat Kohli and AB de Villiers were going strong but in his one over of part-time spin, he dismissed both of them. Bangalore, who were going at a rate of close to 9 till the 12 overs, managed only 176/7. This is after McCullum gave a strong start. KKR won the toss and elected to bowl against Royal Challengers Bangalore at Eden Gardens. (IPL 2018 KKR vs RCB Scorecard)
Live Blog
IPL 2018 Kolkata Knight Riders vs Royal Challengers Bangalore: KKR vs RCB Highlights at Eden Gardens
Presentation ceremony
Dinesh Karthik: Good to get off to a good start. If AB and Kohli went till the end, it would have been tough, but we got lucky. We all play for the crowd. Love to play for a team like this and a crowd like this.
Sunil Narine is Man of the Match: I don't see myself as an opening batsman. That is the role I get to play. If I get out first ball its okay so, that takes a lot of pressure off me.
Kohli hails the bowlers
Virat Kohli speaks with Mathew Hayden after the match and says that he needs more from the batting, "myself included. Me and AB getting out to a part-timer was a game-changing event and the way Sunil batted in the first six overs, took the game away from us. And then Sunil (Narine) just took the game away from us in the first six overs. If you are giving away 15 or 16 runs in the first six overs, there is very little you can do to turn it around," he said.
But Kohli was appreciative of the efforts of his bowlers to pull things back towards the end. "To be able to drag it to the 19th and get wickets was a real positive. First game of the season is always great to lay out what is needed going forward. We can go back to the drawing board after this one, there are lots of positives to take," said the RCB captain.
KKR beat RCB by four wickets with seven balls remaining
Vinay Kumar dispatches one along the ground to the boundary to finish things off. KKR finish at 177/6, beat RCB by four wickets with 7 balls to spare. This has been a masterful chase. 177 is not exactly an easy target to chase but Suni Narine's onslaught in the first six overs took the game away from them. Dinesh Karthik then skillfully steered them to the finish line before Vinay Kumar ended things with a boundary.
GONE! Andre Russell c de Villiers b Woakes, KKR 164/6
Russell goes for the pull, gets the top edge and it goes many a miles up in the air. De Villiers running back from mid-off, McCullum running from long-on both utterly clueless of each other's existence. McCullum goes for the dive early and De Villiers completes the catch and somehow jumps over McCullum. That would have been one nasty collision, instead, it has turned out to be a great catch from De Villiers.
KKR 162/5, Andre Russell show
Andre Russell gives the crowd what it wants, six off the very first ball of the 17th over bolwed by Umesh Yadav. Yadav follows up with a couple of short balls and Russell is as clueless as a lost detective. But then he hits a four and six off the last two balls and the deficit is down to 14 required off 17 balls.
Strategic timeout, KKR need 30 to win off 24
KKR are still ahead despite the two wickets that they lost in these last two overs. There seems to be little sign of panic in the home camp and they have two more than capable players to chase down 30 runs in 24 balls in the middle in the form of Andre Russell and Dinesh Karthik.
GONE! Rinku Singh c De Kock b Woakes, KKR 146/5
Rinku Singh tries to pull a bouncer and the keeper catches it, RCB go up, the umpire shakes his head and Kohli immediately goes for the review. That is one confident captain and replay shows a clear spike in the snicko when the ball goes near the bat. Rinku Singh is already back in the dug out by the time the decision is communicated, Andre Russell in the middle now.
GONE! Nitish Rana 34 (24) LBW Washington Sundar, KKR 138/3
Nitish Rana goes for the slog and the ball hits him on the leg in front of the stumps. Umpire lifts the finger and Rana goes for the review after a short conference with Karthik. No nick there in the replays and Rana seems to be convinced by that and walks all the way back to the dugout even before the decision is communicated. Ball tracking shows that he was not as plumb as Rana thought and the dismissal was umpire's call. It is a welcome wicket for RCB.
Kolkata 130/3, need 57 to win off 41
Easy does it for KKR, Karthik hits consecutive fours off the 14th over bowled by Yuzvendra Chahal. A double, dot ball and a single and KKR are purring along nicely. Karthik and Rana are taking their own time and they can afford to do so.
Kolkata 112/3
Just 5 runs from the 12th over bowled by Chahal but this is sensible batting from Karthk and Rana. They are building a good partnership here, conserving wickets and KKR now need 65 from 48.
Kolkata 92/3 after 9
Nitish Rana and Dinesh Karthik are the two batsmen out in the middle for Kolkata. Karthik knows how to build a chase. Kolkata need 85 runs from 66 balls so no need to take any risk
WICKET! Robin Uthappa c McCullum b Umesh Yadav
Umesh Yadav gets another! Robin Uthappa is in no position to play that shot. Short and wide and Uthappa tries to play it over mid-wicket. Only a top edge and McCullum completes a good catch at backward point
Kolkata 81 for 2
Seven overs bowled in the innings and Kolkata are 81 for the loss of two wickets. Nitish Rana picked up a six and a four off Khejroliya and KKR are on course in this chase
Umesh Yadav is fired up!
Umesh Yadav has his tail up after getting that wicket. He is bowling very quick and Nitish Rana is hit on the helmet. Kolkata Knight Riders reach 68 for after 6 overs. End of the powerplay and there is the strategic timeout!
WICKET! Sunil Narine b Umesh Yadav 51
Umesh Yadav into the attack and he bowls Sunil Narine off the second ball! Narine made room for himself but drags it back onto the stumps. RCB break the stand
FIFTY! Sunil Narine off 17 balls
Sunil Narine gets another six to move to 49 off 16 balls and then takes a single to reach his half century off 17 balls! Brilliant innings from Narine. RCB have no answer to him
Sunil Narine 43* off 15 balls
Sunil Narine now taking on Washington Sundar! First a four and then a six. Brilliant hitting from Sunil Narine. He moves on to 43 off just 15 balls. De Kock, De Villiers and Kohli have a meeting in the middle
3.6: Six, Sunil Narine
SIX! Sunil Narine gets a short ball from Woakes and cruches it over square leg for a six. Powerful pull shot from Narine. He is taking the game away from RCB. KKR 46/1 after 4 overs
6 4 4 - Narine punishing Woakes
Sunil Narine is taking on Chris Woakes in the fourth over. 2nd ball - six, 3rd ball - four over covers, 4th ball - four through covers. Woakes need to come back and stop the run flow
2.6: SIX, Robin Uthappa
Beautiful six from Robin Uthappa to finish the third over! Washington Sundar bowled a full delivery and Uthappa just timed it back over the bowler's head for a six. KKR 26/1 after 3 overs
WICKET! Chris Lynn c AB de Villiers b Chris Woakes
WICKET! Big wicket for RCB. Chris Lynn is caught by De Villiers. Lynn tries to play a big shot but that slash has gone high up in the air towards off side. AB runs towards the boundary and takes a good catch. KKR 1 down
Kolkata begin chase with Narine, Lynn
Sunil Narine begins the KKR chase with a four and a six! Kolkata take 12 runs from the first over bowled by Yuzvendra Chahal. But RCB need wickets early
Shah Rukh Khan at Eden Gardens
Shah Rukh Khan comes to Eden Gardens to cheer for Kolkata Knight Riders. On Sunday, he had his daughter Suhana and son AbRam with him. Here he is cheering for KKR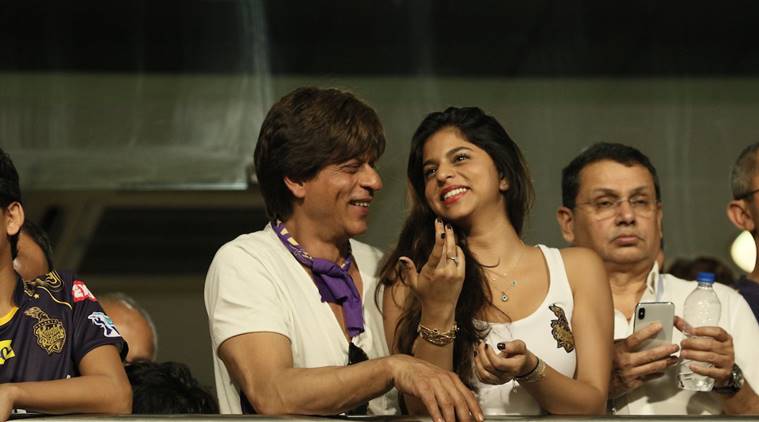 RCB post 176/7 at Eden
Brendon McCullum gave RCB a fiery start and then there was the Virat-AB stand which lifted Bangalore. Nitish Rana removed both of them on back-to-back deliveries. Mandeep made 37 off 18 balls to push Bangalore's score to 176/7 at Eden Gardens.
19.6 WICKET! Chris Woakes
WICKET! Vinay Kumar gets another. Final ball of the innings it a full delivery, Woakes goes for a big shot but has skied it. Russell runs back and takes a good catch. RCB finish at 176 for 7. Kumar gets 2 wickets
19.5: WICKET! Mandeep Singh
WICKET! Mandeep Singh connects again but cannot clear the deep cover fielder! He is caught in the deep and that will be end of his cameo. He made 37 off 17 balls.
19.4: No run, Mandeep Singh
Vinay Kumar gets this one right! Outside off and full. Mandeep cannot get under it and plays it back to Vinay Kumar. A dot ball after three boudaries. Good comeback
19.3: SIX, Mandeep Singh
Mandeep Singh hits second six of the over! Vinay Kumar comes over the wicket and bowls short. Mandeep with a powerful pull shot which has sent the ball into the crowd. SIX
19.2: Four, Mandeep Singh
Vinay Kumar is coming round the wicket and bowls a leg stumps line. Mandeep Singh just flicks it over fine-leg and gets a four. That was a good shot and pressure is on Vinay now
19.1 SIX, Mandeep Singh
Mandeep connects the first ball from Vinay Kumar! In the slot and Mandeep clears his front leg to send it over mid wicket for a big big six
WICKET! Sarafarz Khan c Rinku Singh b Mitchell Johnson
Sarfarz Khan cannot get the distance on his big hit. The bat turns in his hand and he is caught at long-on. Johnson gets a wicket. Virat Kohli is livid with Sarfaraz. RCB 5 down
12 runs off 18th over
Mandeep hits two fours in the 18th over from Narine and four singles on the remaining deliveries take RCB's total to 154 for 4 with two more overs to go in the innings. Johnson to continue
Mitchell Johnson continues
Kolkata continue with Johnson after the timeout. Mandeep and Sarfaraz are not going at a pace at which AB de Villiers and Virat Kohli were going. Suddenly, this looks a dull game
Strategic Timeout: RCB 137/4 after 16
Nitish Rana has brought Kolkata back in this. Two wickets on two balls and that of Virat Kohli and AB de Villiers. Mandeep Singh and Sarfaraz Khan are the two batsmen out in the middle for RCB now!
WICKET! Virat Kohli b Nitish Rana
WICKEt! Virat Kohli is bowled. Back-to-bacl wickets for Nitish Rana. He has yorked Kohli. The RCB captain cannot believe he is bowled. Eden has gone mad. Rana has done it for his team and he is on a hat-trick. KKR are well and truly alive in this
WICKET! AB de Villiers c Mitchell Johnson b Nitish Rana
WICKET! BIG BIG WICKET FOR KOLKATA! AB DE VILLIERS IS CAUGHT IN THE DEEP. The part-timer Nitish Rana has broken the stand betwee Kohli and De Villiers
Virat Kohli, six!
A whip, just a whip and it has sailed over mid-wicket fence for a six. Effortless from Kohli! Chawla is clueless how he did it. Bottom hand coming into the play from Kohli. RCB reach 116 for 2 after 13 overs
Ab de Villiers show at Eden
No respect for Mitchell Johnson from AB de Villiers. A four then a six over covers! That is just gorgeous. Tremendous batting from the South Africa star. Wow!
AB de Villiers, out?
AB de Villiers has reviewed an onfield out decision for caught behind. Is there a knick? Is there just the pad? Johnson and KKR are celebrating. There is no edge. Impact is outside the off stump. AB survives
RCB 96/2 after 11 overs
AB de Villiers and Virat Kohli have put RCB on top. They are scoring close to 9 runs per over. Kolkata trying to find ways to get one of them out. They need to break this stand