IPL 2018 Final highlights, CSK vs SRH: Shane Watson could not score a single run off the first 10 balls he faced in the match. After that, there was no looking back. He broke the shackles with a four and then it started raining boundaries at the Wankhede. Even then, the damage done by that lean run in the powerplay was telling and the difference between their run rate and what was required remained a significant number. That all changed in the 13th over in which Watson slammed a four and a hat-trick of sixes off Sandeep Sharma. Suresh Raina squared that over off with a four. 27 runs off that single over and CSK's required run rate was almost cut by half. Raina was had to depart after that but Watson played through despite dealing with an injury. He ended the innings with an unbeaten 117 off 57 balls to power CSK to a third IPL title.
Live Blog
IPL 2018 Final, Highlights, CSK vs SRH: Chennai Super Kings beat Sunrisers Hyderabad by 8 wickets. Follow IPL final in Tamil, Malayalam and Bengali
MS Dhoni speaks
Everyone knows their roles by the time you reach the final and so you don't really need to tell the players much. When you're fielding, you have to adjust your plans, but other than that, our batsmen know their style. And if someone is finding it difficult, you know the incoming batsman won't have it easy as well. You have to keep in mind that Bhuvi is as deceptive as Rashid, so it's not only one bowler in their side that could've put pressure on us. So, I feel it's a really good batting effort. But we always had the belief that we had the firepower in the middle overs.
There was no plan to send Bravo up ahead. Rayudu has been our main batters, so we had protection in the middle. Every win is special, so difficult to pick any one win.
Lot of people talk about numbers, statistics, so tonight's 27th, my jersey number is 7, and this was our seventh final. We talked a lot about age, but what's more important is the fitness. Rayudu, at 33, it doesn't really matter. That's what more matters than age. If you ask most captains, they want players who move well on the field. Doesn't matter if you're 19-20 years old. We knew our shortcomings, and we were aware of it. If Watson tries to dive, he may injure his hamstring, so we don't want him to do that. We've been aware of these things. Age is just a number, but you have to be very fit. No plans as of now. We go to Chennai tomorrow. Irrespective of the result, that was the plan. Go to Chennai, meet the fans and those close to the team. But we'll have a get together in the hotel and enjoy the evening.
Kane Williamson speaks
"We thought it'll be a competitive total, but the pitch did hold a bit. We saw that in our first five-six overs, and for the large part of the game we were doing okay. But hats off to Shane Watson. You do have to congratulate CSK. It's frustrating, because we played some really good cricket for the large part. Wasn't to be, and they certainly showed their experience. The boys are hurting at the moment, but we've fought hard. A shame not to come across the line, but a lot of positives. Every team is trying to find their balance, but no doubt, when we have a quality bowling attack, then it's a great asset. But it's a challenge to get that bat-ball balance. But it does come down to the commitment of the guys, and we can't fault them on that. Positive attitude, and when we finally look back, you look at a couple of small moments, but at the end of the day, we congratulate CSK once again. If you captain, you're playing, so that's something I enjoyed. I was in and out earlier, so nice to contribute this season. You get given a role, and you try to adapt it the best you can. It's a collective effort."
Presentation
Right here are the big ones:
Kane Williamson wins the Orange Cap. His team may have lost the final but Williamson has lived up to his billing as one of the best batsmen in the world in all formats of the game. He had come into this tournament after leading New Zealand to an emphatic series win against England and surpassing the legendary Martin Crowe's for most Test centuries as a New Zealand player. He then came to the IPL and switched to T20 mode immediately and he has ended the tournament with 735 runs
Andrew Tye wins the Purple Cap: Andrew Tye, Mujeeb Ur Rahman and KL Rahul were all as brilliant individually as their team Kings XI Punjab were terrible as a unit. Despite not playing in the knockout stages, Tye remains the top wicket-taker with 24 scalps.
Presentation
Trent Boult wins catch of the season for that absolute blinder that he took to dismiss Virat Kohli.

Mumbai Indians win the Fair Play award.

Rishabh Pant wins emerging player of the season and most stylish player award.

MS Dhoni wins the award for most innovative thinking.
Presentation
Suresh Raina wins the best catch of the match. It was a good catch indeed, the one that dismissed Shakib Al Hasan, considering how quickly the ball came at him but it was certainly not the kind that sticks in your mind. Only goes on to show that this final is not one that should be remembered for big catches.
What it should be remembered for is a colossus of an innings by Shane Watson. He is the man of the match.
Watson: 'It's just been a special season. To get an opportunity after my previous year, was incredible. Things fell my way nicely tonight, but to be able to do it in such a big game... it's very special. After those first ten balls, I was hoping to catch up. Wanted to get run-a-ball before getting out. Bhuvi was excellent so we had to see the first six overs without any damage. Once the ball stopped swinging, it got easier. The good thing is I don't have to play for a few months, so have some time to recover. The support with MS, Fleming and Simsek (physiotherapist Tommy Simsek) was excellent.'
Scenes at the Wankhede
SRH are arguably the best bowling side in the IPL and have terrorised a number of batting lineups throughout this season. But Shane Watson has taken the micky out of them and batted all the way through. CSK are a happy lot and who can blame them!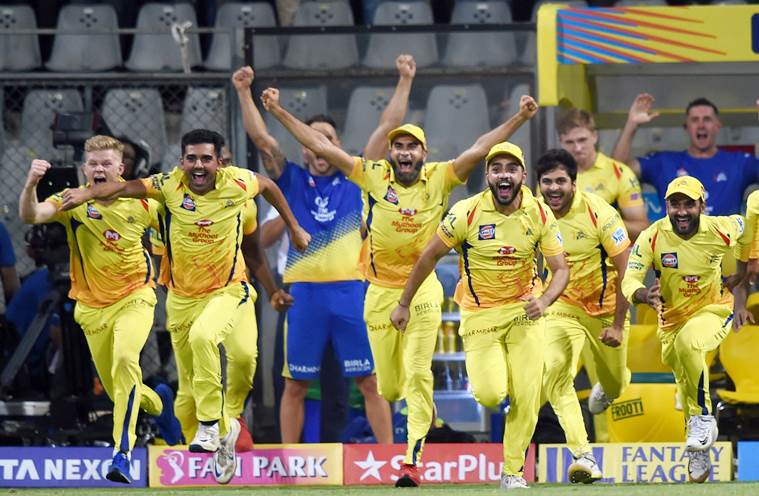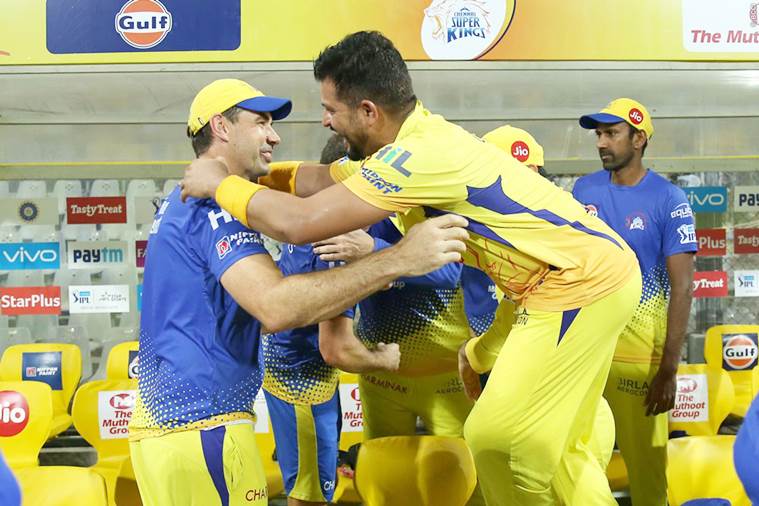 More reactions
Harbhajan Singh: The way we've chased these runs, absolutely brilliant. You see what Watson brings to the table. When set batsmen are in, anything is possible. Fourth-time IPL champion. Glad. Williamson was in good form, so we needed a bowler who took the ball away, therefore we preferred Karn tonight.
Reactions
Rayudu: "Really fortunate to have such a great season. Worked really hard, and happy to score the winning runs. Initially, the wicket was slow, but I thought it was damp. Got much better, so I was confident we'll chase it.
Bravo: "Good experience, but it's a special moment. Most of the guys, it's their first time. We played just one game in Chennai, so a lot was going wrong. But we kept focus, and nothing's better than winning titles. Experience is better than youth, and we've shown that. Experience comes across in moments like this. Watson's a world-class player
CHENNAI SUPER KINGS BEAT SUNRISERS HYDERABAD BY 8 WICKETS AND WIN IPL 2018
Third IPL title for CSK, they came back from a two-year absence and have straightaway taken their place back at the top of the pile. Shane Watson has powered this run chase. He has made 117 off 57 balls. Remember that he had failed to score a single run off the first 10 balls he faced in the match.
CSK 177/2 off 18.2
The CSK players are all standing shoulder to shoulder and Rayudu delays the win with two dot balls. Only a matter of time now.
CSK 173/2, need 2 to win off 13
Watson, Watson, Watson all the way. He is just slamming the ball to the boundary for fun now. There is no stopping him!
100 for Shane Watson!
Second century of the season for the big Australian. He has slammed the ball all around the park and has practically won this final for CSK. A proper masterclass of an innings. He is tired and so his next shot is a sublime ramp down the keeper's left to push the ball to the boundary so as to avoid running.
CSK 154/2 after 16 overs
Rayudu hits a six off the second ball of the over and takes a single off the fifth to give the strike back to a visibly tired Watson. Wankhede ramps up the noise levels but he settles for a single and retains strike.
Into the last 5 overs
Rayudu takes a single off the last ball of the 15th over and so Watson remains off strike. Rayudu can afford to take his own sweet time settling in now. CSK need 33 to win off 30 balls.
CSK 145/2 after 14 overs, Watson on 97
Doesn't matter who is out and who is not, Watson is in a world of his own. He comes back on strike and hits a four and a six and is now within three runs of a second century of this season.
GONE! Suresh Raina caught behind and his dismissal is confirmed by an SRH review
A bouncer by Carlos Brathwaite that Raina tried to pull and it ended up carrying to the keeper. Umpire is initially not interested but Williamson goes for the review. Replays show that there was an edge and Raina was already on his way before the decision came through.
27 RUNS OFF THE 13TH OVER!
Sandeep Sharma has been absolutely pulverised by Shane Watson. The first ball of the over is a dot ball. Then came a four, a hat-trick of sixes, a wide and a four again. The last boundary was by Suresh Raina and the rest were all Shane Watson. Before this over, CSK needed 75 to win off 48 balls and now they need 48 to win off 42 balls.
12 overs gone CSK 104/1
A four and five singles off that over and its all that is needed at the moment. Raina and Watson are both experienced campaigners and they are both taking SRH for a ride now.
11 overs gone, CSK 95/1
A beautifully timed six over long on by Suresh Raina to end the over. CSK need 84 to win off 54 balls. Watson and Raina have put them in cruise control now.
50 up for Shane Watson
and it has come in 33 balls out of which he scored no runs off the first 10. This has been an incredible fightback from the Australian but CSK still gave a task in their hands.
CSK 72/1 after 9 overs
Watson has picked up the pace after his initial struggle. He has now moved to 43 off 30 balls and his partnership with Raina has now crossed the 50-run mark.
Watson picks pace, CSK 51/1 after 7 overs
And Suresh Raina gets going, CSK's chase is back on track. Raina hits two fours in the last three balls of the seventh over. The last one was veering wide outside off and Raina somehow gets a bat to it to play it fine.
CSK 20/1 after 5 overs
Well this is relentless from SRH. Bhuvneshwar and Sandeep have made Watson look like a man who has never played T20 cricket all his life and the pressure that got built because of the Australian's struggles took its toll on Du Plessis. Suresh Raina is now giving Watson company.
GONE! Faf du Plessis c & b Sandeep Sharma CSK 16/1
This had to happen. Du Plessis charges down and tries to hit a slow knuckle ball. It goes straight up in the air, Sandeep calls for it and takes. Incredible powerplay bowling this from SRH.
CSK 5/0 after 2 overs
The first runs come off a four by Faf du Plessis off the eighth ball of the innings. His partner Shane Watson is yet to get off the mark after facing 8 deliveries.
Maiden Over to start with!
Well how about that from Bhuvneshwar Kumar! The first ball itself was an absolute beaut, pitching back of a length outside off and swinging away from Watson. Bhuvi got the ball move away again before swinging it in for the third ball. The fourth ball would have accounted for runs had it not been a brilliant fielding effort from Deepak Hooda at backward point. Two more dots and the last ball then moved away and just missed Watson's edge.
They are back!
Faf Du Plessis and Shane Watson open the CSK innings, Bhuvneshwar Kumar starts the SRH attack.
SRH 178/6 after 20 overs
Carlos Brathwaite dismissed off the last ball of the 20th over which has gone for 10 runs. It easily could have been more than that. Nigidi and Shardul Thakur have done well to restrain Brathwaite and Pathan in the final two overs. So, CSK need to make 179 runs to win a third IPL title.
SRH 168/5 after 19 overs
Carlos Brathwaite what could have been an excellent 19th over from Lungi Ngidi. Just two runs came off the first five balls but Brathwaite wallops the last one over long off for six. Loopy delivery outside off and Brathwaite waits for it before making hitting the ball.
Dwayne Bravo walloped! SRH are 160/5
Carlos Brathwaite and Yusuf Pathan have smashed 16 tuns off the 18th over bowled by Dwayne Bravo. The Trinidadian has had a tough time living up to his reputation as a death over specialist this season and that trend continues in the final.
OUT! Deepak Hooda dismissed by Lungi Ngidi, SRH 144/5
Deepak Hooda slogs it to midwicket and it is straight down the throat of the fielder placed there. Yusuf Pathan's six and three more runs and a wicket; it has been a good 17th over from Lungi Ngidi.
GONE! Shakib Al Hasan hits it straight to Suresh Raina at cover, SRH 133/4
Full toss by Dwayne Bravo outside off and Shakib absolutely smashes that straight to covers. That was hit with some power and the ball was coming at a breakneck pace at him and so Raina has done well to hold on.
14 overs gone, SRH are 117/3
There have been two fours since that Williamson wicket, both off the willow of Yusuf Pathan. He may be well past his bowling-figure-destroying prime but Yusuf remains a more than useful batsman in the death overs, as he has shown once or twice before this season.
STUMPED! Kane Williamson caught outside the crease by Dhoni, Karn Sharma strikes
How about that for a breakthrough! Williamson comes down the track but the ball veers away from him outside off, Dhoni collects and takes out the wickets almost immediately and that is the end of the SRH captain.
17 runs off the 11th over
Shakib Al Hasan and Kane Williamson stepping up the ante. Williamson hits a four and rotates strike and the Shakib hits a six and a four off the last two balls of the over.
10 overs gone, SRH are 73/2
Kane Williamson and Shakib Al Hasan are in the middle for the table toppers. They are trying to get their bearings after that Dhawan wicket.
GONE! Shikhar Dhawan bowled by Ravindra Jadeja, SRH 64/2
Dhawan goes for a wild slog against Jadeja's delivery which was straight and flat, he misses it completely and the ball seems to clips his thigh pad before hitting the stumps. Now, SRH will be tested. They have struggled this season after the dismissal of either Williamson or Dhawan.
8 overs gone, SRH 62/1 after 8 overs
Stability is the name of the game from SRH. There have been a total of three sixes and four fours so far in the innings. Williamson ended this period with a four and six off Bravo's last two balls. The last one was a bit of a bowling howler from Bravo. He bowled a slow full toss wide outside off stump to one of the batsmen in the world and got the deserved treatment.
6 overs gone, SRH 42/1
It may be a slow start but remember that SRH have their two batsmen in the middle and they have the kind of bowling attack that makes even 150 look like a tough target. It has hence been a good start to the innings for them as the powerplay comes to an end.