Ever since his arrival in Abu Dhani in the early hours of Sunday, Mahendra Singh Dhoni has been a predictably busy man. In little over a day, the captain of the Chennai Super Kings outfit has already switched between three promotional events and a practice match.
The few days in between the World T20 and the IPL might have been a rare and brief opportunity for the Indian players to unwind. Not so for India's two most marketable players. As far as their promoters were concerned, this was instead the time for Dhoni and Virat Kohli to deck up and satisfy their sponsor obligations. Off the field responsiblities have included photo shoots, bat signings and public appearances, charity events and dinners with sponsors.
Since his return from the final loss to Sri Lanka, Dhoni is said to have been a part of one promotional shoot or the other each day, with each shoot spread out over 8-10 hours. Dhoni, who endorses 21 products presently, recently overtook Kohli in terms of endorsement fees, but Kohli has been a busy man on the sponsors obligation front too.
Last Sunday, Kohli was scheduled to hold a press conference at 10.30 am in Mumbai. Though the appointment was officially postponed by an hour, there was no sign of the RCB skipper even post noon. With the media contingent hanging around patiently, Kohli finally showed up at around 1.15.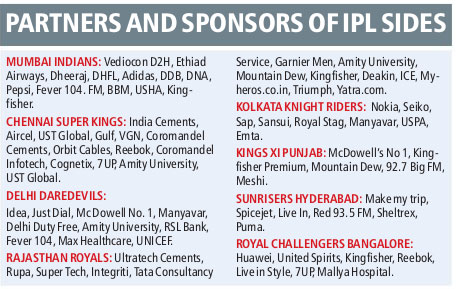 Despite the delay he already seemed in an almighty hurry. Five minutes is all he had to spare. Kohli, who had spent all morning at an ad-shoot, now had a flight to catch. Dubai beckoned. "I can answer only one question," he said, "If you don't want me to reach Dubai then I will stay back and answer all your queries."
Other players that have been sought-after for sponsor related activities have been Dhoni's CSK team mates, Suresh Raina and Ravindra Jadeja. CSK are, in fact, one of the teams that has attracted the most number of sponsor interest, meaning their big players are kept on their toes running between various commitments.
This, however, has not been the case with several other franchises, including former winners Kolkata Knightriders. The reasons are understandable. With the IPL shifted outside India, the sponsor interest has also taken a breather, waiting for the action to come around to the country before amping up their activities. Also, in an election year, several corporate houses aren't too keen to spend large amounts on publicity.'
Knight Riders relax
In the case of KKR, who have been a part of just one big promotional event since their arrival in the middle east, the team has gone out of its way to ensure that the players aren't running around too much when they could devote their time to on-field matters.
"I don't think the promotional events take a toll on the players, at least at Kolkata Knight Riders. We do it systematically, in different phases and we ask our players to attend only five-six big events. Other events are basically taken care of by the officials. Still we ensure that the events are organised on free days. We've a policy to send different players to different events which they appreciate," KKR coaching staff Joydeep Mukherjee said.
KKR CEO Venky Mysore, however, feels that playing the first leg in UAE offers some sort of relief. "I think there are two reasons for us to assemble in UAE. Firstly with the new team coming in it is almost like ring-fencing them and keeping them in a place where they don't have any major distractions. Secondly, it is a good way to get acclimatised to the conditions of the field. Each player gets to practice in that environment in their own field of expertise. This I feel works very well for the players instead of being hectic," said Mysore.
The hectic shuttling is, of course, something just the big stars have to deal with. Others are simply getting on with business. "The busy schedule that is spoken about is not uniform for all players. It's generally the captains and the bigger names like Virat and Mahi in the franchises who are kept on their feet with their endorsements. The rest of the players have enough time to put up their feet," said one of the more prominent agents in the country.