India vs South Africa, Hockey World Cup 2018 highlights: India scored two goals in the first quarter but then seemed to lose their way a bit in the second. That was also period when South Africa applied pressure but a goal by Simranjeet Singh at the end of a counter-attack seemed to open a floodgate of sorts. India pumped another before the hooter blew to mark the end of the third quarter and added another just seconds into the fourth.
It was the kind of start that India were expected to get off to considering South Africa are not particularly known for its hockey as opposed to the country's status in games like cricket or rugby. The hosts' next match is against Belgium, who beat Canada 2-1 earlier in the day, and that will be played on Sunday.
Live Blog
India vs South Africa, Hockey World Cup 2018 highlights:
End of Day 1
Belgium and India are the teams with their sticks raised at the end of Match Day 1.
🏑 | MATCHDAY | RESULTS#HWC2018 #Odisha2018 pic.twitter.com/ySajYOMYIY

— Hockey World Cup 2018 - Host Partner (@sports_odisha) 28 November 2018
Tomorrow, the Pool A sides start their tournament. At 5pm, Argentina take on Spain and then at 7pm, New Zealand play France. Ciao!
HOOTER GOES OFF! INDIA 5-0 SOUTH AFRICA
India start their campaign with a 5-0 hammering of South Africa. Their opponents for the day may have been minnows but a 5-0 scoreline is exactly the way the scorecard should have looked at the end of this match and India have delivered. A positive start for the hosts.
4th quarter 24 seconds left
South Africa win a PC and India review that decision. The South Africans are in a huddle while the replays are being run. But, as it turns out, there was a stick check by a South African player before the ball entered the D so it is a free hit for India!
4th quarter, 2 mins left
A period of South African possession comes to nothing and Mandeep drives forward, he tries to pass to his team mate behind him but misses him completely and India play the ball around in midfield. The game has settled now.
4th quarter 5 mins left
Chinglensana goes for a shot at the near post from the right when there was support on the other side. Wonder how happy Harendra would be with that.
4th quarter 8 mins
Harmanpreet puts the ball in and it ends up rolling into goal. The Kalinga cheers but it won't count. For the uninitiated, goals from outside the D don't count in hockey, someone inside needs to get something on the ball with the stick.
4th quarter, 10 mins left
Meandering run from Mandeep that takes him from the center of the court all the way into a shooting position. He leaves two defenders in his wake on the way there but in the end, he drives into too much traffic.
4th quarter, 12 mins left
India win another PC, Harmanpreet with the drag flick, it is going down a dangerous path but the keeper saves it off his line.
GOAL! India 5-0 South Africa (Simranjeet 46 mins)
Early PC in the final quarter for India, the routine goes awry but it comes to Simranjeet who calmly slots it home. India are running away with this now.
GOAL! India 4-0 South Africa (Lalit Upadhyay)
Oh they are running away with this now. Akashdeep delivers a deep ball into the D that Lalit directs into goal. Hooter goes off right after that so India lead South Africa 4-0 at the end of the third quarter.
GOAL! India 3-0 South Africa (Simranjeet Singh 43 mins)
A counter from India ends succesfully, Simranjeet puts clear daylight between his side and the oppsition. Quick counter from India after they clear the SA PC and the away side can't deal with it.
3rd Quarter, 2 mins left
South Africa win a penalty corner simply because of a back stick. India are in a spot of bother right now.
3rd quarter, 4 mins left
South Africa are putting pressure now. A couple of chances here and there and the away side for the day are showing that they are not mere push overs.
3rd quarter, 8 mins left
South Africa with a period of possession that comes to nothing. India would do well not to slack off in this third quarter. South Africa may be minnows but 2-0 leads can be very slender in this game. Meanwhile, those who are in the Kalinga stadium, ratchet it up please.
Strange. Eerily silent at times, deafening when Indians run with the ball https://t.co/h8C9MIOCSU

— Mihir Vasavda (@mihirsv) November 28, 2018
3rd quarter, 13 mins left
India win another PC that comes to nothing, the ball is put back in and comes to Harmanpreet right side of goal. He takes the shot but it only hits the side netting on his near side. Chance wasted.
HALF TIME! India 2-0 South Africa
No goals for India in the second quarter and South Africa, in fact, started to show some signs of resistance toward the end of that 2nd quarter. India will be wary of conceding an early goal in the second half so taking the foot off the pedal is not an option for Harendra Singh's men.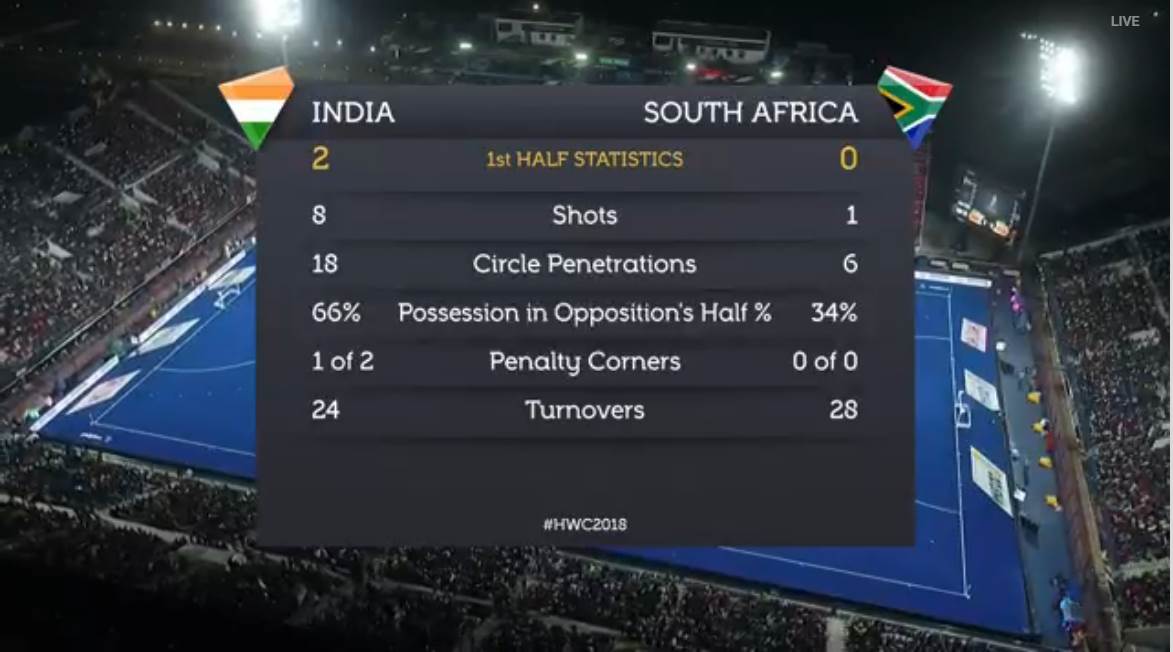 6 mins left, 2nd quarter
This was always going to be a mismatch and that is exactly what it is right now. Nilakanta is played in by Sumit and he has a clear shot on goal but he misses the target. If anything, India should be a little dissapointed that they have not another goal yet.
11 mins left 2nd quarter
India get another PC, it goes to Harmanpreet who back flicks it to Amit Rohidas! The latter takes the shot but South Africa deal with it well this time.
END OF Q1! India 2-0 South Africa
India were expected to dominate proceedings in this match and that is exactly what has happened thus far.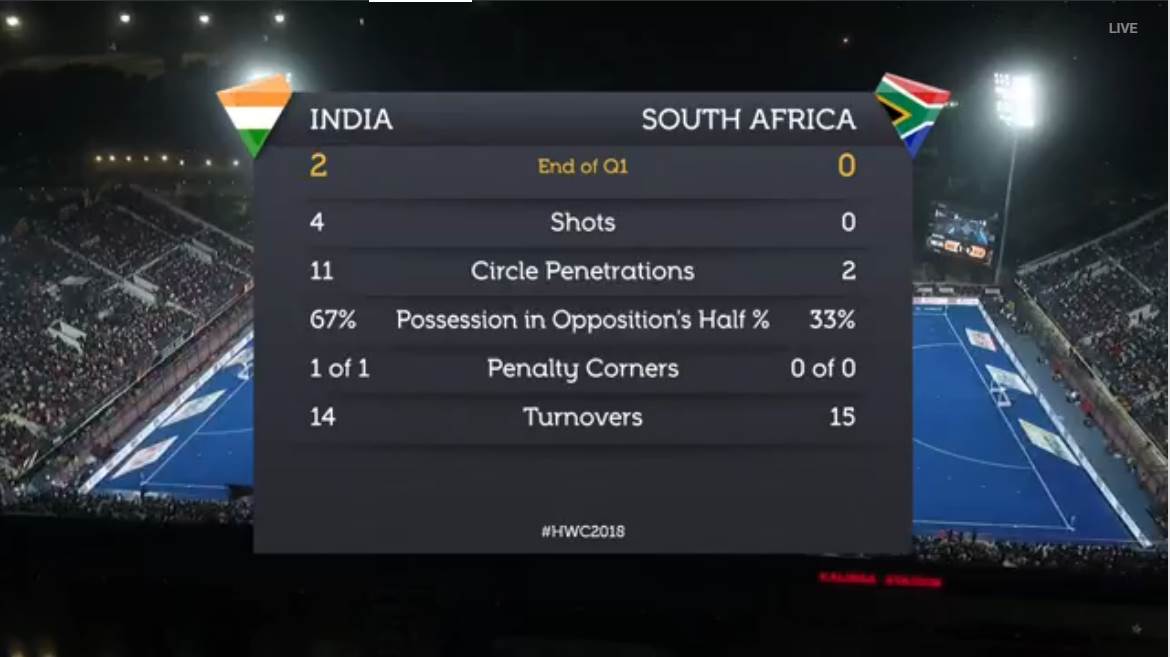 GOAL! India 2-0 SA (Akashdeep 13 mins)
Oh what a move! Varun passes it forward to Simranjeet who deflects it to Akashdeep. He was ready for that and directs it into goal. That move was so quick it left the South Africans with their mouths hanging.
Mandeep scores the opener but Akashdeep has set the turf ablaze in the opening 10 minutes. Falling back, stealing, dribbling... Simply irresistible #HockeyWorldCup

— Mihir Vasavda (@mihirsv) November 28, 2018
GOAL! India 1-0 South Africa (Mandeep Singh 10 mins)
And the PC pays off. Harmanpreet's drag flick is saved but only rebounds off the keeper straight to Mandeep. He controls it and takes the shot that puts India ahead.
6 mins left in Q1
Yes there was, and India get a PC. Akashdeep ready with the stick to put the ball into the mix.
6 mins left Q1
Mandeep takes down the ball from a long pass inside the D right side of goal, tries to move in but the ball is taken away from him. India claim a block, umpire says play on, the home side review the decision........
1st quarter 10 mins left
India have made a couple of good inroads into the D but they have not yet been able to convert these chances. It remains 0-0
The teams are out!
The national anthems are being played. This is the Indian team for the day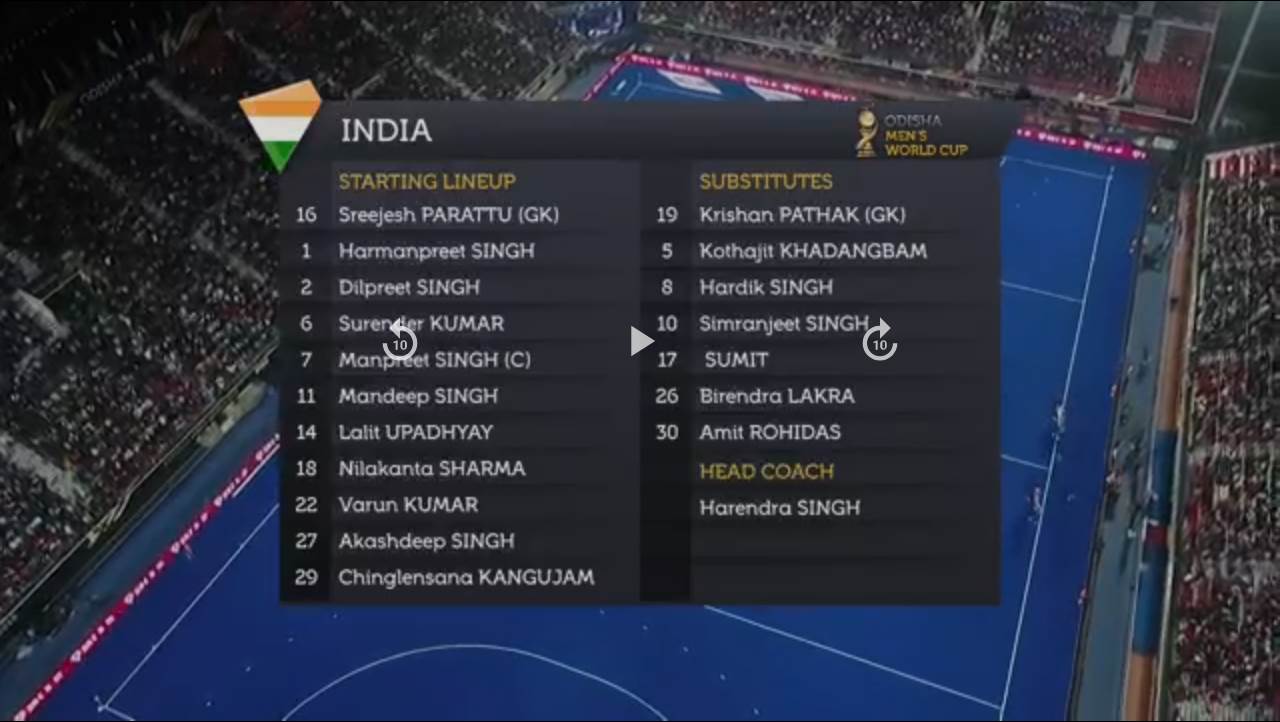 Belgium win the first match
A wish from a special someone
A lot of eyes are on this match, one pair of which belongs to a man who has seen a number of World Cup trophies, although in a different sport.
Best wishes to Team India for the #HWC2018 commencing in Bhubaneswar, Odisha today. I believe in you, the nation believes in you. Go get 'em. Chak de, India! #HumBhiHockey pic.twitter.com/3tX8HVWhEg

— Sachin Tendulkar (@sachin_rt) November 28, 2018
South Africa
Every tournament has one team who may be the minnows but their story makes them stand out. In the case of the hockey World Cup, South Africa fills that role. "Their players — some lawyers, some salesmen – have to shell out 10,000 South African Rand each (roughly Rs 50,000) to ensure they could even make this trip. Their coach Mark Hopkins and his support staff aren't paid a penny for their services." READ MORE.
Hello and welcome!
This is it! Bhubaneswar has been thinking hockey since the turn of the year and all the buildup has led up to this. By most accounts, the organisers have done as perfect a job as they could in giving the players and fans the best experience they could have asked for. It is now down to the home team to make that experience complete. While we await the hooter, check out this article by our man in Bhubaneswar Mihir Vasavda on why the city might just be the spiritual home of our national sport.