Captain Manpreet Singh covered a little more than 50 yards and beat seven Pakistani players to score a breathtaking solo goal that triggered India's comeback in the round-robin match of the Asian Champions Trophy in Muscat on Saturday.
Muhammad Irfan Junior had given Pakistan a surprise lead in the first minute and it stayed like that at the end of the first quarter. India created scoring opportunities in the second period but weren't able to restore parity until Manpreet took the matter in his own hands.
The centre-half received a pass just inside India's half, and embarked on a mazy run, with Pakistan forward Ali Shan shadowing him closely. Manpreet snaked past Shan, and three other Pakistani players to enter their 'D', where he was given just enough space to take a shot at goal. Manpreet opted for placement over power as he pushed the ball from the top of the 'D' beyond the reach of goalkeeper Imran Butt.
If Manpreet's goal was all about skill, forward Mandeep Singh showed incredible presence of mind to give India the lead in the 31st minute. A turnover in the 31st minute saw Akashdeep Singh make a defence-splitting run into the striking circle and pass the ball to fellow striker Mandeep, who had his back towards Pakistani goal but flicked the ball between his own legs to give Pakistani goalkeeper no chance.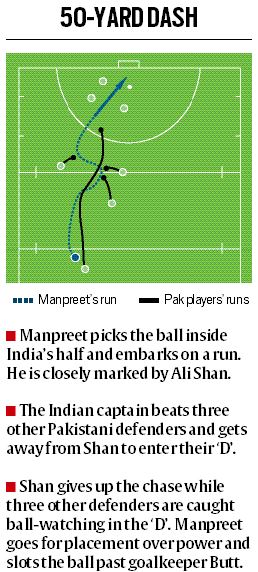 India had a good third quarter as they denied their arch-rivals in making too many circle entries and then extended their lead to two-goals when Dilpreet Singh scored his fourth of the tournament to put India 3-1 ahead.
Calm finish
The crucial goal came in the 42nd minute from a quick counter-attack which was led by Akashdeep, who raced past Pakistani midfielders and then found Lalit Upadhyay on the right flank. Lalit then moved forward towards the baseline and struck a hard low shot towards goal, which was padded by Imran Butt into the path of Dilpreet, who calmly slotted home.
The Indian team maintained their high-pressure play in the last quarter as they looked to win the ball back as soon as
they lost possession and won the 50-50 battles to make sure that Pakistan doesn't get chances to make their way into the match.
Young goalkeeper Krishan Bahadur Pathak, who replaced Sreejesh, playing his 200th game, made a good interception in the last few minutes to help India maintain their strong hold on the match.
India had chances of their own as goal-scorers Mandeep and Dilpreet had opportunities to extend India's lead even further, but neither could manage to score again.
India's chief coach Harendra Singh was proud of the way the team staged a comeback against Pakistan but he wants the strikers to sharpen up their finishing inside the opposition circle. "I am proud of the manner in which the team staged a comeback. They deserve full credit, but I remain concerned with our finishing," said Harendra. "We missed a few chances. We are taking too much time to make decisions. That's where we need to sharpen up."
India captain Manpreet said the team needs to work upon its grey areas. "Despite playing a good match, there are many things we need to do. We need to avoid giving away easy chances," said Manpreet.
With PTI inputs.
📣 The Indian Express is now on Telegram. Click here to join our channel (@indianexpress) and stay updated with the latest headlines
For all the latest Sports News, download Indian Express App.
The Indian Express website has been rated GREEN for its credibility and trustworthiness by Newsguard, a global service that rates news sources for their journalistic standards.