India vs Canada Hockey Highlights, Hockey World Cup 2018: India needed a win going into their final group fixture against Canada and a win is what they got. India took the lead through Harmanpreet with a goal in the first quarter but then saw Canada play on the counter to deny any inroads. The slender margin between the two was wiped out in the third quarter when a turnover halfway into the pitch had India caught napping allowing Floris van Son to equalise. Needing all to play for in the final quarter, India didn't waste any time and regained the lead with vice captain Chinglensana. The goal seemed to open things up with Lalit Upadhyay scoring a brace and Manpreet banging the board as well.
The win means India finish top of Pool C – ahead of higher ranked Belgium who go into the crossover match. Earlier, Belgium had beaten South Africa 5-1 to put India under pressure to get a winning result to qualify for the last eight.
Live Blog
India vs Canada Hockey Score and Updates, Hockey World Cup 2018:
HOOTER!
FULL TIME! India beat Canada 5-1 and the fireworks go off. INDIA ARE THROUGH TO THE QUARTERS! India top Pool C ahead of Belgium
Penalty corner India
Referral goes India's way and they have a fifth penalty corner to try and make it six. Nothing comes from it. India appeal for another PC but lose their referral.
GOAL!
India have their fifth and Lalit Upadhyay has his second. In sixes and sevens, Canada already a player down are being run down here. Played into the area and Lalit gets the stick to the ball despite having a player on his shoulder. India 5-1 Canada with under three minutes to be played
Yellow card
Second yellow card of the match and once again it is for a Canadian player. James Kirkpatrick's World Cup comes to a premature end
Penalty corner India
Lalit Upadhyay with lovely skills and stick control inside the Canada D. Twisting and turning between three red shirts. Finds the foot and India have a penalty corner - their fourth tonight. Amit Rohidas with the goal and India are 4-1 ahead! Amit takes a step forward to decive the keeper's vision and sends it across for the goal.
GOAL! INDIA SCORE!
India with two quick goals and Kalinga Stadium is jumping now. Lalit Upadhyay snatches the ball from Keegan Pereira and has plenty of space and time to choose his destination. Thunders it between the keeper's legs and India are now 3-1 ahead.
GOAL! INDIA LEAD!
Immediately after the whistle, India have banged the board. Chinglensana with a thundering low hit and India are in the lead once again. India 2-1 after 46 minutes.
Jugraj Singh in attendance
Jugraj Singh: "Wonderful to see this atmosphere in Bhuvaneshwar." "We need more chances, more PCs and expect Harmanpreet to get another goal."
End of third quarter
End of third quarter, India and Canada are 1-1. As it stands, Belgium going through into quarters, India into crossover match
CLOSE!
Big, big chance for India to take the lead once again but the chance is squandered. Mandeep with a lovely run inside the Canadian D. Does well to keep the Canadian defenders away. Has Lalit Upadhyay alongside him and Mandeep tries to find him with the keeper to beat. But Lalit misses the ball completely.
GOAL!
Beautifully constructed goal and Canada have equalised. Kalinga Stadium goes silent. A turnover at the half way line, a lovely back flick to James Wallace who finds Floris van Son unmarked and in plenty of space to chip it over an onrushing PR Sreejesh. India 1-1 Canada in the 39th minute
HALF TIME!
HALF TIME! Not as attacking in the second quarter as first but India lead Canada 1-0 at the break
Yellow card
James Wallace is now shown a yellow card for clattering into Hardik and bringing the Indian player down
Green card
Iain Smythe has been shown a green card in the 22nd minute for tripping Varun Kumar
SAVED!
PR Sreejesh is brought into action for the first time tonight and we have 5 minutes to play in the first half. A half chance mostly but Sreejesh is on hand to deflect any danger
Second quarter
Manpreet making some interesting runs down the left. Finding the space and time to whip the ball into the 'D' as well. But yet to find a teammate with the same level of speed to get on the end of it
End of first quarter
India lead Canada 1-0 after the first quarter. A slender lead for India after first 15 minutes. Took their time to get into it and have grown as time has gone on. Accumulating PC's, about time India start making better use of them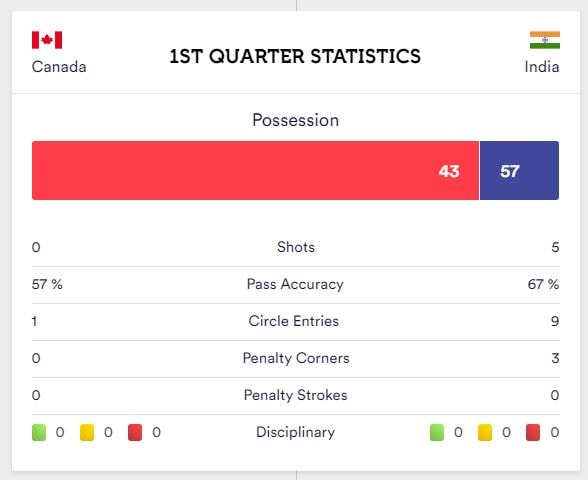 Penalty corner India
Penalty corners piling up for India. Third one of the quarter. This one is well defended by Canada after a bit of a misunderstanding between the Indian players. Not grabbed perfectly and the chance goes begging
Penalty corner India. GOAL!
Second penalty corner of the game and it is to India once again. Manpreet with the flick into the area and Harmanpreet with a thundering low strike into the goal. Bangs the board and India lead 1-0!
Penalty corner India
First penalty corner of the match and it comes to India. Bit of a scramble inside the area and the Canadian keeper spreads himself big. It is heroically blocked away. Canada go on a counter of their own before the Indian shirts catch up. And India make an attacking move of their own. Brilliant skill and stick work by Hardeep before it is cleared away inside the area
CHANCE!
Thundering cross from the left from Manpreet, looking to find a fellow blue shirt inside the Canadian box but deemed to be dangerous play it seems. Nine minutes played, no goals and no real chances on the target
Anthems underway
Both teams make their way from the tunnel. Go through the usual warming up with the anthems and handshakes before waiting for the referee to blow the whistle. After the countdown, PR Sreejesh's 'Let's Play' met with cheers.
India's starting XI
India's starting XI to face Canada: PR Sreejesh, Surender, Harmanpreet, Kothajit, Nilakanta, Varun, Chinglensana, Manpreet, Lalit, Simranjeet, Akashdeep
Here's the Starting Lineup for India as they are all set to face @FieldHockeyCan in their final game of Pool C of the Odisha Hockey Men's World Cup Bhubaneswar 2018. #INDvCAN #IndiaKaGame #HWC2018 #DilHockey pic.twitter.com/5iTwdJfKw9

— Hockey India (@TheHockeyIndia) December 8, 2018
India need win
In their last group game, Belgium beat South Africa 5-1 and climb over India in Pool C standings. India can qualify directly for the quarterfinals if they win. Otherwise, they'll have to play crossovers