India vs Belgium, Hockey World Cup 2018 Highlights: The match was a story of two halves. In the first, Belgium were looking a class above the hosts. They were dominating possession and stifling India in those rare moments that they managed to get forward. Harendra Singh seemed to have worked his magic at half time, for his charges were a different team when they came out for the third quarter.
Harmanpreet Singh equalised for India with a penalty stroke and Simranjeet Singh then made it 2-1. Belgium managed to equalise late into the match and that is the way the scoreline remained.
Live Blog
India vs Belgium, Hockey World Cup 2018 Highlights:
THE HOOTER BLOWS, INDIA 2-2 BELGIUM
India remain top of Group C because of their superior goal difference. What an incredible game of hockey this has been. Belgium would be the more disappointed lot, not just because of the fact that they remain second; they could have won this match. But India were an entirely different team in the second half and in the end, the world no 3 and world no 5 cancel each other out.
1 min left in Q4
Surender with a needless lofted ball that Belgium clear. The latter are playing without a keeper and so Indai should have tried to keep possession.
GOAL! India 2-2 Belgium (Gougnard 56 mins)
Gougnard equalises for Belgium and silence falls around the place once again. Hits it through the legs of Sreejesh and they are back in it.
5 mins left in Q4
Belgium seeing more of the ball but it is India who are doing the stifling now. Sumit steals the ball with a brilliant tackle and it looked like he might be able to dribble his way into a good position. Not quite. Meanwhile, make sure you turn up the volume for this.
India takes the lead with an absolutely smashing goal from Simranjeet Singh. And the crowd goes bonkers in ecstasy as Simranjeet Singh is now tied as the top scorer of the OHMWC Bhubaneswar 2018 with @jeroenhertz !#INDvBEL #IndiaKaGame #HWC2018 #DilHockey pic.twitter.com/JQcPF0prB8

— Hockey India (@TheHockeyIndia) December 2, 2018
8 mins left in Q4
Surender trying a flat ball into the box from the right, no one able to take it in control. India only need to hog the ball as much as possible at the moment. What a turnaround from the hosts!
GOAL! India 2-1 Belgium (Simranjeet 47 mins)
Simranjeet completes India's comeback. Brilliant move by India to bring that chance, Khotajit with a run along the goalline and he passes it square, Simranjeet keeps his cool and scores his third goal of the tournament,
End of third quarter
Varun with a lofted ball into the D and Lalit tries to ramp it into goal. He has done that before but it doesn't quite come off this time,
GOAL! India 1-1 Belgium (Harmanpreet PS 40 mins)
INDIA EARN A PENALTY STROKE! Harmanpreet's flick takes the leg of a Belgian defender at the goal line and the stroke is given. It is Harmanpreet who takes it and he does so perfectly.
7 mins left in Q3
India put together a few quick passes and are into the D but Akashdeep cannot quite control it. The hosts have turned up the heat in this third quarter.
8 mins left Q3
India's first PC of the match is flicked by Harmanpreet, Belgian keeper Vincent Vanasch with a brilliant save with his stick.
11 mins in Q3
Harmanpreet with a lovely flighted ball that Simranjeet takes down well, he passes it across the face of goal, Dilpreet beings it into control right at the goal-mouth but his shot is blocked away.
13 mins left in Q1
Sumit plays a cross but Chinglensana can't quite get his stick to it. Mandeep then plays the ball square but it doesn't quite come together for India.
Not a great 1st half for India
And the stats are only a reflection of that. Belgium have moved the ball better and stifled India whenever they managed to get forward.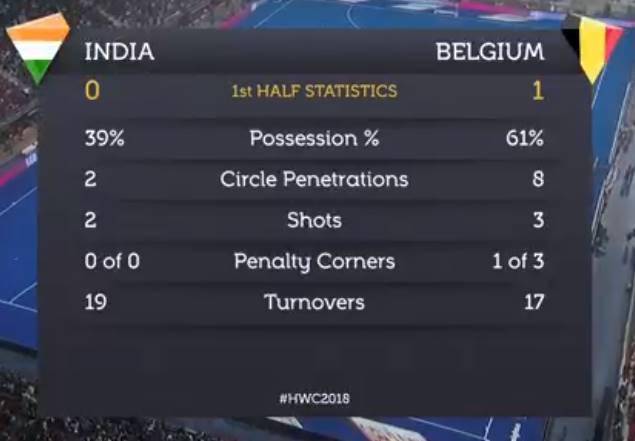 2 mins left in Q2
India have not been able to match up the ball speeds that the Belgians have been able to get. Sreejesh had to be alert to a bullet of a ball that came into the D and was deflected towards his goal.
5 mins left in Q2
India now have more possession and the Belgian defence are being kept pretty busy. But they are not able to get a clear chance for goal or a PC.
8 mins left in Q2
Green card for Akashdeep for tripping a Belgian player and India are temporarily down to 10 men
12 mins left in Q2
Sumit with a meandering run to take the ball away from the Indian third all the way deep into the opposition half, tries to play a one-two with Lalit but the latter's pass has too much on it for Sumit.
End of 1st quarter
Lakra with a ball from his own half into the opposition D for Akashdeep who flicks it towards Mandeep. It looked like his shot was saved initially but it's actually wide from Mandeep. He is consistent with shots at the goal mouth but this time he misses it. And that is how the 1st quarter has gone for India.
2 mins left in Q1
Belgium are dominating possession. India have been trying make their way into the D but they aren't even able to provoke a PC.
4 mins left Q1
Akashdeep with an absolute beauty of a ball to Lalit Upadhyay on the left but he can't get past the Belgian defence. Then Akashdeep himself tries to make his way through the middle, he too hits the red wall.
GOAL! India 0-1 Belgium (Hendricks 8 mins)
The third PC does the job for the Belgians. It looked like Boon would take it but it is Hendricks who comes up with the perfect drag flick. Pin-drop silence in the Kalinga.
9 mins in Q1
Chinglensana charges down the right and passes forward to Rohidas inside the D, he tries to play it square but the ball ends up going out of play.
10 mins left Q1
The Belgians are keeping the Indian defence busy but the hosts are doing pretty well to keep the Olympic silver-medallists out.
14 mins left in Q1
.....Manpreet manages to cover the hit but ends up giving another PC because of the ball hitting the foot. The second shot is good but Sreejesh makes a fantastic goal line save.
14 mins left Q1
Belgium start the game and straight away get into the attack. They provoke a dangerous ball from India and it's an early PC for the away side.
What happens if India lose this?
India will most likely finish second in Group C which means that they will have to play a crossover game. That will be against the third-placed team of Group D, which would either be Malaysia or Pakistan. The winners of that match go through to the quarter-final. If India win this match, however, they will seal the tip spot in their group, which allows automatic qualification to the quarters.
Hello and welcome
If recent history is an indicator, India hardly stand a chance in this match. They have lost 13 of the 19 matches played between the two sides since 2013 and won none of the last eight. But hockey does not work that way, and Belgium will be played against the overwhelming crowd favourites today. India enjoyed a cakewalk against lowly South Africa in their first match and coach Harendra Singh has said that past results won't matter to them today. But according to our man in Bhubaneswar Mihir Vasavda, this mindset has also been India's pitfall in the past.