Written by
Natasha Singh
|
Published: December 26, 2017 6:09:27 pm
Indian men's hockey team hit the refresh button mid-year after former coach Roelant Oltmans was sacked. (File photo)
2017 wasn't a very spectacular year for the Indian hockey, both men and women's teams gave mediocre performances that saw them end with sixth and 10th World Rankings respectively. Why we say it wasn't the best of years is because the men's hockey team also began the year at the 6th position while the women's team jumped meager two places from 12th to sit on the 10th spot.
However, the year for Indian hockey can be divided into a tale of two halves based on their performances. India, who were favourites to win the Sultan Azlan Shah Cup, returned with a bronze while the women's team finished at a sad sixth position at the Hockey World League Semifinals. The second half saw structural changes in the teams as India outsmarted others in the Asia Cup to win the tournament for both men and women.
Major tournaments India participated in this year and their results –
Hockey World League Round 2 (Women) – First
Sultan Azlan Shah Cup (Men) – Third
Hockey World League Semi-Final (Men) – Sixth
Hockey World League Semi-Final (Women) – Eighth
Asia Cup (Men) – First
Asia Cup (Women) – First
Hockey World League Final (Men) – Third
Here are the key highlights of the year:
Oltmans sacking
(Source: PTI)
Roelant Oltmans took over as the Indian hockey coach in August 2015 with the intention of succeeding in areas where none of the previous bosses had. This September, he was told in a brief email that his services were no longer required, ending his four-year stint (previously as High Performance Director) with the Indian men's hockey team. The three-day meeting that resulted in the decision was called after India's dismal performance in the Hockey World League semifinal and Sultan Azlan Shah Cup where they finished third.
Marijne, Harendra take over as pros
(Source: Hockey India Twitter)
After the ruthless sacking of Oltmans, Dutchman Sjoerd Marijne took over with a difficult task ahead. Meanwhile, junior World Cup-winning coach Harendra Singh, was asked to take over the women's team. Both new-comers Marijne and Harendra faced a similar challenge – delivering results in a short period of time. And oh how they delivered! Both men and women teams emerged as respective Asia Cup champions. Marijne also ended the year by becoming the first foreign hockey coach of an Indian team to finish his first two tournaments on the podium.
Asia champions, World strugglers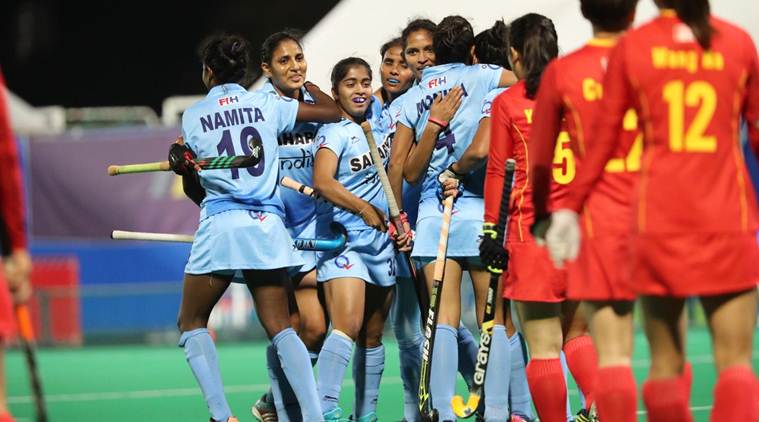 (File Photo)
Despite lifting the Asia Cup in October, defeats against Malaysia and Canada saw Indian men's team finishing at sixth position in the Hockey World League Semifinals. But they were still lucky to secure a spot in the HWL Finals on account of being the host country. The men's team was, once again, lucky to clinch the bronze medal against Germany after a tough quarterfinal against Belgium that went in a shootout.
The women's team, on the other hand, were not so lucky as their HWL journey finished in Johannesburg at the eighth position in the semifinals, with a win against minnows Chile.
PR Sreejesh injury
(Source: Hockey India Twitter)
An absence that pinched the men's hockey team the most was of star goalkeeper PR Sreejesh, who suffered a knee injury against Australia at the Sultan Azlan Shah Cup and has been out of action since then. The regular skipper required surgery and is expected to make a return in January, next year.
Controversies that rocked hockey
(Source: Express Photo)
Sardar Singh was accused last year in a case of rape and domestic violence involving his then fiancé, a British-Asian hockey player Ashpal Bhogal, including an allegation that he forced her to abort her child. The case came back to haunt the hockey veteran this year when Bhogal filed a police complaint in Leeds and Sardar was summoned for questioning.
Angered by the fact that the local police decided to summon Sardar to Leeds right in the middle of the Champions Trophy, FIH president Narinder Batra had said that this was the British parliament's conspiracy against India. The FIH had to then make an international statement and distance themselves from its chief Narinder Batra's criticism of the UK police.
The drama reached a new level when Hockey India president Mariamma Koshy accused Bhogal of being paid to file the complaint by Pakistan in an attempt to fix the match against India.
For all the latest Sports News, download Indian Express App