Jurgen Klopp will be looking to fix a defensive chink or two after he collects himself. (Source: Reuters)
If bad advice to defenders could be represented as a match, this one fits the bill. But, that is also the reason why it was so supremely entertaining. 13 goals have been scored over these two legs, 20 goals in this year's Champions League semi-finals and in the end, it is Real Madrid vs Liverpool for the Champions League final. On that storied night in Istanbul in 2005 Liverpool faced AC Milan who were the dominant side in the tournament at the time. Now they face Real Madrid, who are aiming for a third successive title.
Live Blog
Roma vs Liverpool Champions League semi-final second highlights:
Real Madrid vs Liverpool for the Champions League final
After he calms down, Jurgen Klopp will notice that his side had conceded four goals today and more importantly, Edin Dzeko was allowed to have a plethora of chances that a no. 9 should score. All of them were not easy but there were one or two sitters that he should have scored from. Klopp will remember that Real Madrid also have a player whom midfielders will look to provide just the way the Roma players provided Dzeko. The only difference is that Cristiano Ronaldo burries most of them in the back of the net. On the positive side, his forwards have scored a mind boggling 40 goals so far this season, an indicator that Real's defenders, who have looked pretty lax themselves throughout this season, will have a few sleepless nights ahead of their trip to Kyiv sometime before May 26.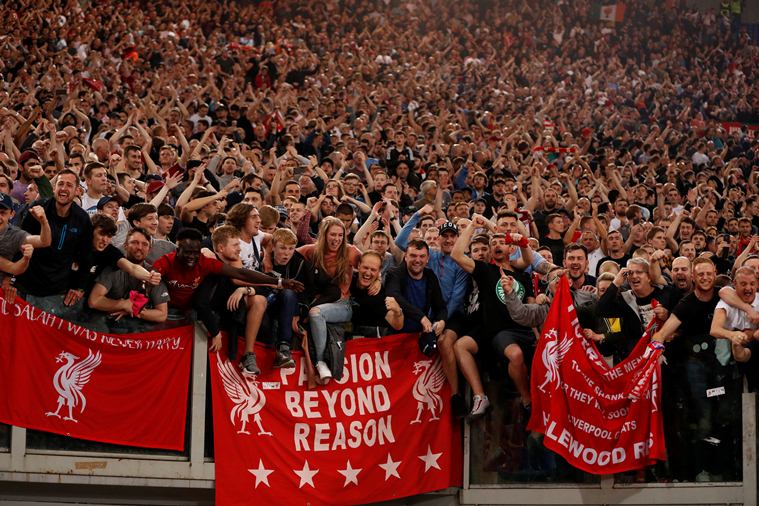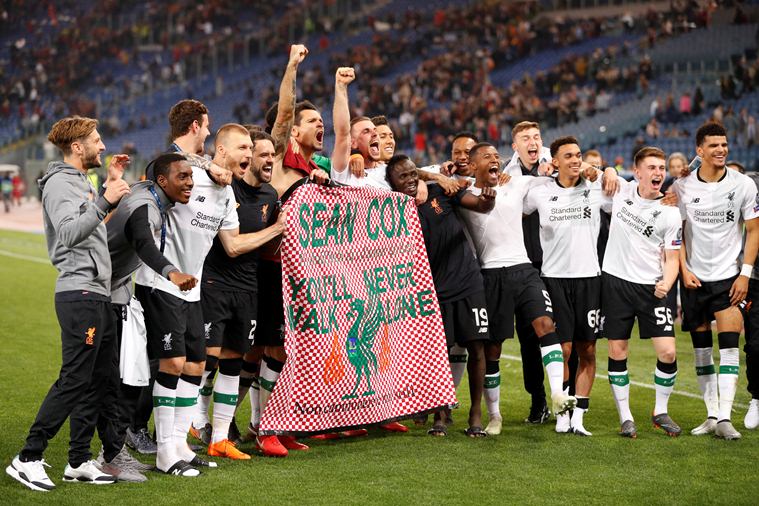 FULL TIME! Roma 4-2 Liverpool (6-7 agg), Liverpool are through to the final
Referee blows the whistle almost immediately after play resumes, it will be Real Madrid vs Liverpool in the final of the 2017/18 edition of the UEFA Champions League in Kyiv on May 26.
GOAL! Liverpool 7-6 Roma (Nainggolan 93 pen)
Another Liverpool hand ball and this time the referee gives the penalty, Nainggolan slams it in.
91 mins
Three minutes added on, Nathaniel Clyne comes on for Trent Alexander-Arnold. In a perfect world, he would have been reeling from a hand ball that led to a Roma penalty and was a catalyst for an incredible comeback from the home side. But this is not a perfect world so he goes off to the applause of the Liverpool supporters.
GOAL! Roma 3-2 Liverpool, 5-7 agg (Nainggolan 86 mins)
That came from nowhere. Nainggolan receives the ball from Kolarov 30 yards away and whips in a shot, Karius taken completely by surprise and it hits the right post and goes in.
84 mins
Robertson fouls Florenzi and Manolas completely loses it. he is booked but shouts away even after that and the referee pushes him away. The ref has had a good game so far.
77 mins
Nainggollan crosses in and Dzeko tries to volley it into goal. That would have been a stunner had it gone in but it was anywhere but close to goal. He then gets another chance and Karius scoffs the save, Lovren clears.
73 mins
Apart from a Gonalons shot from 20 yards that soared over the bar, nothing much has happened. Roma seem to be slowly losing hope, judging from the players' body language. El Shaarawy is taken off for 19-year old Mirko Antonucci and the former seems to have a short argument with Di Francesco before taking his place in the dugout.
70 mins
De Rossi taken off for Maxime Gonalons. Di Francesco waving his Roma players forward and just before that, Liverpool finally threatened. Salah tried to play in Firmino on the left, the Brazilian didn't expect that pass but still manages to get a shot on target, Alisson saves and Roma clear.
67 mins
Dzeko with two goalscoring chances in two minutes and misses both. First, De Rossi lifts the ball into the box after chesting down another poor Liverpool clearance, Dzeko is on side unlike what everyone around him thinks and shoots wide. Nainggolan then sends a cross in and Dzeko, unmarked, volleys it wide. Roma have been hounding Liverpool in the second half so far but they have been astonishingly wasteful.
63 mins Another penalty chance for Roma
Nanigollan's deflected cross finds Dzeko who plays, Liverpool try to clear it but it falls to El Shaarawy who crashes in a shot. It is blocked by Alexnder-Arnold, who had scoffed up that clearance. Replays show that Alexaner-Arnold had used his arm to block that shot. It should have been a penalty.
61 mins
An hour has gone into this basketball-like football match in which both sides are taking the ball into the opposition box every time they are on it.
57 mins
Salah makes a couple of forays into the box but both chances come to nothing. Cengiz Under, who had come on for Lorenzo Pellegrini in the 53rd minute, is played in by De Rossi with a ball over the heads of the defenders into the box, his shot is saved by Karius centimetres behind the goal line.
56 mins
Roma free kick after Alexander-Arnold clatters into Dzeko just outside the box left hand side. Kolarov takes it and it is passed to the far post where Dzeko rises, his header is over the bar.
GOAL! Roma 2-2 Liverpool, 4-7 aggregate (Dzeko 52 mins)
Liverpool squander possession and El Shaarawy darts down the left to the center, takes the shot and Karius saves, only to put it straight to Dzeko who is clearly onside this time and scores. That is only the 11th goal of this two-legged tie.
48 mins
Roma may have been robbed off a penalty. Dzeko sets off behind a Roma forward pass and Liverpool seemingly caught out, Karius comes off his line to take the ball off Dzeko's feet but he ends up tripping the former City man. Clear penalty and red card it looked like but, the linesman had flagged Dzeko off side. Replays show that it was one tight call and Dzeko looked onside.
Milner own goal
That really was one freak of an own goal and and you really have to feel for James Milner. Dejan Lovren put his boot through it and the ball absolutely clattered off his head before going into goal of all places. Gini Wijnaldum's goal was legitimate as it turns out. Fazio played him on.



🏆 Roma vs Liverpool | James Milner (OWN GOAL) 15' pic.twitter.com/hs3kS2Js0x


— ROMA 1-2 LIVERPOOL (@D9INESports) May 2, 2018
HALF TIME! Roma 1-2 Liverpool (3-7 agg)
43 mins
El Shaarawy goes down just outside the box as Lovren tries to stop him from running into the box from the left. Free kick and yellow card for Lovre who gets into the referee's face. The latter is not too pleased by that and seemingly asks Lovren to get back into the box if he knows what's good for him. Pellegrini takes a free kick. Will he go for goal? Will he deliver it into the crowd of heads in the box? Nope, he boots it away to glory and misses the cameras at the barricades behind the corner flag by two or three metres.
40 mins
El Shaarawy falls in the box while to go past Alexander-Arnold, no penalty given, replays show Alexander-Arnold did get a touch on the ball. Mane then gets to a pass going towards the byline and tries to back heel it in but messes it up and goes out for a goal kick.
37 mins
Salah is set off by Mane down the right and he dribles into the box but he is tracked all the way by Fazio who stops his shot.
34 mins
Stephan El Shaarawy skips past Milner and Wijnaldum moving to wards the centre from the left just outside the box. He then takes the shot that takes a deflection off Milner and hits the post. It comes back into the box but this time, Karius collects the ball before any Roma head could.
33 mins
A brief lull in the game. Roma still have more possession but they are all over the place whenever Liverpool take possession. The art of defending is somewhat missing in this match. But who's complaining?
GOAL! Roma 1-2 Liverpool, 3-7 agg (Wijnaldum 26 mins)
The resulting corner causes a flurry and Roma fail to clear it properly, it comes back in and Wijnaldum, unmarked only has to head it the right way and he does with aplimb. Surely Roma can't come back from this, right?
24 mins Liverpool chance!
Andrew Robertson receives the ball near the halfway line near the touchline and drives all the way to the byline inside the box, cuts in for Mane whose shot is blocked away by the Roma keeper.
21 mins
Dzeko set off Kolarov down the left and his cross is turned behind by Lovren. Roma have more possession than Liverpool, who seem to be gathering their bearings after that own goal.
17 mins
How about this for a start, both sides have conceded goals due to some horrendous defending, which seems to be a feature of the Champions League knockouts this season. Between the two goals, Salah threatened to score with a shot from just outside the box after a Liverpool counter but apart from that, Roma responded really well to conceding. They may have been lucky with the goal but they put in the hard yards to make it happen.
GOAL! Roma 1-1 Liverpool, 6-3 agg, (Milner OG 15 mins)
El Shaarawy rises for a cross and meets it with a header towards the six-yard box, Lovren tries to clear it first time, it bounces off Milner and straight into goal. A freak goal, but Roma will take it with glee.
GOAL! Roma 0-1 Liverpool, 2-6 agg. (Sadio Mane 8 mins)
Break, Mane, goal, game over? Certainly looks so. Liverpool now lead by four goals, one of which is an away goal which means Roma need to score at least four goals to win the match now. It all started with Naingollan making a horrendous pass that was picked up by Firmino in midfield. He bursts forward, Mane ahead of him to his left, Salah to his right, he goes for the former. Mane gets into the box easily enough and scores.
KICK OFF
Roma start and get on the attack straightaway. That first wave is stopped when Mane cuts off Dzeko's pass. Florenzi causes a flutter in Liverpool hears when he goes for goal from about 30 yards out, Karius makes the dive but the ball is just wide of the post. Roma have made an assertive start here.
Stadio Olimpico buzzing......
....as the teams walk out. Some truly stunning images coming in from the Italian capital. Here are a few of them.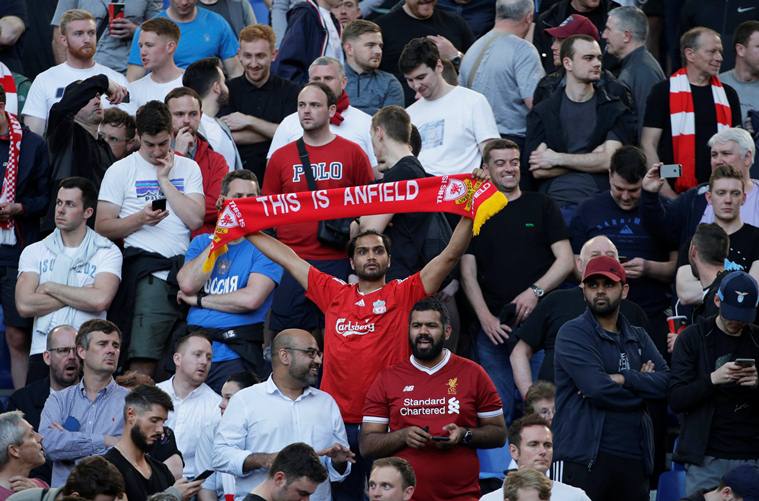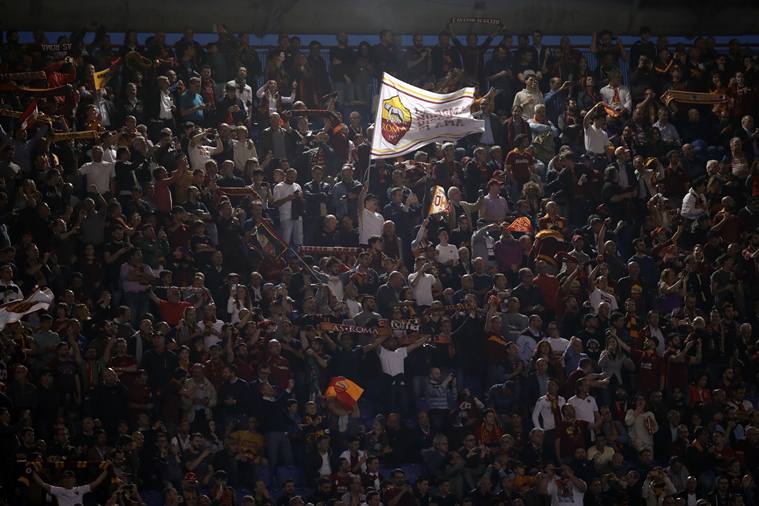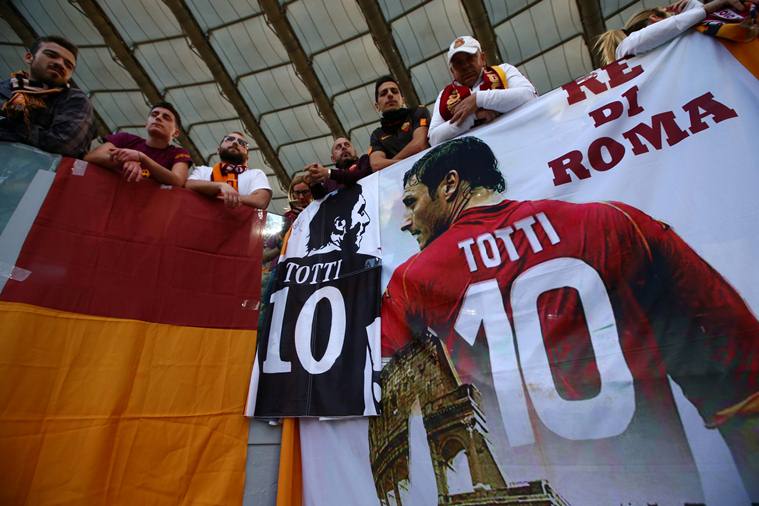 Counting down the minutes
The teams, the fans, they are all in the stadium. Those who can't get to the stadiums must be in front of the television screens or, hopefully, have their eyes glued to their cell phones and computers following this humble blog. No matter what happens in this match, one thing is for sure, the presence of these two teams at this stage is a breath of fresh air to the tournament. Liverpool and Roma are no newbies to Europe's elite competiton but it has been some time since we saw either sides reach so far. Yes, Real Madrid are there, but this time there is no Atletico Madrid, Juventus or Barcelona in the title clash, which has been the case for some time now. Roma fans (barring that brainless, violent minority) in full voice at the Stadio Olimpico is a sight to behold.
🔶🔴 ROMA! ROMA! ROMA! 🔴🔶#ASRoma #RomaLFC #UCL pic.twitter.com/RpmJxrOZUC

— AS Roma (@OfficialASRoma) May 2, 2018
Roma players out for warm up:
🔥🔥🔥#ASRoma #RomaLFC #UCL pic.twitter.com/DYrh2ywGIC

— AS Roma (@OfficialASRoma) May 2, 2018
Team Changes
Liverpool: The only change from the first leg is Giorgino Wijnaldum replacing Alex-Oxlade Chamberlain who was injured in the first leg and will miss the rest of the season and the World Cup.
Roma: Kevin Strootman is injured, Juan Jesus and Cengiz Under, both whom were starters in the first leg, are all dropped to the bench. Lorenzo Pellegrini, Patrick Schick and Stephan El Shaarawy all start.
TEAMS!
Roma: Alisson; Florenzi; Manolas, Fazio, Kolarov; De Rossi, Pellegrini, Nainggolan; Schick, Dzeko, El Shaarawy.
Subs: Skorupski, Juan, Under, Gonalons, Gerson, Peres, Antonucci.
Liverpool: Karius; Alexander-Arnold, Lovren, Van Dijk, Robertson; Henderson, Milner, Wijnaldum; Salah, Firmino, Mane.
Subs:Mignolet, Clyne, Klavan, Moreno, Ings, Solanke, Woodburn.
The situation in Rome
According to English media outlets, a few Liverpool fans have chosen to stay back due to Roma fan's penchant for sticking knives into visiting fans' buttocks. It may sound funny but there have been many incidents of stabbing and other violent attacks over the years that have caused serious injuries to visiting fans of clubs like Manchester United, Moddlesbrough, Leeds United and so on. Authorities in Rome have assured Liverpool fans that they will be safe in the city through the course of their stay and the club itself has issued instructions to the travellers.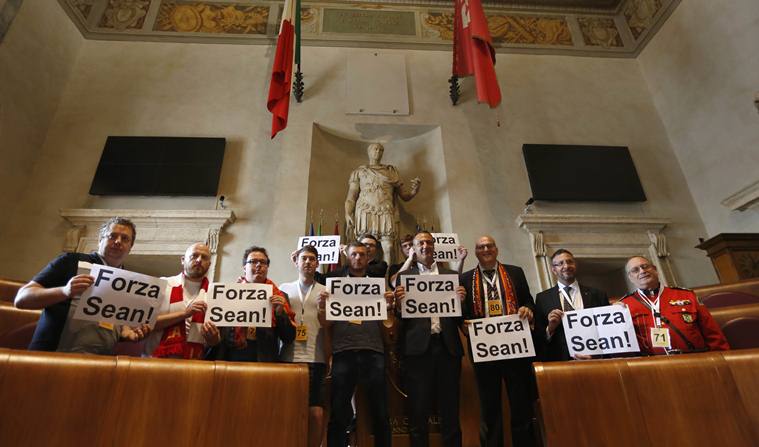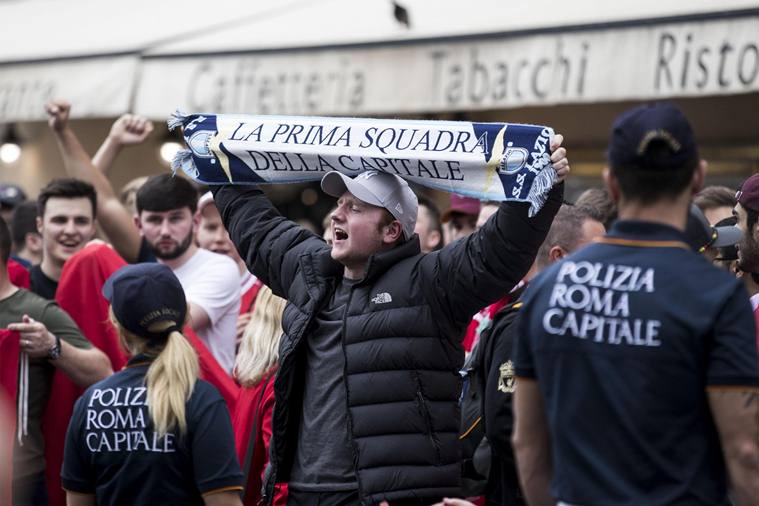 Hello and welcome!
After the first leg of their quarter final match, experts and laypersons alike expected Roma to beat Barcelona and enter the semi-final as much as Albus Dumbledore expected Harry Potter's name to be on a parchment that popped out of the Goblet of Fire. Yet here they are in the second leg of the semi-final, posed with a three-goal mountain to climb once again. This time, though, the cheers from the stands will be driven by a belief that their team can really do it. Jurgen Klopp also would be making his tactics in the belief that Roma can do it and herein lies the problem for I Giallorossi. Up and above the switch of formation from 4-3-3 to 3-5-2, the onslaught on the opposition box and so on, Roma rode on surprise element against Barcelona. That is not something they can bank on today.
Liverpool, on other hand, know that 5-2 is a good aggregate score to start on when you are playing the second leg of any competition, let alone the semi-final of one of the biggest sporting events in the world. Their season, especially the early part of it in the Premier League, is pockmarked with astonishing collapses but somehow, they have pulled themselves together in these latter stages of the Champions League. Moreover, one early away goal would be enough for them to practically seal their place in the final and Mo Salah has proven that he is capable of doing that and more. In the end, maintaining this advantage is all they would care about. It doesn't matter whether they concede three and nick one more in a mad scramble towards the end or just score one or two early on and put the game to bed. Becuase as they say, all roads lead to Rome.