Once again, it is Real Madrid vs someone else in the Champions Legue final. This is the third time in as many years and the fourth time in five that they have reached the title clash. Somehow, Real find a way through in this competition. It has to be said though, that in this case, Bayern did show them a part of that way. Real weren't particularly good but an absolute defensive howler is what allowed Benzema to score their second of the night and fourth of this semi-final tie. Despite Bayern throwing the proverbial kitchen sink at them after that and even getting a goal back, it was that howler goal that was the difference between the two sides.
Live Blog
Real Madrid vs Bayern Munich Live Champions League semi-final second leg:
Bayern distraught, Real ecstatic
The Bayern players immediatly break down after the final whistle. The referee gave them a fair run in injury time but the reality is that one moment of madness is what has cost them this game. They were the better side for muchof this match but Real, somehow, always find a way. Cristiano Ronaldo was not able to make an impact, in fact he was quite terrible with all those miscued passes and shots but Real, somehow, always find a way.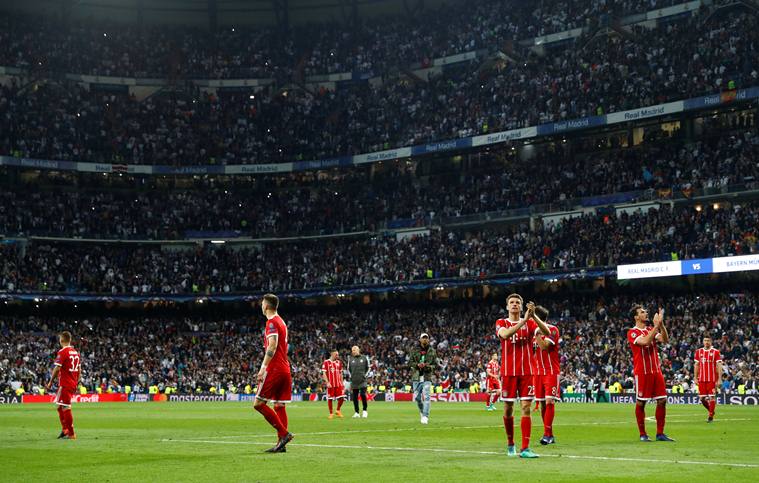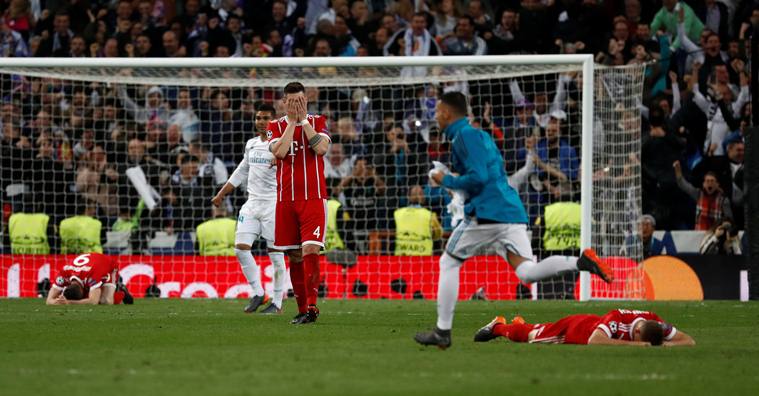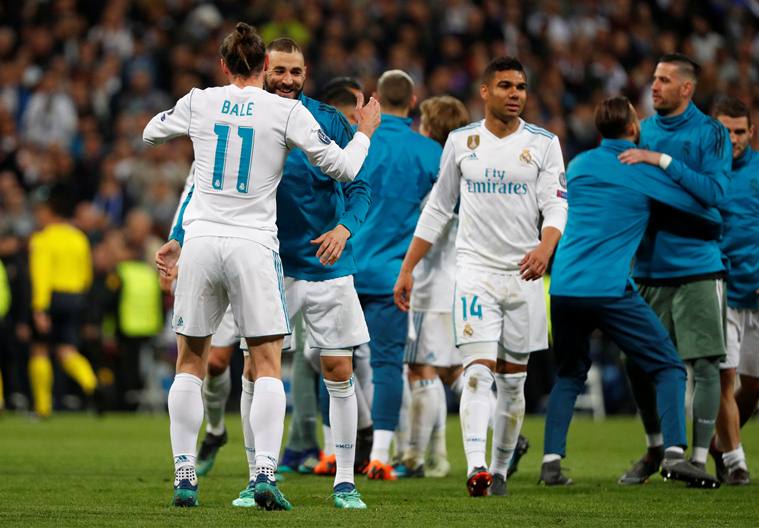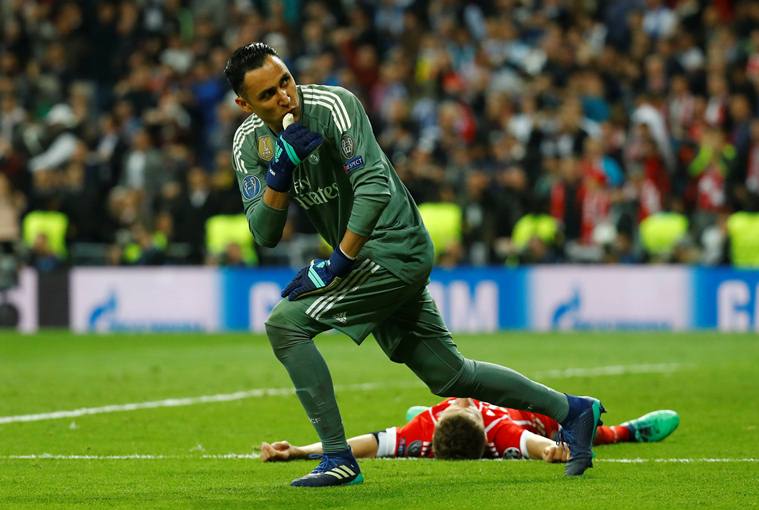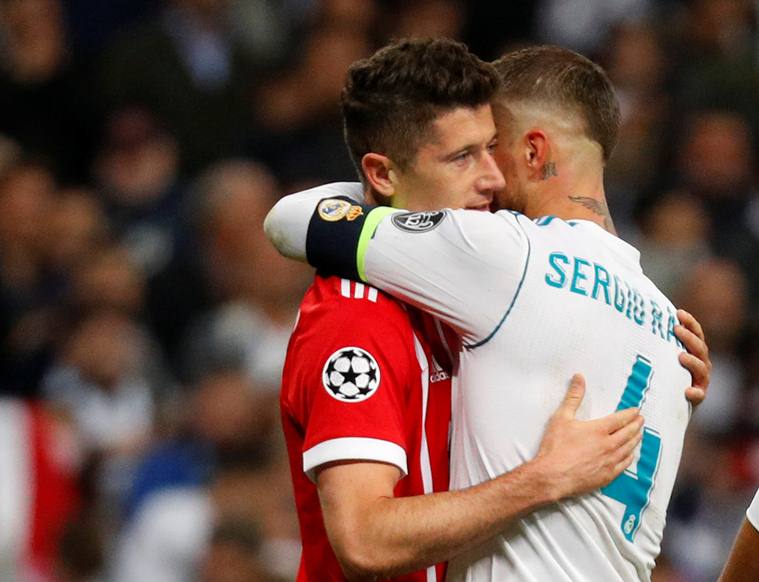 FULL TIME! Real Madrid 4-3 Bayern Munich on aggregate, through to fourth final in five years
A flurry of action as the referee lets play go on for five extra minutes, all involving Bayern. Real are simply unable to take the ball to a conrer and waste time but they manage to stop Bayern from putting in a good cross when the Bavarians had the ball. The final act is Hummels send in a God-please-make-a-miracle-happen cross into the box for Muller who nearly meets it in the box. But 'nearly' is the important word here, as it has been for much of this second leg.
92 mins
Ribery boots it to the central area just outside the Real area, Javi Martinez passes into the box to set Hummels free, he passes it to Lewandowski but Navas holds on to the ball.
91 mins
Slender margins. Bayern Corner and the ball bounces off multiple heads before Ronaldo heads it out for another corner. Thiago takes, Hummesls rises but his header is just wide.
87 mins
Ronaldo sends Bale clear down the left and the Welshman takes a touch too many and his shot is sa-doesn't matter, off side. Asensio is taken off and he takes a good 30 seconds, making sure he thanks his beloved fans before high fiving Nacho into the game. Varane then takes forever to set the ball down with microscopic precision and the referee has enough, gives him yellow.
84 mins
Asensio trips and falls and injures himself, Bayern have the ball and it is put out by James. He is then taken off by Heynckes for Javi Rodriguez.
82 mins
Alaba crosses it and finds Muller who heads it towards the bottom right. Navas does well to get down and parry it away. Minutes later Ribery feeds Alaba again and he crosses it in again, it misses Muller and Lewandowski and Real clear.
🇨🇴 James Rodríguez = 1st Colombian to score for 3 different clubs in #UCL history. ⚽️ pic.twitter.com/28Bsk60dTv

— UEFA Champions League (@ChampionsLeague) May 1, 2018
79 mins
Ronaldo takes the ball, dribble dribble dribble and gets into the box but Sule nips it off his feet before he could do anything meaningful. He has pretty much marked Ronaldo out of the game so far.
75 mins
Alaba crosses into the box, finds James who takes the shot, takes a heavy deflection and slows it down for Navas to collect easily. Ronaldo pushes forward, plays it to Bale whose shot is deflected out of the pitch seemingly but referee says its goal kick.
73 mins
Alaba crosses in from the left into the box where thre Bayern shirts are rising. One of them is Muller who heads it down, it falls kindly for Tolisso who takes the shot first time, Navas saves from point blank range. That was good stuff from the Chilean.
71 mins
Changes for Real, Gareth Bale and Casemiro come on for Kovacic, Benzema
69 mins
Marcelo prepares to put it in from a corner when another ball rolls out onto the field. Drop-ball and Bayern boot it upfield. Minutes later, Kimmich puts it in from the right midfield area trying to find Lewandowski, Varane wins the battle.
GOAL! Real 2-2 Bayern, 4-3 on aggregate (James 63 mins)
This was coming. Sule plays it into the box and James takes the shot, Navas blocks and James burries the rebound. He puts up his hands in apology but deep inside his heart, he must be doing cartwheels . Penalties or extra time are not possible now, one more goal and Bayern are through.
61 mins
Bayern go full machine gun on Real. First Thiago and Lewandowski take shots which are blocked and then it comes out to Sulle whose shot from outside the box is deflected again. They are giving it their everything.
59 mins
Ronaldo misses a few sitters, the first is a cross from the right by Asensio that he misses and then a Kovacic cross from the right that he absolutely skies. Meanwhile, here is the howlerazzo:
Whoops. #RMAFCB #Ulreich pic.twitter.com/dL9CRwz2pA

— Ute Lochner (@Aleksch1893) May 1, 2018
53 mins
Lewandowski goes down due to a Ramos challenge and the referee doesn't give penalty. It is a corner that comes to nothing for Bayern. Ramos did get a touch to the ball but that was a real heavy challenge.
50 mins
Benzema goes down inside the box as he and Hummels race behind the ball but no penalty given. Real don't really protest it. Bayern take it to the other side and Alaba lazers in a shot from 20 yards, Navas saves.
GOAL! Real Madrid 2-1 Bayern, 4-2 agg (Benzema 46 mins)
That is a shame. Bayern were so good in the first half and to concede due to such a howler is an absolute shame. Tolisso, the first half of that howler, plays a blind-as-a-bat pass to keeper Ulreich, the second half of that howler, who first thinks of handling it seems, remebers that is illegal, then sliding it clear and then kicking the air around the ball, Benzema simply collects the ball and passes it into goal. Bizarre.
HALF TIME! Real Madrid 1-1 Bayern Munich (3-2 agg)
That is how a first half of a match between Real Madrid and Bayern Munich should feel like, which wasn't the case when the return leg was being played one week ago. Both sides have been great in possession and not so great in defence. But that is what has made this so exciting in the first place. Just before half time, Kimmich's cross from the right hit Marcelo's hands and the Bayern players went up in protest. Referee doesn't give the spot-kick and replays show that it really couldn't have been intentional. But a certain tennis legend thinks otherwise.
Again the referee is questionable...@FCBayern @realmadrid ...why ?

— Boris Becker (@TheBorisBecker) 1 May 2018
44 mins
Alaba brought down by Lucas Vazquez down the left and he appeals for a free kick. Referee says nothing doing, although it does look like Alaba had a case there. Tolisso then gets the ball just outside the Real area and tries to curl it into the top corner, misses by a good distance
38 mins
Ronaldo receives the ball right of centre, couple of step overs and he takes a shot at the near post, Ulreich palms it out. Corner is hit in deep and Ramos rises and meets it, the ball hits the side netting at his near post.
35 mins
Almost immediatly after that Vazquez charges down the right and curls it in. Ronaldo is the target but Hummels is the perfect obstacle. End-to-end stuff this
31 mins, Bayern chance!
Mats Hummels drives into the Real half, passes it forward to Lewandowski whose shot is blocked, it balloons up in the air, Muller wins the header and it falls to James who whips in a shot and the ball soars above the post. That was a real whistler of a chance.
30 mins
Ribery driblles into the box and threatens to driblle all the way but comes accross a number of Real shirts to stop him, he cuts it in to Muller who has back to goal when he receives the ball, turns and takes a shot. It is well placed but devoid of any power, navas collects.
27 mins
Ronaldo receives the ball in the middle of the Bayern half, turns and lays it off for Marcelo down the left in acres of space, he drives into the box but by the time he takes the shot, he is crowded out.
24 mins
Ronaldo tries to pass it to the overlapping Vazquez from the edge of the box, the pass is blocked and he gets the ball back, moves in and attempts a shot, it gives the members of the crowd a taste of what it is like to catch a Champions League football.
20 mins
Bayern's crosses are causing all sorts of discomfort to the Real defense. James first draws a number of Real defenders and then plays it to Alaba at the left. The Austrian crosses and Lewandowski is at the end of it and Real somehow put it for a corner. The set piece causes some problem but Navas eventually collects
19 mins
Muller played in by Thiago down the left and he cuts it in the ball rolls accross the precariously, missing every Bayern and Real foot. Bayern are collecting the ball everytime it runs lose and Real still looking nervous, albeit better than what they were before scoring that goal.
15 mins
Kimmich heads the ball down to Muller right side of goal and the German triles to cross it. Marcelo blocks and it takes a deflection off Muller and the corner flag before going out. Real throw in and move forward, Benzema passes to the more central Asensio who lays it off for the Frenchman in the box seemingly clear, referee calls offside.
GOAL! Real 1-1 Bayern, 3-2 agg (Benzema 11 mins)
And that settles the Bernabeu nerves and how simple was that. Marcelo lobs the ball into the box right side of goal and Benzema just heads it over Alaba standing at the near post and into goal. Real back in front.
9 mins
Real dominating possession but they look very nervous at the back. Alaba and Ribery nearly get clear with some clever one-twos and dribbles. Real nick it back and keep passing the ball around in midfield.
6 mins, Real chance!
Bayern switch off as Real take a quick free kick, Benzema drives into the box from the right and cuts it in to Ronaldo, Hummels slides in to nip it off his feet.
GOAL! Real 0-1 Bayern, 2-2 agg (Kimmich 3 mins)
Just as in the first half Kimmich puts Bayern ahead early on. Muller's cross and the Real centre backs unable to clear it, it falls to Kimmich who turns it in. Game on, please!
3 mins
Sergio Ramos lobs the ball long and Real lose poseession, Alaba drives forward and is prevented from putting the ball in the by Vazquez.
KICK OFF!
Real kick off the proceedings, attacking from left to right in this first half. Both sides are in their regular colours. The Bernabeu is decked to the brim for the occassion.
The Teams are in the stadium
And going through their routines. James Rodriguez is playing his first match at the Bernabeu since he was loaned out to Bayern by Real.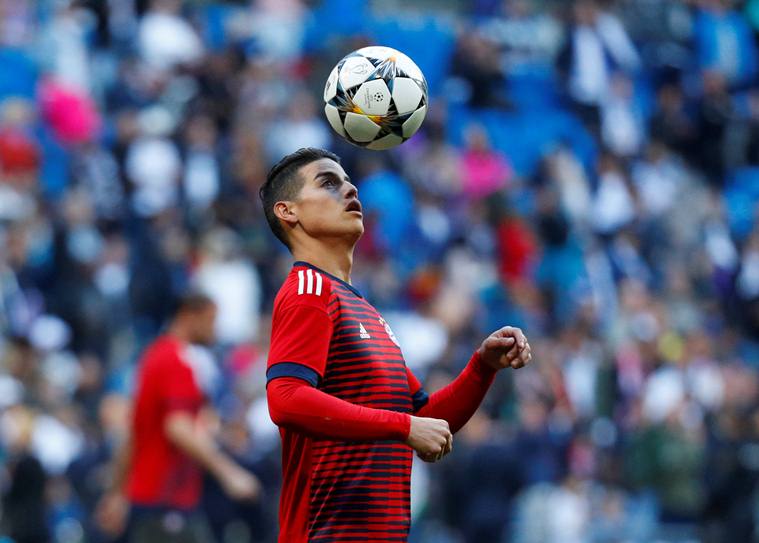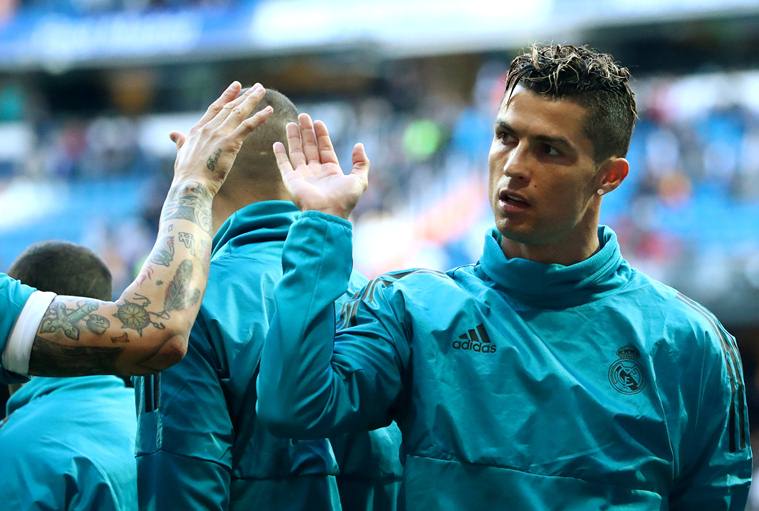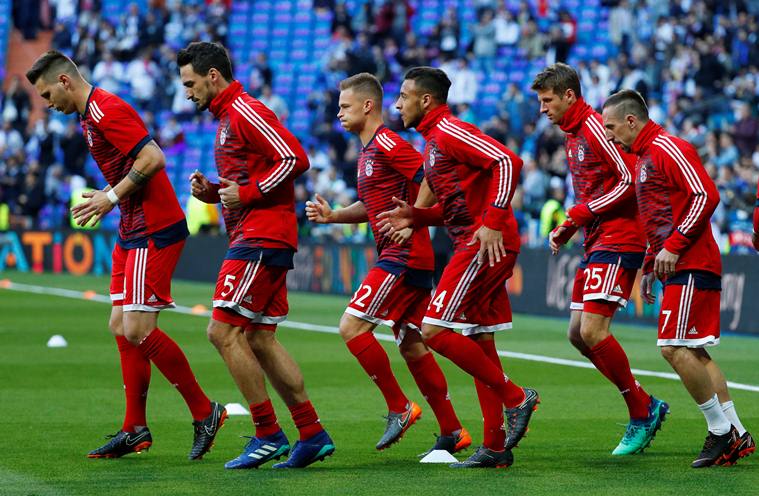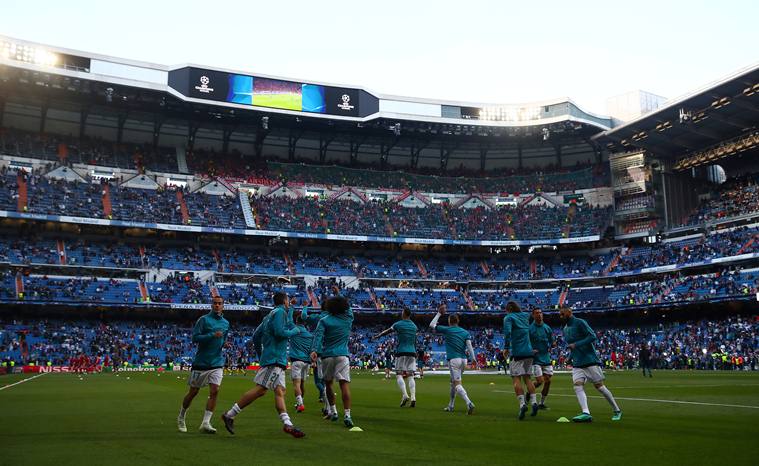 Teams
Real: Dani Carvajal and Isco are injured and Casemiro has been left on the bench, Karim Benzema, Marco Asensio and Mateo Kovacic brought into the starting XI. Bayern: Arjen Robben and Jerome Boateng were injured in the first leg and Javi Martinez and Rafinha have been dropped to bench, Thiago, Niklas Süle, Corentin Tolisso and David Alaba all line up in their places.
🚶‍♂🏟 They're here!#APorLa13 | #HalaMadrid pic.twitter.com/yA9m2IWCca

— Real Madrid C.F.🇺🇸🇬🇧 (@realmadriden) 1 May 2018
In fine voice already 👌 One hour until kick-off! ⏱️#PACKMAS #RMAFCB pic.twitter.com/x9WwtPWojR

— FC Bayern English (@FCBayernEN) 1 May 2018
TEAMS!
Real Madrid: Navas; Ramos, Varane, Ronaldo, Kroos, Benzema, Modric, Marcelo, Lucas Vazquez, Asensio, Kovacic
Subs: Casilla, Nacho, Bale, Casemiro, Theo Hernandez, Mayoral, Ceballos
Bayern Munich: Ulreich; Sule Hummels, Thiago, Ribery, Lewandwoski, James, Tolisso, Muller, Alaba, Kimmich
Subs: Starke, Wagner, Martinez, Rafinha, Mai, Rudy, Dorsch
Hello and welcome!
The first leg of this fixture between two of the biggest clubs containing some of the biggest names of the sport, it was anything but all that. Instaead it felt like a thorn sticking out of what has otherwise been an incredible knockout stage in the Champions League. Now, we are into the second leg and Real will be a tense lot. They know what happened to them the last time they played a Champions League fixture at home and Bayern Munich taking a three-goal lead would be a far worse prospect that when Juventus did the same. The Bavarians do have an uphill task and their twitter account says that they are up for it.
💪 #RMAFCB

🔴🔴🔴 
🔴 🔴
🔴🔴🔴
🔴

🔴🔴🔴
🔴 🔴
🔴🔴🔴
🔴 🔴

🔴🔴🔴
🔴
🔴
🔴🔴🔴

🔴 🔴
🔴 🔴
🔴🔴
🔴 🔴
🔴 🔴

🔴 🔴
🔴 🔴 🔴
🔴 🔴
🔴 🔴

🔴🔴🔴
🔴 🔴
🔴🔴🔴
🔴 🔴

🔴🔴🔴
🔴
🔴🔴🔴
🔴
🔴🔴🔴

— FC Bayern English (@FCBayernEN) 1 May 2018
In case your wondering, 'Packmas' is Bavarian for 'let's do it'