PSG vs Liverpool Champions League Highlights: In coming days, Neymar, Juan Bernat and James Milner's goals may be shown as highlights from this match but in reality, there was only one. It came in the 86th minute, when Thiago Silva, who soldiered on like a bull every time he was kicked down in this match, and the rock-like Marquinhos conspired to kick the ball away from Mohamed Salah.
The Brazilians then looked at each other and let out the kind of roar that must have been a regular thing in the days when dinosaurs ruled the land. As they did so, they exchanged a chest bump the vibrations must have been felt all the way back in Brazil. That moment, defined PSG's performance in this match – spirited, passionate and efficient.
Live Blog
PSG vs Liverpool Champions League Highlights:
FULL TIME! PSG beat Liverpool 2-1
And they deserved nothing less than that. The first half was an exhibition of attacking football led by Neymar, Mbappe and Cavani. The second half was all about the brick-wall formed by Marquinhos, Thiago Silva with some assistance from Marco Verratti. PSG have completely outclassed Liverpool and the Anfield giants now need to beat Napoli by at least two goals in their final group game to avoid getting knocked out.
94 mins
Last chance salon, Liverpool throwing the kitchen sin but the indomitable PSG defenders and Verratti keep them out. What a performance this has been been from the home side.
91 mins
PSG win a free kick from about 25 yards away on the left, Neymar takes and he forces a save from Allison. The resulting corner is taken short and Robertson goes on to get booked for a cynical challenge on Neymar. The Brazilian star has been pretty much unplayable today.
89 mins
....he tries to play it to Lovren on the far side but Silva goes down in the box, foul against Liverpool.
89 mins
Liverpool win a free kick 20 yards away from goal. That is very much in Shaqiri's range....
86 mins
Salah bursts forward with Silva covering him but Marquinhos comes in to take the ball away from him. He then looks at Silva, they both let out the kind of roar that would put lions to shame and exchange a very Brazilian chest bump. You don't want to get in their faces.
84 mins
Alleged problem child Adrien Rabiot comes on for Kylian Mbappe.
83 mins
Twin corners for Liverpool that come to nothing and PSG surge forward with Mbappe. Verratti made the pass to the Frenchman and as he did Sturridge pulled at his shirt. Mbappe gets into the box with the Liverpool defenders scrambling but the Robertson makes an inch-perfect tackle to ensure that he cannot take the shot.
80 mins
Neymar bursts past Van Dijk in the box who gets back at him with a tackle that is legal according to the referee.
78 mins
Shaqiri comes on for Milner. There is almost nothing happening on the pitch now. Liverpool have more possession but they are looking ragged.
70 mins
Liverpool win a free kick when Keita is fouled just outside their own box. They make another change, Firmino off for Sturridge.
69 mins
Neymar takes a corner and it straight to Marquinhos who hammers it goalwards with his head, Allison gets down to his right in time and makes the save. What a chance that was.
66 mins
Liverpool make one change. Wijnaldum off for Naby Keita.
64 mins
PSG are making a double change. Di Maria goes off for Dani Alves, Cavani off for Eric Choupo-Moting.
61 mins
PSG's counter fizzles off when Mbappe spends too much time on the ball and is dispossessed. Liverpool are absolutely dominating possession now, Tuchel would not be happy about that.
59 mins
Robertson's crosses takes a deflection and arrives to early for Firmino. His header is wide off target. Silva then seems to need some attention and he is down inside the box. Referee checks on him and he walks.
56 mins
Liverpool dialing up the intensity. A brilliant tackle from Thiago Silva's perfect tackle is what prevents Robertson's cross from reaching Milner who would have easily been able to score a second from that position.
52 mins
PSG were sitting in their own half as Liverpool bumbled about. They then take the ball and Neymar tries a shot from distance, he ends up drawing a foul.
49 mins
The cameramen have done a good job of spotting the stars among the spectators today. We mentioned Di Caprio before, there is also Rolling Stones frontman Mick Jagger and UFC Lightweight champion Khabib Nurmagomedov in the house.
47 mins
PSG win a free kick, Di Maria delivers and finds Marquinhos who turns it into the back of the net! But he is offside so no goal.
46 mins
No changes at halftime and Liverpool get the match going.
HALF TIME! PSG 2-1 Liverpool
That goal from MIlner is a nice twist in what has been a largely PSG-dominated tale. The home side were pounding Liverpool with attack after blinding-fast attack but a rather silly lunge by Di Maria has put Liverpool in with a chance of completing a comeback and avoiding the need to beat Napoli by two goals to stay alive in this tournament.
GOAL! PSG 2-1 Liverpool (Milner 45 mins)
Milner takes the spot kick as calmly as anyone can. No mistakes there from the Englishman as he sends Buffon the wrong way. Liverpool reduce the deficit to one goal.
44 mins
Mane puts the ball past one defender and races foward, Di Maria with a tackle and the referee seems to have asked Mane to get up. No, as it turns out, he points to the spot. Now there seems to be a scuffle involving Kimpembe, Neymar and Van Dijk.
GOAL! PSG 2-0 Liverpool (Neymar 37 mins)
That attack broke the sound barrier. Neymar receives the ball from Mbappe and surges forward, passes it back to the Frenchman who has made his way to near the touchline. Mbappe who plays it square to find Cavani. Allison pushes the ball away from the Uruguayan's feet only for it to land to Neymar. Easy finish for the Brazilian. PSG are absolutely purring now.
30 mins
Neymar leads a PSG counter, passes it to his right to Mbappe who plays it square in an attempt to find Cavani, Allison dives to intercept that pass which is just as well for Liverpool because that would have been a goal otherwise.
25 mins
Salah and Milner work the ball forward to Gomez on the right, the latter tries a shot but Veratti puts a foot in between, the Italian then runs behind the ball and manages to deny Liverpool a corner.
22 mins
Salah takes a shot at an angle from the left to the near post, Buffon had it covered but the shot is off target. The veteran keeper gives a thumbs-up in approval to his defenders.
18 mins
Neymar nutmegs Henderson, passes it to Mbappe who is clobbered by Wijnaldum. The Dutchman gets a booking for that.
GOAL! PSG 1-0 Liverpool (Bernat 13 mins)
Juan Bernat puts PSG ahead! Veratti plays in Mbappe who tried to wriggle past two players in the box but the ball was taken away from his legs, it falls to Bernat who moves towards the right and his shot is to the left of Allison who is completely wrong-footed.
10 mins
Di Maria takes a knock from Milner and has to walk off the pitch. The camera pans to Leonardo Di Caprio in the stands. No really. It was him.
6 mins
Di Maria chests down a high ball and volleys it to the top corner, Allison makes a diving save. The resulting corner is taken short, Neymar sends the cross in and it is met by Thiago Silva's diving header that is saved by his Brazilian team mate; Silva was offside anyhow.
2 mins
Firmino with a cynical push on Marquinhos, PSG restart the game immediately, Di Maria plays in Mbappe whose shot is out of play after taking a deflection. The resulting corner comes to nothing for PSG.
KICK OFF!
PSG, in white, kick off the game and immediatly try to get in behind the Liverpool defence. Cavani is unable to control the long pass and Allison collects.
The teams are out
The players have all got their game faces on and they are out on the pitch. The Parc des Princes is decked up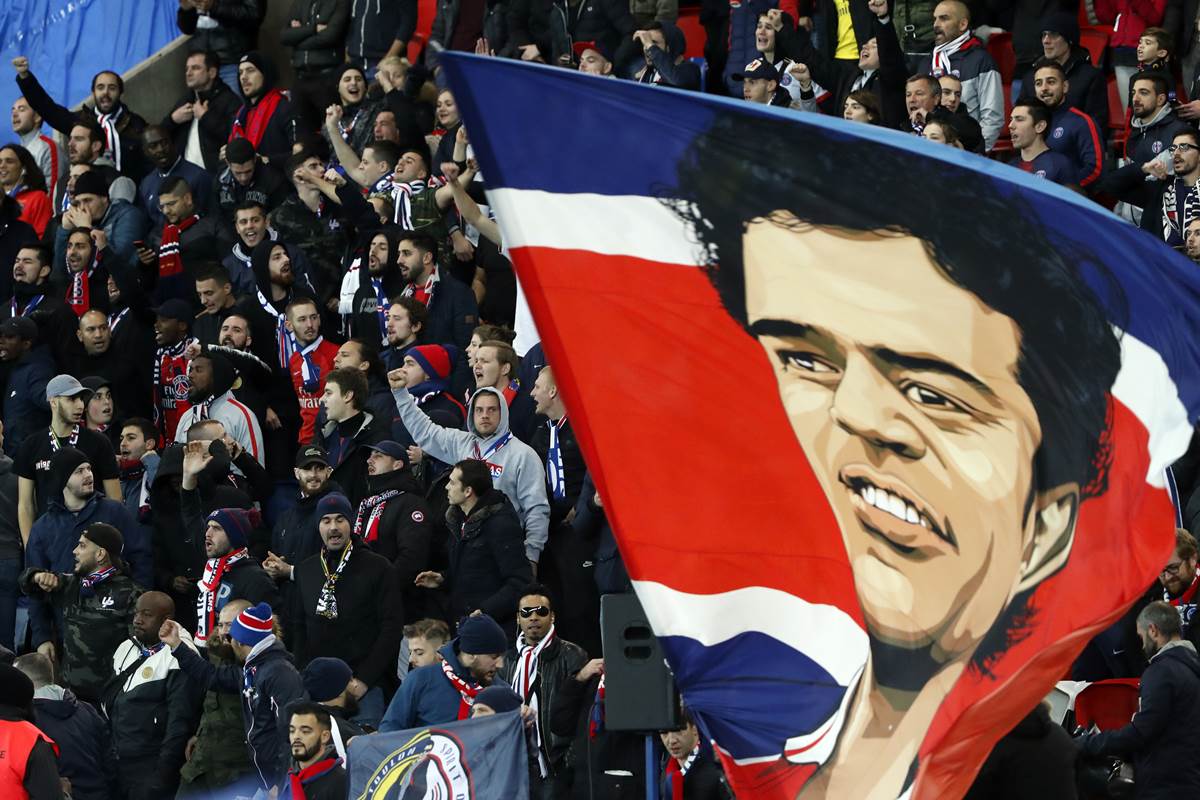 The chatter
As stated in the previous update, there is a lot of chatter on Twitter about a row between Rabiot and Tuchel. It seems this has spilled over into the real world too.
Not much love for Rabiot as Paris fans watch the players arrive: "Rabiot, go to Barcelona." #PSGLFC #UCL pic.twitter.com/ozJNXIOCWP

— Chris Burke (@UEFAcomChrisB) November 28, 2018
Teams
Whoever is on the right side of that Liverpool defence will have to put a muzzle on Neymar and Klopp believes Gomez is better equipped at that than Trent Alexander-Arnold. Jordan Henderson starts in midfield.
Buffon made his Champions League debut against PSG in their previos match against Napoli, which he said felt like an "electric shock." He remains between the sticks, Mbappe and Neymar are back from injuries. Their absence was a mild inconvenience for PSG when they were walking to a 1-0 win over Toulouse last week. Marquinhos is in midfield, Di Maria is also there. There was chatter on Twitter about a row between Adrien Rabiot and Thomas Tuchel. He is in the team sheet, let's see if he is actually there in the dugout.
TEAMS!
PSG: Buffon; Kehrer, Silva, Kimpembe, Bernat; Verratti, Marquinhos, Di Maria; Mbappé, Cavani, Neymar
Subs: Areola, Dani Alves, Draxler, Rabiot, Diany, Nsoki, Choupo-Moting
Liverpool: Alisson; Gomez, Van Dijk, Lovren, Robertson; Milner, Henderson, Wijnaldum; Mané, Firmino, Salah
Subs: Mignolet, Fabinho, Keita, Shaqiri, Matip, Alexander-Arnold, Sturridge
Hello and welcome!
If Liverpool win here and Napoli win against Red Star Belgrade in a match that kicks off at the same time, Liverpool are through, PSG are out. PSG will be then left with the little task of winning whatever they are playing for in domestic football, which means that their season would pretty much be over. If PSG win, they would be in a good position to go through and Liverpool's next match agianst Napoli becomes a do-or-die affair. If this is a draw and Napoli beat Red Star, Liverpool are through if they manage a better result in their last match than PSG in theirs. Which means that if PSG win 1-0, Liverpool have to win 2-0; if PSG don't win, Liverpool have to, well, win. So that's how it all stands. Quite seductive, right? No? Okay. Klopp thought so about the translator's voice. (Yes it is a different topic but had to bring that up somehow)
#UEFAChampionsLeague #PSGLIV

"That's a very erotic voice by the way. Congratulations. WOW!"

- Liverpool manager Jurgen Klopp impressed by translator's voice pic.twitter.com/xHdrJqS4Hw

— Express Sports (@IExpressSports) November 28, 2018