Netherlands vs France, Live football score, UEFA Nations League Live streaming: The Netherlands need to win this match to stand a chance at finishing first in Group A1. They are facing the world champions who are pretty much at the peak of their powers so a win here will be a morale booster for them. France sit four points ahead of the Dutch and this is their final game of the group stage. Netherlands do face an upward struggle in that they have to beat Germany too after this to finish first in this group.
Live Blog
Netherlands vs France, Live football score, UEFA Nations League Live streaming:
Full Time! Netherlands 2-0 France
Hugo Lloris kept Netherlands out for such a long time but in the end, he cracked. He was brilliant despite the two goals that he conceded, although the same can't be said about the rest of his squad.
GOAL! Netherlands 2-0 France (Depay 90 5 mins)
Depay with a chipped penalty to double the lead. Netherlands have pulled offa famous win here.
87 mins
Dembele given a yellow card for a cynical challenge on Dumfries. Netherlands are closing in on a famous win here,
81 mins
Babel cuts in from the left and takes a shot but it only flies into the stands.
74 mins
Hugo Lloris keeping France in the game. Dumfries with a lovely chipped pass to set Wijnaldum free who was taken down outside the box. Depay takes the free kick and Lloris makes a save. Seconds later, Lloris saves a header off Van Dijk.
72 mins
France starting to take charge now. Kante puts a cross in but Mbappe cannot control it.
61 mins
Netherlands counter, Blind plays in Wijnaldum and his shot is saved by Lloris. But the ball only rebounds to the keeper's right and Wijnaldum takes a shot from there again. The angle is too tight and Lloris saves it easily enough.
57 mins
Free kick for Netherlands, Depay takes and he gets it to Babel along the ground. The latter is unable to control it and France clear.
54 mins
Mbappe tries to move forward and move inside Blind, ends up giving the ball away. The PSG striker is having a bit of a stinker today.
Half time! Netherlands 1-0 France
There it is, Netherlands did not make it to the World Cup. France won the World Cup. Netherlands lead France at half time. The world makes so much sense in footballing terms.
GOAL! Netherlands 1-0 France (Wjnaldum 44 mins)
Nzonzi cannot head De Jong's left-wing cross clear and the ball finds Babel at the back post. He shoots straight at Lloris, who saves, but Wijnaldum is following up and sweeps his right-footed finish into the back of the net from the centre of the area. Good finish.
33 mins
Digne with a cross from the left and Blind clears it before it reaches Griezmann. The Atletico man takes the corner, it bounces about in the mix before rising and Nzonzi tries to head it in, keeper holds on easily,
23 mins
Griezmann conceded a foul but the Netherlands don't make anything out of the free kick. Wijnaldum then attempts at releasing Depay but the latter is offside.
14 mins
Slick move from France ends with an absolute stinker of a shot from Mbappe. Matuidi makes way down the left, passes in towards Griezmann who lays it off for Mbappe and the 18-year-old PSG striker skies it.
8 mins
Netherlands dominated possession for about four minutes after that attempt by Wijnaldum but France are now pressing them high. Digne floats a ball into the box and Griezmann heads it to the ground, easy pickings for Dutch keeper Cillessen.
2 mins
An early opening for the Dutch. Depay dashes forward and cuts back for Wijnaldum who takes the shot, Lloris saves.
The venue
The match is happening in Rotterdam, Netherlands and the stadium is Stadion Feijenoord, the home of Feyenoord.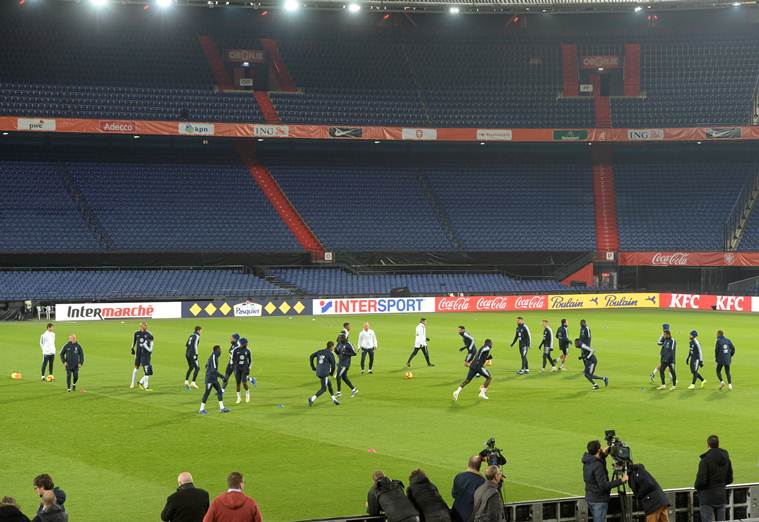 Hello and welcome!
Netherlands and France, two great footballing nations on opposite ends of the success spectrum. Netherlands have hit the reboot button since they failed to make it to the 2018 World Cup, France went on to win it. But Ronald Koeman's revamped Dutch side are not be taken lightly, as Didier Deschamps said in the pre-match press conference.