Liverpool vs Napoli, Champions League highlights: The final matchday of the Champions League group stage begins and, unlike what was the case in 2017/18, quite a few giants stand a chance of an early exit. The most tangled group of them all is C where three of the four teams still stand a chance of progressing to the Round of 16.
There are a whole lot of permutations revolving around the two matches on Wednesday but the bottom line is that last season's runners-up Liverpool will need to beat Napoli at Anfield to stand any chance of progressing to the next round.
Live Blog
Liverpool vs Napoli, Champions League highlights:
FULL TIME! Liverpool beat Napoli 1-0
They are through to the Round of 16! They will finish Group C in the second spot while PSG, who are leading Red Star Belgrade 4-1, are group winners. Napoli are in the Europa League. There seemed to be an altercation of some sort in the stands after that Allison save off Milik. We might here more on that in the coming days.
90 + 3 mins
Mane free on goal with just the keeper to beat, he does so but also misses the goal. It has been that kind of a day for him. But Liverpool are almost there.
90 + 1 mins
Big big chance goes begging for Napoli and Allison can be proud of that save. Napoli win a free kick. It is curled in from the right all the way to the other side where Arkadiusz Milik does well to bring it in control and pokes it towards goal, Allison comes out to make a reaction save.
86 mins
Salah cuts back for Mane from the left and the Senegalese is completely free, but he can't keep his shot on target. Mane is woefully out of form. Liverpool should have scored at least three goals by now.
78 mins
Insigne pushes forward from the left, Milik in the centre and Callejon further right. Insigne goes for Callejon on the far side, Robertson slides to intercept but misses the ball! Callejon seems to be caught by surprise by that as well because he skies the shot. Best chance of the match so far for Napoli.
76 mins
Salah passes it to Robertson ahead of him towards the left, he plays square to Mane on the other side and Ospina saves yet again. The Napoli keeper keeps them in the game.
74 mins
Liverpool piece together a quick attack, Firmino sets off Salah but Ospina comes in to take the ball away from him, Salah seems to have been fouled by Raul Albiol just before that and he doesn't go down inside the box. The ball comes back to Salah whose cross to Firmino is brilliantly saved by Ospina.
70 mins
Napoli win a corner which is taken in the worst way possible by Ghoulam. They win a throw in that comes to nothing. But Napoli are looking more lively now.
65 mins
If it wasn't for Koulibaly, who certainly has got multiple clones of himself playing on the pitch, Liverpool would have put this match to bed. Napoli showed why they were first in the Group C table coming into this match in the first half, they are doing exactly the opposite of that in the second.
57 mins
Alexander-Arnold crosses in, Firmino free and tries a header from 18 yards out, the ball goes straight to Ospina.
55 mins
Callejon's cross is kicked out by Robertson and Napoli win a corner. It is floated in and Raul Albiol heads it down but straight to Allison Becker. Liverpool were probing around in the Napoli third looking for a second goal.
50 mins
Alexander-Arnold passes the ball forward for Salah who is in through the left again, his shot at the near post is inches wide.
HALF TIME! Liverpool 1-0 Napoli
and PSG 1-0 Red Star Belgrade. As it stands, PSG are winning Group C, Liverpool are finishing second and Napoli are facing the........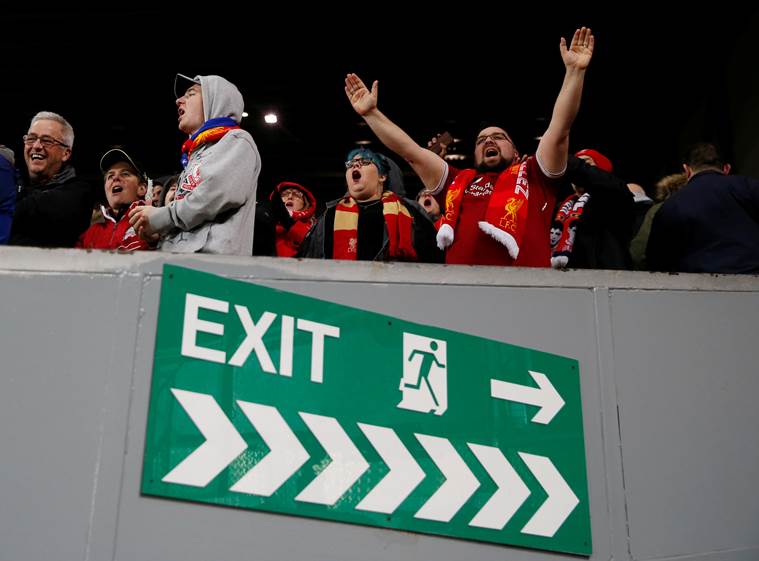 45 mins + 1
Three minutes added time. Allan takes the ball away from Robertson and passes it forward to Mertens whose first touch is too heavy.
44 mins
Liverpool have done well to keep a muzzle on Napoli who are not really able to get anything going in the final third at the moment.
39 mins
Koulibaly penalised for a foul on Salah. The free kick is taken by Milner who passes it square to Alexander-Arnold. The full back's attempted thunderbolt shot does not have enough power on it and is cleared.
GOAL! Liverpool 1-0 Napoli (Salah 34 mins)
Milner to Salah who goes past Koulibaly and pushes forward on the right. Ospina dives to cover the far post but Salah's shot goes the other way. As it stands, Liverpool, are through.
25 mins
Henderson passes the ball forward to Salah in the box. The Egyptian turns and tries to get away from Koulibaly but the latter puts in a perfectly timed tackle to take the ball away. Henderson tries to keep the pressure on but only ends up ballooning the ball up to where Mane is standing inside the six-yard box. Ospina punches away and then falls down trying to get a free kick and he gets it. Absolutely silly free kick given by the referee and Ospina invokes the spirit of Neymar to roll around and show he was not faking it.
22 mins
Mane finds the back of the net but the goal is disallowed! The game had slowed down a bit before that after that frenzied opening period.
14 mins
Van Dijk crashes his studs on Mertens' ankles and gets a yellow card for it. He did get the ball but that was too dangerous a challenge to be forgiven, Van Dijk is suspended for the next match, regardless of whether it will be in the Champions League or the Europa League.
11 mins
Edinson Cavani has given PSG the lead in Belgrade. As it stands, Liverpool are out unless they win this match by a two-goal margin.
8 mins
And now a chance at the other end! Mertens charges down the right, pulls the back and takes the shot and that whistles over the bar. What a start.
6 mins
Robertson crosses in from the right with pin-point precision and Salah arrives! But the Egyptian tries to control it instead of going for the shot first time which was on. The ball lands in the hands of Ospina.
4 mins
Napoli get into a good position early on but wait too long to take a shot. Marek Hamsik's pass to Jose Callejon is intercepted and the danger is cleared.
KICK OFF!
The players had to spend a significant amount of time in the tunnel, reportedly so their entry could be synced with that of the players in Belgrade. In case you are still confused about the crisscrossing permutations and combinations in this group and the others, click here and help yourself.
Anfield
Champions League nights, Anfield-style. (Images from Reuters)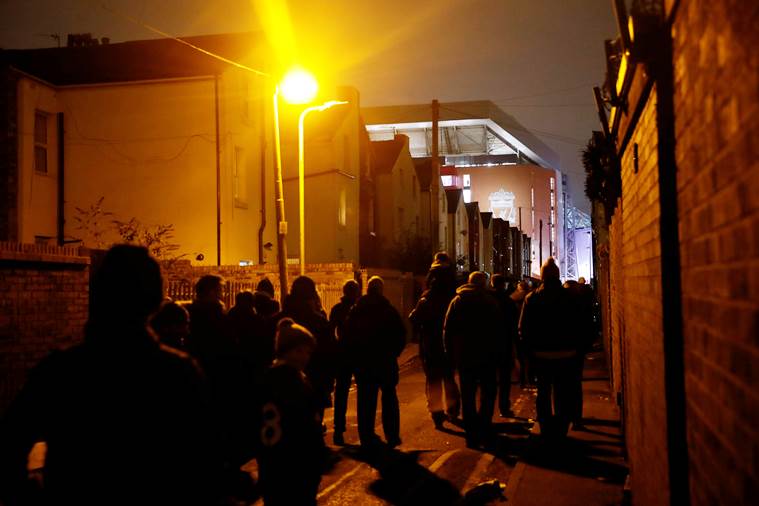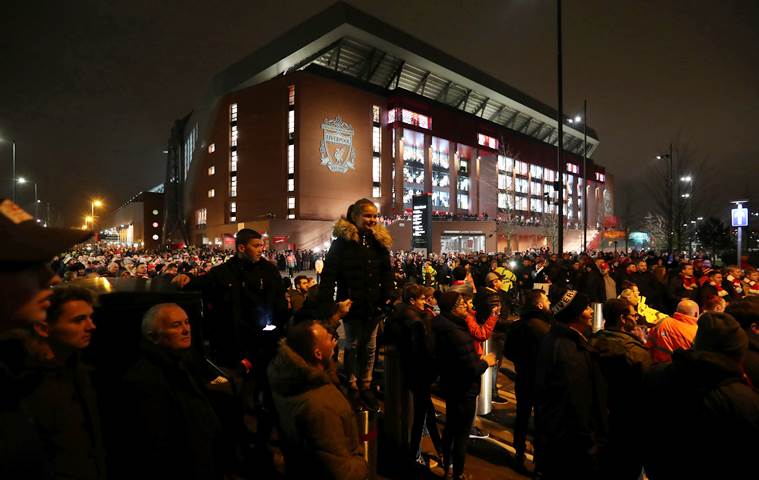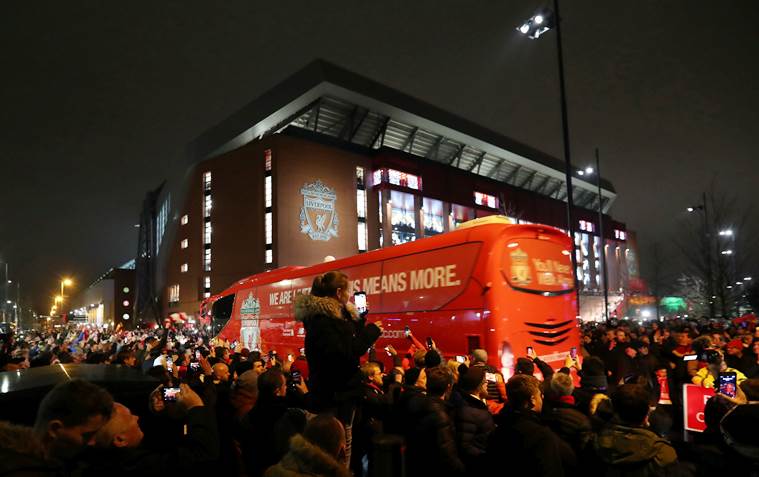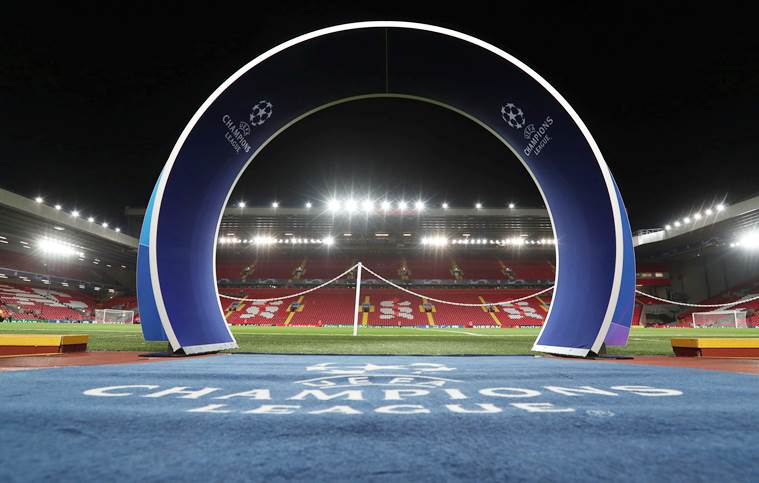 Hello and welcome!
Anfield will be turning into a dark blue and red cauldron. Liverpool's chances of hinges on whether they can win. They have to start by securing the three points and then work on increasing that goal difference of theirs while hoping and praying that PSG don't beat Red Star Belgrade. That is a very real possibility, though, as Red Star may be bottom of the Group C table but they are yet to lose a single match at home.