ISL semi-final, Bengaluru FC vs Northeast United Highlights: Bengaluru FC dominated possession in the first half but hardly made any use of it. Chances came at a premium and when they did, Miku missed them. But they regrouped in the second half and started in the same aggressive as they did in the first.
The NorthEast defence finally broke and Miku scored the goal that put Bengaluru FC on level terms. Dimas Delgado then scored in the last 10 minutes to help Bengaluru take the lead on aggregate and finally, it was the captain Sunil Chhetri who finished things off in stoppage time.
FT
Semi-Final 1 - 2nd Leg | 11 Mar 2019
Sree Kanteerava Stadium, Bengaluru
3
72' Nicolas Ladislao Fedor Flores
87' Dimas Delgado Morgado
90' Sunil Chhetri
Bengaluru FC
Won The Match
Live Blog
ISL semi-final, Bengaluru FC vs Northeast United Highlights:
FULL TIME! Bengaluru FC 3-0 NorthEast United (4-2 agg.)
Bengaluru FC are through to a second consecutive ISL final. It was truly a game of two halves. Bengaluru were good in midfield, terrible in the final third in the first half, but they fixed that last part in the second and scored three goals. So unless Mumbai City pull off the most ludicrous of comebacks, it seems the ISL final will be between the teams that finished in the top 2 of the league table.
90 + 5 mins
Mascia through on goal, could get a consolation for NorthEast but just as he is taking the shot, Nishu comes flying in and smashes the ball away from him, corner comes to nothing and....
GOAL! Chhetri ends it
90 mins: Chhetri simply runs right through the NorthEast players that were playing at the halfway line while playing a one-two with Miku and he is as free as a bird inside the NorthEast half, gets in the box, gets around the keeper and passes the ball into the empty net. Game over, Bengaluru FC are through.
GOAL! Dimas makes it 2 for Bengaluru
Dimas sets Udanta free, he runs down half the pitch unimpeded but is pushed wide by Nikhil Kadam, he tries an audacious chip to the far corner, keeper saves it but Dimas comes and clobbers it in. He seems to have taken a hit while doing so and hobbles to the ground.
83 mins
NorthEast absolutely hogging the ball right now but they are doing precious little with it, Carles Cuadrat sends in Albert Serran in place of Xisco.
79 mins
Udanta darts behind a long pass down the right, reaches there, Keegan is behind him. Udanta cuts in past Keegan and the latter is all over the Bengaluru winger. Udanta goes down inside the box but ref says no penalty. Replays show that Keegan had been constantly kneeing Udanta on the back of his leg and if that is not a penalty, there are very few acts in the world that can warrant one.
77 mins
Shouvik Ghosh with a dangerous looking cross from the left but there is no one at the other end! NorthEast keep possession but they are looking desperate. Someone tell them there is still over 13 minutes to go!
76 mins
NorthEast are a bit shell shocked at the moment, giving the ball away in dangerous parts of their own half. They are able to sweep up these mistakes but the pressure is on them now.
GOAL! MIKU FINALLY SCORES!
72 mins: Udanta's cross from the right, Miku gets at the end of it before the NorthEast defender and flicks it into the far corner! Bengaluru are going through on away goals as it stands.
63 mins
Rahul Bheke gives away a free kick in a dangerous area by pulling back Triadis. Free kick is from about 20 yards away a few feet left of centre. Triadis takes it, aiming at the top left corner, the ball flies past the target.
55 mins
Miku had gone for a shot when Gallego put in the tackle and the latter took kick full on his shin, his leg ends up twisting in a ridiculous angle and he is down. The ambulance comes onto the pitch and Gallego has to stretchered out. Big blow for NorthEast and really hope Gallego will be ok after this. Those replays showed some nasty, nasty pictures.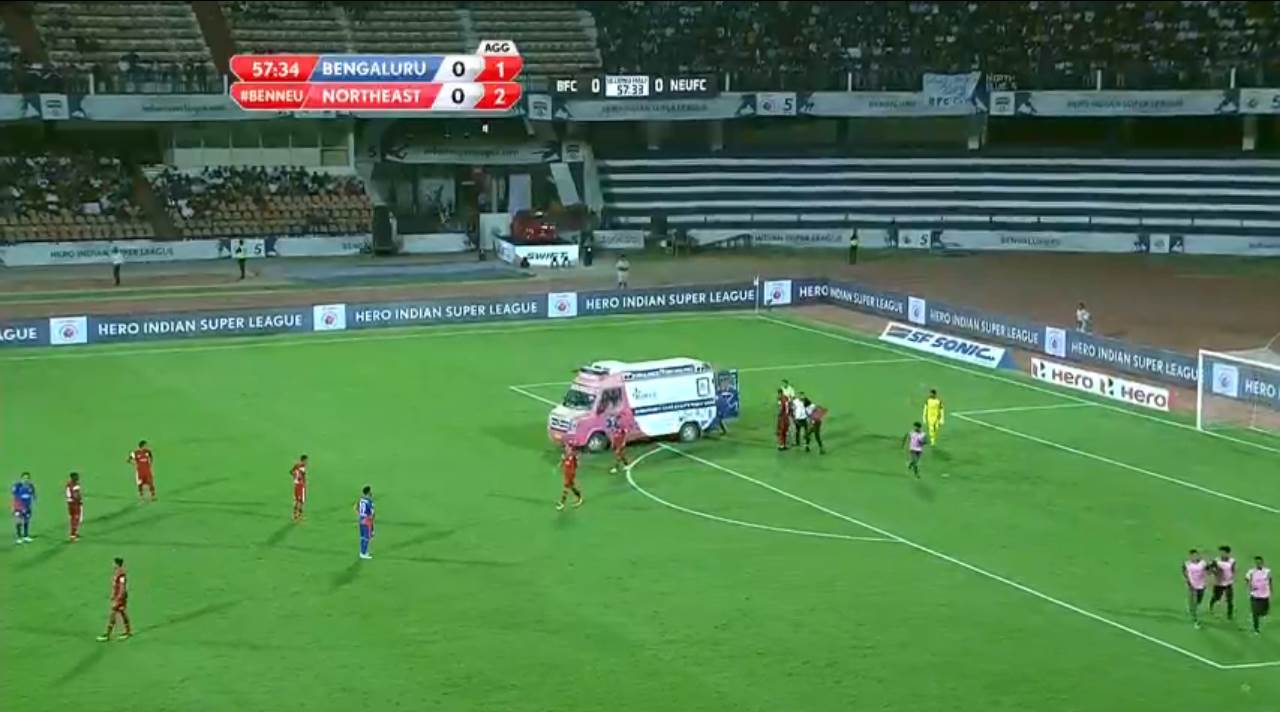 53 mins
Xisco's through ball releases Miku down the right, he tries to cut in after Gallego and Grgic cut out any path for him to pass it to Chhetri, Gallego makes the tackle and takes the ball away from him. Fantastic defending by NorthEast, more frustration for Bengaluru.
51 mins
Consecutive corners for Bengaluru, the second comes out to Nishu who takes a touch to get closer and then lets fly from about 30 yards out, Pawan Kumar flies like the wind to his right to save that.
KICK OFF! Second half
NorthEast get things going at the Kanteerava. Keep the ball for some time before their goalkeeper makes a hash of a clearance. He gets away with it.
HALF TIME! Benglauru 0-0 NorthEast
"What in the world just happened?" must be the question on every Bengaluru FC fan's mind. This has been one of the strangest halves of football you will ever see this season. Bengaluru have had more possession and yet, saying that NorthEast have been the better team is not inaccurate. Miku made some important defensive clearances before missing chances that he would otherwise convert with eyes shut and face turned the other way.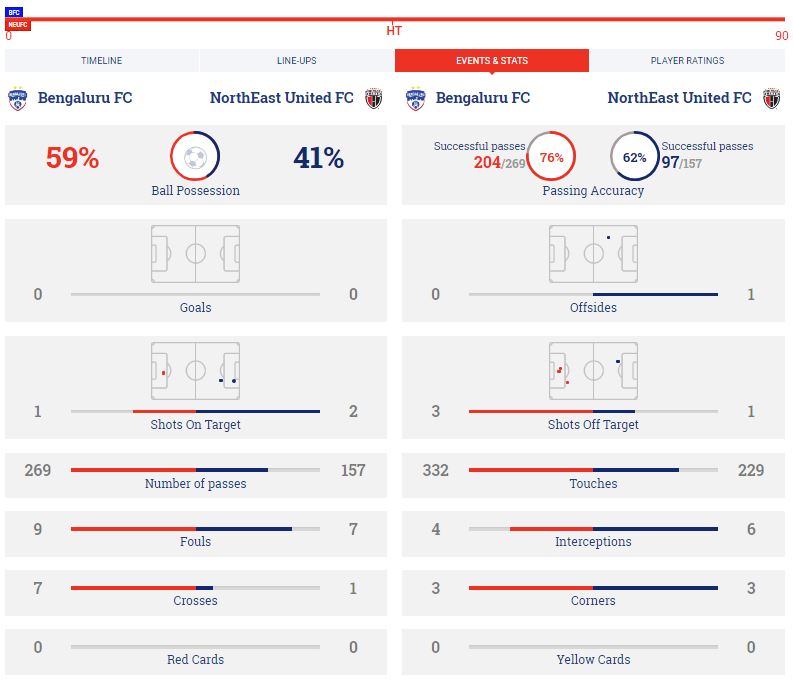 45 + 1
Nishu plays it through to Chhetri on the left, he puts in the cross. The NorthEast keeper anticipates that and takes the ball in his hands. Two minutes added on.
43 mins
Bengaluru got a proper scare when Juan Mascia collected a simple clearance and drove at goal, Gurpreet had to dive to his right to make the save.
39 mins
Redeem Tlang takes ages to clear his lines on the left and is robbed by Nishu who makes a run to the byline, Miky is in the box waiting for the cross but Keegan comes in and smashes the ball away from Nishu's feet.
37 mins
Chhetri and Gallego battle for the ball that has been lobbed up, the Bengaluru captain gives the latter a slight push and concedes a foul. The way Gallego went down, hands raised and all, he could have been in Broadway and still do the same.
30 mins! MIKU, MIKU, MIKU!
The Venezuelan receives the ball around 40 yards away on the left, starts running at defenders, cuts past five of them Messi style and gets in the box, he has only the goalkeeper to beat annnnnddd..... he passes it into the keeper's hands. This has been an absolutely crazy performance from Miku so far. If he had scored that, it would have been the goal of the season hands down. Did so well to get there and then the finish went so horribly wrong.
30 mins
And finally a period in which both sides are unable to pierce into each other's box. Bengaluru will be aware of the fact that they should have been at least two goals up by now. Apart from Udanta and Khabra, Bengaluru's forwards haven't exactly impressed today.
26 mins
And Miku misses another! Xisco on the right flank flicks it wider to Khabra who sees Udanta making a piercing run through the inside right channel. He puts it in the path of Udanta who squares the ball brilliantly for Miku who is as free as an eagle in the box, just has to turn it or at least keep it on target to put pressure, but he skies it. What in the world is the NorthEast defence doing letting Bengaluru have such easy chances? What is wrong with Miku? What is happening in this match?
22 mins
MIKU MISSES A SITTER! Wonderful cross by Nishu from the left, no NorthEast defender near it, the goalkeeper was caught out and Miku only had to turn it into the gaping empty net. He goes for a diving header instead of attempting to jab it in and misses the target. That should have been turned in. Before this, a fantastic through ball by Udanta was not controlled by Chhetri and it went out. Bengaluru's stalwarts are having an off day today.
20 mins
Bengaluru continue to give away sloppy set-pieces, Udanta blocks an attempted cross with a raised hand and that is a free kick with Miku kicks out again. He has done a fine job defensively but that is not what Bengaluru need him to be doing today.
18 mins
A period of possession for NorthEast United. They have a free kick from the right, Gallego whips it in nicely and it is causing all sorts of problems for Bengaluru, Miku is the man who kicks it away.
14 mins
Xisco and Miku stand over it, try to be cheeky and fail miserably. Xisco lightly pops up the ball, Miku simply lobs it a few feet ahead of him. They got a corner out of it though and that came to absolutely nothing. Bengaluru have been gloriously wasteful of their possession so far.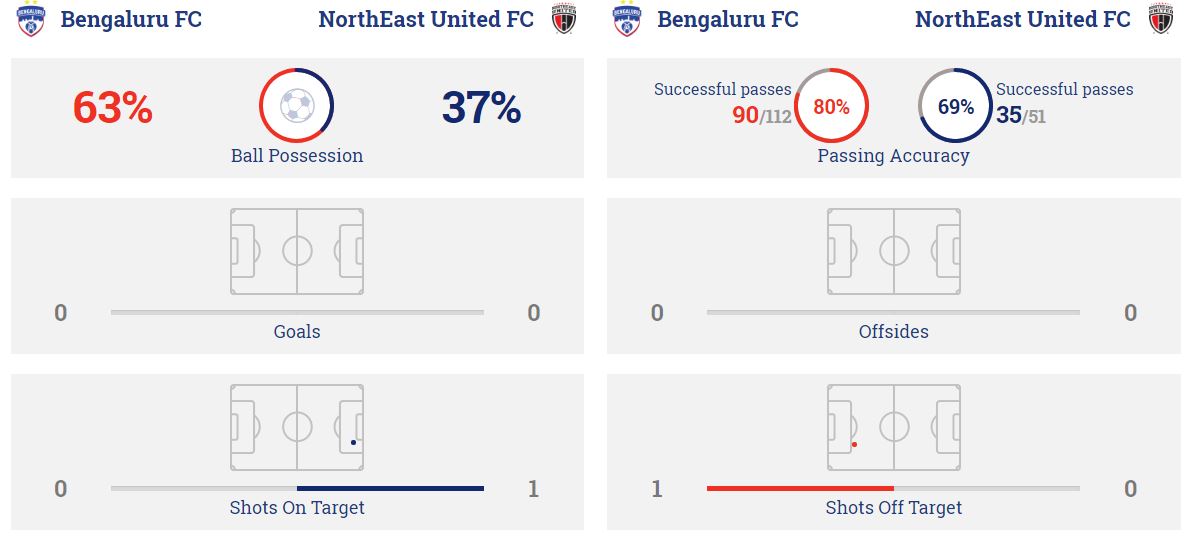 12 mins
Xisco goes down to a challenge from Keegan on the right. NorthEast players protest, replays show that Keegan had hardly touched Xisco and the latter went down like a bullet went through his left leg. Around 20 yards away from goal this free kick.
9 mins
Dimas almost makes amends by threading a pass to Miku who flicks it forward into the path of Xisco who had made a piercing run through the NorthEast lines, he takes the shot at the near post after entering the box from the left and it is completely off target.
7 mins
Bengaluru dominating possession but Dimas strolling around as last line of defence and Gallego takes the ball. He darts forward enters the box, feeds it through to Mescia who takes the shot from right at the near post, Gurpreet has it covered. That chance came completely against the run of play, suicidal play by Dimas.
3 mins
Nishu Kumar near the right hand touchline releases Chhetri with a lofted ball, the Bengaluru skipper makes a run through the inside right channel and squares the ball from the byline, Miku could arrive there in time.
KICK OFF!
Bengaluru FC get the second leg underway, Miku straightaway tries to hoick the ball to the right looking for Khabra down the flank, the ball goes out of play.
National Anthem done
Players have shaken hands, captains have chosen their sides. Seconds away from kick-off now.
Last minute change for NorthEast United FC
Robert Lalthlamuana is injured in training and Keegan Pereira takes his place, Mato Grgic to wear the captain's armband. This is the kind of thing that the visitors would have been hoping against today.
TEAMS
NorthEast United FC: Pawan Kumar (GK), Janeiler Rivas, Reagan Singh, Mato Grgic, Robert Lalthlamuana (C), Lalthathanga Khawlhring, Redeem Tlang, Federico Gallego, Lalrempuia Fanai, Jose Leudo, Juan Mascia.
Bengaluru FC: Gurpreet Singh Sandhu (GK), Rahul Bheke, Juanan, Harmanjot Khabra, Nishu Kumar, Dimas Delgado, Xisco Hernandez, Udanta Singh, Alejandro Garcia Barrera, Sunil Chhetri (C), Miku
Hello and welcome!
Attack from the word go is really the most logical thing Bengaluru FC can do. They have their boisterous home crowd on their side alongwith an away goal. One more and the tables will turn completely on NorthEast United. Unlike what is the case in the Mumba v Goa game, we can actually look forward to a proper competition here.