ISL 2019 Final, Bengaluru FC vs FC Goa Highlights: 1100 passes and five shots on target later, Bengaluru FC became the first former I-League champion to win the ISL. It looked like we might need penalties to decide the title this year but Rahul Bheke stretched his neck muscles to the limit to power the ball past the brilliant Naveen Kumar towards the end of extra time.
FC Goa dominated large parts of the second half but were wasteful of the chances they got. This was the second time they reached the final and while they fell to Chennaiyin FC on the previous occasion, it is Bengaluru FC who lift the trophy at their expense this season.
FT
Final | 17 Mar 2019
Mumbai Football Arena, Mumbai
1
116' Rahul Shankar Bheke
Bengaluru FC
Won The Match
Live Blog
ISL 2019 Final, Bengaluru FC vs FC Goa Highlights:
FULL TIME! BENGALURU FC ARE THE CHAMPIONS!
They have won the I-League twice, and now they add an ISL trophy to their cabinet. Just when it looked like this match will need extra time, Rahul Bheke came into play, as he has done so many times in this breakthrough season of his, and stretched his neck muscles to the limit to put it past the brilliant Naveen.
GOAL! BHEKE MIGHT HAVE WON BENGALURU THE TITLE!
116 MINS: Corner for Bengaluru floated to the edge of the box, Bheke arrives and heads it all the way towards the top left corner. Naveen Kumar did so well to get his finger tips to the ball but it only bounces off the inside of the post into goal.
112 mins
Double change for Bengaluru: Udanta comes on for Kean Lewis, Boithang Haokip on for Nishu Kumar
113 mins
Xisco with a clever flick to Miku, the ball comes back to Xisco who directs it back to Miku. This time the Venezuelan takes a touch to punt the ball two feet up in the air, he swivels and takes the shot, Naveen dives to his right to make the save.
111 mins
The ball is tonked about at the edge of the Goa box. The camera shifts to Erik Paartalu and Chencho in the stands. This is the kind of situation in which Paartalu shines and he must be itching to come on.
ET 2nd half: 109 mins
Change for Goa: Jackichand goes off for Manvir Singh. Nothing of not has happened thus far apart from that change.
End of first period of extra time!
Jahouh had no arguments against that one. No one follows through a fall with their leg so high and straight up in the air. Will Bengaluru make this advantage count? We will have to wait and watch but judging from the way the players lumbered towards where their coach was after the referee blew the whistle, it looks like we will need penalties to decide this one.
107 mins
Miku had fouled Jahouh but the latter while following through seemed to stick out a leg. He gets a yellow card for that, it was his second and so red card it is for the Moroccan. Big blow for Goa in the second half of extra time and the penalties.
105 min
Xisco lets fly from a little over 30 yards our, Naveen Kumar had to dive low to his right to make the save. A minute later the playrs come together near the dugout when Miku and Jahouh fall down while fighting for the ball.
101 mins
A scare for Bengaluru as Juanan heads to his goalkeeper thinking he is on his line but Gurpreet was far from it! The latter scrambles back but fortunately for him, the ball bounces off the post and comes back into his hands.
98 mins
Seriton Fernandes gets a yellow card for a foul on Dimas. A few minutes later Edu tries a shot at the far post that Gurpreet saves without much of a fuss.
ET 1st half: 91 mins
So for the second time, we see an ISL final go into extra time. The players are tired, they are dragging their feet, there is a very good chance that this game will go into penalties.
FULL TIME! Bengaluru FC 0-0 FC Goa
Into extra time we go! Both sides take a breather, it is not the easiest of conditions to play a game of football and that has shown in the second half which has been a scrappy affair on a number of occasions. Just before full time, though FC Goa had a break and the cross that was sent in from the right would have been dangerous for Bengaluru had Dimas not got in the way with a monster jump.
90 2 mins
Udanta directs a lofted ball pass square and Miku tries to karate kick it to goal, Mourtada Fall takes the shot in his face and saves his team.
90 mins
Three minutes added on. Both sides have made just one change so far so this was a scenario that both managers have planned for.
89 mins
A foul on Coro just inside the Goa half on the right and they get a free kick. Their fans turn up the heat, Jahouh takes it but it comes to nothing. The fans are doing their best to push their tired players forward.
85 mins
One could say Bengaluru have more possession but it doesn't really matter. Both sides unable to hold on to the ball as the Mumbai humidity starts acting up, shiny faces everywhere.
81 mins
Xisco lays it onto the plate for Miku and he makes an attempt from point blank range! He ends up directing the ball onto the post and the ball comes straight back out into the hands of the keeper. That was the chance of the game and Miku could not convert it.
78 mins
Bengaluru now have more possession but are hardly doing anything with it. FC Goa, meanwhile are fluffing goalscoring chances whenever they get them. It has all got pretty messy now with the players tiring and getting increasingly frustrated.
70 mins
Bengaluru make a change: Barrera goes off for Luis Lopez. Savior Gama, who replaced Mandar at half time, tried releasing Coro with a dangerous long ball from inside his own half. Gurpreet collects the ball in time.
66 mins
Jacki juggles about at the edge of the box just right of the D and passes it to Jahouh who is arriving in the empty middle that has formed because of his efforts. Jahouh goes for goal from there and it is just wide. Bengaluru FC need to get their act together, they are getting pummelled.
62 mins
Another cross from Brendan on the left, Coro gets in the way but the ball goes just above his head and lands on Gurpreet's feet where he collects it.
60 mins
Goa putting some sustained pressure on Bengaluru now. Brendan with a chipped pass from the left that Edu gets at the end of. His header, though is straight into the hands of the goalkeeper. Bengaluru with some work to do at the moment.
56 mins
The second half has thus far been a scruffy affair so far. Barrera gets a yellow for pulling Edu's shorts while pulling him back.
Second half underway
FC Goa kick off the second half and three minues into it, Ahmed Jahouh collects a yellow.
HALF TIME!
An eventful but goalless first half. Very little to separate the two sides. There have been chances on both ends but Goa will be fretting over Mandar's fitness. Miku came closest of course among all players to breaking the deadlock but Naveen did well to avert the danger.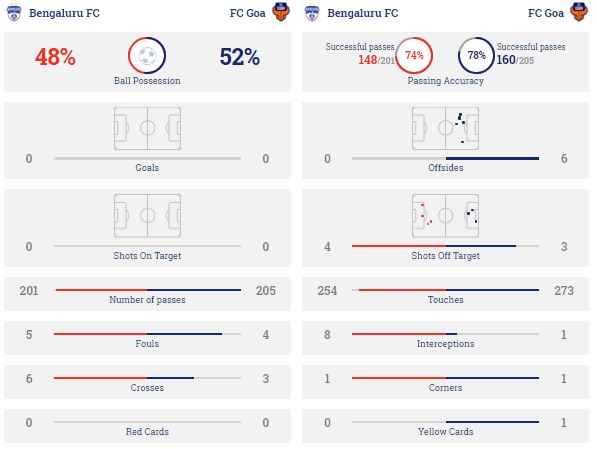 41 mins
Not good news at all for FC Goa. A good looking move broke down when Mandar pulled up short with what looked like a hamstring issue.
35 mins
A cross-field pass from Nishu Kumar on the left side of the midfield is too heavy and the ball reaches Udanta Singh on the right side. The latter goes for a shot first time but kicks it into the stands. He has scored some spectacular goals this season but this one was not even close to being one. Mourtada Fall then gets the first yellow card of the match.
28 mins
Jackichand is on fire down that right flank. He makes a good run as Bedia put the ball in his path, tries to find space for a pass square to Coro on the byline but his attempted pass is blocked by a Bengaluru leg and the ball bloats up towards the edge of the box, it comes to Jahouh who volleys it goalwards, the ball rebounds off another defender and Brendan latches on to it. The shot goes just wide.
26 mins
Udanta with a turn to get away from Jahouh and takes the shot from 20 yards out, Miku comes in the way and he manages to bring the ball under control at the byline, he plays it inside but there is no blue shirt there, Lenny heads it away.
21 mins
Naveen is late to collecting a simple lofted pass into the box and then there is a breakdown of communication between him and the centre back in front of him who makes a poor clearance that is simply floating towards the byline. Naveen under presure from Xisco, punches it out for a corner that comes to nothing for Bengaluru.
17 mins
Jahouh tries to play Jackichand through again but this time the latter is offside. Apart from that, nothing much to report apart from the fact that the fans are making an absolute din out there.
13 mins
Ahmed Jahouh releases Jackichand on the right with a pin-perfect crossfield pass and the Indian makes his way into the box. He playes it square for Coro, the latter goes for the volley and miscues the shot completely. The ball goes into the stands in front of him. A great move foiled by an uncharacteristically clumsy effort from Coro.
10 mins
And we all slow down. A lot of midfield to and fro between the two teams and nothing comes out of those five minutes after a rather frantic start to the match.
5 mins
Bengaluru have had two good chances so far. The first one went begging when Chhetri overhit his shot. The second was when Miku somehow swivelled his way into the box after being played in by Chhetri. He took one touch too many and Naveen Kumar collects.
KICK OFF!
Bengaluru FC get their second consecutive ISL final going. The stadium is barely able to hold the kind of crowd that has collected in the colours of the two clubs.
FC Goa
Jahouh, Mandar(C), Corominas, Brandon, Jackichand, Carlos Pena, Seriton, Edu Bedia, Lenny, Mourtada Fall, Naveen (GK).
Subs: Boumous, Krouch, Nawaz, Manvir, Chinglensana, Mohamed Ali, Saviour Gama.
Bengaluru FC
Sandhu (GK), Bheke, Juanan, Miku, Khabra, Chhetri (C), Dimas, Xisco, Udanta, Nishu, Barrera.
Subs: Boithang, Kean Lewis, Luis Lopez, Poirei, Semboi, Serran, Rino Anto.