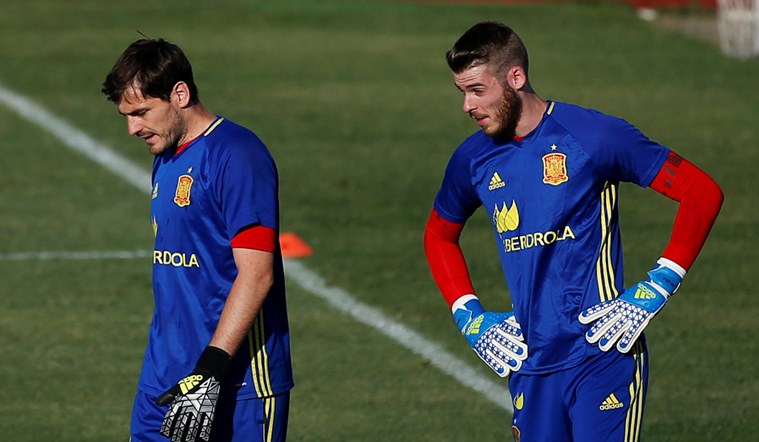 Manchester United keeper David de Gea is still waiting to gear if he will be in goal for Spain at their opening Euro 2016 match against the Czech Republic.
De Gea played in Tuesday's 1-0 home loss to Georgia, Spain's final warm-up, but Porto's Iker Casillas had been the country's first-choice goalkeeper since 2002 and played in the previous friendly, a 6-1 rout of South Korea.
Asked about which player coach Vicente del Bosque would pick for Monday's match in Toulouse, De Gea told AS newspaper: "I don't know. We will have to wait until Monday to see what the decision is.
"It's the coach's decision and it wouldn't be a disappointment (not to start against the Czechs)," he said.
"I always work with the aim of playing."
Del Bosque has not given an indication of who he will pick and said the decision will be made on the day.
De Gea is, however, considered the favourite after another solid season for United. The 25-year-old was named by the club's fans as the Player of the Year for the third season running.
"I have arrived in good condition, having played many good games for Manchester United," the former Atletico Madrid player said.
De Gea made his senior debut in June 2014 in an international friendly and was included in Spain's World Cup squad but did not feature.
He has made nine appearances for Spain but only started in three Euro 2016 qualifiers for the defending European champions, with Casillas, 35, the preferred number one for the last two years.
The rivalry between the two gets a lot of attention in the Spanish media. De Gea almost became Casillas' replacement at the Bernabeu Stadium last summer after the latter left for Porto but United and Real did not complete the deal before the transfer deadline.
"The debate is generated by the press," De Gea said. "The three goalkeepers will try to give good performances."
Sevilla's Sergio Rico is the third-choice keeper.