Brahma returned home to India as backdrop to some breezy football played by Brazilians on a balmy Mumbai evening. It is said that a Swiss immigrant Joseph Villiger missing his favourite bitter in Sao Paulo in the late 1880s started brewing beer, naming it after a mythological deity considered, half a world away, as the creator of the world.
It's like how some Indian would take fancy to a Roman or Greek deity or some Viking warlord (in these GOT days) and name an unrelated penthouse apartment complex after them. The Brahma Chopp draught took off in the far-off land, though its splashing in-stadia advertising boards with clinking hidden glasses have followed another set of creators back to India.
Brazil are commonly considered creators of football's ultimate World Cup magic. Forever favourites — never mind what age or gender category, Brazil remain the originators and repositories of beautiful football. They arrive blazing and such is the colossal fame of their brand of football that big business follows like a comet's tail wherever they go.
At their first practice venue ahead of the U-7 World Cup, the Andheri Sports Complex was decked up with boundary hoardings of their sponsors.
So there was Brazilian National Museum, Brazil's public bank Itau, a multimedia book and a jewellery manufacturer that strings up gems as well as coloured stones washing ashore on the country's beaches, whose adverts travelled with the teams precious young football jewels.
It was only a practice game — where coach Carlos Amadeu wanted to ensure that the tall built New Zealanders known to take generous inspiration from rugby while playing their contact heavy football, don't end up packing off too many Brazilians on a stretcher. The country's top star — Vinicius Jr's Real Madrid many million Euro deal preceding his reputation and arrival on Saturday — had not even touched down, playing as he was at a game 10 hours ago for Flamengo.
Vasco da Gama's Paulinho was nursing an ankle bruise, so the next in line of Brazil's attack Lincoln and Brenner fought for the coach's attention for when he scribbles his Starting XI for the opener against Spain at Kochi. Brenner would net a brace on the day, though the trademark beauty of Brazilian football was found in the midfield — it came from the hidden gems — their No. 10 Alan of SE Palmeiras and more fantastically No 8 Marcos Antonio of Atletico Paranaense. Brazil will always boast some ethereal talent, but two of their shortest sizzled on the day, before they roll out the big guns.
"All our midfielders stay true to our style of beautiful football and Marcos is just like that," Armadeu would concur later.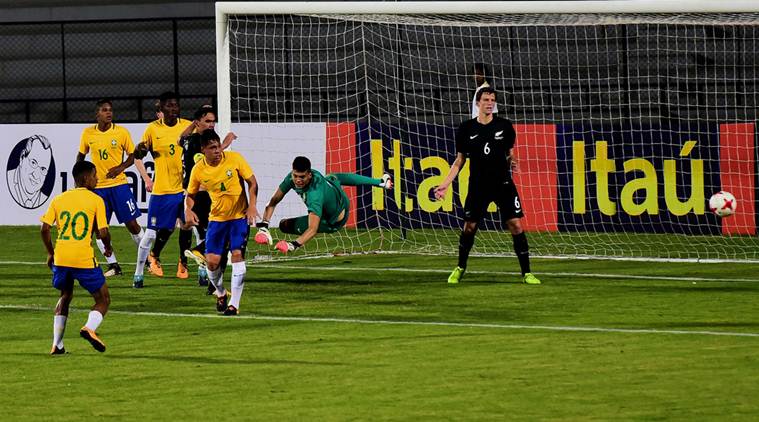 The Small Whites (their seniors are called All Whites) are actually targeted scoutings of tall, strong Kiwi players not averse to playing rough. The Brazilian backs would boldly man-mark these towering boys the first 15 minutes, stalking them like shadows when Ben Deeley floated one from the left that was parried by Gabriel Brazao. Soon after, the canary shirts' right back Wesley would be felled by a nasty one in the shin, and limp out subbed by the seriously diminutive Marcos Antonio, a creative midfielder with a buzz of a bee but the lightness of a butterfly.
What began in the 18th minute would span a bunch of attempts and two delectable assists converted by Brenner. Marcos not only possesses pace but also marshals the attack like a symphony conductor. He would strike a chord with Vitinho on the day puzzling the tall defense with his back heeled twinkles that ensured possession and pin pointed crosses that magnetically followed his ambushing forwards.
The opener would come a minute after resumption when Marcos pulling in defenders like the centre of a centrifugal whirl would play tricks with his toes – pushing and dragging back the ball, waiting for a sensational heart stopping second, before threading a pass through a gap for Brenner to score from the left.
New Zealand's Charles Spragg would earlier miss on an open goal and Kingsley Sinclair was denied by Brazaos high fist, but it was when the ball was at Marcos' feet that the game would liven up. It wasn't just that he was the smallest man on the field making a mockery of size itself. But his mix of tricks – long and short passes, were a thing of delight for the 500 odd assembled.
"Our midfielders have not forgotten the beautiful game,"Armadeu would say. "Short and long passes, getting close and teasing away, dribbles that's our free flowing style here." New Zealand would pull one back through a penalty and the score read 2-1 before the 5-4 practice shootout. But they were props to the Marcos show throughout the second half even before Alan joined in for more of the same in central midfield.
Perhaps a tad faster than Marcos, Alan however only gave glimpses of what he can do when Vinicius fetches up. The beauty was warned of the brutality though. "We knew NZ style of rough play and advised the team against contact play," the coach said. "We know we will be cheered at Kochi because their local team also wears yellow," he joked.
It will be the likes of Marcos Antonio though who will entertain as Brazil attempt to win this title after 15 years and being denied by Nigeria last edition. The Brahma boards will piggyback the famous flair, that creates magic just by uttering the Jogo Bonito name.